We introduce to you the inaugural AEW Dynamite Review for 01/05/21.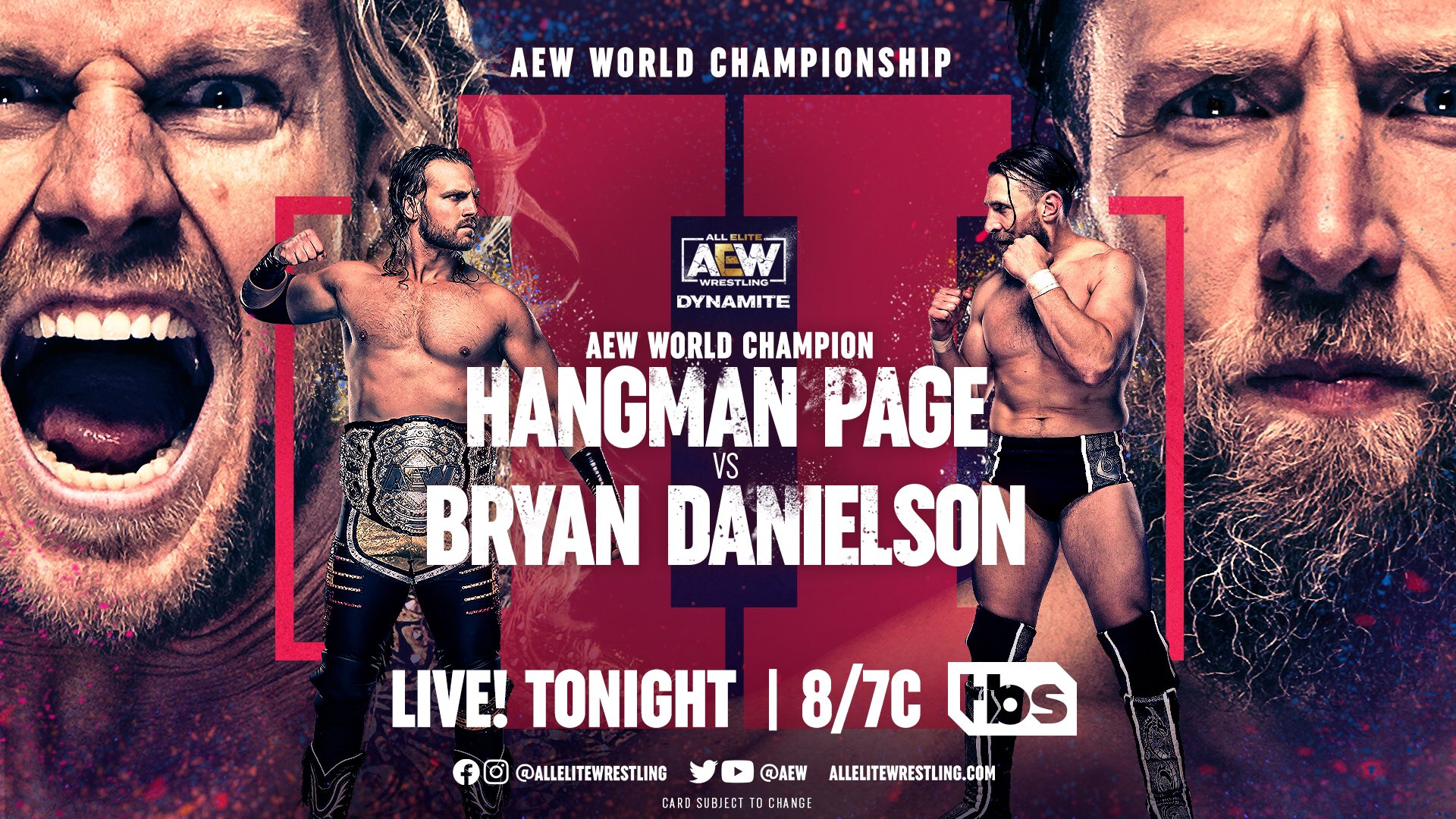 AEW Dynamite Review for 01/05/21
AEW World Championship:
"Hangman" Adam Page (c) vs. "American Dragon" Bryan Danielson
As with their first meeting, Adam Page and Bryan Danielson are starting off the show. Their first encounter went to a full sixty-minute draw. To prevent another stalemate, this AEW World Championship match will have three judges, should this match go the distance as well.
As is customary, the challenger, Bryan Danielson, came out first to a mixed reaction. Next came the champ. The connection Adam Page has with the fans is undeniable, as his reaction continues to be among the loudest of any competitor in AEW. After both men had made their entrance, the judges for tonight's contest were introduced: Mark Henry, Jerry Lynn, and Paul Wight. And with that, we're off.
"Hangman" rushed Danielson, but the "American Dragon" evaded and exited the ring. He got some heat on the outside and did some jumping jacks trying to get in the champion's head. After re-entering the ring, the two competitors locked up. Following a brief back and forth, Page got the advantage. Danielson once again exited the ring to reset.
Both men had a good, mat-based back and forth for a few minutes. Page threw Danielson ringside and hit an incredible tope-suicida. After a failed moonsault attempt to the outside, Page caught Danielson by surprise with a pop-up powerbomb on the apron. We are officially in business.
Danielson eventually took control back and began to work Page's arm in an attempt to neutralize the Buckshot Lariat. Juices began flowing about ten minutes into the bout. The challenger was seated against the steel stairs as the champion rushed him trying to deliver a knee. The "Dragon" popped up and caught "Hangman" with a drop toe hold that set him head-first into the stairs.
I understand the business aspect of professional wrestling, but right when I was getting totally immersed in the match, it was time for the picture-in-picture. It killed the flow a bit for me, especially as some very cool things happened during it, like Danielson ripping at the open wound of his opponent right in front of the judges.
AEW Dynamite Review for 01/05/21
We return to break with Bryan Danielson continuing his assault to the bleeding head of Page with some brutal headbutts. The challenger is in total control.
At the fifteen-minute mark, Page hits a Death Valley Driver out of desperation. The blood is really flowing now, but the champion has found his second wind. We're back to a dead even, back-and-forth matchup once again. There is an INCREDIBLE shot of a crimson masked Adam Page doing some jumping jacks of his own after bloodying Danielson up with a blow to the ring post. Page is back in the driver's seat, and this one has turned into a bloodbath!
First real near-fall of the night came from an avalanche backflip bodyslam that Page hit on Danielson. It was a very innovative move. He kept on the attack with a Deadeye on the outside. Next, he rolled Danielson into the ring and got into position to deliver the Buckshot Lariat. Right before he made contact, Danielson collapsed from fatigue. But it was all a bit of possum as he rolled up the champion in a small package for another near fall.
Neither champ nor challenger are willing to give up! It's @theAdamPage vs. @BryanDanielson for the #AEW World Championship! Watch #AEWDynamite LIVE on @TBSNetwork right now! pic.twitter.com/lSAGuADLto

— All Elite Wrestling (@AEW) January 6, 2022
After the kick-out, Danielson locked in his patented LaBelle Lock in the center of the ring. Page was able to muscle out and once again just barely miss the Buckshot Lariat, just to get obliterated with the Psycho Knee. Page is barely able to kick out at 2.9. We're now at 25 minutes. WHAT. A. MATCH.
Both men are exhausted and exchanging strikes the best they can. Page kicks out at two again after a Gotch-style Piledriver. In a cool nod to judge Jerry Lynn, Danielson shoots him a glance after utilizing the ECW legend's finishing move. Page then regained an advantage and headed to the apron to attempt his Buckshot Lariat one more time. This time, however, he removed his elbow pad to ensure his victory. Danielson was unable to avoid it as Adam Page finally defeated the "American Dragon."
AND STILL #AEW WORLD CHAMPION @theadampage! What. A. Fight.#AEWDynamite is LIVE on @TBSNetwork right now! pic.twitter.com/N2x0lutuFN

— All Elite Wrestling (@AEW) January 6, 2022
This match was worthy of all the hype surrounding it. It was truly wrestling elevated to art, as both men put on incredible performances. This is arguably the best outing "Hangman" has turned in to date. It's worthy noting that not only did Page defeat Danielson, but he did so in under thirty minutes, something the former champion Kenny Omega was unable to do.
Winner: AND STILL AEW World Champion, "Hangman" Adam Page as he defeats Bryan Danielson by pinfall to retain the AEW World Championship
Time: 29:05
The Acclaimed have a quick sixty-second promo bashing Darby Allin and Sting. Pretty basic trash talk. Not bad, not great.
AEW Dynamite Review for 01/05/21
MJF vs. Shawn Dean
As soon as the bell sounds, CM Punk comes rushing into the ring to come after MJF. MJF predictably runs out of the ring. Punk then hits Shawn Dean with the GTS, forcing a disqualification loss on MJF's record. This is the first disqualification in the history of AEW and was used very intelligently.
Winner: Shawn Dean defeats MJF by disqualification
Time: 0:42
Shawn Dean is my hero!

— sammy guevara (@sammyguevara) January 6, 2022
After causing MJF to begin the year with an 0-1 record, CM Punk informed his rival that this is what will happen every time he wrestles until he agrees to face Punk. What resulted was another great microphone battle between two of the best in the business. One of the high points was Punk referring to WrestleMania as a "four-night, buy-one-get-one-free extravaganza." The interaction concluded with MJF seemingly on the verge of accepting the challenge, only to accept it on Wardlow's behalf. Wardlow vs. CM Punk is set for next week.
I just can't get enough of the rivalry between Punk and MJF. With such high expectations put on both men from the onset of this program, it's very impressive that they have been able to meet and arguably exceed them. As much as I'm looking forward to the inevitable showdown between these two, I'm enjoying the ride just as much!
Next up. Chris Jericho comes to the ring. It's somewhat wholesome seeing how much Jericho eats up seeing an arena full of people screaming his theme that's performed by the band that he is the leader of. He starts by talking about his last time on TBS, which was an episode of Thunder in 1999 in a loss to Booker T. He then transitioned his attention to 2point0. Right on cue, Matt Lee and Jeff Parker joined the fray. Next, Jericho calls the duo Terrance and Phillip, two Canadian characters from South Park, which got a big reaction from the crowd.
Before @IAmJericho could launch an attack on #2point0, @GarciaWrestling runs into to the save, but @MadKing1981, @ortiz_powerful and @Santana_Proud have something to say about it all! They meet in a no-DQ match this Friday on #AEWRampage on @TNTDrama! pic.twitter.com/8FbS1n5zPq

— All Elite Wrestling (@AEW) January 6, 2022
After some more insults thrown both ways, Jericho grabs his black bat, Floyd. Daniel Garcia storms the rings just to catch the bat to the stomach. The numbers eventually overwhelm Jericho before Proud n Powerful, and Eddie Kingston come in to make the save and clear the ring.
Solid segment. Nothing groundbreaking, but Jericho was solid as always on the mic. 2point0's shtick might not be for everyone, but the old-school vibe and campiness of it is something many believe AEW is lacking.
Hype video showing highlights of Jora Johl AEW debut on Dark.
Adam Page, Kyle O'Reilly, and Bobby Fish are backstage talking about their victory of Jurrasic Express and Christian Cage last night. Cole brushes off the superkick he ate from O'Reilly in the matchup and praises the Young Bucks for their help. Cole then challenges one of the newest AEW signees and former NXT star Jake Atlas to a match on Rampage this Friday.
I'm looking forward to see what Jake Atlas has to offer to AEW, and he couldn't have a better dance partner than Adam Cole. Cole can have a good match with anyone, and an impressive showing this Friday could go a long way for Atlas, who is sure to want to make a splash on such a loaded roster.
AEW Dynamite Review for 01/05/21
Wardlow vs. Antonio Zambrano
Before the match could even start, Shawn Spears hit Zambrano, who is a local enhancement talent, with a C5. Wardlow then proceeded to do his "powerbomb symphony" routine, delivering five consecutive powerbombs before pinning his opponent with one foot. More of the same song and dance that we've seen the last several weeks with Wardlow.
Another dominant win by @RealWardlow here on #AEWDynamite LIVE on @TBSNetwork! pic.twitter.com/XMblVvu1lY

— All Elite Wrestling (@AEW) January 6, 2022
Wardlow defeats Antonio Zambrano by pinfall
Time: 1:25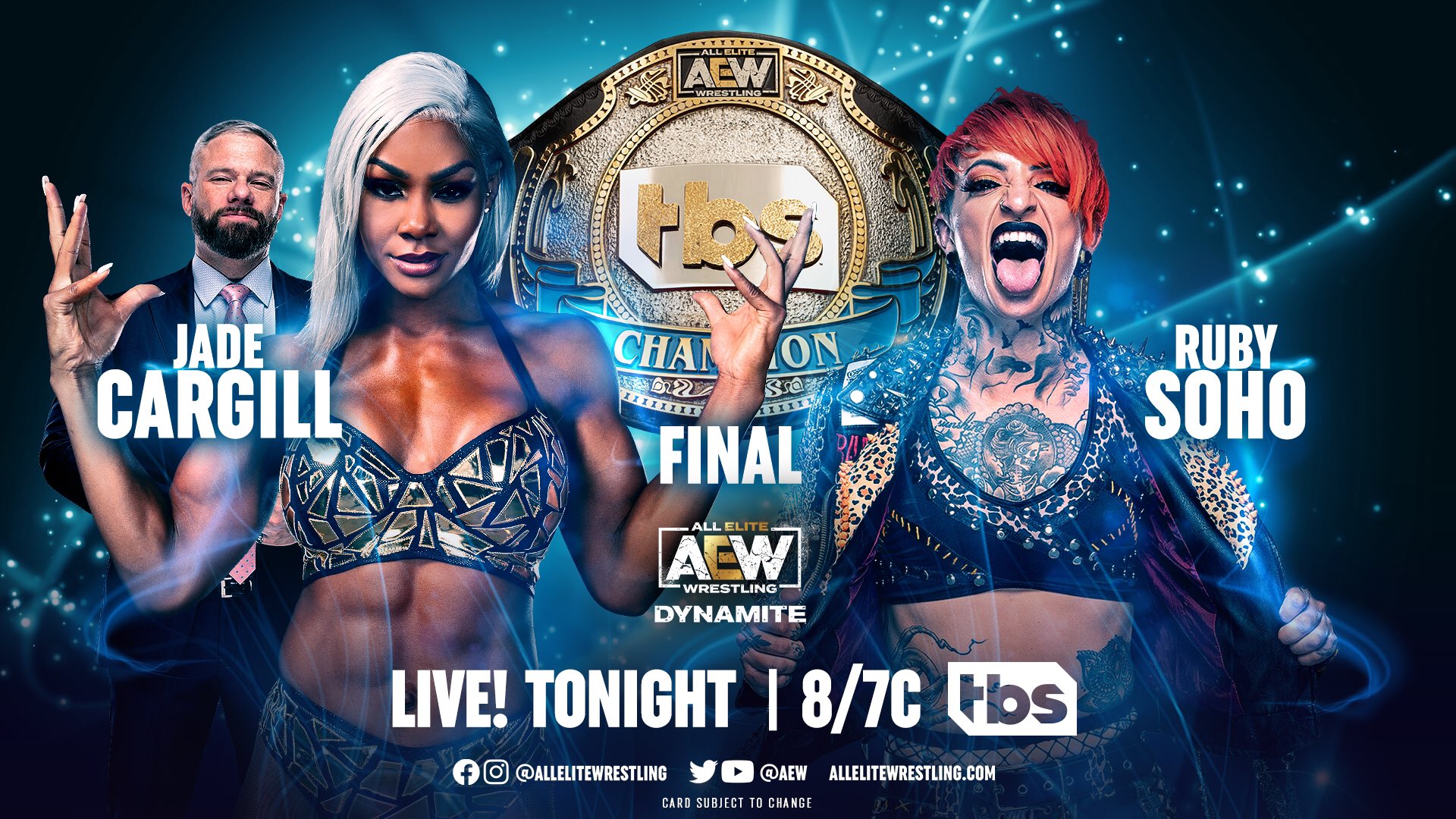 AEW Dynamite Review for 01/05/21
TBS Championship Match:
Jade Cargill vs. Ruby Soho
It's time to find out who will be the inaugural TBS Champion. After a solid tournament, there is a lot of intrigue around this one. Jade Cargill makes her way to the ring first. The announcers put over the 22-0 record that she has amassed so far in her time in AEW. Ruby makes her way to the ring next to a decent reaction.
The match begins with Jade looking to utilize her power advantage and Ruby countering with a hard right hand to the jaw. The experience advantage that Soho has starts to show very early by way of tricky moves like dropping the top rope down to cause Jade to tumble outside.
Just about three minutes into the match, as Soho is down on the outside of the ring, the newly debuted Mercedes Martinez makes her way to the ring and stands over Ruby, looking to insert herself into the match. Thunder Rosa comes running in from behind, and the two brawl to the back. Time for picture-in-picture
Jade remains in control through the break, quickly snuffing out any bit of offense that her opponent is able to muster. In the process, Ruby Soho's left shoulder began to be a target. After about five minutes of pure dominance by Jade, Ruby finally starts to even things up a little bit. Jade continued to work the shoulder, but Ruby was dishing out a good deal of offense. After several attempts, Soho finally hit a Saito Suplex.
Jade Cargill's manager, Mark Sterling, then got on the apron to distract the referee, Aubrey Edwards. Aubrey then ejected Sterling. In the meantime, Ruby Soho counted an attempted JADED for the first near-fall of the match. Ruby was then able to hit her finisher, but Jade was able to kick out at two. After some more back and forth, Jade Cargill was able to hit an Avalanche Jaded to improve her record to 23-0 and become the first-ever TBS Champion.
Many people will question the decision-making behind this booking, but Jade Cargill is undeniably a star. She may be green, but she has the "it" factor. Giving her the nod as the inaugural TBS Champion goes a long way in establishing her for years to come; we just have to hope that she can capitalize on the opportunity.
Winner: Jade Cargill defeats Ruby Soho by pinfall to become the TBS Champion
Time: 11:13
Your TBS Champion @Jade_Cargill #AndNew#AEWDynamite pic.twitter.com/hHAwm3HVaG

— All Elite Wrestling (@AEW) January 6, 2022
Jim Ross is backstage with Serena Deeb to talk to her about her current feud with Hikaru Shida. Deeb says that no one is on her level and that she plans to take seventeen years of frustration out on her opponent. Not a great promo, as Deeb seemed very stiff and unnatural.
AEW Dynamite Review for 01/05/21
Malakai Black vs. Brian Pillman Jr.
After weeks of attacks by Malakai Black on not just Brian Pillman Jr, but on his teammates Griff Garrison and Julia Hart, Pillman took the fight to Malakai as soon as the bell rang. After a brief lock-up, Pillman threw Black to the outside and hit a suicide dive.
I know I already complained about picture-in-picture killing the pacing of the match, but this one is exceptionally bad. Sixty minutes into a match with a story that spans a month? Whatever.
Malakai quickly regains control and begins to impose his will on Pillman for a few minutes before Pillman hits an absolutely beautiful pump-handle slam, right before we return from break. From this point, the match was just a solid, hard-hitting, back-and-forth contest until Malakai connected with a Black Mass to secure the victory.
It was a crash and burn for @FlyinBrianJr tonight, and @malakaiblxck is your winner here tonight at #AEWDynamite. We are LIVE on @TBSNetwork right now! pic.twitter.com/sMVyfsz0QS

— All Elite Wrestling (@AEW) January 6, 2022
Solid match that told the story it was designed to, with Pillman being the "never-say-die" babyface underdog and Malakai as the dangerous, unhinged heel.
Winner: Malakai Black defeats Brian Pillman Jr. by pinfall 6:03
As Brian Pillman Jr is down in the ring, Malakai returns toe deal some more damage. But before he can, the Lucha Bros start walking to the ring to defend Pillman; then the lights shut out. When the come on, the positions are switched, with Malakai on the ramp and the Lucha Brothers in the ring. Malakai walks out.
Tony Schiavone is backstage attempting to interview Ruby Soho about her loss earlier in the night only to be interrupted by Britt Baker and her entourage. After a short war of words, things escalate into a brawl, with Riho entering the encounter to back Ruby against Britt and Jamie Hayter.
QT Marshall is backstage with Aaron Solo and cuts a very short, generic promo hyping Solo's match against Hook this Friday.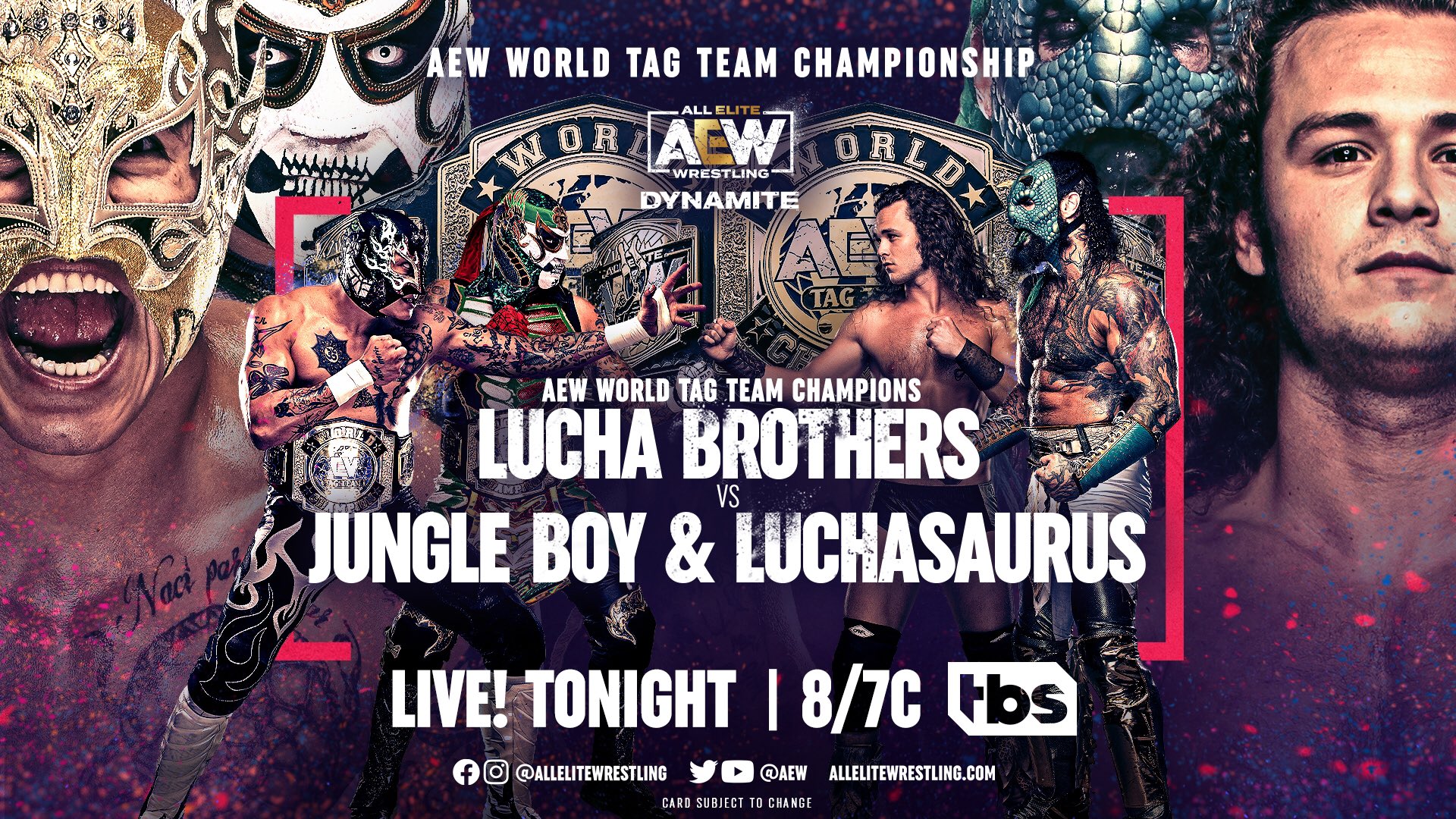 AEW Dynamite Review for 01/05/21
AEW World Tag Team Championship:
Lucha Brothers (Pentagon El Zero M and Rey Fenix) (c) vs. Jurassic Express (Jungle Boy and Luchasaurus)
Jungle Boy and Rey Fenix start the match for their respective teams with a test of strength, and a great technical exchange followed. After a stalemate, both men tag their partners. Neither team can get an advantage, as all four men are involved in a very cool top rope arm-drag spot. The Lucha Bros are finally able to gain some sort of control thanks to a well-placed kick to the head of Jungle Boy by a rope walking Fenix.
As we cut to picture-in-picture, the champions continued to control the match, cutting the ring in half and punishing Jungle Boy. After several minutes of enduring all the damage the tag champs could deal with, Jungle Boy was finally able to tag Luchasaurus. However, the "hot tag" didn't go as planned, as the Lucha Bros were quickly able to chop down the legs of the big man and deliver two superkicks in stereo.
A bit later, in one of the coolest spots of the night, Luchasuarus hoisted Penta in a fireman's carry position, just in front of the corner. Jungle Boy then vaulted over, using Penta's back for leverage, and delivered a destroyer to Rey Fenix for a near fall. Shortly after, Penta nailed Jungle Boy with a Made in Japan for another two-count. The lights cut off momentarily and came back in, but nothing of note had happened.
The Lucha Bros hit their finisher combination Fear Factor, but Jungle Boy kicked out just before the ref counted three. Alex Abrahantes set up a table on the outside of the ring only to be chased away by Christian Cage. In one of the scariest spots I've seen in a very long time, Luchasaurus planted Rey Fenix with a chokeslam through the table from the apron. Rey Fenix very obviously snapped his arm in a gruesome injury. I can only hope that it is not as bad as it looked and he has a speedy recovery.
It was all heart and no quit, and now @boy_myth_legend and @luchasaurus are your new #AEW World Tag Team Champions! What a historic night here at #AEWDynamite on @TBSNetwork! pic.twitter.com/lsHyX8wOnP

— All Elite Wrestling (@AEW) January 6, 2022
In the ring, Penta looked to put away his opponent with the pump-handle driver. Jungle Boy was able to counter it into a victory roll to pick up the win for his team. We have new AEW World Tag Team Champions! Christian Cage enters the ring to hand Jurassic Express their newly won titles. Meanwhile, several of AEW's top tag teams take to the ramp to size up the new champions and make their presence felt to end the show.
One can't help but to wonder if the finish of this match was changed on the fly due to the apparent injury to Rey Fenix, as there wasn't much build-up to this match for a title change to occur. Either way, this is the biggest win to date for Jurrasic Express and specifically Jungle Boy, who has already been pegged to be a major "pillar" in AEW for years to come.
Winners: Jungle Express defeat Lucha Bros to become the AEW World Tag Team Champions
Time: 14:33
Here are your NEW #AEW World Tag Team Champions: @boy_myth_legend and @luchasaurus!#andNew#AEWDynamite pic.twitter.com/yLmWiLvkjV

— All Elite Wrestling (@AEW) January 6, 2022
*****
Stay tuned to Pro Wrestling Post for this and additional stories from the wrestling world. Readers can rely on Pro Wrestling Post to be their daily source for all things inside the squared circle. As a result, readers can expect daily news, history, and so much more. Please visit All Elite Wrestling's official website here for news and information on the promotion and upcoming events.