This week's edition of AEW After Dark for 7/7/20 here on Pro Wrestling Post. This week we look at the debut of Brian Pillman Jr in his first match in AEW and all the other action from Dark this week. Taz and Excalibur are on commentary to present the action in the ring. Lucha Bros and The Butcher and The Blade will be in eight-man tag action tonight too. But Brian Pillman Jr and Shawn Spears will kick us off.
---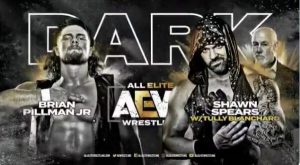 Brian Pillman Jr vs Shawn Spears
Spears comes down to the ring accompanied by Tully Blanchard. Spears has been undefeated since dawning the glove. Brian Pilman Jr is going by the nickname Bulletproof. Shawn would lock Brian's arm in his grasp before an athletic handstand and kick to the face would force Spears to relinquish the hold. Pillman would be able to use his speed and athleticism to throw Spears off his game. Spears ate a big dropkick in the ring before seeking the advice of the experienced Tully at ringside. Shawn would gain an advantage on the ramp after countering Pillman. Spears taking the opportunity to stomp the head of Pillman into the steel. Pillman would try to fight back in the ring but a C4 Driver would be enough to win.
Winner – Shawn Spears
Tully would then hand Spears the item to load the glove. Shawn would strike Pillman with the loaded glove.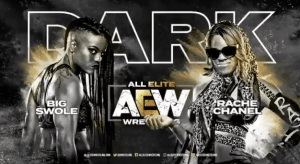 Big Swole vs Rache Chanel
Rache comes out, handbag in hand, looking ready to take Big Swole out to the merchants. Swole comes out after having her issues with Britt Baker in recent weeks on Dynamite. Rache would back Swole into the corner before Swole would lock in a vice-like headlock. Chanel would take advantage after Swole hesitated on a springboard spot. Swole would fight out from a sleeper hold before hitting a flurry of offense. Culminating in Dirty Dancing followed by a Pump Kick. That was all she wrote for Rache on her AEW debut. Swole walked out the winner before heading in the direction of Britt Baker.
Winner – Big Swole
Brandi and Allie Interview
Brandi and Allie sit down for an interview before squabbling with each other. Dustin pleads with Allie to not mess with his family. Both ladies agree staying as a team isn't a terrible idea.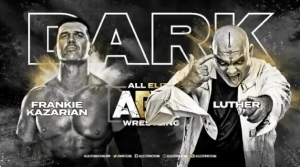 AEW After Dark for 7/7/20
Frankie Kazarian vs Luther
Luther comes out in a red jacket similar to one found in the Thriller music video as pointed out by Excaliber. Kazarian is looking for his 20th win in AEW which would put him in some serious elite company. Both men lock up, Luther squeals leading to Kazarian backing off. Kaz would hit a series of arm drags maintaining some control over the flow of the match. Luther would get his bearings in the match until Kazarian hits a series of strikes out of nowhere. A victory roll by Kazarian gets him his 20th win in AEW.
Winner – Kazarian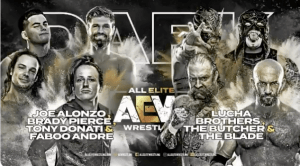 Joe Alonzo/Brady Pierce/Tony Donati/Faboo Andre vs Lucha Bros/The Butcher and The Blade
In what can only be described as a tune-up match for Lucha Bros and The Butcher and The Blade ahead of their Fyter Fest match at night two of Fyter Fest. Pentagon and Tony Donati get things underway with some trash talk and a superkick. Lucha Bros hit some innovative offense before tagging in The Blade. Alonzo tags himself in but is hit by The Butcher and The Blade like a train. All four men hit some interesting offense before winning by pinfall.
Winners – Lucha Bros/The Butcher and The Blade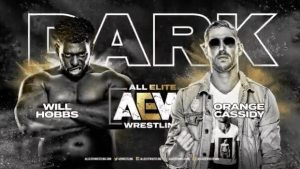 AEW After Dark for 7/7/20
Will Hobbs vs Orange Cassidy
Hands in his pockets Cassidy rolls out the way of Will before hitting a superman punch winning within seconds.
Winner – Orange Cassidy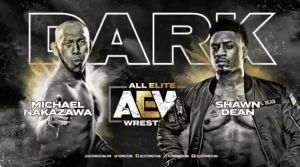 AEW After Dark for 7/7/20
Michael Nakazawa vs Shawn Dean
Shawn gets a waist lock but it's not long before Michael has the oil out to slip under him. Shawn would get in some offense up until the tow would struggle in a suplex position. The baby oil would come out again before referee Audrey Hepburn would intercept and toss it into the crowd. Nakazawa would hit some offense before removing his underwear. Dean would get in some offense but no matter what he hit Nakazawa kept hold of his garments. it would be on the second hit with the pink underwear that Shawn Dean would be put away.
Winner – Michael Nakazawa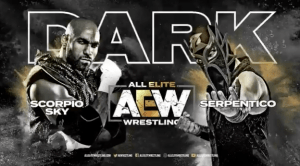 AEW After Dark for 7/7/20
Serpentico vs Scorpio Sky
Sky takes the legs out from Serpentico before taking him down Serpentico attempts a headlock but Sky. Sky wrestles Serpentico at his pace not being drawn into a match that doesn't favor him. Serpentico manages to hit a hurricanrana and follows up by maintaining pressure on Sky. Serpentico hits Sky with lists of kicks and stomps in unique ways but Scorpio counters an attempted suplex to get his momentum back. Both competitors exchange momentum culminating in Serpentico countering the first TKO but Sky counters a flying clothesline and connects with a TKO.
Winner – Scorpio Sky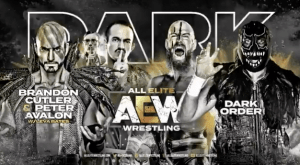 AEW After Dark for 7/7/20
Dark Order vs Peter Avalon & BrandonCutler
Dark Order is joined by their fellow members standing at ringside. Evil Uno and Avalon start off the match Avalon lies down leading Uno in to be caught in a small package. Uno strikes Avalon hard and backs him to his corner where Stu Grayson joins in on the beatdown. Avalon does manage to tag in Cutler who gets in some quick shots but can't take any meaningful control. Dark Order beat on Cutler before Cutler does an incredible flip to the top rope and takes out Grayson getting the tag to Avalon. Stu goes outside to get in the face of Leiva Bates when Avalon dives on him to the outside.
Avalon and Cutler get some impressive hits in and some double team. Grayson fights back into the match eliminating Cutler from the ring and hitting the nightfall on Avalon to win by pinfall.
Winners – Dark Order