It's that time of the week again here at Pro Wrestling Post, where we run through all the action on AEW Dark. This is your AEW After Dark Review for 6/23/20. AEW Dark is once again presented by Taz and Excalibur, and this week will see Brian Cage on AEW Dark. Let's get underway with our review, and Brian Cage will kick us off.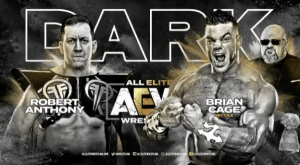 AEW After Dark for 6/23/20
Brian Cage vs Robert Anthony
After some good showings on Dark Robert Anthony's back to face Brian Cage to get us underway. Anthony would subvert Cage from the first attempt but Cage would make his power felt the first step back Anthony took. A Drillclaw from Cage would be enough to end the match in just under a minute. This is a huge contrast to Anthony's efforts against Scorpio and Moxley. Cage wins here in very dominating fashion.
Winner: Brian Cage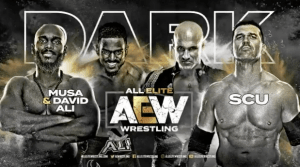 Musa/David Ali vs SCU
This is Ali's second appearance on Dark after debuting last week against Lance Archer. This week Ali and Muss take on the team of Daniels and Kazarian representing SCU. Daniels and Mussa get things underway but both have the answer to each other. They are leading to Ali getting involved to take Daniels off his game. Mussa would attempt to take a shot at Kazarian, but Kazarian was too smart for that. SCU would hit the Best Meltzer Ever for the win. It's revealed that Daniels and Kazarian will focus on tag action while Sky is focusing on singles competition.
Winners SCU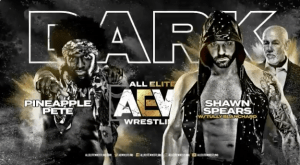 AEW After Dark for 6/23/20
Pineapple Pete vs Shawn Spears
Spears will be looking to have another dominating performance like we seen on last week's Dark. Shawn still has the black glove and with his new attitude, he looks to be poised for even more success in the ring.The match starts in a technical style, lots of hold transitions leading to Pete attempting various roll-ups. Spears goes outside the ring to seek the advice of Tully. Whatever Tully said its provoked a reaction from Shawn who went back in more aggressively. As the match wore on, Tully slipped a small object in the ring for Shawn to place in the glove. Spears wins with a shot with a loaded glove.
Winner Shawn Spears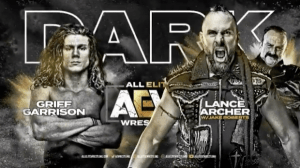 Griff Garrison vs Lance Archer
Griff avoids a big boot from the word go and hits some hits on Archer before Lance hits a crushing shoulder block. Archer beats on Griff just toying with him before shouting no one has any idea what's coming for them. Archer hits the Blackout before using the claw again to win by pinfall. Lance continues his dominant streak with another win before choke slamming the poor bloke who he dragged out in his entrance.
Winner Lance Archer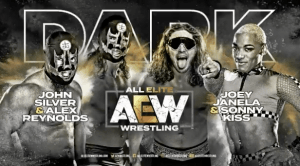 AEW After Dark for 6/23/20
Dark Order vs. Joey Janela/Sonny Kiss
John Silver and Alex Reynolds are representing the Dark Order going against the unique pairing of Joey Janela and Sonny Kiss. Dark Order has done well in recent weeks as have Joey and Sonny so both teams have momentum coming into this one. Joey and Reynolds get underway with Joey getting in some of his high paced offence. Sonny gets the tag and they hit some good double team offence. The match progresses to Joey being trapped in Dark Orders corner before tagging Sonny in. Sonny comes in and with a series of shots buy a reprieve for Sonny and Joey. Silver and Reynolds make sure this doesn't last too long countering joeys dive into a brainbuster on the outside. Joey recovered quickly, coming into make the save for his team, leading to Sonny hitting the leg drop before capturing the victory by pinfall.
Winners Joey Janela and Sonny Kiss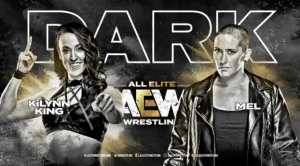 Mel vs. Kilynn King
Both competitors are looking for their first wins in AEW and the match starts at a careful pace until Mel countered Kilynns arm drag. Mel has Kilynn scouted after Kilynn attempts another arm drag Mel was able to stop it in its tracks. Kilynn manages to get some strikes in before finally hitting the arm drag. Kilynn follows up with strikes at the corner. Mel would avoid a dropkick before hitting the chokeslam into a piledriver for the win.
Winner Mel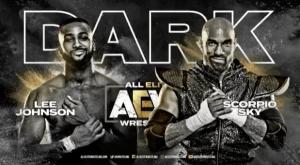 AEW After Dark for 6/23/20
Lee Johnson vs Scorpio Sky
Lee Johnson has been a regular on dark for a while and is still looking for a victory despite some impressive outings so far. Scorpio and Lee start with Scorpio getting the match onto the mat before hitting a shoulder block all in the early going. Lee gets some hits in as the match goes on countering Sky's german suplex into a backflip landing on his feet letting Lee hit a blue thunder bomb for a near fall. Johnson looks to continue his impressive showing but misses a shot and Sky capitalises hitting a TKO for a pinfall and gaining the victory.
Winner Scorpio Sky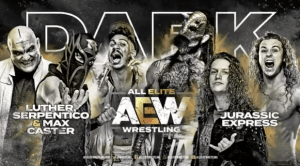 Luther/Serpentico/Max Caster vs. Jurassic Express
Marlo and Max Caster get underway with Caster pushing Marko down before Marko retaliates with shots. The speed of Marko really gives him the advantage before he tags in Jungle Boy. Caster makes a tag to Serpentico after Jungle Boy gets his spots in. Serpentico tries to outspeed Jungle boy but Jungle Boy is too athletic for it to work. Luther gets tagged in and Jungle Boy tags Luchasaurus in leading Luthor to tag Serpentico back in. The match progresses and Marko finds himself targeted by Luther. Luther gets some near falls leading to him squealing at the referee at the same frequency as the average online game squeaker. Jurassic Express hit a triple chokeslam on Caster before Jungle Boy locks in an STF to win by submission.
Winners Jurassic Express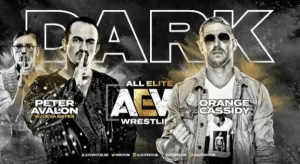 AEW After Dark for 6/23/20
Peter Avalon vs Orange Cassidy
The Librarian is going to take on a man of no words in Orange Cassidy. Avalon starts with the headlock while Cassidy is trying to get his hand back in his pockets. Orange hits a dropkick after a series of acrobatics to get around Avalon, Cassidy ducks out of the ring and we can see Orange at work on charming Leiva Bates at ringside. Avalon would get in some offence but Cassidy would hit a whirlwind DDT for a near fall. Cassidy would win with a superman punch out of nowhere.
Winner Orange Cassidy