Welcome to this week's edition of AEW After Dark for 6/16/20 where we're going to look at all the action from this week's AEW Dark. AEW Dark is once again hosted by Taz and Excalibur on commentary. The show immediately starts with 6 man tag action.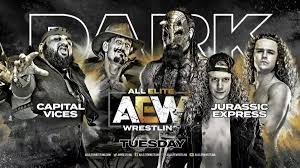 AEW After Dark for 6/16/20
Jon Cruz and Capital Vices vs Jurassic Express 
Capital vices look straight out of the eighty's as they come down in all red with sin having the curly mustache. Jungle boy and Money get the match going Jungle boy hits a series of rollups. Both men tag in partners Marko and Cruz enter the ring Marko uses his speed to outwit Cruz and Sin in the ring. Jurassic express would quickly transition tags to effectively team up on Money in the ring. Luchasaurus would connect with a series of strikes culminating in a wheelbarrow suplex on Money.  Jungle boy tags back in but finds himself hit with a slingshot double team. Capital Vices' advantage was fleeting as Jungle boy tagged in Marko stunt after some athletic maneuvering from the corner.
Marko is quickly knocked back but tags in Luchasaurus before Capital Vices can take advantage. Luchasaurus cleans house, knocking everyone in the ring out. an extinction-level event would be enough for Jurassic Express to take the win in a quick-paced match.
Winners – Jurassic Express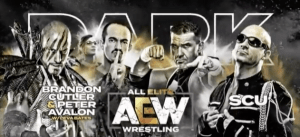 Peter Avalon/Brandon Cutler vs SCU 
Avalon and Kazarian start off Avalon squares up to Daniels on the apron before Kazarian starts hitting a series of arm drags. Daniels gets a cheap shot in and Kaz and Daniels both push Avalon back to one another like a tetherball. Both Avalon and Kazarian make the tags to their partners. Daniels gets the better of Cutler very quickly before SCU start working together. Avalon would hit Daniels leading them to gain control of the match from here. Miscommunication between Avalon and Cutler would let daniels tag Kazarian in. It wouldn't be long until SCU hit celebrity rehab on Avalon, winning by pinfall. Avalon and Cutler are still looking for their first win this year.
Winners – SCU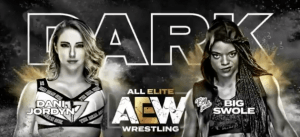 Dani Jordyn vs Big Swole
Swole ducks her opponent's offense forcing Dani to do the running early on. Jordyn takes the fight to Swole relentlessly in the early stages. Swole fights back hitting a cutter followed by Dirty Dancing for a quick win.
Winner – Big Swole
Cutler and Avalon confront each other backstage and won't team anymore.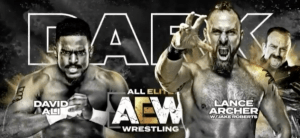 Lance Archer vs David Ali
Archer allows Ali the first hit, before booting him across the ring. Ali quickly finds himself clubbed across the chest by the MurderHawk. Not long after, Archer hits a series of running knees in the corner.
Lance is literally torturing Ali in this match, clocking David across the face with a right hand. Ali receives the Blackout but Archer lifts him up at two to win with the Claw.
Lance Archer wins in another dominating display.
Winner – Lance Archer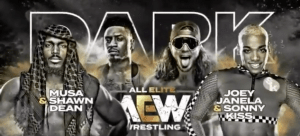 AEW After Dark for 6/16/20
Sonny Kiss & Joey Janela vs Mussa & Shawn Dean
Mussa starts off taking Sonny down and hitting him with his unique offense. Sonny and Janela are soon working well as a team, hitting some quick double team offense.
But Mussa hits a knee to the gut of Sonny and backs Kiss into the corner. Lance Archer appears at the top of the ramp but it's unclear as to who he's targeting or why he was there. Janela is tagged in and clears the ring before some high offense teamwork, culminating in Sonny hitting the splits from the top rope for the win.
Winners – Joey Janella & Sonny Kiss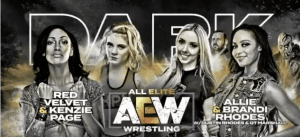 Red Velvet & Kenzie Page vs Allie & Brandi Rhodes
Allie and Brandi are having issues with each other over the past few weeks. And that continues with Brandi looking upset by Allie's cheapshot starting the match. Allie quickly presses on Kenzie, stomping on her during the early part of the match.
Kenzie is able to fight back and tag in Red Velvet, but again Allie would quickly counter Red and make her own tag to Brandi. It wouldn't be long before Allie would tweak her ankle in the corner. But Allie would miraculously recover in time to tag in and make the pinfall. The Natural Nightmares are clearly on different pages in regards to Allie.
Winners – Brandi Rhodes and Allie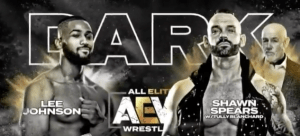 AEW After Dark for 6/16/20
Shawn Spears vs Lee Johnson
This is Shawn Spears's first match since getting the black glove from Tully.
Shawn wrestles with more intensity here not giving Lee a chance to get any meaningful offense. There's clearly a more aggressive side to Spears game coming to the forefront. Spears locked in a Scorpion Death Lock and win by submission in a very quick match.
Winner – Shawn Spears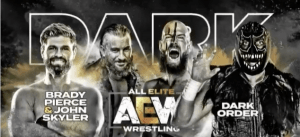 Brady Pierce & John Skyler vs The Dark Order
Stu Grayson and Evil Uno are back for the first time in weeks and are joined by the rest of their Dark Order brethren at the top of the ramp.
Grayson immediately gets the jump on Skyler and quickly tags in Uno for them to double stomp Skyler in the corner. As the match progresses Skylar makes the tag to Pierce allowing them to get in some hits on Uno.
The Dark Order quickly regains control hitting the Fatality for the win leading Mr. Brodie Lee to join The Dark Order on the stage.
Winners – Dark Order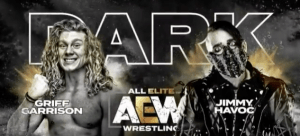 AEW After Dark for 6/16/20
Griff Garrison vs Jimmy Havoc
Havoc takes the early advantage with joint manipulation before socking Garrison across the mouth. Jimmy continues just pushing Griff around before driving him back first into the corner.
Griff hits an unexpected burst of offense, getting an extremely close near fall. Havoc would regain his bearings and hit a vicious DDT, winning by pinfall.
Winner – Jimmy Havoc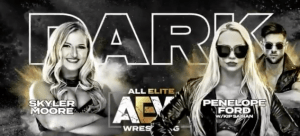 Penelope Ford vs Skyler Moore
Ford would find herself in a leg hold after a kick was caught but she had the wherewithal to get to the ropes and kick the ankle of Skyler taking her off balance. The match then moved onto a quick pace with Penelope having the majority of it before winning with a bridged Fisherman Suplex.
Winner – Penelope Ford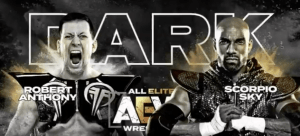 AEW After Dark for 6/16/20
Robert Anthony vs Scorpio Sky
After an impressive showing against Moxley last week Robert Anthony is back to take on SCU's Scorpio Sky. Both men start off with some good technical wrestling. Sky would use his athleticism to hit a series of dropkicks and high impact moves making the most of his momentum.
Anthony would catch Sky into holds and wrestling him down to the canvas. Both men would exchange fireman carries until Anthony got the better of the exchange connecting with a Driver for a near fall. Sky would recover connecting with a TKO to get the win by pinfall.
Winner – Scorpio Sky