Adam Pearce. While we all enjoy wrestling, none of us watch it in the same way. For every fan, there is a twist that makes their viewing experience all the more enjoyable. Yours truly watches it with a critical eye, like a theater critic would a stage production. Two of my greatest interests are moves that are either extremely well pulled off or those which fall short of allowing us to suspend reality. Such are the perils of live broadcasts.
___________________
Another facet of the shows I enjoy is taking note of the producers and road agents who also have on-air roles. It's always fun to recognize familiar faces like Jamie Nobel, Fit Finlay, Brother Devon etc.
Then, we even get the opportunity to discover veteran talent but those who we had only heard about but yet to discover. Enter if you will Adam Pearce. Pearce plays a prominent role in scripting and choreographing matches. He helps put together a show that is timed as precisely as the Swiss National Railroad. Ever since last Spring he has become a character as well fulfilling the thankless role of the authority figure in an anarchistic work atmosphere.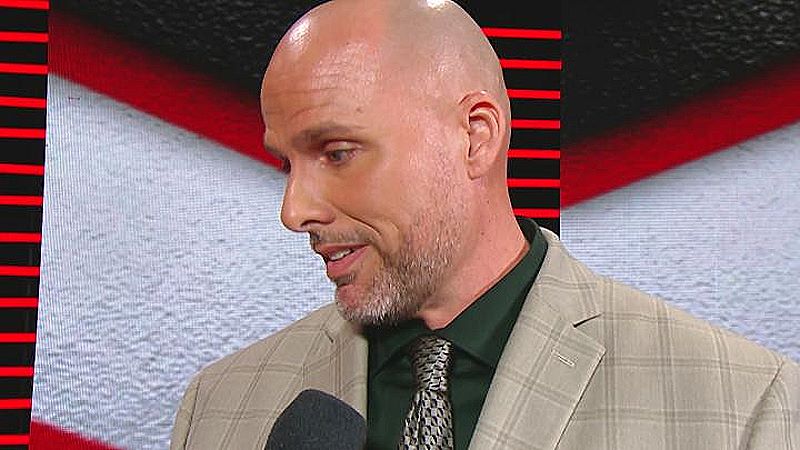 Making The Most Of His Insight, & Versatility
We first saw Pearce the character on a Smackdown brimming with intrigue and excitement, the episode where Elias was the victim of a hit and run accident. This was easily the boldest piece of storytelling in 2020.  Sheamus did his best to frame Jeff Hardy while evading possible obstruction of justice charges. Departmental investigations appear to be back-burner in Orlando. That evening Pearce was mandated to convoke an impromptu locker room summit and map out the course for deciding the Intercontinental championship. A consensus was reached and a captivating program went forward. Pearce nicely meshed being in over his head and flustered while having just enough credibility to make the best of a bad situation.
His most prominent role after that came right around Summerslam when he was brashly ordered by the Chairman of the Board to gather the signatures of all three participants in the  Summerslam Universal Championship match. The three being, of course, The Fiend, Braun Strowman, and the returning freshly turned heel Roman Reigns.  While bringing the contract into the highly combustible Firefly Funhouse the Postman Pearce character was born.
In this episode, McMahon got to reprieve his role as the unreasonable boss throwing his authority around and making his underlings carry out unenviable and even dangerous tasks. Simon Legree is alive and well and living in Stamford.
In Recent On-air Appearances
Reigns would emerge as the champion while only signing at the very last second. This created a very innovative and ongoing run. Reigns was cast as both the ruthless and seemingly invincible champion while at the same time being portrayed as the weak paper champion always in need of assistance or an illegal move emerging victoriously. This made for an interesting blend of convincing victories with questioning in the back of our minds.
After an engaging program with his cousin Jey Uso and some bone-crushing matches with Kevin Owens, it appeared that the Tribal Chief would be facing authority figure, Adam Pearce, for the Universal Championship at the Royal Rumble. This confrontation most likely was devised to make Pearce into a martyred saint by being robbed in a controversial manner. Further doubt was cast on Reigns' dominance and legitimacy. This is while setting up a forthcoming program with a well-meaning Superstar emerging to intervene on Pearce's unsolicited behalf.
According to Dave Meltzer in the Wrestling Observer, Pearce was chosen as an adversary who combined notoriety without any emotional investment. He then went on to give a twelve-star rating to an edition of BTE where TH2 and the Young Bucks shared thoughts on backyard wrestling while indulging in Sugar Crisp with Wasabi sauce.
Scrap Daddy Scraps Roman's Plans
As for the Rumble though, we have just learned however that these plans had to be scrapped as Pearce did not receive the medical clearance required to perform. This will most likely lead to an ultimate clash with Kevin Owens, not one for the weak of heart as old school announcers would tell us.
Notwithstanding this change of plans in the grand tradition of "card subject to change". We thought it would be more than worthwhile to profile Adam Pearce who many might not even realize is a five-time, NWA champion. This was at a time when the alliance floated in quasi obscurity in between the Crockett family and Billy Corgan eras.
Let's get to know more about Adam Pearce and his journey to the Thunderdome. Pearce was born 42 years ago in Forest Lake, an affluent suburb just north of Chicago. He excelled in high school sports and wrestled his first professional match shortly before his graduation.
Adam Pearce
From The Beginning
The young man went headfirst into his craft and as of 1997. He was on the road in the Mid-West competing in a number of Indie promotions. 2010 brought the possibility of a tryout with WCW. But Pearce walked away from that opportunity citing the instability and turmoil within the promotion. One could say his perceptiveness and wisdom served him well even at the outset of his career. Very often, the biggest doors can be the most unwelcoming.
Then, it was time to what the Joads and the Clampetts did and head out to California. Pearce was in fact invited by Christopher Daniels. Nothing more promising than the collaboration of a rising star with a Fallen Angel.
It was in the Golden State that Pearce signed on with Ultimate Pro Wrestling. He would then springboard into a program with Diamond Dallas Page. Pearce then headed for east coast citrus and began a stint with Full Impact Pro Wrestling. Immediately prior to that, Pearce acquired international exposure by appearing in the prestigious hotbeds of Mexico and Japan.
Then, in 2006 he debuted with Ring of Honor. The aforementioned fed then forged an alliance with the NWA. In the ever-changing world of wrestling, the NWA was in limbo. This was after it was future endeavored by the Jarretts who put an end to TNA's affiliation with the promo. You really can't tell the players without a program.
Adam Pearce
NWA World Heavyweight Champion
The NWA, backed by ROH held a tournament entitled Returning the Glory. It culminated in Pearce winning the NWA championship in Puerto Rico versus Brent Albright. He would then compete in an ROH PPV Respect is Earned 2 where he defended the NWA title as recognized by ROH. Pearce then lost the title to Blue Demon Jr. in Mexico City on the 28th of October 2008.
Then, there was an incident involving Pearce with a Canadian twist. In October of 2010, he lost the NWA British Commonwealth title in Quebec City to Dru Onyx. For those who are not familiar with the name, Onyx is a trainer and wrestler who is very active in la Belle Province. Onyx spent considerable time in the UK where he became very good friends with Finn Balor. He also trained Vanessa Kraven who brought a world of pride to Dead Horse, Alaska when she participated in the very first Mae Young Classic. It was only very recently that Onyx received the belt back thanks to Kevin Owens acting as the go-between.
In 2012, Pearce was involved in a protracted feud with Colt Cabana which saw them do battle on several continents. The NWA was once again in tatters and when the alliance, Cabana and Pearce failed to agree on who the rightful belt holder should be. Pearce abandoned the title in the ring breaking Kayfabe and burning a bridge.
Adam Pearce
Then & Now
There is a classic saying when one door closes, ten others open. Pearce tried his hand at acting. He even made a shortlist of finalists for the San Diego Padres public announcer position. This was before heading back to Florida as a guest trainer at NXT. He was in fact the first independent contractor to occupy such a role in the company.
Pearce then took on producing and his responsibilities and stature grew to where he is today. Pearce stepped up to the dish succeeding in a cut-throat high-pressure industry. He didn't make this far by being anybody's "boy". With his acting skills growing exponentially, his insight into the industry, and his young age working in his favor, Adam Pearce will definitely be leaving his mark on the WWE for quite a while. His path will be most interesting to chart.