As society continues to navigate life while dealing with the spread of COVID-19, so does the American independent wrestling scene. The Cleveland, Ohio-based Absolute Intense Wrestling was not immune to these struggles but found a way to bludgeon ahead and plans to put on its second show during the pandemic era. On Friday, October 9, Absolute Intense Wrestling (AIW) presents "Thunder in Indianapolis" as part of Game Changer Wrestling's The Collective at the Marion County Fairgrounds in Indianapolis, Ind.
The show is part of a larger multi-day event in which several of the top United States indie wrestling promotions will collaborate to put on a series of events at this venue. This will be the second assemblage of The Collective. With the first being in 2019 during Wrestlemania weekend in New Jersey. That too also included AIW. The 2020 edition of The Collective was originally scheduled for Wrestlemania weekend in Florida. But was called off due to the ongoing pandemic. With a better understanding of how to run a wrestling event while incorporating such anti-disease spreading mechanisms like testing, social distancing, and mask requirements, The Collective is set to make its return with AIW along with it.
This will be AIW's second event in Indianapolis this year. AIW held "I Assure You, We're Open!" on September 6 at the Celebration Plaza Amphitheater. Again, ran in conjunction with Game Changer Wrestling. That was the first event AIW put on since "Hey Yo" on February 22 in Akron, Ohio. 
Unlike the Celebration Plaza Amphitheater, the matches will be held indoors at the Marion County Fairgrounds. However, the venue is still large enough to allow for ample social distancing practices. Coupled with the other standard COVID-19 preventative protocols.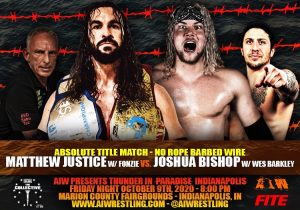 Absolute Intense Wrestling presents Thunder in Indianapolis
Absolute Title Match – No Rope Barbed Wire
Matthew Justice w/Fonzie vs Joshua Bishop w/Wes Barkley
One of the most highly anticipated matches on the card will be Absolute Champion Matthew Justice defending his title. He has ex-ECW manager Bill Alfonso in his corner. His foe is Joshua Bishop, with his Rip City Shooters partner Wes Barkley on his side. They will battle in a no rope barbed wire match. The two will lock horns in one of the most dangerous specialty matches in wrestling. Both faced each other in a six-man street fight at the previous show. The pair of wrestlers are also known from a viral Internet video. Bishop gave Justice a Death Valley Driver from a balcony through four tables last year.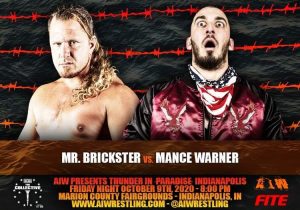 Mr. Brickster vs Mance Warner
Bishop and Barkley's Rip City Shooters stablemate Mr. Brickster will be in action. Mr. Brickster will square off with Major League Wrestling (MLW) star Mance Warner in singles action. Both clashed with each other in the six-man street fight main event at "I Assure You, We're Open!".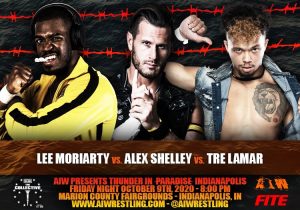 Lee Moriarty vs Alex Shelley vs Tre Lamar
A triple threat match will feature Lee Moriarty, IMPACT Wrestling star Alex Shelley, and AIW homegrown talent Tre Lamar. Shelley defeated Lamar the last time he wrestled for AIW in February. Meanwhile, Lamar took the win in a four-way match in September. Moriarty also scored an AIW victory in September, beating MLW star Erick Stevens.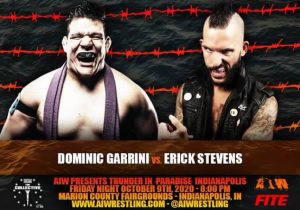 Dominic Garrini vs Erick Stevens
Stevens will be in singles action against fellow MLW wrestler Dominic Garrini. Stevens was originally scheduled to wrestle in one of his last matches before retiring from wrestling. Again this was at the AIW Florida show. However, he changed his mind on retirement and will take on AIW's head wrestling school trainer.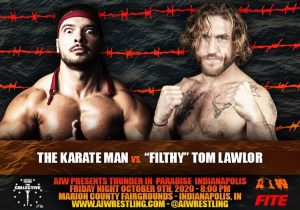 Absolute Intense Wrestling presents Thunder in Indianapolis
The Karate Man vs 'Filthy' Tom Lawlor
Another current MLW star, former Ultimate Fighting Championship fighter "Filthy" Tom Lawlor will be in action. He will face AIW stalwart and IMPACT Wrestling star Ethan Page who will be appearing under "The Karate Man" persona.
Danhausen will return to AIW against ex-World Wrestling Entertainment star Mordecai. The last time Mordecai was in an AIW ring was at the 2017 JT Lightning Invitational Tournament. Danhausen's last AIW was more recent, losing to another ex-WWE star in Swoggle. 
Another four-way match is booked for "Thunder in Indianapolis". This bout will include AIW staple Dr. Daniel C. Rockingham, Zach Thomas, Derek Dillinger (formerly Derek Director), and former Absolute Champion Pretty Boy "PB" Smooth.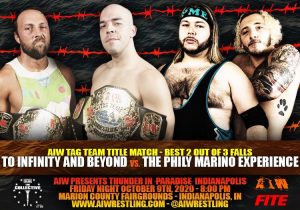 Absolute Intense Wrestling presents Thunder in Indianapolis
AIW Tag Team Title Match – Best 2 out of 3 Falls
To Infinity and Beyond vs The Phily Marino Experience
The AIW Tag Team Championships will be on the line. As To Infinity and Beyond (Cheech and Colin Delaney) defend the titles against their long-time AIW rivals The Philly Marino Experience (Philly Collins and Marino Tenaglia). This is a rematch from the last show when To Infinity and Beyond won the belts from PME. The match will be the best two-out-of-three falls.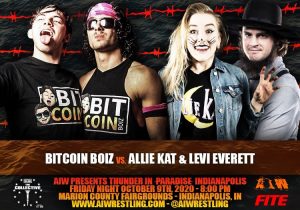 Bitcoin Boiz vs Allie Kat and Levi Everett
In tag team action, The Bitcoin Boyz (Eric Taylor and Mike Montgomery) will face women's indie wrestling star Allie Kat and Amish wrestler Levi Everett. These combatants wrestled each other on the previous Indianapolis show in an 8-person tag team match. Kat and Everett landed on the winning side.
The show starts at 8:00 p.m. Available tickets range from $25 single general admission tickets to four packs of front row ringside tickets for $220. All VIP tickets are sold out.
FITE TV will air "Thunder in Indianapolis" live on its streaming service. FITE is available on most major video streaming platforms.