The living dead girl, Abadon. A character shrouded in mystery and haunting in nature. With a look and feel that is unlike many of their contemporaries, they haunt their opponents and those watching them from a distance. Their appearance is nothing short of terrifying.
With a look that could haunt anyone who stares too long, this soul eater is more than just a scary face. Their debut in AEW came on March 4th, 2020, against Hikaru Shida on AEW DARK. Luckily enough for Abadon, they were able to make her debut in front of one of the last live crowds that the promotion has seen.
Abadon
Feeling Scared? You are not alone…
As soon as they made their entrance, they had the whole arena spooked. Abadon crawled to the ring from the Black Hills, weighing in at 1000 Lost Souls and at a height of 5-foot Dead. Abadon gave the viewers in the arena and at home a taste of their in-ring style.
They even got a taste of Hikaru Shida after they bit their finger at the beginning of the match. Abadon did end up losing that match but was able to showcase their supernatural abilities.
Dark bringing light to the Dead
High praise from Omega 
Abadon also received praise from one of All Elite Wrestling's Executive Vice Presidents, Kenny Omega. When The Cleaner takes the time to share his approval of talent, it certainly brings a vote of confidence that will make many pay more attention.
Abadon was fantastic. Can't wait for folks to check out her match on #AEWDark

— Kenny Omega (@KennyOmegamanX) March 6, 2020
Omega was recently quoted in an interview talking about the signing of Abadon. He explains the uniqueness of their character, and talks about his personal interest in their development:
"When I see a character like Abadon…I see someone who's committed themselves 100% to a character that appeals to people that are interesting, aside from wrestling.
I know that that's like a real diamond in the rough and something that I want to see develop, something that I want to nurture…Abadon checks a lot of real cool boxes, and I'm super excited to see her development."
– Kenny Omega on Abadon's Commitment To Her Character
Omega continues to explain that this character works because of the performer creating it themselves:
"For Abadon, for that character to be her, that is something that she wants to do. That is something that she feels comfortable in her own skin doing. You see the commitment behind the performance, and that is so important."
– Kenny Omega on Abadon's Character
Wrestler of the week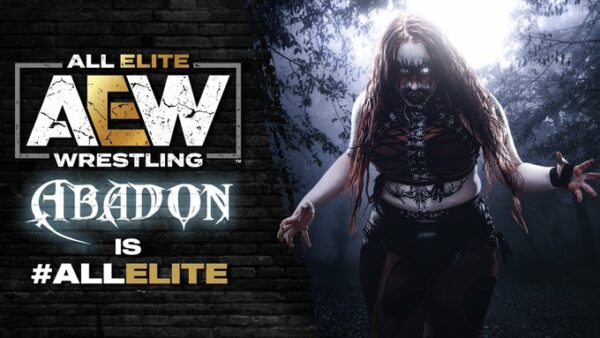 Their second appearance came on AEW Dynamite on June 17th, 2020. Abadon was set to face another newly acquired talent, Anna Jay. The stage was set to make Anna Jay seem like the rising star in the match. They provided Abadon with a pre-match vignette.
However, Abadon once again came crawling to the ring like they had just survived an exorcism attempt. In quick fashion, Abadon took the soul of Anna Jay, proving that they were the true Reaper in the AEW Women's division. The company immediately announced the signing of Abadon after their destruction of Anna Jay.
The company shortly followed up and announced that they had been named the Wrestler of the Week. This was a huge accomplishment for someone making their Dynamite debut. Thus continuing to show the audience that they were certainly one to pay attention to.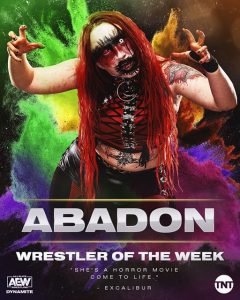 Abadon | Making An Immediate Impact
The story of Abadon is brief. They had only been wrestling for over a year at Colorado's Rocky Mountain Pro Wrestling. Within that short amount of time, they had been their Lockettes Champion on two separate occasions.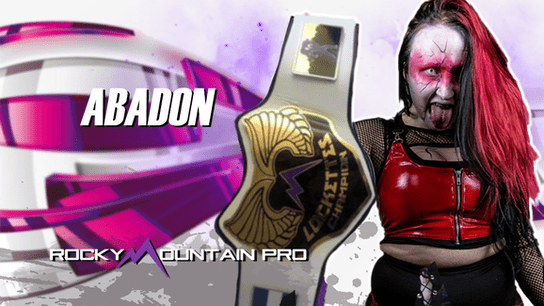 One of those victories came against Simone Lockhart in a grueling 17-minute Dog Collar Match. The technique and abilities of a performer that's only been wrestling for over a year are unfathomable.
This match is a great showcase of Abadon's in-ring ability but also their amazing character work. Their style is slow and methodical, but can change the pace in an instant with their patented Rana DDT.
Most of Abadon's social media is filled with vile and unsettling demonic videos of themself. However, they did take the time to showcase their favorite matches. This one coming against Bentley Powell.
This match is another example of Abadon continuing to show off their commitment to their character. From their entrance to their exit, there isn't a second where they aren't the dead girl. It's refreshing to see such devotion from a performer bell to bell.
Abadon | The Dead Woman Has Risen
This character demands attention. In a short time, Abadon has created something different from their peers—the polished personas of many wrestlers pale compared to this sinister fatale.
AEW seems to have taken a serious interest in them, making them an official member of the roster. Their supernatural characteristics have already sent waves through the AEW fanbase, and with only a year of training under their belt, they seemed to be set for a storied career.