One-half of Ring of Honor's All Night Express, Rhett Titus recently took some time out of his busy schedule to participate in an interview with me. Titus' career has seen him compete with the promotion for a number of years. His growth as a performer both in the ring and on the microphone is remarkable. Titus and Kenny King recently reformed as a team at Ring of Honor's pay per view All-Star Extravaganza.
In the interview, Titus opens up about how he became a wrestler and who was integral in his development. He discusses the future of the ANX, past feuds and his early training under Austin Aries and former WWE Champion. Ring of Honor fans will be pleased with how Titus is open and forthcoming about his evolution as a wrestler. He takes different things into consideration now compared to when he was younger. Titus also discusses how Ring of Honor's tag team division is as integral a part of the promotion.
His enthusiasm for the future is something that was quite evident during our interview. Titus doesn't hide who his early influences in wrestling are and how integral they are to what he's achieved thus far. As a father, he also shares how he's made a conscious effort to educate his son about wrestling and its risks.
Two ROH alumni who are credited with training Rhett Titus are Austin Aries & Bryan Danielson. Looking back now, what do you believe you learned from them?
Rhett Titus: "With Austin Aries, I pretty much learned the basics, that sort of thing. He showed me the ropes and all that good stuff. I had to do, you could say, on-the-job training with Aries when he managed me and Kenny King. I have to tag with Aries and work with Aries a lot in six-man tags. This was kind of like the second part of my training with him. It was all on the fly. It was all really good.
As far as Bryan Danielson (aka WWEs Daniel Bryan), his class was the advanced class. With him, I learned more about holds. Bryan made me think outside the box a little bit more when it came to pro wrestling. He also disciplined me a little bit more. Aries was more like me, laid-back. If you were a minute late it wasn't a big deal. With Bryan, if you weren't there by 5:00 on the dot, you were doing extra everything. It was extra squats, extra push-ups, extra running of the ropes. Nine times out of ten, coming straight from work to training, I was usually there at like 5:03, so I was always doing something extra. But it was a good lesson learned."
Wrestlers evolve and grow as performers. Can you think of a time where you were playing a character that you felt held you back?
Rhett Titus: "I think playing a character makes everything so much easier. Especially being a young wrestler, being out there trying to find yourself. I was doing all these pre-show matches and dark matches and I had wrestled under 100 matches in my first few years of wrestling, and I'm out there in front of all these Ring of Honor crowds. I wished from the get-go that I had a character, but the character was created for me.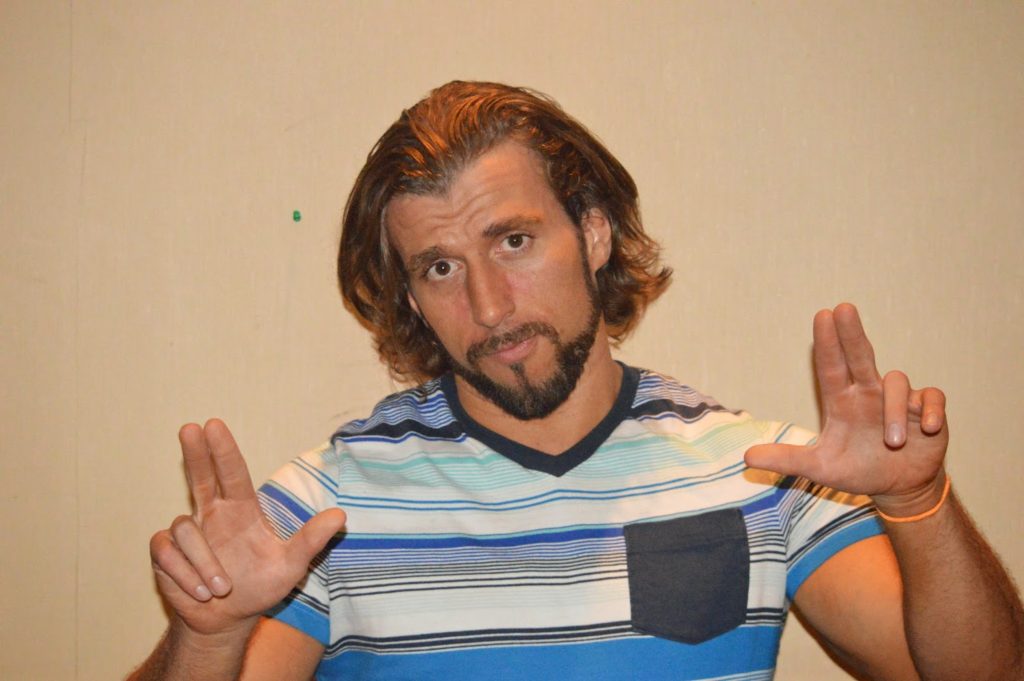 It's funny how it came along. We used to get ribbed a lot by a lot of the older people in the locker room. During a pre-show, they mess around. Adam Pearce is doing the announcements one day and as I was walking down to the ring he announced me as "the sexiest man alive." I didn't ask him to do that and didn't know he was going to do that, but I heard him say it and I was "Alright, let's run with it." This was in Detroit during a WrestleMania weekend.
On the next show, I had a robe, the mirror, the whole nine yards.
Over time it evolved, but I think a character in wrestling is for the better. It makes things more entertaining, more interesting and I think how one character plays off of another character is a lot more interesting than wrestler A plays off of wrestler B. But that's just my personal opinion, that's just my personal preference."
Describe your experience during the program you worked against Delirious. What was it like?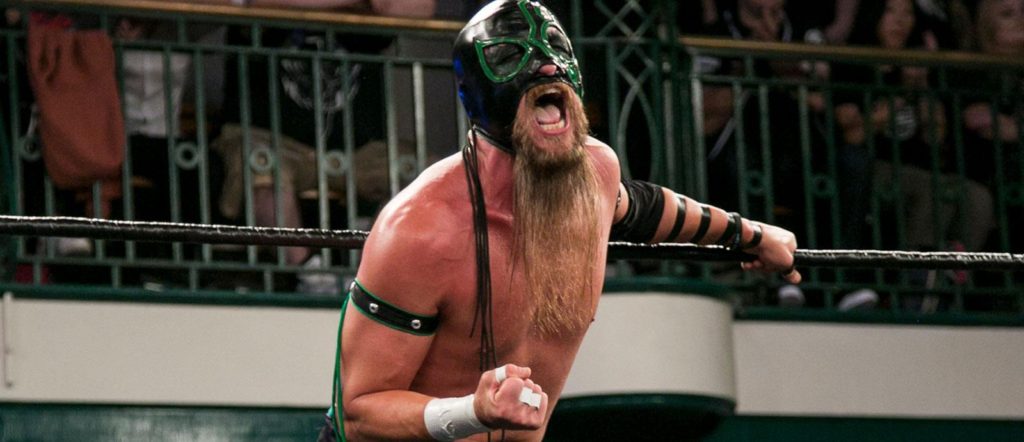 Rhett Titus: "He was the active trainer at the ROH dojo at the time, and I was still attending there as well. It was very good. It was actually a fluke how it all happened. At the time, Gabe Sapolsky didn't really seem very high on me. But something happened where Adam Pearce had missed a flight, so I got thrown in there with Silas Young and we had an awesome match. Afterward, Gabe told me he was happy with the match, and then as it usually happens in wrestling, where someone can't do something, Human Tornado tore his ACL and he wasn't going to be able to do the angle with Delirious and Daizee Haze. That's where I came along.
It was cool because I always got to work on stuff at the school with Delirious and Daizee, and we got to do a lot of fun promos and vignettes. It was a blast because it was my first big angle and the first time where I was getting used. Nowadays I still go up to the ROH dojo with Delirious and learn from him, pick his brain a little bit. In his new role, he has a whole lot more responsibility, but it's cool to just go and listen in and figure out why he does certain things, and where he goes with certain things. It's all part of the process of learning."
The All Night Express is reminiscent of the express tag teams of the 80s and 90s. Where did the idea for the team come from and what initial success could Rhett Titus have envisioned for you and Kenny King?
Rhett Titus: "Kenny and I were teaming for quite a while. It was maybe a year and a half to two years into our teaming together before we were dubbed the All Night Express. We were just the Kenny King, Rhett Titus tag team out there on the undercard. Adam Pearce originally put us together. I remember when he emailed me about it, I was like "ah, man, Kenny King. I wasn't a fan of Kenny because at one of his first shows in Ring of Honor he really rubbed me the wrong way.
At that point, I was getting ready for a pre-show match that happened to be on my birthday, doing push-ups in the locker room. Gabe Sapolsky is looking at me like "Oh my God, look at this guy. He's a machine. Look at all these push-ups he's doing." Then, Kenny King walks by and just looks at me and he looks at Gabe and he's like "Pfft. I don't even have to do push-ups before I go out there." Then, Gabe was like, "Yeah, look at this schlep doing push-ups." Are you kidding me? From that point on I had a bad taste in my mouth regarding Kenny.
He felt the same way about me. He said, "Ugh. I'm being put with this student. This doesn't really make sense to me. This guy never really did anything." We were both, whatever. I was just, like, this is what is put in front of me, I'm going to do my best to make it work and see where we go from here. Then, we just started gelling. We created a bond. We created a friendship.
Our tag-team started getting better and then once Austin Aries was put as our manager and we were dubbed the All Night Express, we really felt like a tag team at that point.
Every good tag team needs a name and for the longest time we were trying to think of a name and we ever really had anything. But in order to play off of Austin Aries' feud with Jim Cornette at the time, the All Night Express just seemed right. We'd go all night, we were just that much better than the people that came before us. I really dug it. It was good stuff."
When did the idea come about to reform ANX?
Rhett Titus: "Kenny and I did some Indy shows in North Carolina last December and it was cool being back. TNA guys had the option to get out, and after the whole Beat Down Clan thing happened with Kenny, MVP and all those guys left, and Kenny was left in the dust. He really had no direction there. And I had been exiled from Ring of Honor for the whole SCUM thing.
We were both just, "Hey, let's get the band back to together." It works. We'd been wanting to do it for a while, but it wasn't the right place, it wasn't the right time. It just so happened All-Star Extravaganza VII it was the right place and the right time. It felt really good, too. Going into it, we'd never wrestled in Texas before as a tag team, and it's been a while since the All Night Express was together. Are people going to remember? Is this a new crowd? Or is it the same thing? Coming out to get that reception, it felt really good. Alright, it's back on, it's back and popping, so let's get it."
Now that the ANX have been reformed, what are the long-term plans for the team and for you as a singles wrestler?
Rhett Titus: "First thing's first, I'm much more of a fan of tag team wrestling than singles wrestling. I always viewed myself as a tag team specialist. Even as a kid, I always liked tag team wrestling. I always viewed tag team wrestling as this great form of pro wrestling. It's cool now, watching things like the NXT Takeover: Respect special and how a lot of focus was put on tag team wrestling and how with Ring of Honor, tag team wrestling isn't just a gimmick; on any given night any one of those tag teams could go out there and be in the main event and nobody would know the difference.
Ring of Honor takes the tag team division very seriously. The plan is to get the belts back that we never lost, the Ring of Honor World Tag Team Titles, and have that reign with them like we should have had. The sky is the limit for me."
As a dad, would you ever feel guarded about being involved in any storyline or match?
Rhett Titus: "The thing is, my son is 10 years old now, and he's very into wrestling. He's grown up with it his whole life. I had my son when I was 17, I was a very young dad. I had him before I finished high school or before I ever went to wrestling school. The way he looks at it is, "My Dad, he's a goof sometimes, he's crazy, but this is what he does." He loves it. He's a big wrestling fan. I just took him to his first WWE house show and surprised him with that. He had a blast there.
The only time where I had thoughts like that was when the whole angle was going on that "Oh Rhett Titus is a virgin." Meanwhile, at the time I had a three-year-old son. I just never wanted him to look at that and think oh, is my dad embarrassed about me, or anything like that?
But he keeps up with everything and follows everything on YouTube.
Not only do I want to be a role model for my son and someone that my son could look up to, but I think about other people's children as well. When I was a kid, I looked up to wrestlers like they were the most upright citizens and everything that I wanted to be when I grew up. They were my heroes. If a child feels that same way about me or somebody else, I want to represent myself well so that their parents could look and say "This guy isn't that bad of a guy after all." I always try to keep all my social media stuff family-friendly and not be seen in a bad light where someone would say, "Who is this guy?" and "Why is my son watching him?"
Thinking about what wrestlers have endured in the past, the physicality that has been a part of different generations of wrestling, how do you think wrestling has evolved during the time you've been actively competing in the ring?
Rhett Titus: "Thank God wrestling has gotten away from that sort of thing, and chair shots and blood and all that stuff ispassé now. A lot of that stuff was really violent and hurt a lot of people long-term. Poor Mick Foley; sure has made a lot of money, but he probably has trouble getting out of bed every day. Now wrestling seems to be getting back to more the sport of things. It's more about in-ring competition and actual wrestling. The blood and guts and all that isn't the way now. Sure, I've had my fair share of bloodbaths, but that was a different place and a different time. Knowing what everybody knows now about diseases and long-term effects of concussions, it's better and it's really not something that fans expect anymore.
To be honest, I went back and watched the ladder war match between ANX and The Briscoes and I was just horrified at the amount of blood. I was bleeding like crazy, Jay was bleeding like crazy, Mark was bleeding like crazy, and it was violent. I actually had to ask myself, what the hell was I thinking, getting myself into this? The final image of Jay Briscoe lying in the ring with blood just pouring off of his head into a puddle on the mat, it was honestly something out of a horror movie. I thought this is brutal. It was something that, at the time and place, was what I needed to do, but I think wrestling has changed for the better now and I'm quite happy about that."
What does the balance of 2015 & beyond have in store for Rhett Titus? What are your personal aspirations?
"Now that the All Night Express is back up and running, it's about just keeping that going full throttle and staying healthy. Also, to get the Ring of Honor tag team titles back and get back into the same spot that the All Night Express was in years ago. Also, Kenny and I were just discussing one of our goals is to get to New Japan. So within the next year, I really hope that is something that we could make happen.
You can always like me on Facebook. Facebook.com/RhettTitus or follow me on Twitter and Instagram @RhettTitusANX and subscribe to me on YouTube.com/RhettTitus. Ring of Honor has some big shows going on in Kalamazoo, Michigan and in Dayton, Ohio. ANX will be going back at it with The Briscoes once again. So if you're in the area, you're going to want to check that out."
Describe your experience with the S.C.U.M faction. How did it come about? Were you pleased with the end result? Would you have done anything differently?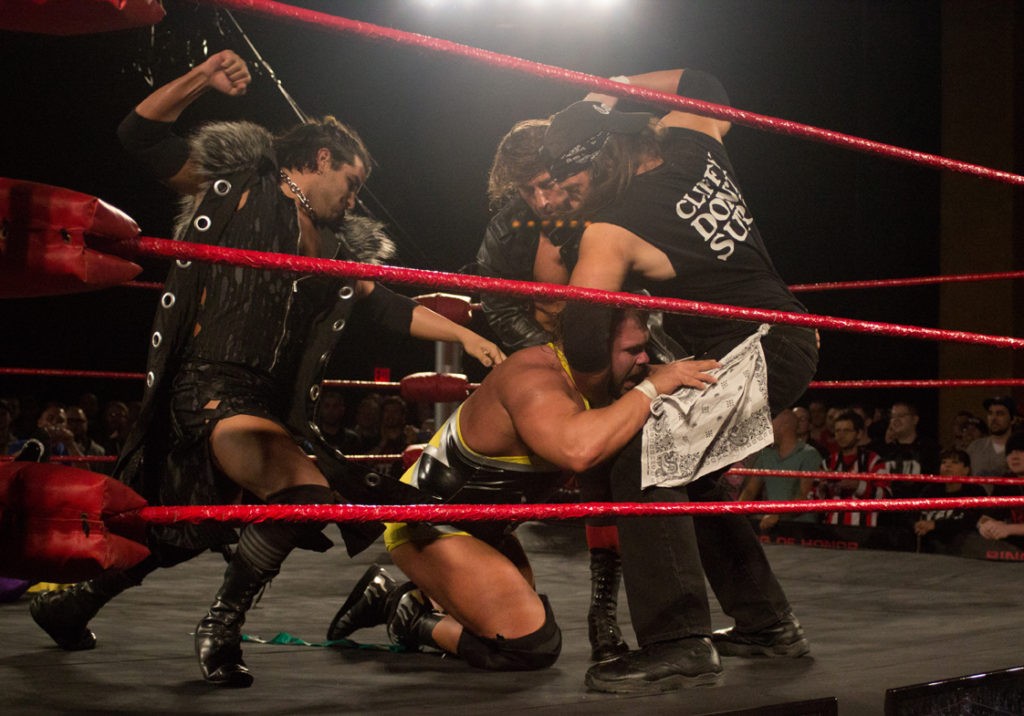 "To be honest, I view SCUM as probably one of my favorite things that I did in wrestling. Just for the simple fact that growing up, when I was a teenager, Steve Corino was my man, he was my favorite. I was a big SteveCorino fan. I used to email him all the time and bother the poor guy. Whenever he was in the area, I had to go see him. Being managed by Steve was one of the coolest things ever, too. I was amongst all these other guys like Matt Hardy, Rhino, Kevin Steen, Jimmy Jacobs; It was a very elite group. I enjoyed it very much.
I heard a lot of feedback from fans. It didn't seem like they were into it, but I had a great time with it. There will always regard that as one of my favorite memories. Just being managed by Steve and doing a lot of his old move set, it was one of those big mark-out moments. It was really cool for me personally. Would I have changed any of it? No. I liked it. Not everything is going to be to people's taste, but I was a big fan of it.