Welcome back to the 20 for 2020: AEW series! Now we crown the official top twenty matches of the year! Kicking things off, we will break down the top ten from the stacked (and maybe best in wrestling) tag division of All Elite Wrestling. From the known commodities to the rising stars, AEW had all the right tools to build a classic year in the artform of dynamic duo wrestling with their top tag matches.
This is part three (here is part one and part two with the honorable mentions if you need a refresher) of the four-part series that I have been obsessively compiling over the holiday season. And making sure I give the proper attention to the tag wrestling is essential to telling the story of AEW in it's "rookie season".  Of course, with how good the wrestling was, picking out the best was no easy task. Being spoiled for choice is the best gift 2019 (and AEW and NXT both for that matter) has given us wrestling fans.
So without further ado, I present my top ten tag matches of AEW in 2019:
10. Lucha Bros vs. SCU vs. Private Party (AEW Full Gear)
Cheating just a bit from my internal rules, I had to include a pair of triple threat tag team matches just due to their sheer exceptional quality. Despite not being a traditional tag match (including very little actual tagging, admittedly) these two contests were such spectacles that to ignore them in a list like this would've felt blasphemous.
The first exception to the rule came at Full Gear. This time SCU and Private Party put on a great contest with the Best Friends. Masterfully redefining what it means to be a triple threat tag match, this was as over the top as this division may have gone. And that is both a good thing and bad in some cases. While it did take a bit for the cohesion to come together and start smoothly executing the spots, once they did get on the same page it had all the makings of a good ole JR style slobber knocker.
Constantly pushing the pace to almost impossible lengths, it worked its way into some insane action. With the Lucha Bros having proved their worth from the beginning, they just got stronger as the match went on.
Private Party shined through as well, getting the best of the Lucha Bros a few times in the contest. Quen and Kazarian battled it out for best suicide dives, and some of the SCU and Private Party interactions were as crisp as a British potato chip.
But the best high flier in this match was, of course, Rey Fenix, showcasing so many springboard moves that it felt like cycling through create-a-move-set in a videogame. He almost claimed the victory at one point with a crossbody of that variety, but ultimately it would not be the Lucha Bros night. And that would continue to be a running theme despite their great performances here.
The inclusion of Private Party felt a bit predictable in a lot of ways due to the way this match was booked. Being the younger duo with nothing much to lose, it felt obvious that the champions had a high probability of holding off their top contenders without pinning them. When the SCU Later was delivered, it felt like the wait was over which slightly deflated this hot air balloon.
But not by much, as the drama of the action itself more than made up for the lack of drama in the finish. But the Lucha Bros would have to settle for not taking the pinfall, but also not taking home the titles further cementing this as a bit of a cruelly bad stroke of luck. Pentagon Jr., in particular, would learn that as well when after the match. When he and Fenix tried to exact some revenge and continue their feud with the trio there was one, the fallen one, who wasn't in attendance. Suddenly the lights went dark and when they came back on, a second Pentagon Jr. was in the ring. Attacking his spiderman pointing meme-style doppelganger, he then planted Fenix with the Angel's Wings in the center of the ring.
Daniels revealed himself, and this further escalated one of the best running feuds of 2019 in AEW. Whilst there were some low points, this certainly wasn't anything less than one of the best matches of the year. But for now, rounding out the bottom of the list amongst a stacked year of matches is more than a worthy achievement for such a well-balanced showcase of talents and what is coming for the pairs.
Including two of them making the next spot as well.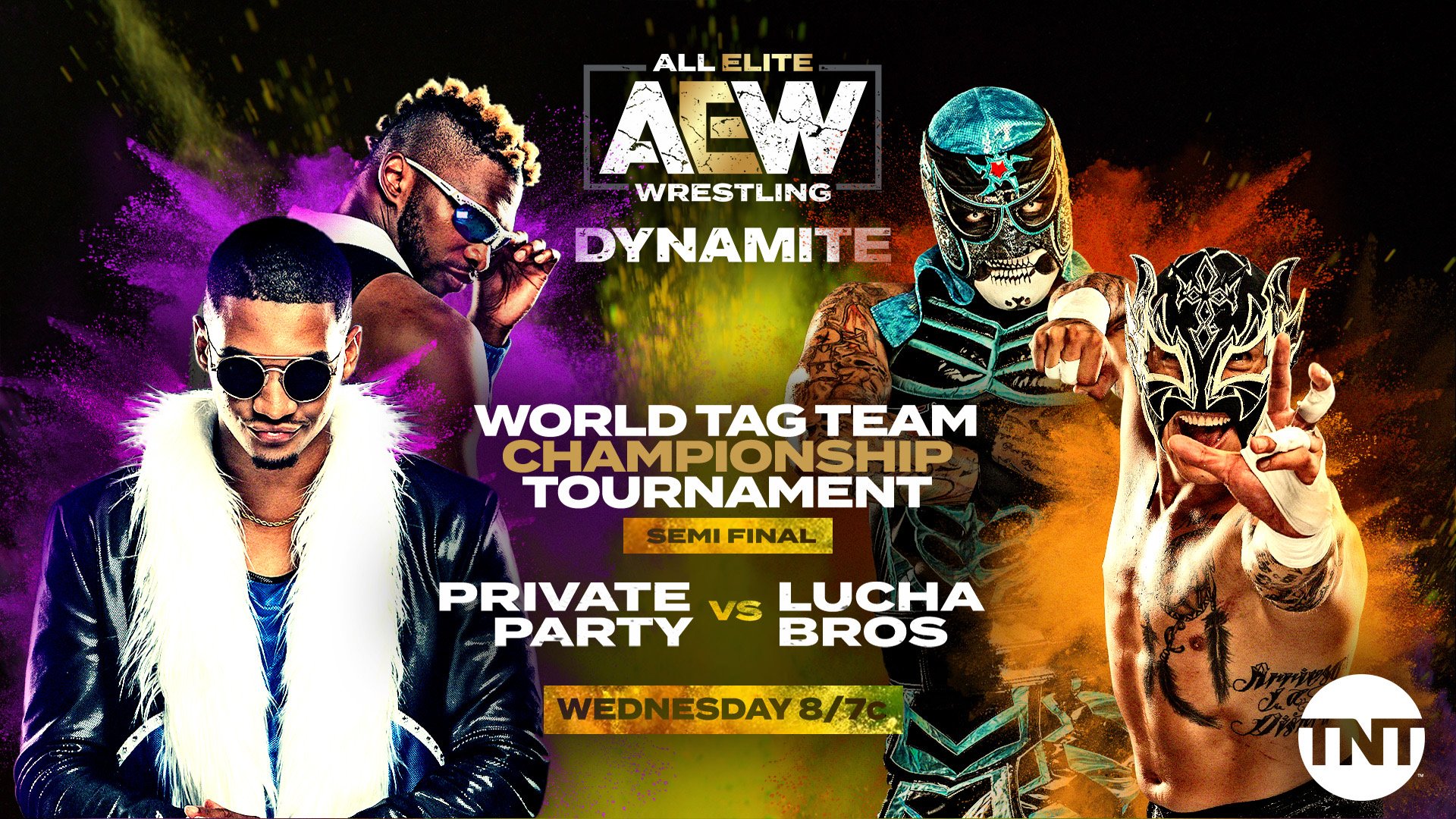 9. Private Party vs. Lucha Bros (AEW Dynamite 10/23/19)
There may have been no better example of AEW's commitment to tag-team wrestling than the 10/23 edition of Dynamite. Featuring three total tag matches and two of the semifinal tournament matches for the AEW World Tag Team Championship, it was a perfect showcase of what they were building.
Showing off what made the Young Bucks so high on the young tandem, Private Party kept pace with one of (if not THE) best teams in the world on this night. Beautiful high spot wrestling showed off some of the advancing skills of the younger group. It also looked effortless on the part of the veterans.
Quen put his stamp on the match early with a picture-perfect assisted springboard senton onto Fenix. Kassidy not to be outdone followed it up shortly after with a crisp tornado DDT/450 splash combination, but couldn't put Pentagon away with the early cover. The ebbs and flows started here, as Lucha Bros stormed back with some high flying, high impact offense of their own. Capped off with the king of the springboard himself, Rey Fenix, hitting a nice moonsault of his own. Pentagon tried to capitalize on Quen being alone, but his Pentagon Driver couldn't put the heart-heavy youngster away.
Momentum jumped back on some more sensational springboard spectacles as Kassidy hits a hurricanrana and moonsault, before showing his versatility with a powerbomb, stunner, and another suicide dive to the outside. A moment of high energy insanity, this all set up another 450 splash in the ring that couldn't get the three. This would be the last stand of sorts, as Fenix and Pentagon would go on to fight back with a frenzy to the finish.
With Fenix running the ropes, Canadian Destroyers popping off, and the spike piledriver for the finale it was a relentless pace that the Lucha Bros thrive in. And using that reputation and skill, they pushed it to the limit to ensure the victory as soon as it was in sight.
Although they had momentary lapses of chemistry at times, the vision was clear for what this match could look like when both teams start to get on more level playing fields in terms of experience. All the skills and spots were there, but with a bit more polish these two teams could start creating classics on a weekly basis on Dynamite together by year-end of 2020.
8. Best Friends vs. TH2 (Angelico and Jack Evans) (AEW Double or Nothing)
The best display of TH2, the duo formerly known as Los Gueros del Cielo in AAA, Jack Evans and Angelico shined beautifully in the spotlight of the grand stage of Double or Nothing. The fact they've been mostly relegated to AEW Dark ever since is a bit baffling given how well they mesh with many of the other tags in the division.
But this wasn't just a show for Evans and Angelico. Showing off the full potential of their own, Chuck Taylor and Trent were firing on all cylinders, hitting a beautiful array of maneuvers that included a Sliced Bread No. 2, tornado DDT, and a Doomsday Device that led to their victory. It was all sold expertly by TH2 as well, selling the moves (when they decided to sell where time permitted at least) just as beautifully as they were executed.
This did a great job of tone-setting the tag team product, sort of explaining the product to the fans. Obviously some sectors of wrestling fans won't enjoy the high flying acrobatics and blistering pace, but especially for Double or Nothing, it served as a visual representation of the fact that AEW was something new and different. This was certainly not WWE's tag division, which was for most people considered a good thing. Vince does not have the reputation of keeping a keen eye on that side of wrestling, after all.
This crazy paced action was a bit dividing for some as aforementioned, as you either love or hate this really with not much in the way of middle-ground. But it certainly grabbed the crowd's (and my) attention with the spectacle of something refreshing. Combined with Young Bucks vs. The Lucha Bros and SCU vs. Stronghearts on the same card they set a precedent for what would go on to be their next seven months of tag-team programming. And this great contest served a huge part in delivering that message in a very exciting fashion.
7. Private Party vs. SCU (AEW Dark 12/17/19)
The lone entry from AEW Dark on this particular list, that by no means degrades the quality whatsoever. And that is the brilliance of what AEW Dark has achieved despite being a free YouTube show. It doesn't aim to be Sunday Night Heat, Main Event, Jakked, or Velocity and just use talent to see what sticks. You get to see exhibitions like this one. Here, the two teams lay everything on the line as if they're main eventing Dynamite.
Showing so much progression over the months they've spent in AEW, Private Party maybe more than no other has benefitted excellently from the depth of talent in the division. Learning hands-on with veterans every week led to a showcase of new and old tricks for all four of the dogs in the fight.
Starting off the match with a more technical wrestling approach, they decided to have a showdown between Kassidy and Kazarian to kick-off the contest.
Shortly after, Quen and Sky engaged in their own one-upmanship. The youth and veterans matched each other stride for stride and move for move. This told the story of Private Party's progression admirably. It allowed them to literally show the gained fluidity and comfortability against the tag champions in real-time.
Building upon the foundation they already had upon debuting at Fyter Fest, this showcased what could be a major year in 2020 for the young duo from New York City. Taking what they learned from Amazing Red and mixing it with the veteran leadership and abilities of AEW's top tier tag teams will mix and make for a potent potion. And that certainly ain't water.
If more matches like this one are coming for 2020, then we are sure to see an eventual rematch of this contest on a bigger stage for the big belts in the very near future. But for now to get this for free on a Tuesday night? Not a bad deal for anybody and a great proof of concept for what that show can be at its finest moments.
https://www.youtube.com/watch?v=8fvKaucFMYE
6. Young Bucks vs. Lucha Bros (AEW Double or Nothing)
This was the second offering from the dynamic and fantastic Double or Nothing card. It was by far the best example of what the division would look like. When paired together, The Young Bucks and Lucha Bros are simply magical. They would continue to prove this throughout 2019.
Prompting chants of "tag team wrestling" and "this is wrestling" throughout the contest, it certainly proved the crowd correct. Picture perfect spots executed to perfection were aplenty in this one, including so much stereo offense in synchronization that you would've thought you were watching a singles match through a mirror. The offense was breathtaking, the pace breakneck, and the crowd was electric. This type of wrestling may not be everybody's cup of tea. However, you have to appreciate the talent involved in putting on such a spectacle as this one.
The fact they would go on to best this performance is almost ridiculous. Consider the disparity between what this match delivered and what much of WWE's top tag matches deliver. This was simply a masterclass example of tag wrestling; it is without explanation to try to define this in words. You must just go back and watch it to truly understand the brilliance in its entirety.
This wouldn't be the last time these two faced off with each other, and not even the best of those exchanges. But that only speaks to how ridiculous the rest of the list starts to get the more you go on. All of the teams listed here, including these two, would best their own performances. Learning and growing from each other in a constant battle of one-upmanship that would go on throughout the year.
This match set the tone for all of that to start, and the next five months would just solidify that this was only the beginning. And it only keeps you asking "what more can they do" only to be answered a week or two later. That is an achievement that the Young Bucks and the Lucha Bros would continue to accomplish after this match. I'm sure that won't be left in 2019 either.
Until Next Time…
Check back in tomorrow for Part 2 of our 20 for 2020: AEW Tag Team Matches for 2019.