Hello one and all, and welcome back to another quick glimpse of what's to come next month over here in the UK in another edition of You Gotta Know!
This is my monthly series where I give you all a heads up about the BIG British wrestling shows that are happening this month. There may be some companies listed here that you may not know, but if they're on this list then you NEED to check them out.
Enough waffling from me, let me tell you about what you GOTTA KNOW and should be looking out for in March 2019!
Fight Club: Pro

International Tekkers Friday 15 March The Hanger Events Venue, Wolverhampton
Once again Fight Club: Pro hold the annual International Tekkers event, and they might have outdone themselves here as the card looks insanely good!
Daisuke Sekjmoto, Rey Horus, Cima have all been announced and given matches, and there's still two weeks before the show. Plenty of time to raise the ante some more huh?
Will SCHADENFREUDE continue their reign of terror? Can anyone stop them? I have no idea but I'm sure as hell excited to see how this event pans out. Especially with their Dream Tag Team Tournament show next month!
Over The Top Wrestling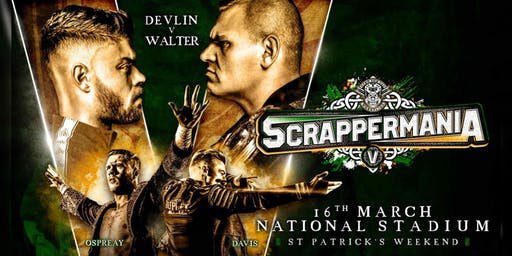 ScrapperMania V – Saturday 16 March, Dublin National Stadium, Dublin
The St Patrick's Day weekend will host one of the most eagerly anticipated OTT events in years, ScrapperMania V. At the time of writing only four matches have been announced, including one blockbuster of a main event!
Scotty Davis has had a breakout 2018 and how do OTT reward him? By matching him up against the man, the myth, the legend that is Jushin Thunder Liger!!
More Than Hype (LY Cleary, Darren Kearney, Nathan Martin) will battle The Rapture (Zack Gibson, Sha Samuels, Charlie Sterling).
Session Moth Martina will try to raise her profile and credentials even further when she takes on the one and only Meiko Satomura in a match that will have the whole of Ireland watching I'm sure.
And then that major main event. Where WALTER will once again take on his OTT adversary Jordan Devlin with the OTT World Championship on the line. And if this hype video doesn't get you uber hyped then nothing will….
IPW:UK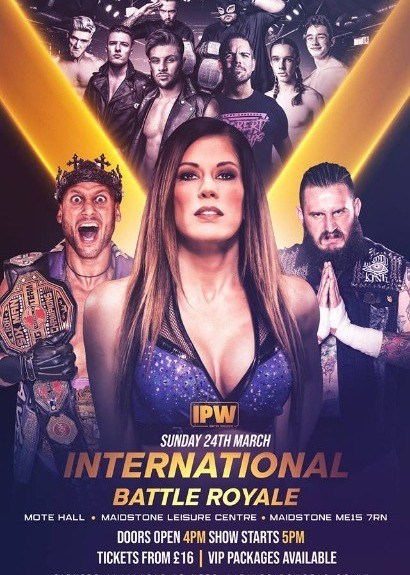 International Battle Royale – Sunday 24 March, Mote Hall, Maidstone
IPW:UK are invading Maidstone to hold their International Battle Royale event, and if it's anything like last year then you can expect the unexpected!
The main event will be the aforementioned Battle Royale where wrestlers from around the globe will compete and throw each other over the top rope in order to be crowned the winner AND recieve a shot at the IPW World Heavyweight Championship at anytime, at any place in the next 365 days. Huge stakes I'm sure you can agree.
Entrants announced so far include –
Kip Sabian
Rob Sharpe
IPW Women's Champion Sierra Loxton
The Anti-Fun Police
Ring Of Honor star Brody King
Former Impact Women's Champion Madison Rayne
Ring Of Honor Six Man Tag Champion Matt Taven
IPW World Heavyweight Champion Mark Haskins
Pro Wrestling EVE
She Fights On Fridays – Friday 8 March, Resistance Gallery, London
She Slams On Saturdays – Saturday 9 March, Resistance Gallery, London
Pro Wrestling EVE will be joining in on the World Women's Day celebrations with a two-day extravaganza of wrestling at their Resistance Gallery home. Not much has been announced so far, but what HAS been announced is great news so, you gotta know.
She Fights On Fridays will have resident loudmouth Charli Evans possibly regretting opening her mouth, as she will be taking on the woman that she was bad mouthing about….AEW star Dr Britt Baker!
She Slams On Saturdays will have a match of epic proportions as Leon will be battling for the Pure J Open Weight Championship against the champion Command Bolshoi! I did say epic folks!
Defiant Wrestling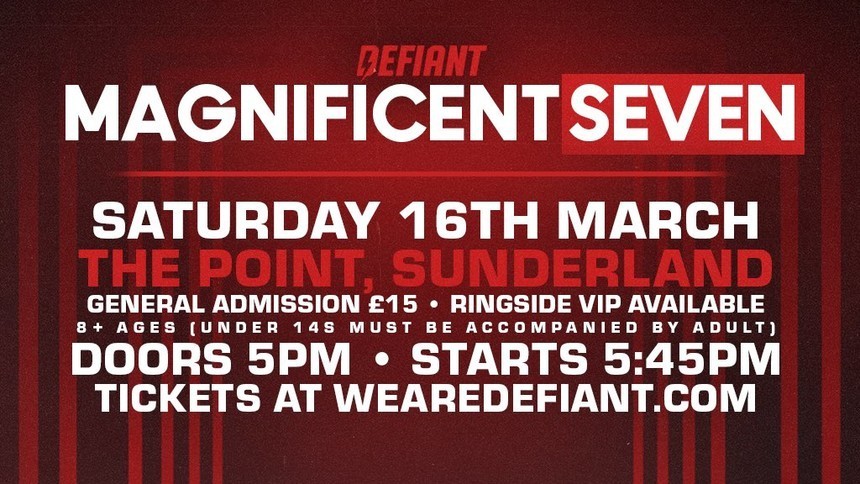 Magnificent Seven – Saturday March 16, The Point, Sunderland
Defiant Wrestling use one of their gimmick matches as an actual event name as they hit Sunderland with the Magnificent Seven.
Now if you're not au fait with the Magnificent Seven match itself, it's basically a seven man match, and can be competed either as an elimination match or a ladder match. I'm under the impression that it will be the ladder match for this event.
Announced so far is the Defiant Wrestling debut of the one and only MJF, Martin Kirby will defend the Internet title against El Phantasmo, and Rory Coyle will take on Rampage Brown for the Defiant Wrestling World Championship!
PROGRESS Wrestling
Chapter 85 Progo.Naut – Saturday 9 March, O2 Academy, Bournemouth
Chapter 86 Corrupted Harmony – Sunday 10 March, O2 Academy, Birmingham
Chapter 87 Breadknife – Sunday 31 March, Electric Ballroom, London
Oh wow, a HUGE month in store for PROGRESS Wrestling this month. Three events all around the country, including a debut in the southern coastal town of Bournemouth and two shows back to back. Busy, busy, busy!
Chapter 85 has a full card announced, which is shown below. Highlights for me are Session Moth Martina versus her "daughter" (check Martina's Twitter for more clarification 😉 ) Millie McKenzie, Jordan Devlin against the debuting Austin Theory, and my match of the month…..Trent Seven will defend the Atlas Title against Jody frickin Fleisch!!
No matches announced as of yet for Chapter 86, Corrupted Harmony, but announced to appear are Jordan Devlin, El Phantasmo, Angelico, Jody Fleisch, DJZ and Trent Seven so you gotta know!
Breadknife (a subtle play on words with a certain NJPW wreslters moniker perhaps?) has TWO major tag team matches announced which are main events anywhere in the world. First off we have LAX vs CCK III, and if you've seen either of the forst two matches, you'll know why I'm super stoked for this match.
Mark Davis. one half of Aussie Open, has cashed in his Natural Progression Series win contract and called out the Swords Of Essex! It will be Aussie Open versus Paul Robinson and Will Ospreay, The Swords Of Essex, for the PROGRESS Tag Team Championships! WOWOWOW!
That's my pick of March's best action, hopefully some of you will be attending those shows. If so, get in touch, tell me how they were, why I should be covering them right here at Pro Wrestling Post. Make me so jealous that I have no option but to sell a kidney to get to the next show…..ok maybe not a kidney but you get the idea hopefully!
Mark Blake Facebook – MarkBlakeSmart
Mark Blake Twitter – @Smart_Mark_B
PWP Facebook – ProWrestlingPST
PWP Twitter – @ProWrestlingPST
Are you a wrestler or promoter that's running a show in April? Would you like some free publicity and the eyes and ears of millions across the world? If so, click the links above and drop either myself or Pro Wrestling Post a line and let's get you on next months You Gotta Know!