Like a phoenix rising from the ashes, The Wrestling Revolver returns this Saturday, October 30th. Wrestling Revolver is putting on "Tales from the Ring IV" just in time for Halloween, and this show is stacked. Tales from the Ring IV Presented By Wrestling Revolver.

"It really means everything," said Phil Stamper, Wrestling Revolver Chief of Staff and Communications. "The wrestling landscape has jumped a year and a half into showing a different side of the same beast. But, it also means bringing our fans back together and bringing back our community to enjoy a good event with great talent."
The Wrestling Revolver, like most pro wrestling promotions, were hit hard during the 2020 COVID pandemic. Shows had to be canceled as everyone figured out how to navigate our world in an unheard-of crisis.
Their March 2020 show scheduled for Des Moines was one of these shows, and now they are making their triumphant return to Iowa. Luckily for fans who purchased tickets to that March show, the company is honoring those tickets this Saturday.
Before jumping into the card, it needs to be noted that all Revolver Championships have been vacated.
"We wanted fans to enjoy the event. Some time has passed, and so this gives an opportunity to begin a new chapter. Also, and let's be honest, Matthew Palmer wants to chase ghouls and goblins now, so this was a perfect moment to crown a new champion…who, of course, I'm sure will be JT Dunn." – Phil Stamper.
So, Saturday night, new champions will be crowned, and the company will do it in a dramatic fashion.
Wrestling Revolver: Tales from the Ring IV
Iowa Street Fight
"The Death Rider" Jon Moxley vs. "Zombie Princess" Jimmy Jacobs
One of the biggest names in professional wrestling comes to Revolver Saturday in Jon Moxley. The former WWE and AEW Champion was originally slated for a tag team reunion with Sami Calihan, but an injury to Calihan is keeping that from happening.
So instead, Moxley made an open challenge, and a familiar foe answered that challenge in Jimmy Jacobs. Jacobs, a long-time staple of Wrestling Revolver, and Moxley have plenty of history.
They've gone to battle numerous times, with both men willing to do whatever it takes to emerge victorious. This confrontation, a decade in the making, is destined to get out of control. Jimmy Jacobs accepts Moxley's challenge
Wrestling Revolver  Tales from the Ring IV
Revolver Championship Ladder Match
"All Night Long" Rich Swann vs. "Fresh Prince of Mid-Air" Trey Miguel vs. "The Manscout" Jake Manning vs. "Wrestling Savior JT Dunn w/ Phil Stamper
It's the dawning of a new era for the Revolver Championship Saturday night. One of these four will climb the ladder and win the ultimate prize. Swann, the former IMPACT World Champion is determined to add another piece to his ever-growing trophy case.
Miguel, the current IMPACT X-Division Champion, wants to walk out of Iowa Saturday with a second championship around his waist. Manning, the Revolver faithful's sentimental favorite in this match, wants to solidify his Revolver legacy by winning the championship.
This brings us to JT Dunn. A man who learned under the wing of Killer Kross during his time at Revolver. With Phil Stamper by his side, he feels it's his destiny to win the Revolver Championship. All four of these men are ready to take Wrestling Revolver into the future as Champion.
Tales from the Ring IV Presented By Wrestling Revolver
Tag Team Championship Match
"The Wolves" Davey Richards & Eddie Edwards vs. "Infrared" Logan James & Tyler Matrix
Originally slated to take on the reuniting team of Jon Moxley and Sami Calihan, The Wolves now find themselves competing for the Revolver Tag Team Championships. The long-time partners, reuniting for the first time since 2017, want to build on their championship legacy. Standing in their way is a pair of up-and-comers looking for their first taste of Revolver Championship glory.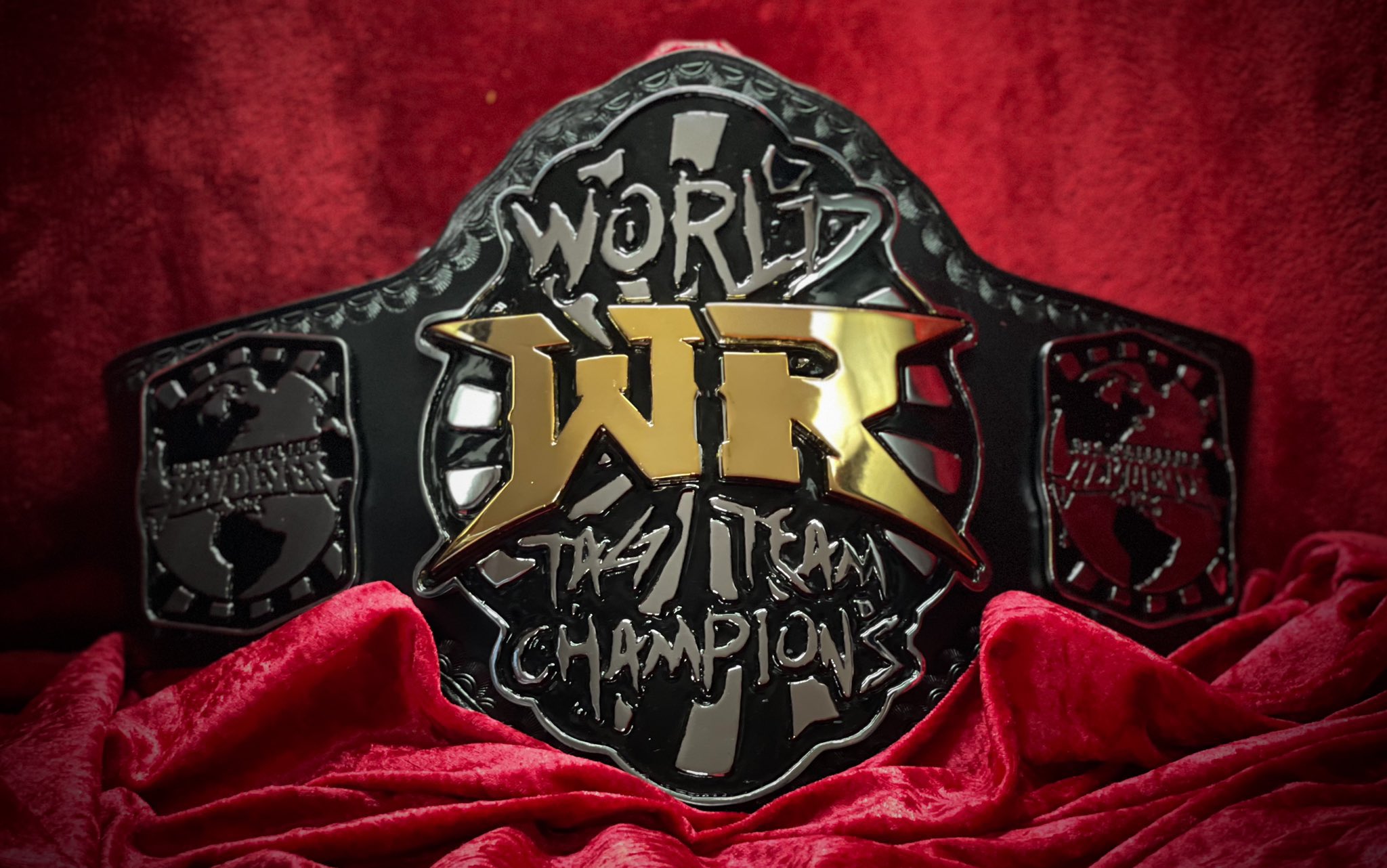 Infrared Promo about the upcoming match
🚨Watch NOW & RT 🚨

📺EXCLUSIVE VIDEO📺

AMERICAN WOLVES VS . INFRARED HYPE VIDEO@LoganJames & @Tyler_Matrix talk about @TheSamiCallihan's injury & challenging the American Wolves!

10/30/21#TalesFromTheRing@HorizonEventsC1
LIVE on @FiteTV

TIX: https://t.co/yvnCZg5LnQ pic.twitter.com/lmnOC7riTV

— The Wrestling REVOLVER (@PWRevolver) October 9, 2021
Tales from the Ring IV Presented By Wrestling Revolver
Remix Title Match
"Inevitable" Ace Austin vs. "The Sauce" Alex Zayne
If you're looking for a potential show-stealer, look no further than this match. The Remix Title is a brand new creation for Wrestling Revolver, and they have two of the best high flyers in the game facing off for it. Austin, a current member of the IMPACT wrestling locker room, is no stranger to Revolver, and Saturday, he is on a mission to be the first-ever Remix Champion.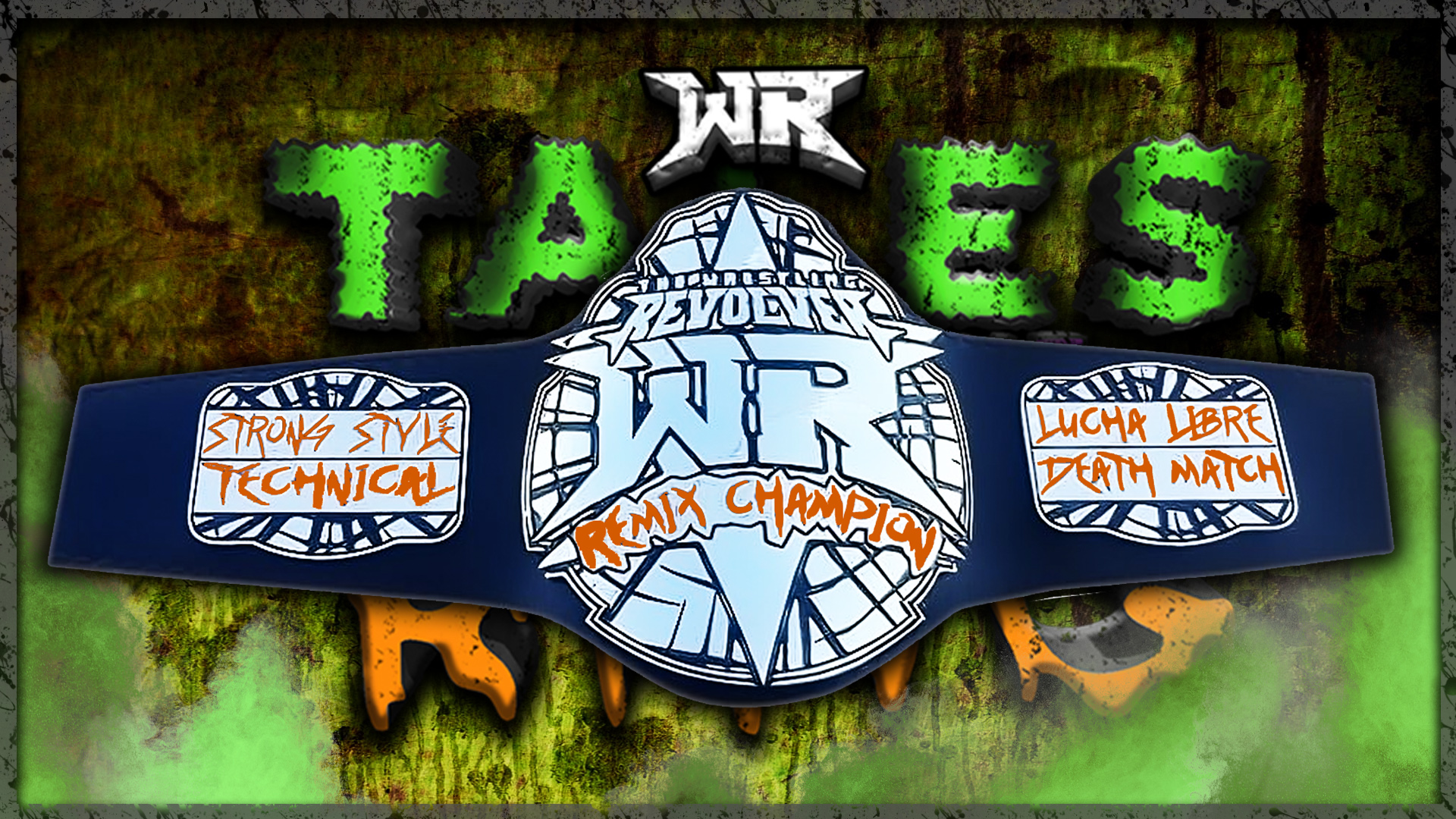 Across the ring will be a guy in Alex Zayne who is making a name across the independent wrestling landscape as a certifiably dangerous high flyer. 
There will be no lack of excitement in this match. 
Wrestling Revolver: Tales from the Ring IV
Triple Threat Match
"Kaiju Queen" Jessicka Havok vs. "Big Starkz Brand" Billie Starkz vs. "Violence Artist" Charli Evans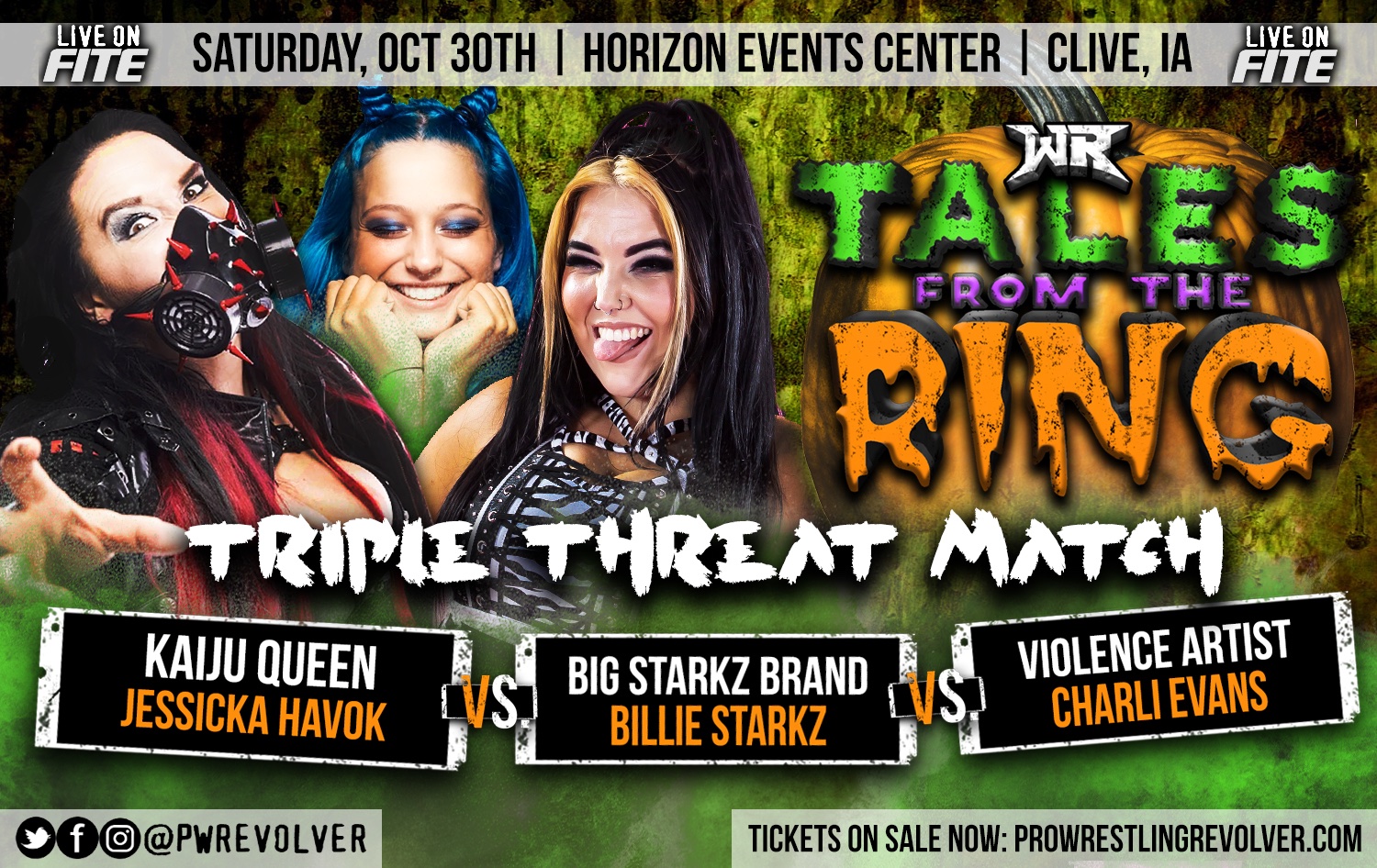 Long-time Revolver fans know how much Jessicka Havok means to the promotion.
She's been a part of some of the wildest brawls in the promotion's history.
Saturday, she is taking on two newcomers to Revolver and wants to show them she is the queen of Revolver. 
Billie Starks is a PWI 500 rated wrestler making her name across the indies at a young age. Her potential is unlimited, and a win on Saturday would be a huge accomplishment for her resume. Coming all the way from Australia, Evans is in the midst of an American tour of violence. No better place to continue that tour than Wrestling Revolver. 
Wrestling Revolver: Tales from the Ring IV
Four Corners of Pain Death Match
"Blood Fighter" Alex Colon vs. "Born 2 Die" Jake Christ
Both have reputations as masters of the deathmatch, and both are thrilled at having another opportunity to prove such a reputation. With this match, fans can expect ultra-violence and lots of bloodshed. This will not be for the faint of heart. 
Wrestling Revolver: Tales from the Ring IV
First Time Everhausen
"Very Nice, Very Evil" Danhausen vs. "Lemme Know" Everett Connors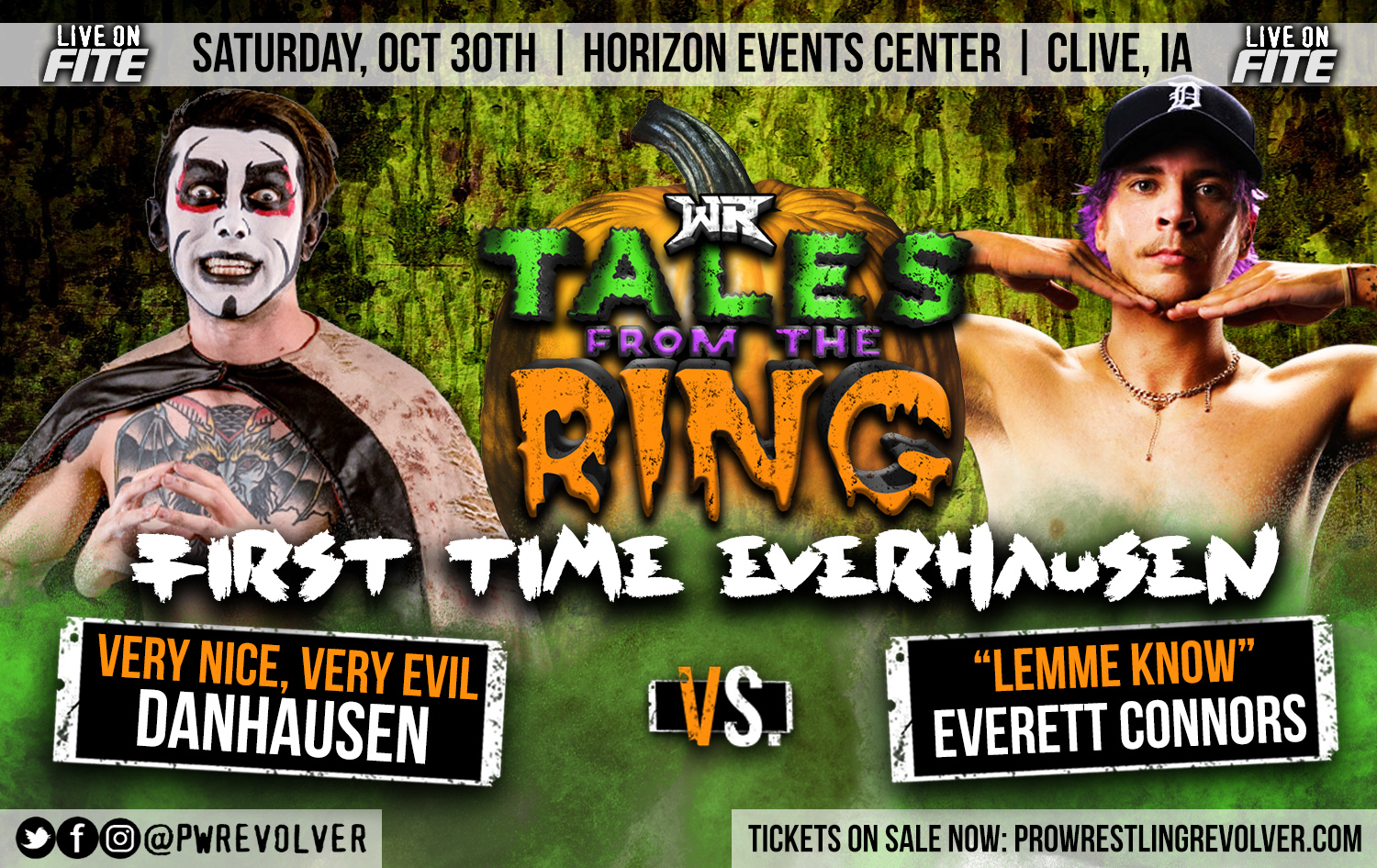 Danhausen, who has made quite the name for himself across the indie wrestling scene, was originally slated to take on former Revolver Champion "Monster Hunter" Matthew Palmer.
However, an injury to Palmer left him without an opponent. 
The officials of Wrestling Revolver allowed for Danhausen to handpick his opponent for this event. He chose Everett Connors, who can see his stock skyrocket with a victory over the uber-popular DanHausen. 
Tales from the Ring IV Presented By Wrestling Revolver
First Time Ever
"Drama King" Matt Rehwoldt vs. "Alternative" Anthony Greene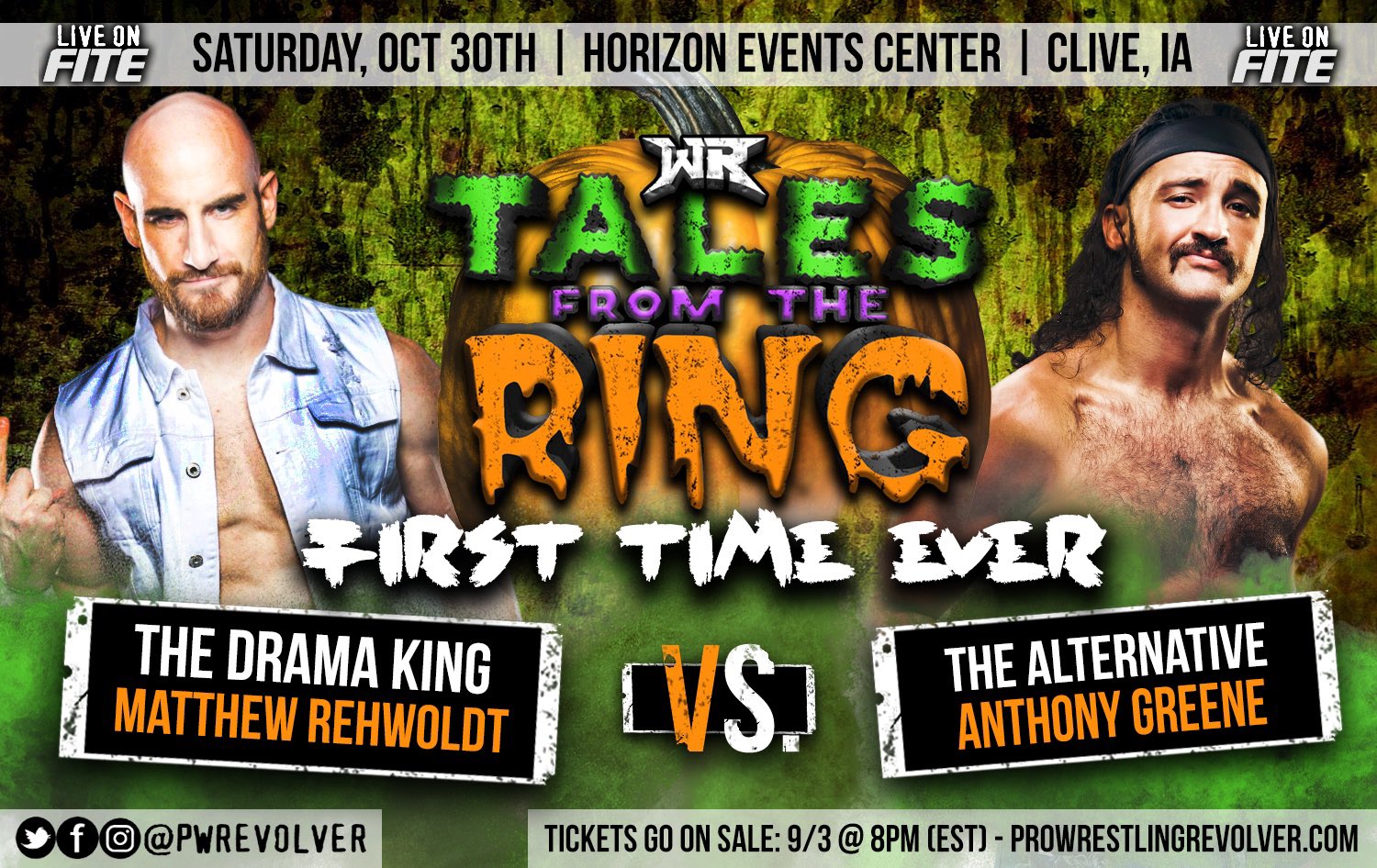 Two veterans making their Revolver debuts in this one. 
Wrestling Revolver has been a spiritual successor to the original ECW. 
This means they combine some of the craziest and wild, hardcore matches with some of the best technical wrestling in the world. 
This match falls under the latter as these two technicians will do their thing come Saturday night. 
Wrestling Revolver: Tales from the Ring IV
Sudden Death Scramble Match
Warhorse vs. Madman Fulton vs. Ninja Mack vs. Crash Jaxon vs. Sam Beale vs. JJ Garrett
It's simple; there are no rules, no tags, and the first person to score a pin or submission wins the match. These six competitors will have plenty of leeway to do whatever they want and need to in order to earn a victory. This is an eclectic mixture of styles and personalities, and this could potentially be the wildest match of the night. 
---
All the action begins live on FiteTV at 9 pm Eastern time.