Alright, RetroView fans, it's time for our next trip down WCW Sunday Night RetroView memory lane. With it being Super Bowl Sunday, what better time than to go back and revisit WCW SuperBrawl IV. Today's edition, SuperBrawl IV. To start the show, we get a vintage 90's style promo video. 
The video lets us know three world championships will be on the line during this show.
First, Lord Steven Regal defends his WCW Television Championship against Arn Anderson.
Next, the Nasty Boys put their WCW Tag Team Titles on the line against the team of Cactus Jack and Maxx Payne. 
Then inside the Thundercage, Ric Flair puts his title on the line against Big Van Vader. All these championship matches and the Thundercage match featured the team of Sting, "Flying" Brian Pillman, and Dustin Rhodes against Steve Austin, Rick Rude, and Paul Orndorf. 
Tony Schiavone welcomes us to the show with Bobby "The Brain" Heenan by his side. 
WCW SuperBrawl IV – 1994
Johnny B Badd vs. Michael PS Hayes
This match was originally scheduled to be Badd versus Michael PS Hayes, but Hayes comes out in a wheelchair. Mean Gene Okerlund comes out with WCW Commissioner Nick Bockwinkle, and they question Hayes about his supposed injury. 
Bockwinkle gives Hayes and Garvin an ultimatum that one of them will have to wrestle Johnny B Badd in 45 minutes, or both men will be fined and suspended. 
WCW SuperBrawl IV – 1994
Harlem Heat vs. Thunder & Lightning
Harlem Heat make their way to the ring first. Hearing the announcers refer to them as Kane and Kole is odd. Thunder and Lightning enter next, and let me tell you; they are the definition of generic wrestlers. Kole (Booker T) and Lightning begin the match.
Thunder and Lightning show some potential in the early portion of this match. Each man attempted to wear down the members of Harlem Heat. When the fight spills to the outside, Harlem Heat takes control. 
Midway through the match, we get a split-screen, one showing the ongoing match, the other showing Ric Flair in his locker room. With Flair are Arn Anderson and Ricky Steamboat and Schiavone continues hyping the main event of the night. 
Just as it looks like Thunder and Lightning are about to win, an accidental distraction by Thunder allows Kole (Stevie Ray) to kick Lightning in the back of the head. The simple kick gives Harlem Heat the victory. 
Winners – Harlem Heat
We cut to the locker room where Mean Gene is outside of the restricted locker room of Ric Flair. Okerlund informs us that the extra security is to keep Vader away from Flair because the big man had vowed to get to Flair before the match. 
WCW SuperBrawl IV – 1994
The Equalizer vs. Jim Steele
This one had me scratching my head, not recognizing either of these guys. 
The Equalizer looks like a poor man's Barry Windham, and "Jungle" Jim Steele is an obvious knockoff of "Superfly" Jimmy Snuka.
Neither man is very impressive, probably a big reason why I don't recall either one. 
Schiavone does his best to try and build up Steele as this must-see newcomer. Unfortunately, the crowd is absolutely dead during this match. Jim gets a flurry of offense going near the end before finishing the Equalizer off with a Thesz Press for the win. 
Winner – Jim Steele
Mean Gene is back promoting the WCW Hotline. Okerlund is then joined by Nick Bockwinkle and Ricky "The Dragon" Steamboat. The three talk about the promised match by Ric Flair to Steamboat for a future championship opportunity. 
Steamboat then announces that he will get a title shot regardless of the winner during the night's main event. 
WCW SuperBrawl IV – 1994
Terry Taylor vs. Diamond Dallas Page w/ The Diamond Doll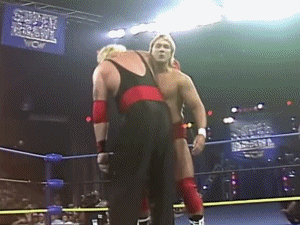 It's always funny to see DDP before he became WCW's People's Champion.
Terry Taylor makes his way out and is ready for a fight. 
Taylor hits Page with a heel kick and a flurry offense to start the match. 
An early armbar sends Page scurrying to the outside to regain his composure. 
We get a solid sequence of these two trading roll-ups, something Heenan and Schiavone both appreciate. Page uses all the classic heel tactics to gain the upper hand. As Page's intensity rises, so does his frustration from not being able to put Taylor down. 
A back body drop by Taylor followed by a dropkick briefly swings the momentum into Taylor's favor. But Page slows it down with a rest hold, all the while trash-talking Taylor. 
Once again, Taylor fights back, but once again, the momentum is short-lived, and Page nails him with a vicious right hand. Finally, after getting beat down for the majority of the match, Taylor shocks DDP with a quick roll-up for the one, two, three. 
Winner – Terry Taylor
Mean Gene is up again this time; he is joined by German announcer Olivier Muffler. Muffler announces in German how proud he is to be standing with Mean Gene at such a big show. 
WCW SuperBrawl IV – 1994
Johnny B Badd vs. Jimmy Garvin
Badd enters first to a rousing ovation. 
Then Garvin comes out pushing Hayes in his wheelchair, keeping up the obvious ruse. 
If they ever make a movie about the Freebirds, Nick Offerman should play Jimmy Garvin.
This one is all about Badd's athleticism and Garvin's cunning. 
Garvin does a fantastic job raising the fans' ire, taunting any time he's in control. Heenan mentions that Garvin is making Johnny B Badd wrestle his pace, which Schiavone quickly disagrees with. 
This is a fairly slow-paced match, with both men trading holds for the majority of it. Badd gets the win after countering the Freebird DDT and before finishing Garvin off with the "Kiss That Don't Miss" punch and a roll-up. 
Winner – Johnny B Badd
After the match, Garvin attacks Badd from behind using Michael PS Hayes' boot to inflict further damage. Garvin leaves Badd lying with the move he calls 911, a cutter variation. Mean Gene is once again in the back outside of Ric Flair's locker room. 
Okerlund and security make their way down the hall to Vader's locker room. Cautiously entering Vader's locker room, Okerlund is greeted by a yelling Vader who throws a chair at Mean Gene.
WCW SuperBrawl IV – 1994
WCW Television Championship Match
Lord Steven Regal © w/ Sir William vs. Arn Anderson
Our first of three championship matches is nearly 30 minutes of tough, hard-hitting wrestling.
Two of the toughest guys in the business are featured in this one. 
The two trade off headlocks to begin the match. 
Regal emphasizes how much it hurts his ear anytime Anderson puts him in a headlock. There is a great slow burn to this match as the intensity progresses as the match moves along. 
Both men are adept at inflicting punishment on their opponent, and both are willing to brawl when needed. Schiavone and Heenan do a great job playing up just how good both of these guys are in the ring. 
Normally a Television Championship Match is scheduled for a maximum of 15 minutes. However, this one is given extra time, and they both utilize it to inflict more punishment on their opponent. 
Right before the ringside announcer proclaims there are ten minutes left in the match, Regal's manager Sir William jabs Anderson in the throat with his walking cane. Sir William gets more involved when Arn is sent to the outside, once again hitting Anderson with his cane. 
This angers the enforcer as he begins to fire up against Regal. Anderson's momentum is slowed when Regal continues to use a variety of holds and locks to inflict more damage. As the clock ticks under three minutes, the two begin trading punches. Anderson gains the advantage with two close near falls. Regal responds with a pair of close falls of his own. 
In the final 60 seconds, Arn picks up the pace, even hitting his patented spine buster, but a distraction from Sir William keeps him from getting a three count. 
In the end, Regal, with an assist from Sir William, gets the win with eight seconds to spare. Regal holds on to the umbrella over the top rope to give him maximum leverage on Arn's shoulders. 
Winner – Lord Steven Regal
WCW SuperBrawl IV – 1994
WCW Tag Team Championship Match
The Nasty Boys © vs. Cactus Jack & Maxx Payne
Jack and Payne make their way out first, and the crowd showers them with support.
Schiavone sums up what's about to come perfectly… "
None of these guys know how to wrestle, but they know how to fight."
Brian Knobbs and Payne begin the match, and Payne surprises everyone with a waist lock and German suplex. Knobbs quickly tags in Jerry Sags, and he is also met with a suplex. Each time the Nasty Boys get going, Payne responds with a suplex or slam. 
Then it's time for Cactus Jack, who comes in guns blazing. The combination of Payne's surprising wrestling ability and Jack's unpredictability sends the Nasty Boys reeling the outside. Back in the ring, the Nasty Boys finally get the advantage, utilizing their own style of brawling to take control. 
Per the course of most Cactus Jack matches back then, he eventually takes a spill from the ring to the exposed concrete floor. Jack eventually makes his way back into the ring with blood leaking from his mouth, where he is put in a Boston crab by Knobbs. 
Jack finally fights off the Nasty Boys, hitting them with simultaneous DDTs. That allows him to make the hot tag to Payne, who throws both Nasty Boys around the ring. Then, with the match slipping from their hands, Jerry Sags hits Payne with a guitar two times, resulting in an anticlimactic disqualification. 
This match needed to be No Disqualification from the start. 
Winners – The Nasty Boys
We cut back to Mean Gene in Ric Flair's locker room, and he once again plugs the WCW Hotline before bringing in Flair and Steamboat. Next, Gene brings up Hulk Hogan and his interests in the main event. 
Flair brushes the Hogan question off quickly and mentions how focused he is on Vader. Steamboat once again tells us he's the number one contender for the winner of this match. 
WCW SuperBrawl IV – 1994
Thundercage Match
Sting, Brian Pillman, Dustin Rhodes vs. Steve Austin, Rick Rude, Paul Orndorff
As the cage begins to lower, Schiavone brings up that this is Heenan's very first WCW pay-per-view.
Nice bit of trivia there for ya…
Rude, Austin and Orndorff come out first, accompanied by Col. Robert Parker.
This is one impressive-looking team. 
Out next are the three babyfaces, led out by Sting. They receive a huge ovation from the crowd. Sting and Rude begin the match, and the crowd is fired up for this one. Before they engage, Orndorff tags in; Sting's taunts towards Rude bring the ravishing one right back in. 
A fired-up Sting hits Rude with a back body drop and a trio of clotheslines. Orndorff is able to slow Sting's momentum before tagging in Austin, who is quickly locked in the scorpion deathlock. 
Before Austin can submit, his teammates rush in to break the hold. Then, outside the ring, Austin is thrown into the cage by Sting several times. Then, back in the ring, Brian Pillman comes in to inflict punishment on his former partner. 
These two eventually spill out to the outside, where Brian is sent crashing into the cage by Austin. Orndorff follows suit, throwing Pillman into the cage, busting open Flyin Brian. The dastardly trio isolates Pillman from his corner as they begin to wear him down. 
Rude hits a flying knee from the top rope for a close two count. Pillman halts the momentum in the most impressive manner, hitting Austin with a dropkick as his former partner comes off the top rope. 
This allows the tag to Sting, who comes in on fire, sending all three opponents to the outside. It needs to be noted that Dustin Rhodes has yet to tag in this match. Finally, Rhodes gets tagged in, and the crowd absolutely loses it. Crazy how over Rhodes was back then. 
Rhodes goes to work on Orndorff only to be flung into the corner to slow him down. Rude tags in, and Rhodes tries to hit him with a bulldog, but Rude sends him crotch first into the top turnbuckle with a great reversal. 
A bloodied Pillman finally gets back in the match, and then all hell breaks loose with all six men entering the ring. Sting and Pillman find themselves in the ring with Austin, and they finish off Stunning Steve with a double-team full body press.
Winners – Sting, Brian Pillman, Dustin Rhodes
After the match, Rude slams Sting's head in the cage door before leaving the Stinger lying with the Rude Awakening on the floor. 
WCW SuperBrawl IV – 1994
Thundercage WCW World Heavyweight Championship Match
Ric Flair © vs. Vader
Before the match, we get a flashback video to the Clash where Vader superplexed Flair from the top rope, essentially causing an injury that was supposed to keep Flair out of this match. 
We also see footage of Vader and his manager Harley Race doing a number on Ricky Steamboat during WCW Saturday Night. Following that is Ric Flair telling Nick Bockwinkle he doesn't matter what the cost or what measures need to be met; he wants back in the match at SuperBrawl. 
With all the build-up to this match, a special referee was appointed in the Boss (Big Boss Man). Then, Michael Buffer rings in the title match like only he can. The Boss comes out first in a black outfit similar to his blue and black in the WWE. Vader comes out next, wearing a fancy white robe. 
Flair comes out in his black and silver robe. The cage door is finally closed, and Vader rushes into the corner, but Flair avoids being smashed. Flair quickly begins to assault Vader, sending the big man over the top rope with a shoulder block. 
On the outside, Flair uses the chair Vader brought inside the cage on the monster before making his way back into the ring for a Flair strut. Flair's flurry is quickly reversed by Vader's brutal power. 
Vader hits a splash before attempting his moonsault, but luckily Flair moves out just in the nick of time. However, Vader continues his assault on the outside, and Race gets involved, punching Flair in between the cage bars. 
Each time Flair is sent outside; Race gets involved. Then, much like at the Clash, Vader superplexes Flair from the top turnbuckle, causing major concern from Schiavone and Heenan on commentary. 
This time when Flair is outside, Harley Race is caught intervening, and the Boss attempts to handcuff him to the cage. This goes awry when Vader attacks the Boss and handcuffs him to the cage. 
With the Boss down, Race enters the cage to help inflict more damage on Flair. As the Boss frantically tries to free himself, Race and Vader begin picking Flair apart. Arn Anderson comes out but can't find his way into the ring. 
With Race holding Flair, Vader climbs to the top, but Flair moves in time, causing Vader to crash into his manager. During this, Steamboat makes his way out to try and get the cage door opened with a chair, and back inside the cage, Flair is beating both Race and Vader with a chair of his own. 
Finally, the Boss breaks free and rushes back into the ring, assaulting Vader with his nightstick. This allows Flair to apply the figure four, and the Boss calls for the bell. Flair is declared the winner despite Vader never submitting, something Heenan is quick to point out numerous times. 
Winner – Ric Flair
The show ends with Flair, the Boss, Arn Anderson, and Steamboat making their exit. Meanwhile, Vader is livid ringside, demanding Nick Bockwinkle come out to fix this. 
---
Next time on RetroView will continue our journey through past SuperBrawl events.