Time for another WCW RetroView. Today we continue this unplanned tour through WCW leading up to the nWo. The last show was WCW World War 3 – 1995; today, we follow up with WCW Starrcade 1995. 
Starting off is a video with a voice-over telling us that WCW has accepted New Japan Pro Wrestling's challenge for a best-of-seven World Cup of Wrestling Tournament. 
We get a full match rundown during the video before Tony Schiavone welcomes us to the "Granddaddy of them all." 
Schiavone is joined by Bobby "The Brain" Heenan and Dusty Rhodes. The American Dream does a fantastic job building up the magnitude of the event. Heenan predicts that Ric Flair will be the next Heavyweight Champion of the world. 
Jushin Thunder Liger and Chris Benoit open the show with the first match of the World Cup of Wrestling. Liger gets the win after a Kevin Sullivan distraction of Benoit. 
After the match, we get our first Mean Gene Okerlund interview of the night, this one's with Eddie Guererro. Guererro is upset by Sullivan's interference and he and Okerlund talk about the 0-1 deficit team WCW in the World Cup of Wrestling. 
WCW Starrcade 1995
World Cup of Wrestling
Koji Konemoto w/ Sonny Onoo vs. Alex Wright
Schiavone talks up Alex Wright's athleticism to start this one off. Our first "USA, USA, USA" chant rings out through the crowd. There is some solid technical wrestling to start this off; Konemoto is smooth in the ring.
The crowd is pretty quiet during this match; Sonny Onoo can't even get them intrigued. Surprisingly this match ends up ringside, and the crowd starts to get into it as Alex Wright begins his comeback. 
Konemoto hits a moonsault late in the match but doesn't go for the cover, a mistake all three announcers are shocked he made. It doesn't prove costly in the end as Konemoto gets the win via roll-up.
New Japan leads WCW 2-0. 
Winner – Konemoto
Mean Gene brings in Sonny Onoo for an interview about New Japan leading WCW 2-0. Onoo gloats like only he can as he predicts a sweep by New Japan Pro Wrestling.  
WCW Starrcade 1995
World Cup of Wrestling
Masahiro Chono w/ Sonny Onoo vs Lex Luger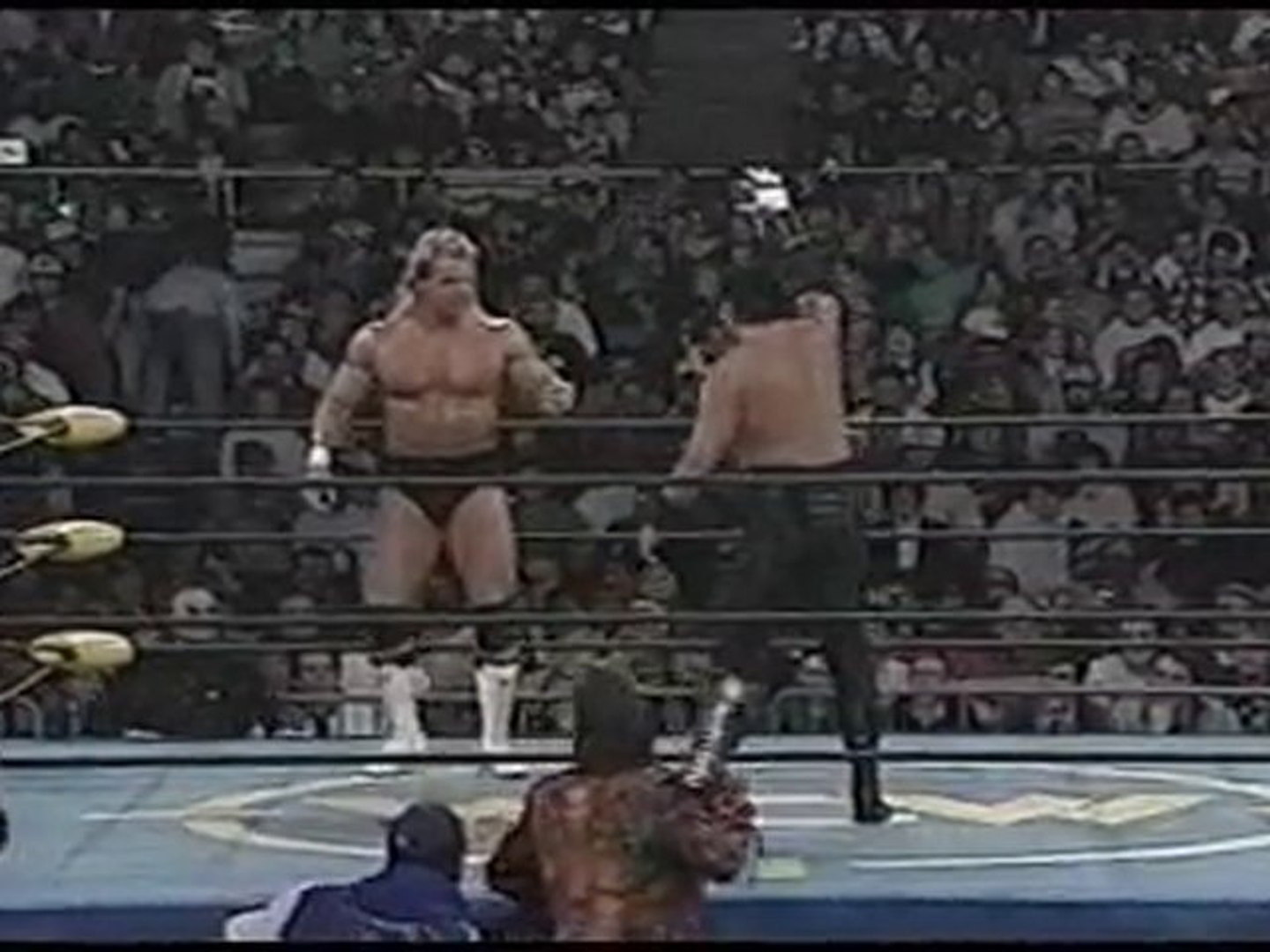 Dusty and Schiavone do a great job talking up how dangerous Chono is, and he looks like a star. Luger comes out with Jimmy Hart by his side to a nice ovation. The Total Package starts off hot, controlling the early portion of the match with his impressive power. 
Chono keeps his composure and turns the tables on Luger. During the match, Schiavone and Rhodes question why Luger is aligned with Jimmy Hart. This is a fairly physical match, with these two meshing well together. The finish comes when Luger lifts Chono into the Torture Rack, forcing Chono to submit. 
New Japan Pro Wrestling's lead is cut to 2-1. 
Winner – Lex Luger
Mean Gene is now in the locker room with Sting. The Stinger is fired up about the World Cup of Wrestling and WCW's chances. Sting says pride is up for grabs in his match with Kensuke Sasaki. He also talks about the triangle match that's still to come against Lex Luger and Ric Flair. 
WCW Starrcade 1995
World Cup of Wrestling
Masa Saito w/ Sonny Onoo vs Johnny B Badd
As usual, Johnny B Badd looks like a star, and having the Diamond Doll with him adds a new element to his persona. Dusty predicts this match is going to be a defensive battle. Sonny Onoo and the Diamond Doll have a silly confrontation before the match begins. 
Saito's strategy is apparent right away; he's going to try and wear down Johnny B Badd. The two come to blows, exchanging slaps and punches in an entertaining back-and-forth midway through the match. 
Johnny B Badd fires up for a comeback with the best of them at this point in his career. The end is anti-climatic after Saito gets disqualified for throwing Badd over the top rope. One of the worst rules of WCW. 
The World Cup of Wrestling is now tied 2-2. 
Winner – Johnny B Badd
Mean Gene is back, this time with Lex Luger and Jimmy Hart. Luger is congratulated for his win; then he talks about the triangle match and how it's the moment of truth. The friend/enemy dynamic between Sting and Luger is once again hinted at in this interview. 
WCW Starrcade 1995
World Cup of Wrestling
Shinjiro Otani w/ Sonny Onoo vs. Eddie Guerrero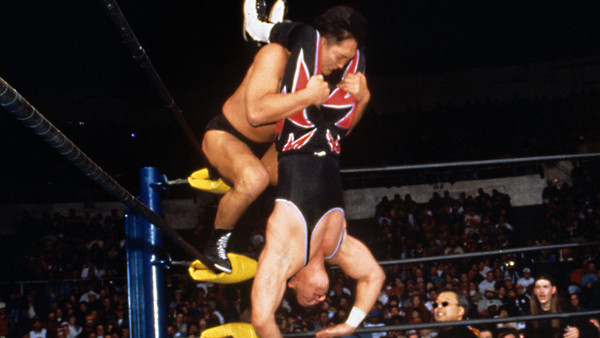 The fans give Guerrero a great ovation, something Schiavone mentions. Otani focuses his attack on Guerrero's legs try to slow down one of the greatest cruiserweights of all time. Guerrero shows he has some technical skills as well, locking Otani in a Boston Crab. 
A vicious powerbomb by Guerrero gives the match a great near fall in early on. Otani breaks out some high-flying moves, including a splash off the top rope onto Guerrero ringside. This is another good mesh of styles between two guys in their prime. 
Late in the match, Eddie Guerrero hits a great springboard dive from the top rope to the outside on Otani. Great finish to this one as the two trade a series of roll-ups which ends in Otani getting the advantage. 
New Japan Pro Wrestling leads once again, now up 3-2. 
Winner – Shinjiro Otani
Joining Mean Gene in the locker room is WCW World Heavyweight Champion, Macho Man Randy Savage. The champ talks about his opponents in the triangle match and uses Buzz Lightyear's catchphrase twice in this promo. 
WCW Starrcade 1995
World Cup of Wrestling
Hiroyoshi Tenzan w/ Sonny Onoo vs. Macho Man Randy Savage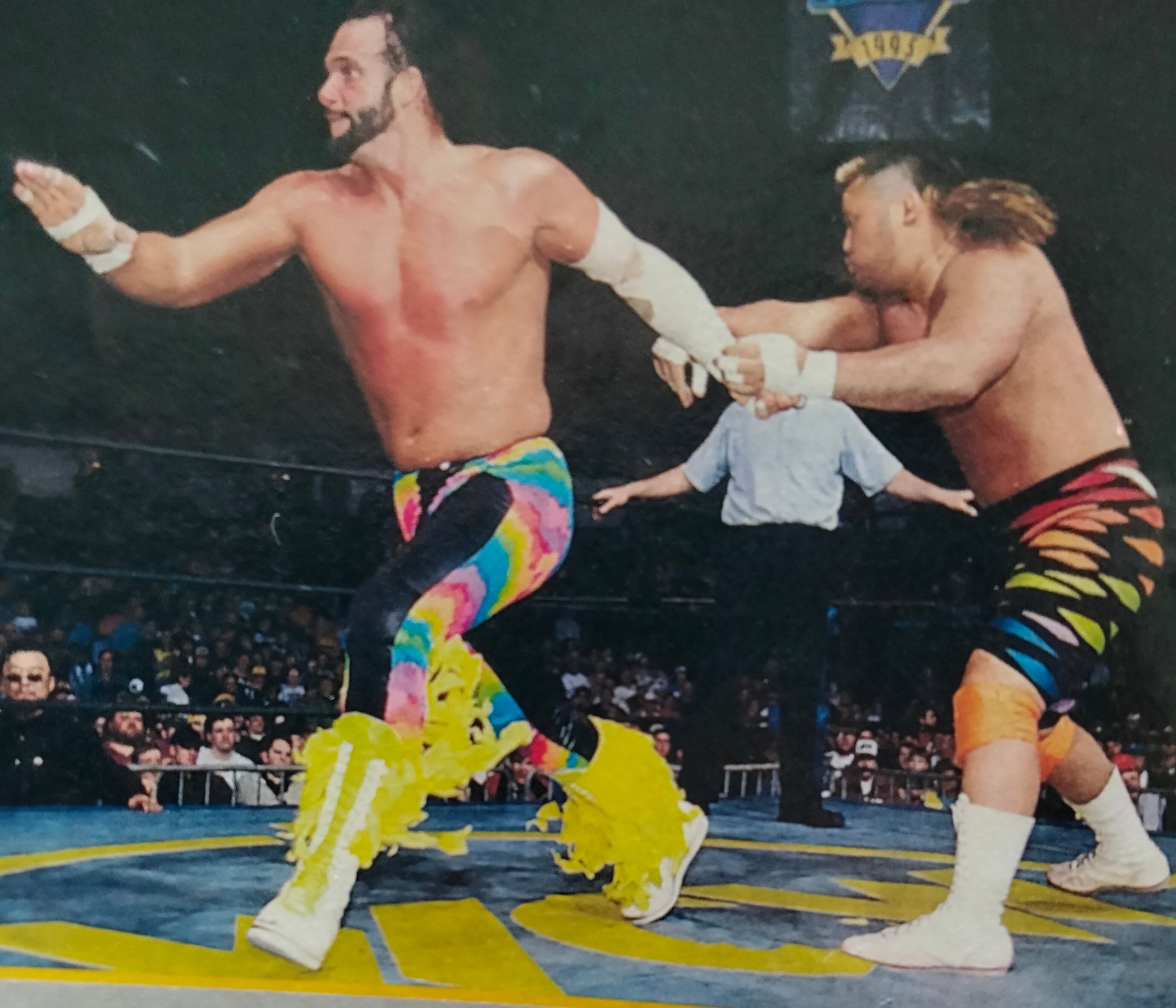 The announcers talk up how important this match is for Macho Man to get the win. The crowd is full behind Savage in this one, Tenzan give it his all, and he is really physical with Savage, but no one had any doubt that Macho Man wasn't going to win this match. 
The crowd finally erupts when Savage hits his patented elbow drop from the top turnbuckle to tie the World Cup of Wrestling 3-3. 
Winner – Macho Man Randy Savage 
Another Mean Gene interview, this time with Ric Flair. The World Championship is all Flair is focused on, and being champion once again. Flair claims he has the advantage in the triangle match because he will be fresh, while Sting and Luger won't because they already wrestled. 
WCW Starrcade 1995
World Cup of Wrestling
Kensuke Sasaki w/ Sonny Onoo vs Sting
Schiavone makes quick mention of how Sasaki recently defeated Sting for the United States Championship. Dusty mentions how that might give Sasaki the edge. Sting makes his way out, and the crowd goes berserk. 
Sting's hair is not bleach blonde at this point, and has more black in his attire than usual. Sasaki gets the early advantage and uses his strength to toss Sting around a bit. A great power slam by Sasaki impresses Schiavone. 
While Sasaki has the advantage, a "USA, USA, USA" chant breaks out in support of Sting. After getting pummeled for most of the match, Sting fires up and wins with the Scorpion Deathlock. Sasaki fights it off as long as he cans but ultimately submits. 
And just like that, WCW wins the World Cup of Wrestling, 4-3. 
Winner – Sting
Sting's WCW teammates make their way out to celebrate with Sting as another "USA, USA, USA" chant rings through the arena. Mean Gene joins the wrestlers in the ring for the World Cup Trophy presentation. 
An awesome video package about the triangle match comes on next and it explains how we got here. This is a unique triangle match, where two men are in the match and the third has to tag in. 
WCW Starrcade 1995
Triangle Number 1 Contenders Match
Sting vs. Lex Luger vs. Ric Flair
Schiavone talks up Flair's past success at Starrcade, setting the tone for this contest. A coin flip by each man determines who starts this match and which wrestler has to be on the outside first. 
Luger is the odd man out during the coin toss. Flair starts the match with his strut much to the delight of the crowd but not Sting. After posturing by both men Sting looks for the Scorpion Deathlock early, but Flair escapes to the outside. 
Flair's normal underhanded tactics take place as the Nature Boy is soon in control. Per usual, though, Flair brings Sting to life inadvertently with a pair of chops. But once again, the wily Flair steals the momentum, something he taunts Luger with as he watches on. 
Dusty Rhodes mentions that between the three, they have 17 world titles, definitely an impressive stat. Sting hits an impressive superplex from the top turnbuckle, and his two-count is broken up when Luger enters the ring. 
We get a stare-down between the two friends before Flair pushes Sting into Luger for the tag. Flair immediately tries to leave but is brought back to the ring by Luger. Once again, Flair's underhanded tactics give him a brief advantage, but a pair of shoulder blocks by Luger quickly ends his attack. 
This match really demonstrates just how good Flair is in the devious heel role. It goes back and forth on Luger and Sting briefly having control, only to find themselves at Flair's mercy. When Flair finally gets the Figure Four on Luger, the fans come to life. 
But, just like with Sting, Flair wakes Luger up with slaps to the face while in the submission hold. Flair refusing to tag out before finally doing so is just fantastic. 
Now we get Luger and Sting, something that excites Heenan. Luger is the more physical of the two at first, but Sting soon matches his intensity. The intensity between these two rises the longer they're paired up while Flair watches on. 
Sting eventually goes for the Scorpion Deathlock, but Luger avoids it by grabbing the bottom rope. This leads to a surprising low blow from Luger, something that shocks Schiavone and Rhodes, but Hennan says was a reflex.
Late in the match Luger gets Sting in the Torture Rack, but he hits the ref with Sting's legs. This allows Flair to chop block Luger's knee, sending Luger and Sting to the outside. The ref begins the ten count and gets to nine before Sting is about to get back in the ring, but before he can, Luger grabs his arm leading to the ten count being administered. 
It will be Flair versus Savage of the title. 
Winner – Ric Flair
Sting, not happy with Luger, leaves him laying ringside. Obviously their relationship is strained even more. 
WCW Starrcade 1995
WCW World Heavyweight Championship Match
Macho Man Randy Savage © vs. Ric Flair
Before the match, Schiavone and Heenan talk about how Flair is looking to win his 12th world title. Michael Buffer rings in the main event. It really helped WCW's main events feel like a big deal, with Buffer announcing the competitors. A backslide by Savage gives this match a quick near fall.
Mr. Wonderful Paul Orndorf makes his way ringside, Heenan mentions that Orndorf is seeking revenge on the Flair-led Four Horsemen. Flair's first Figure Four attempt is thwarted quickly by Savage. 
The fight finds its way down the aisle as Flair is in his element pummeling Savage. Jimmy Hart, who made his way out after the triangle match, gives Savage a kick to the gut. Per usual, Flair and Savage work well together, both men struggling to gain the advantage as the match progresses. 
Hart's megaphone eventually gets used, but it's used by Savage on Flair, not what Jimmy Hart was intending. This busts Flair wide open, while the ref is distracted, Savage hits the elbow drop. 
This brings out every member of the Four Horsemen. Arn Anderson hits Savage with a foreign object allowing Flair to get the 1-2-3.
Winner – Ric Flair
A bloodied Flair tries to gain his composure before the celebration with the Horsemen begins. Brian Pillman is called a loose cannon and a nut by Schiavone after Pillman repeatedly hits Savage with the belt. 
Schiavone mentions that Flair won the WCW Championship at the first Starrcade, and he's done it again. There is no post-match interview because Flair is bleeding profusely as the Horsemen make their exit. 
---
This was another fine show; the chemistry between the wrestlers from NJPW and WCW really made for some solid matches. The main event got kind of jumbled, but you can't beat a heel, Ric Flair sitting atop WCW with the Horsemen backing his every move.