One of wrestling's legit toughest was Edward "Chief Wahoo" McDaniel. I can't find any evidence he was ever recognized as a Chief. But that addition was only used for him in the wrestling industry. He was usually in main-event top positions wherever he went. Ed was one of the earliest to bring what was initially called a "Tomahawk Chop" spot to US and Canadian rings. As well as making "Indian Strap Matches" well known as feud-ending gimmick bouts that drew well. The result often led to both participants bleeding. And Wahoo had no problem "turning red into green," as he often said.
Unlike some of the others like legit Italio-American Joe Scarpa aka "Jay Strongbow," Ed was indeed of legit Choctaw-Chickasaw Indigenous American descent. He usually had major top-of-the-card and title matches. These included bouts with both Funks, Harley Race, Ivan Koloff, Dusty Rhodes, Nick Bockwinkel, Larry, and Curt Henning. His famous feuds with Greg Valentine, Piper, Sgt. Slaughter, Blackjack Mulligan. Superstar Billy Graham, Ken Patera, Abdullah the Butcher, Waldo, and Fritz Von Erich. Plus many big names all over the world.
Wahoo McDaniel
He Could Have Been NWA Champ, Not Just A Contender
He was very respected and properly used by legendary Houston promoter Paul Boesch. Paul reportedly brought his name up as a possible NWA champion at the annual Las Vegas promoters meeting there. Still, the idea was shot down in favor of Harley Race. As the transfer or initial transitional point person between Dory Funk Jr and Jack Brisco that later occurred in 1973. Prior to that, Ed repeatedly sold out Boesch's top venue, The Sam Houston Coliseum, in NWA title challenges with Funk. Often ending in time-limit-draws. Of note is that Dory Sr and Jr helped break Wahoo in for pro.
Wahoo McDaniel
How He Went From Football to Grappling
Wahoo McDaniel was born in Bernice, Oklahoma, a great football town. He later grew up in Midland, Texas, where football was also king. Oklahoma University collegiate football stats as a linebacker were more famous for Bud Wilkenson's Sooners football program than those for his 1960-1969 AFL (NFL)career. His professional football accomplishments included returning a punt for 91 yards for the touchdown against Iowa State in 1958. Although his skeptical coach had earlier moved him from position to position. He played for the Miami Dolphins, New York Jets, Dallas Cowboys, and Denver Broncos.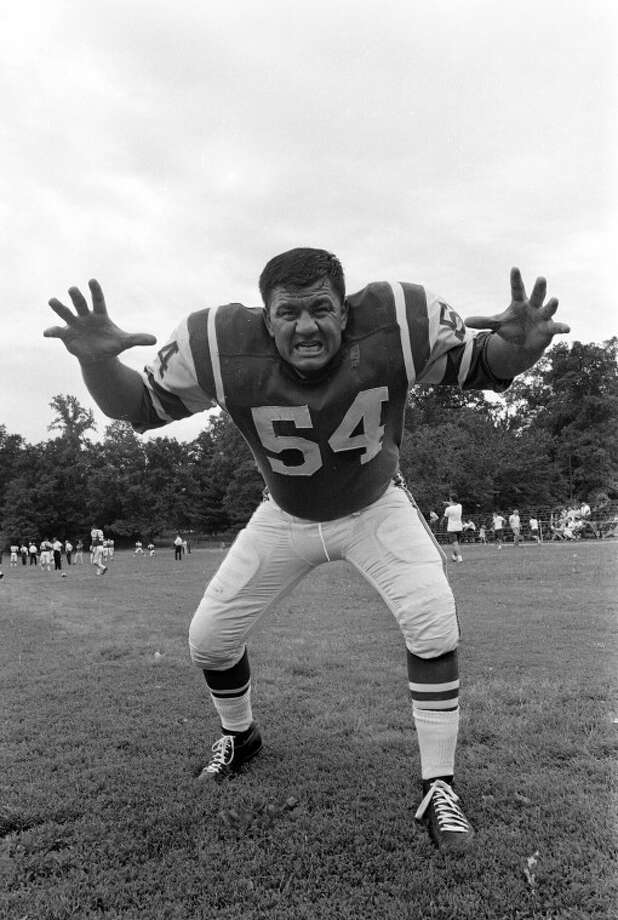 His daughter Nicky Rowe recently said about him (and we're celebrating Native-Americans and Native-Canadians here with the more appropriate current terminology):
"My dad was a wild, crazy Indian who loved fighting whether football or wrestling. He was bigger than life. Just amazing."
Once Wahoo left the gridiron for the squared circle in 1969, he'd already dabbled in wrestling "for the bigger money.
Pro football wasn't paying as much. I felt I was a football player, first and foremost, who entered pro wrestling really to supplement my income. Early on, for six months out of the year, I was a football player, and for the other six months while I was with Houston and Denver, I wrestled starting in Amarillo for Dory Sr. I held the NWA's United States title, a record five times too. When I played for the Jets in New York, Vince Sr actually brought me in, and I got to work with the Graham Brothers, Prof. Boris Malenko (Larry Simon), Waldo Von Erich, Hans Mortier, and more.

I debuted at Madison Square Garden, which was a dream for me, January 25th, 1965, working with Malenko, who sadly was a prelim(inary) guy but who I counted on to walk me thru the match he was calling.
That bout got Wahoo his first major New York media coverage on local radio and in the newspapers. Wahoo also wrestled for promoter Ed Francis and Lord Blears in Honolulu and eventually never looking back at football.
"Wrestling in the '60s was where the big money was at for me. Most all my best friends eventually came from the biz."
Wahoo added, "I was kind of a wild child growing up in Midland, Texas. Once my dad settled us thereafter moving around a lot as an oil man. My Junior High baseball coach was President George H.W Bush there, and we were such good friends. He later invited me and "Rubberman" Johnny Walker (Mr. Wrestling 2) to his Presidential inauguration along with Paul Boesch. But Johnny didn't want to take his mask off, fearing wrestling fans would identify him. So he gave up the opportunity. I told him later he really missed something special."
Wahoo McDaniel
Where did the name "Wahoo" Come From?
While on another AFL/NFL team he played for, the Houston Oilers (as well as when he was on the Jets in 1964), Ed began stitching the name "Wahoo" onto his back of his player's jersey. Right above his number 54. Whenever he'd make a tackle on an opposing player, the PA announcer would yell out, "Who made the tackle?" and the audience would scream back, "Wahoo! Wahoo!" Wahoo told me though that "well before that, I already was nicknamed Wahoo after my dad, who we called Big Wahoo. It just fit as I and the Wahoo character became known as a "football wildman."
NFL greats (and fellow wild child's) Joe Namath and Larry Csonka wrote about Wahoo in their autobiographies. Superstar Len Dawson wrote in his "the hardest hit I ever received in football was by Wahoo McDaniel."
Wahoo retired from football after the end of the 1968-69 season with the Dolphins. As a wrestler, he wasn't the first to wear the full Native-American or "Indian" stereotypical feathered headdress. But he soon became the most famous for it. His "gimmick" was utilized in many angles all over North America. With everyone from Superstar Graham to Harley Race tearing up his feathers for instant heat. Since they'd worked together in Houston for Boesch in the early '70s, Johnny Valentine also helped finesse Wahoo. He was impressed enough with the kid that when he lost the "pencil" in Los Angeles for Mike Lebell, Johnny soon was given the booker's job by Crockett Sr. in MidAtlantic. Making sure to bring his friend Ed with him to feud with. And destroy a few feathers along the way.
Wahoo's Great Mid-Atlantic Stint (And Beyond)
Johnny told me in an interview in 1994 for our book RIB:
"We wanted to move Crockett's circuit, which for years had been a great tag team one, to one more focused on singles wrestling. That partially evolved from Johnny and Ric Flair tag bouts facing Wahoo and Paul Jones (as faces) to a long and brutal Valentine/Wahoo singles program there with massive Valentine stiff punches. Johnny didn't like a lot of light showing,"
Wahoo told me in 1995 his brutal chops left giant red marks all over Johnny's chest were and at his instruction!
Wahoo had made a point of using chops more. Especially after his Japanese IWE tour in 1973. It became more apparent against the likes of Shozo "Strong" Kobayashi and Thunder Sugiyami. McDaniel was still in the AWA when Billy Graham debuted there coming in from long stints in San Francisco (Roy Shire) and Los Angeles (Mike Lebell promoter and my big boss there as a ringside photographer for the program). Graham used to complain backstage about how stiff Wahoo's chops were. Wahoo told me he was already aware that John Tolos was amongst the first non-Japanese wrestlers to bring chops back from an All Japan 1970 tour. Wahoo just perfected it and made it come from his advertised heritage.
'I Broke Wahoo's Leg'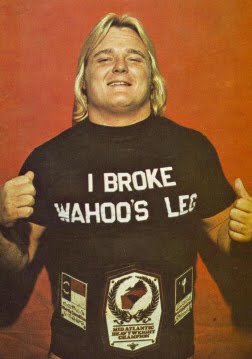 Another great Valentine MidAtlantic angle occurred in 1977, when Johnny's legit son Greg "broke" Wahoo's leg. Helping establish Greg as Johnny's successor after he was paralyzed in that brutal airplane crash also involving Ric Flair and Bob Bruggers. Greg then began prancing around the ring on tv wearing custom tee-shirts that said "I Broke Wahoo's Leg" and "No More Wahoo." The hype helped sell out venues there. Wahoo would recreate some of that magic heat in San Antonio for promoter/worker legend Joe Blanchard. Feuding with Joe's son Tully and partner Gino Hernandez.
Wahoo also had great "Mid-At" matches with Ivan Koloff, Paul Jones, Jack Brisco, Gene, Ole, Lars, and Arn Anderson. But when another great singles feud started over the MidAt title began with a young Ric Flair, it unintentionally got ramped up during what was soon dubbed as the famous "Table-Leg-Match." Ric accidentally hit Wahoo in the head with one he picked off the ground. Not knowing this table-leg had a real nail sticking out of it! He accidentally, genuinely injured Wahoo, who bled buckets. The following week, the promotion began selling out of t-shirts playing off this accident. And tickets for the rematches.
Wahoo McDaniel & His United States Championship Feud
They'd later feud over the area's newer U.S. Title. Wahoo got tremendous fame while in Mid-Atlantic. But he also worked before and after for other top NWA promotions/territories. These territories included; Florida, Georgia, Dallas for Fritz Von Erich, & Southeast Championship Wrestling. For years Wahoo competed in Verne Gagne's AWA in the '70s and '80s. Regarding WWWF, Wahoo worked for Vince Sr in the '60s, early in his career. He was often being led by "jobber" Larry Simon (Simon, of course, Professor. Boris Malenko, dad to Dean and Jody).
Of note is that for weeks during the very first "Pro Wrestling Superbowl" in Columbus, Ohio in 1973, there were women, little people, and tag tournaments all occurring in three different rings at the same time. It was while along with a stellar Johnny Powers NWF card promoted with Pedro Martinez. Wahoo had been advertised as teaming for the "first and only time" with Chief Jay Strongbow. Still, Wahoo never showed up after some last-minute issues over what he'd be paid. Wahoo did at least one tour for NJPW after working for both IWE and All Japan years prior. 
AWA, Florida, and More
In the AWA, at least in Denver, Colorado, Wahoo held the tag straps with Crusher (Reggie) Lisowski. In Florida, he held the Florida singles, TV title, and the Southern Heavyweight Title.
He feuded with Dick Slater, Dick Murdoch, and others. Wahoo held Florida's version of the U.S. tag titles along with Billy Jack Haynes. He even held Florida's version of the NWA Tag Titles with Jose Lothario. In Houston (called NWA Big Time Wrestling, which was the same name Roy Shire used in Northern California), Wahoo held every title. Even teaming with Johnny Valentine, WWWF's Tony Parisi, and Thunderbolt Patterson.
Wahoo McDaniel
The Chief, Celebrated
He was a first-time balloter in the Pro Wrestling Hall of Fame, PWI Magazine's Most Popular Wrestler in 1976. Wahoo McDaniel was inducted in 1995 into NWA/WCW's Hall Of Fame at Slamboree. He held the NWF World Tag Titles with Chief White Owl. Wahoo was also lauded when he attended his only Cauliflower Alley Club reunion in 1995 in Tampa, Florida. He along with Dory Funk, both Briscoe's, Johnny (Ace) Laurenitis, Buddy Colt, Gordon Solie, & Hiro Matsuda.

WWE inducted him last year quietly (2019) in their own, non-physical HOF. In 2002, he made Wrestling Observer's Hall of Fame. He always loved hunting and fishing. But once he retired in the early nineties he helped Verne Gagne out again on and off-camera. He spent most of his free time fishing. In particular in Lake Amistad in Del Rio, Texas, which was his favorite spot.
Like one of his best AWA friends Pepper Gomez, Wahoo McDaniel lost both kidneys and died. It would be the same day (April 18th) as another friend in Bruno Sammartino years later. While awaiting a kidney transplant that came too late. He passed officially from renal failure and diabetes complications. Still, his eternal legacy as pro wrestling's top Native-American star. An a**-kicking tough guy, and a global draw. One that will probably never be equaled.