We are saddened to pass on the news that veteran referee Mickie Henson passed away on Monday. He was 59.
The Tampa native was a lifelong wrestling fan. He used to study the matches that he used to watch as a youth. His favorite promotion was Championship Wrestling from Florida. He attended every show that he could and strived to meet as many on-air personalities as possible. When Henson began training as a wrestler, his obsessive viewing habits helped him to pick up the craft quickly. His personality and drive helped to win over the likes of Steve Keirn, Mike Graham, and announcer Gordon Solie. Their recommendations helped him get accepted into the CWF.
Like for so many aspiring wrestlers of his generation, Henson's first experience in front of a crowd was as a referee in 1987. He maintained order in a match between Mike Awesome and Bob Cook. Years of observing referees in action made him a natural. He never once took the opportunities he had for granted. While he paid attention to the action in the ring, he made sure to really pay attention. Observing the veterans up close taught him much more than his training did.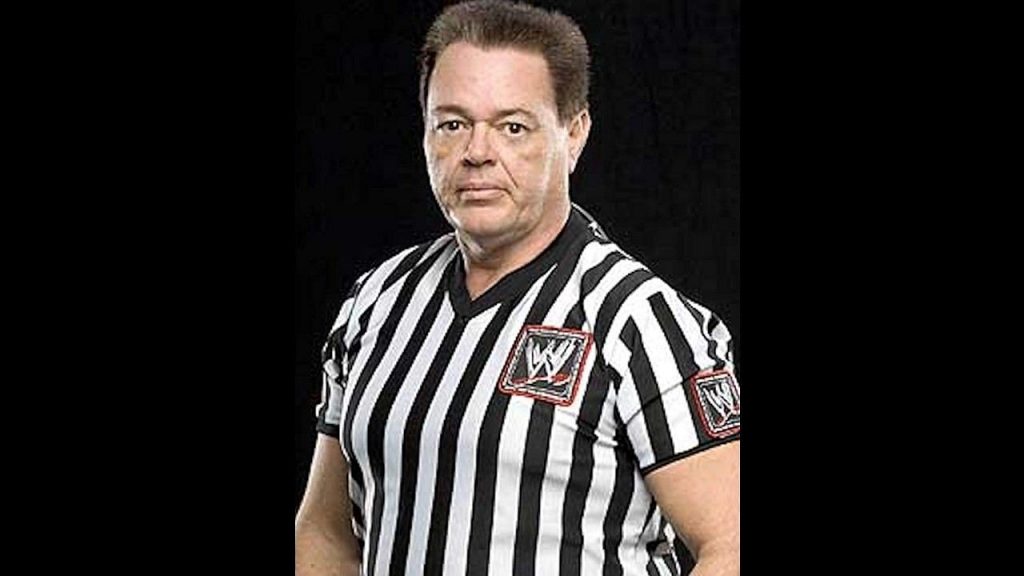 "I wasn't really all that nervous, I had watched it on television forever & I paid attention to the referees, and when I got out there, I kind of just fell into it. I was lucky enough to learn from some of the best workers of the time like Dick Slater and Mike Graham, so it was pretty easy to catch on."
– Mickie Henson on beginning his career as a referee.
As Jim Crockett Promotions became the dominant force in the Southeast territory, Henson found himself refereeing full time. He would become a mainstay in World Championship Wrestling. Among his personal highlights was being the official for the controversial main event at Slammiversary in 1998. Henson became the first man to count Goldberg's shoulders down for a three count.
The match is best remembered for Kevin Nash using his booking power to end Goldberg's legendary winning streak. However, Henson cherished being the one told hold up the hand of a new WCW World Heavyweight Champion. He also had the unique honour of officiating Bret Hart vs. Chris Benoit in 1999. The match in question was Hart's first after the tragic death of his brother Owen. Hart had personally chosen Benoit to be the one who would help pay tribute to him. And Henson became a part of wrestling history once again.
Veteran Referee Mickie Henson Passes Away, 59.
Henson took an involuntary hiatus after Vince McMahon bought out WCW in 2001. He found himself working for McMahon in 2005. He was assigned to the WWE's Raw brand and quickly showed that he hadn't lost a beat. Although this wasn't the first time that WWE fans had seen Henson in the ring. He had worked numerous dark matches as a wrestler early into his career. Henson took the fall from the likes of future World Champions like the Undertaker and Sycho Sid, as well as other stars of the day.
He rose through the ranks in WWE quickly. It took only a few months for him to be trusted with World Championship matches and headline talent. It was for this reason he was trusted with the WWE's version of the ECW brand. This did not take long for him to be donning the Head Referee's shirt on the developmental experiment.
He would be immortalized as the referee for the ECW arenas in the video game WWE SmackDown Vs. Raw 2008 featuring ECW. Henson would complete the trifecta by becoming a SmackDown referee just before the game was released.
Henson's commitment to his work
Henson spent his final year in the WWE working all three brands, just like the other referees. He was taken off the road in late 2008 due to health reasons. It was at this time he was diagnosed with mantle cell lymphoma. Not wanting to spend his final months sitting on the sidelines, he negotiated his release in January 2009.
His greatest achievement was defying the doctors for as long as he did. They had originally told him that he had several months to live. Henson would battle his cancer for 14 years. He spent all of those years with family and doing the things he loved. Henson's closest friends knew him best for his passion for fishing.
In 2018, Mickie Henson was honored by the Cauliflower Alley Club. He was made an honorary inductee into the Hall of Fame with the Charlie Smith Referee's Award. As the name suggested, it recognized his contributions to officiating matches. Henson had worked main events on all three WWE brands, WCW, JCP, and CWF. He is also one of the very few referees to have worked matches as a wrestler on WWF and WCW television (the latter was a single match against fellow referee Mike Johnson).
Several wrestlers have already paid tribute to veteran referee Mickie Henson, who died this past Monday. They noted that Henson took great care of younger talent as they made their starts in whichever promotions he was in. He is remembered as a great friend who could hang out with the boys like he was one of them.
Our thoughts and prayers are with Henson's friends and family at this difficult time.