Utami Hayashishita Wins World of Stardom Championship
On November 15th, Stardom had one of their biggest shows of the year take place, Sendai Cinderella. We had two title changes take place. One of them being Syuri defeating Bea Priestley for the SWA Undisputed World Women's Championship, and the other one that we will be talking about right here.

The show's main event was the World of Stardom Champion, Mayu Iwatani, taking on the winner of this year's 5Star Grand Prix, Utami Hayashishita, as it was billed as Icon versus New Era. The first time these two fought in singles action was two years ago at the finals of the 5Star Grand Prix in 2018, where Mayu would defeat the Super Rookie to win the tournament. That was the only time they fought each other one on one until now as this was their second encounter in singles action. Before Utami could challenge Mayu for the belt, Mayu had to defend it against Syuri and Takumi Iroha due to them being promised title matches before their encounter would take place. During this time, Utami was more focused on her Goddesses of Stardom Championship until they finally fought on this show.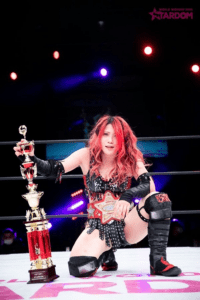 Utami Hayashishita Wins World of Stardom Championship
In a nearly twenty-five minute match, Utami would hit Mayu with the Spinning Crucifix Powerbomb to win the World of Stardom Championship. This is Utami's first time winning the red belt along with her first major championship in Stardom. The last time a 5Star Grand Prix winner won the World of Stardom Championship was Toni Storm in 2017 when Mayu got injured during the match, rewarding Toni as the winner. Upon winning the match, she has chosen the newer version of the red belt to take while Mayu preferred the older version of the belt during her reign.
However, Utami wouldn't have a lot of time to celebrate as DDM members, Wonder of Stardom Champion Giulia, and the newly crowned SWA Undisputed Champion, Syuri, would make their way to the ring to try and make a claim as Utami's first challenger for the title. Queen's Quest leader, Momo Watanabe, would now make her way to the ring as she would also like to be Utami's first opponent, leaving Utami to pick between the three of them as her first challenger. She would finally pick her fellow QQ member, Momo as her first challenger since the last time they fought ended in a time limit draw. The match will take place on December 20th at the Osaka Edion Arena.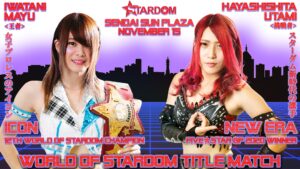 Mayu Iwatani has held the World of Stardom Championship for 377 days.
During that time, she had five successful title defenses under her belt during this reign. Mayu hasn't had a proper reign with the red belt until this one due to her first run ending with an elbow injury three years ago, but she would finally have her chance to run with the belt for over a year. Mayu may have lost her belt after an incredible year, Utami has finally stamped herself as Stardom's future star. One chapter closes as another one begins. Thank you, Mayu, for an incredible reign, and congratulations to Utami for winning the belt for the first time.
*****
e sure to stay tuned to the Pro Wrestling Post for this and additional stories from the wrestling world. Readers can rely on Pro Wrestling Post to be their daily source for all things inside the squared circle. As a result, readers can expect daily news, history, and so much more. Please visit Stardom's official website here for upcoming news and notes.