With a jam-packed Blue Grass Community Hall full of family, friends, SCWPro fans, and fellow wrestlers watching on last Saturday, November 12, Latin Thunder removed his mask and his tradition defined.
With a tear in his eye, Juan Fourneau, the man behind the mask – handed the symbol of luchador excellence – something he'd worn for nearly a decade, over to his opponent and former tag team partner, Kevin Gutierrez, known to wrestling fans as Corn Boi.
Tradition Defined | Latin Thunder Loses Mask At SCWPro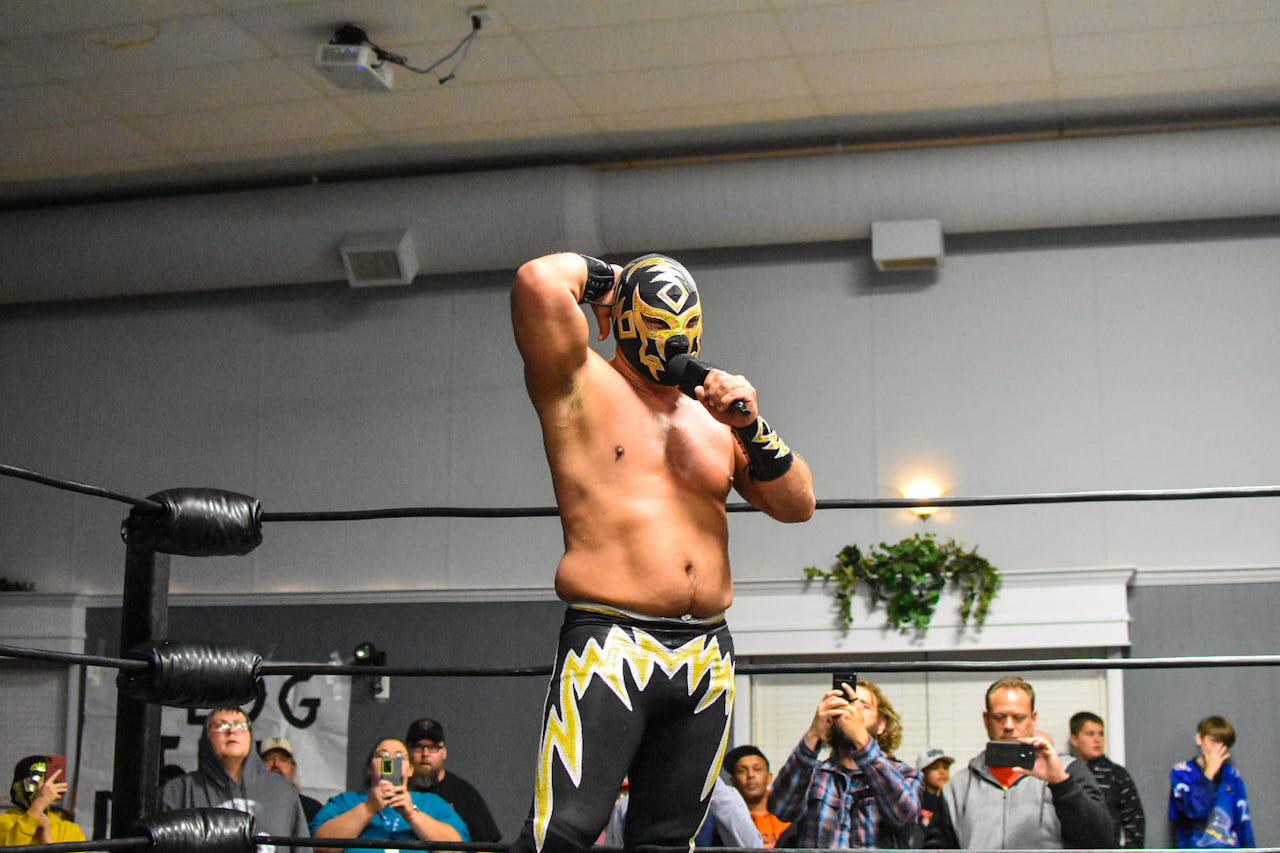 The two, collectively known as Thunder Corn, were once SCWPro Tag Team Champions.
But after a falling out, they found themselves in opposite corners of the ring for one of Lucha Libre's ultimate stipulations, Máscara contra cabellera.
The mask versus hair stipulation has long been a staple of Lucha Libre. Luchadors have risked their mask, a major part of their persona, to try and prove who the superior wrestler truly was.
It's a stipulation Fourneau was honored to bring to Iowa.
"This was a chance to tell a great story. One steeped in Lucha Libre tradition. It had never been done in Iowa.
"Two Mexican American wrestlers battling and showing you can draw money without crazy bumps, ladders, and dangerous stunts. Just great wrestling in a match with high stakes. This was a love letter to Lucha Libre and all the great Hispanic stars who inspired me to become a wrestler."
Latin Thunder made his way to the ring first, complete with a black and gold sombrero to match his mask, for this colossal collision.
Corn Boi came out second, and his energetically frenetic entrance was a steep contrast to the calm, cool and collected approach of Latin Thunder. Despite the well-known differences between the two, Thunder wanted Corn Boi to take things more seriously; the fans were behind both men.
Not wasting any time, Latin Thunder attacked his former partner before the bell. He even ripped off Corn Boi's own mask, one the charismatic star wears on occasion. From here, the two engaged in a back-and-forth tilt that spilled out to ringside multiple times.
But for the most part, the story unfolded inside the squared circle. Corn Boi utilized his speed and array of high-flying moves when he had the advantage. The two missile dropkicks from the top turnbuckle were things of beauty.
Latin Thunder uses his size advantage and power when in control. His picture-perfect power slam serving as a major highlight of the match. 
Mask vs. Hair
As the match went on, both men brought out the best in each other as they told an in-ring story that captivated the crowd. In the final minutes of the match, the drama hit its crescendo. After Latin Thunder hit Corn Boi with a version of Corn Boi's own chokeslam, Thunder took things to the top rope. 
Here is where Latin Thunder hit his vaunted Frankensteiner from the top turnbuckle, but in one of the matches most shocking moments, Corn Boi kicked out at two. Something that hadn't happened following that maneuver since "The Shug" Shane Hollister did it all the way back in 2014. 
This was Thunder's best shot and Corn Boi had survived it. Finding that next level, a fired-up Corn Boi finally planted Latin Thunder with a massive choke slam before earning the three count with a roll-up. 
Hearing the crowd erupt, Gutierrez laid in the ring, gathering his thoughts about this monumental moment. 
"It was an honor and a privilege to be his opponent for his mask. It was definitely a long build and a story that doesn't present itself often. When our battle ended, Juan took off his mask. I finally saw the big picture. And saw that we were creating memories that will live forever."
"All the hours. All the talks after training and before was for that moment, in the ring, when he took off his mask. It means the world to me that I gave him that special moment. It was like destiny."
Before removing the mask, Thunder took to the microphone. You could hear the passion and appreciation for the moment as he addressed the audience in Spanish. 
"I want to thank all the Hispanic fans who supported me through the years. I hope this mask gave them something to be proud of. Something beautiful from the world of Mexican sports and our culture.
Kevin, Corn Boi, has trained with the great wrestler Seth Rollins as well as under Mexican wrestlers in Chicago. I know he will have a great career."
The dramatic main event closed out yet another spectacular SCWPro show but will not be Juan Fourneau's final in-ring performance. He plans a small farewell tour of a select few matches and shows in 2023 before finally hanging his boots up.