Top Independent Matches of 2021 Part 2. In my last article, I covered matches 15-11 in my top fifteen matches I witnessed live in 2021. You can read that article here. Today we are looking at matches 10-6 along with two more honorable mentions.
Honorable Mentions:
Today's honorable mention matches are two Heavyweight Championship matches with shocking finishes.
JT Energy vs. Rory Fox vs. Jared Thumb
CEW PowerSlam Season 2
CEW Heavyweight Championship Triple Threat Match
Central Empire Wrestling began the year in a unique way with season two of PowerSlam. Their second season of the Facebook streamed episodic shows shined a spotlight on the three competitors in this match.
After JT Energy shockingly attacked Jared Thumb during his emotional interview segment about his battle with cancer, the triple threat match was set. Inside the PowerSlam arena in Wellman, Iowa, the three traded match momentum, with each trying to claim the CEW Title as their own. 
As good as the match was, the ending set the tone for CEW's fiercest rivalry of the year. Just as Rory Fox was about to win the CEW title, a debuting Damien Saint went on the attack. It was a shocking ending as the show faded to black, with Saint sitting in the ring symbolizing his arrival in CEW.
1 Called Manders vs. Johnny Wisdom
SCWPro Heavyweight Championship Match
SCWPro "Reborn"
The main event of SCWPro's first show in front of fans in close to a year was a barn burner. Two men with lots of history, fighting over the ultimate prize in the company. The 1 Called Manders had been on a dominant reign as champion, and times looked damn near unbeatable. 
But, Johnny Wisdom had been waiting 17 years for this moment. After the two battled in and around the ring, a timely bottle across the head led to Wisdom becoming new SCWPro Champion.
Top Independent Matches of 2021 Part 2
#10 – Malice vs. AJ Smooth vs. Gable Galileo vs. Zeke Dynamics vs. Jimmy Wylde vs. Cole Cannon vs. Damien Saint vs. Jaxon King
IPW Extreme Championship Ladder Match
IPW GeorgeTragos/Lous Thesz Hall of Fame Show
This had all the makings for a classically chaotic ladder match. Eight guys with something to prove and looking to leave the annual Hall of Fame show with a title on their shoulder. Champion Malice, in his element amongst the chaos surrounding him. 
AJ Smooth, the former champion, inserted himself in the match before the bell rang. Gable Galileo, another former Extreme Champion, looking to reclaim the gold. Jimmy Wylde and Jaxon King, two of IPW's fastest rising stars on the quest to continue their ascent. 
Damien Saint and Cole Cannon, eager and willing to receive as much damage as they instill, and rookie up and comer Zeke Dynamic is willing to take the high risk. 
These eight men tore into each other from the very start of this match. Saint suplexed Cannon onto a row of chairs. Galileo gave Jimmy Wylde a powerbomb onto a ladder. Malice, delivering chair shots to anything that moved and Zeke Dynamic's moonsault off the top of the ladder, all driving this match into the realm of classic. 
One man, AJ Smooth, ever the cerebral tactician, avoided taking much damage throughout the match. This strategy paid off when Smooth nailed Malice with a chair as the monster began his ascent up the ladder. Moments later, AJ Smooth was once again IPW Extreme Champion. 
#9 – AJ Smooth vs. Malice
IPW Extreme Championship Last Man Standing Match
IPW Hall of Fame Weekend "Return to Forte"
Two days after the wild eight-man ladder match, AJ Smooth and Malice put the final stamp on their feud over the IPW Extreme Championship. During this rare afternoon show at the Forte Center, these two long-time rivals literally tore the ring apart in efforts to incapacitate the other. 
Fresh off reclaiming the Extreme Championship, Smooth entered full of confidence and bravado. Malice came in looking for a fight, and that's what we got right out of the gate. The two battled around the ringside area before bringing a chair into play. 
Malice, slamming Smooth into the steel post with a chair around his head, was particularly hard to watch. 
As the fight raged on, the two traded numerous chair shots; even Gable Galileo and Tyler Jones received chair shot rewards for their attempted interference. In addition, the two traded devastating moves on the Forte Center floor. 
First, Smooth hit Malice with a running knee slam while Malice sat in a chair. Malice responded with a devastating spear on Smooth much to the crowd's delight. Then, late in the match, Galileo and Jones tore the ring apart, exposing the wooden boards under the ring pad. 
This would be Smooth's ultimate undoing as a running power slam from the "Monster of the Midwest" kept Smooth down for the ten count. 
Top Independent Matches of 2021 Part 2
#8 – "Bad Boy" TJ Benson vs. Redwing "The Barbarian"
Magnum Pro Heavyweight Championship Steel Cage Match
Magnum Pro "Anniversary Volume X"
For months TJ Benson antagonized Redwing leading to this steel cage match. Finally, Benson took the championship from Redwing in October of 2020 and relished the fact that he was the man that ended Redwing's reign. The steel cage was used to give Redwing his shot at revenge while keeping Benson's ally, Damien Saint, from interfering. 
Benson and Saint's strategy was to attack Redwing before the bell, trying to keep the big man off-balance from the get-go. After fighting both men off and sending each crashing into the outside of the cage, Redwing and Benson were finally locked inside. 
Both men utilized the cage as a weapon. Redwing uses his power to toss Benson into the cage multiple times. Benson, with his MMA background, showed how comfortable he was locked inside a cage by using the cage to pull off a handful of moves.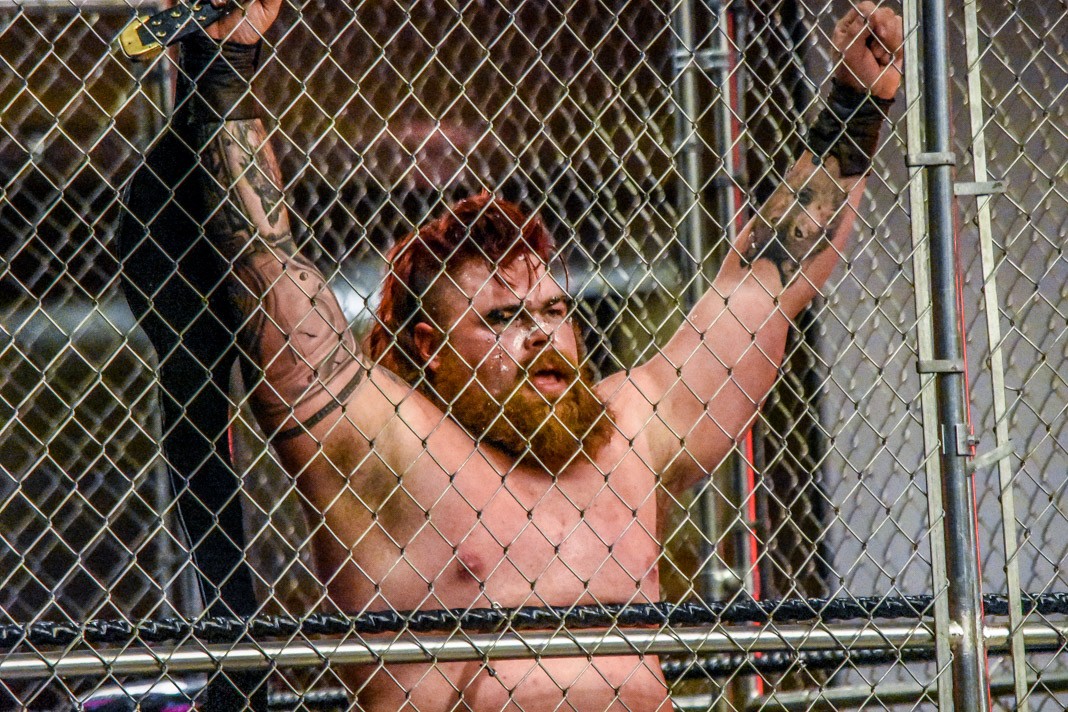 His cage assisted bulldog impressing even the audience members who despised him.
After multiple escape attempts were thwarted by Redwing, Benson found himself standing atop the cage with his opponent prone on the mat. 
In what will be an iconic Magnum moment, Benson leapt from the top of the cage in a beautiful display, only for Redwing to roll out of harm's way at the last second. The battle raged on until Redwing got the win with a power slam from the top turnbuckle to once again become Magnum Heavyweight Champion. 
Top Independent Matches of 2021 Part 2
#7 – The Big Picture vs. Bryce Jordyn
IPW Heavyweight Championship
IPW – George Tragos/Lou Thesz Hall of Fame Show
Two months after falling just short of winning the IPW Championship, Bryce Jordyn was getting another shot, this time at IPW's biggest event of the year. Ever determined to crush Jordyn's boyhood dream, the Big Picture looked to continue his historic reign at the top of IPW. 
The two took everything from their first encounter and improved upon it. This time around, it was more of a feeling-out process to start the match, Jordyn not wanting to make an early mistake. As with their first meeting, Big Picture controlled the early portion, but each time Jordyn would fight back with a flurry of offense. 
With the audience anticipation continuing to grow, both men dug deep into their repertoire looking for the move or hold that would get them the W. Jordyn once again had Picture on the verge of defeat with a cross face, but as with their first meeting, the champ eventually powered his way out. 
The Big Picture even went to the top turnbuckle, a rarity for the big man. But had his plans foiled when Jordyn kipped up before sending him flying across the ring. Fans thought they were in for yet another Picture win when he hit the same jumping tombstone that defeated Jordyn in May. Only this time, Jordyn kicked out just before three. 
An F5 counter into his "Destino" finisher brought Big Picture's 853-day reign as champ to an end. It was IPW's feel-good moment of the year on their grandest stage. 
Top Independent Matches of 2021 Part 2
#6 – Storm Thomas vs. JTG
First Time Ever Grudge Match
CEW "Bridge City Slam 3"
Sometimes before a match, a wrestler has a look on their face that you just know they are about to do something special. Both of these men had that look before this match. Unlike a good portion of matches on this list, this match had no personal grudge; it was no blood feud. 
It was just two guys at the top of their game, going out and putting on a barn burner. After a brief staredown followed by a handshake, the fight was one. Neither man willing to make the first costly mistake led to a handful of early stalemates. Both men had opportunities to display what brought them to the dance during this match.
JTG's speed and athleticism was countered by Storm's tenacity and power. The fight briefly spilled to the outside when JTG was in control, but once they returned to the ring, Thomas hit a spine buster that would make Arn Anderson proud. Deep into the match, the crowd showed their appreciation with a "This is awesome" chant as they realized this was turning into a classic. 
Thomas, showing the grit and determination that made him one of CEW's greatest champions, picked up the victory after countering JTG's reverse suplex into a spinning reverse suplex slam of his own.
With the crowd showering both men in adulation, the post-match handshake was the ultimate show of respect. It involved two veterans that had just stolen the show. 
---
So there are the next five in my top 15 matches of 2021. In my final article, there will be matches 5-1. It is featuring a ladder match years in the making – an NWA Heavyweight Championship match – an atmospheric classic – a good old-fashioned barroom brawl, and a storytelling masterpiece.