The tournament to crown AEW's first TNT champion rages on with two semi-final matches on tonight's edition of Dynamite. Cody will battle Darby Allin and Dustin Rhodes will take on Lance Archer in their respective TNT Championship semi-finals matches. Chris Jericho and. Tony Schiavone are on commentary. Tonight's TNT Championship Semi-Finals are sure to be exceptional.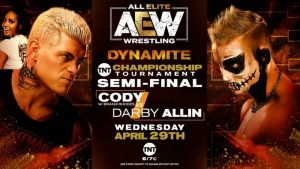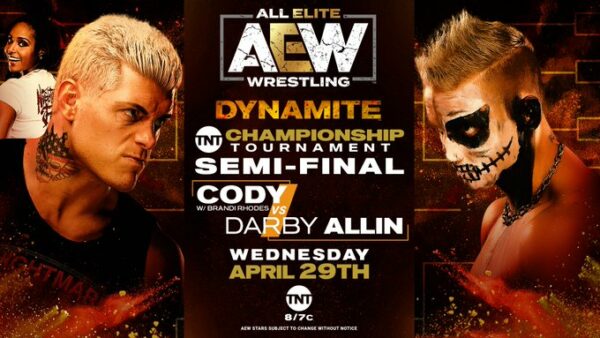 TNT Championship Semi-Finals
Cody vs Darby Allin  
Darby and Cody stare each other down before Darby attempts a shoulder block that moves neither man. In the first of two TNT Championship Semi-Finals matches. The two men lock up Cody hits a shoulder block knocking Darby to the mat. Darby gets up Cody wrestles Darby to the corner where darby takes control of Cody's arm. They exchange some quick pinfall attempts Darby attacks Cody's knee when he tries to bridge out of Darby's pinfall attempt. The action moves to the outside where Cody dodging Darby's shoulder block leads to Darby hitting Brandi at ringside. Cody hits a boot to the face of Darby Allin and proceeds to beat on Darby back in the ring.
Cody punches Darby in the face knocking him to the ground before hitting a front suplex on Darby. The assault on Darby continues with Cody hitting knees to the gut and Cody focusing his attack on Darby's abdomen. Darby counters a vertical suplex attempt and hits Cody in the knee taking Cody's feet from under him. A two-count follows Darby's code red Darby immediately locks Cody's leg for a submission attempt. Cody reaches the ropes and counters Darby momentarily with an elbow. Cody attempts a moonsault but Darby is able to knock him off balance into a tree of woe. Darby hits Cody and drags him off to apply more submissions to target Cody's legs. Darby's submission attempts are again unsuccessful Cody escapes to the outside where Britt Baker hits Cody with a shoe at ringside.
Both men hit each other with clotheslines. Here neither man moves they both try again. But both men hit the mat this time in this TNT Championship Semi-Finals match.
Both men get up Cody hits an uppercut leading to a throw before Cody hits his springboard enziguri kick. Cody removes his weight belt but the Referee Audrey Edwards is able to talk him out of using it. The momentary distraction allows Darby to hit a crossroads. Darby applies a figure four to apply more pressure to the legs of Cody. Brandi brings water out for Cody but Darby knocks the water into the face of Cody before attempting a springboard coffin drop.
The Coffin Drop is reversed into a lariat clothesline. Darby counters a second clothesline into a stunner before Cody counters a second springboard into a second crossroads. Cody attempts a coffin Drop of his own but Darby is able to counter. Darby goes to the top rope to hit his own coffin drop but Cody rolls him up for the three count. Cody advances past the semi-finals of the TNT Championship tournament.
Winner Cody
Cody advances to the final of the TNT Championship tournament at Double or Nothing.
A look at Scorpio Sky Part 2
Continuing from last weeks look at Scorpio Sky's career this week we hear about the formation of SCU. Scorpio talks about being nervous about joining SCU as Daniels and Kazarian have been an established team for a long time. He talks about how it picked up steam on being the elite when they did the worst town segment together. Scorpio talks about the opportunities he's had in AEW and his own ambition to be a legend.
MJF gives another update on his injury
MJF updates us on his injury and has spoken to his nail doctor who advised him that he has the strongest nail in the world. He goes on while shaving to get himself ready for television he nicked his neck. MJf removes his scarf to reveal a neck brace before going on to talk about his desire to perform in front of his peers.
Musa vs Wardlow
Wardlow picks Musa up and throws him down to the mat before throwing him into the corner. Musa is on the receiving end of some big shoulders and hits before being thrown across the ring. Wardlow throws Musa a few more times before pulling Musa into his knee from the top turnbuckle. Wardlow hits his spinning aeroplane slam on Musa before getting a three count.
Winner: Wardlow
The Bubbly bunch are back and Chris Jericho is talking about people talking about Sammy having a better film flam than him. Cut to Sammy who is out walking and says "anyone doubting I have the best film flam can suck my big bottle of sanitizer baby". Ortiz talks about Chris having the best Flim Flam before Ortiz disagrees with him. Chris says the Inner Circle should fight each other before they all hit the cameras and react. Other members of the AEW roster and some other legends and celebrities join in ending on Vickie Guerrero.

No Disqualification Tag team match
Best Friends v Jimmy Havoc and Kip Sabian
Havoc and Sabian attack Best Friends after they enter the ring until Trent can pull the rope to get Havoc outside the ring. Chuck Taylor gets Kip out of the ring before Trent dives onto both men outside. Havoc takes some control and hits Orange Cassidy with a steel chair. All four men brawl at the outside of the ring. Kip Sabian and Trent get the match back inside the ring. Jimmy Havoc throws a chair at Chuck Taylor on the outside. Havoc attacks Trent with the ladder before hitting Trent's face into the ladder. Sabian and Havoc work over Trent before Trent counters with a boot.
Kip Sabian is able to hit a backstabber on Trent before Chuck Taylor runs in to break up the pin. Trent is able to avoid a running shotgun dropkick from Sabian. Best Friends hit Havoc with chairs before hugging and hitting a suplex on Sabian. Sabian is able to throw Chuck Taylor into a chair wedged in the corner. Trent hits a tornado ddt on Sabian before hitting Sabian with a chair. Havoc breaks the pinfall attempt but Trent is able to hit Havoc with the chair. Trent and Havoc battle on the top before Havoc pulls the legs from Trent sending him crashing to the ladder at the corner. Havoc suplexes Trent into chairs and Sabian dives onto Trent to inflict more damage.
Chuck Taylor makes the save and slams Havoc into a chair before hitting a piledriver on Sabian onto a chair.
Penelope pulls Taylor off the pinfall attempt. Taylor tries to send Havoc into the ladder set up in the corner but Havoc counters sending Taylor into the ladder. Havoc gets Taylor on his shoulders but Orange Cassidy makes the save. Sabian and Penelope try to attack Orange but are unsuccessful. Cassidy and Havoc fight on the top rope before Cassidy takes Havoc out at the legs and dives onto Sabian and Penelope. Chuck Taylor drives Havoc into a pile of chairs and gets the win by pinfall.
Winners Best Friends
Britt Baker cuts a promo telling us not everyone can be a role model.
Shawn Spears vs Baron Black
Spears grabs Black's arm but Black gets him into a headlock takeover. Spears gets back up and teases a test of strength before kicking Baron in the gut and getting in some offense. Baron tries to get some chops in and spears hit a spine buster to counter. Spears taunts Baron before Baron hits some more chop. Spears is able to hit the C4 on Baron and applies a sharpshooter to get the win by submission.
Winner Shawn Spears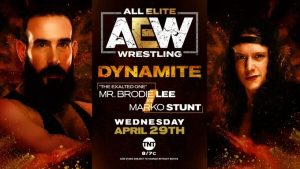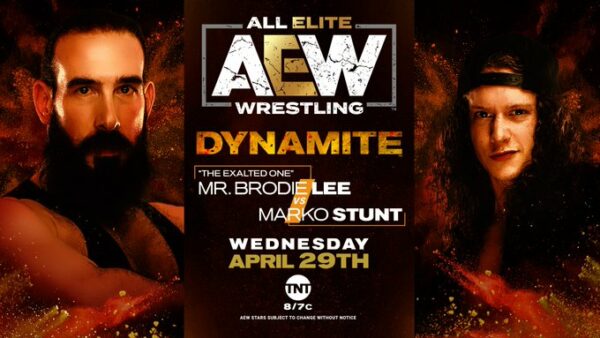 Marko Stunt vs Brodi Lee
Brodi throws Marko down before trying to use his speed against Brodi but Brodi hits him with a big boot. Brodi hits Marko with a knee to the torso before throwing Marko across the ring. Lee exits the ring Marko attempts to dive onto Brodi on the outside before Brodi puts him down and hits a superkick. Brodi hits Marko with a spinning slam and then hits a powerbomb on Marko before pinning Marko for the victory.
Jon Moxley addresses how it feels like a lifetime ago since a crowd was at an AEW event and promises we will all be together again. Jon Moxley goes on and says a DDT on a steel chair is always better than a DDT not on a steel chair. Moxley will be live next week on AEW.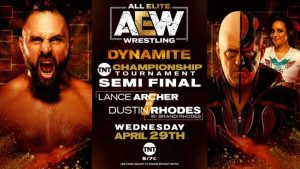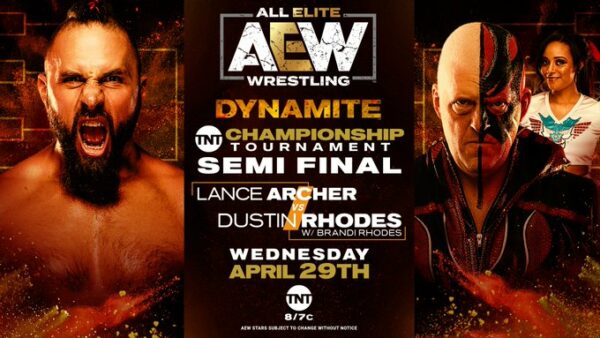 TNT Championship Semi-Finals
Dustin Rhodes vs Lance Archer
In the second of two TNT Championship Semi-Finals matches, Archer faced Dustin Rhodes. Archer backs Dustin into the corner before relenting both men lock up again Archer backs Dustin into the opposite corner. Dustin gets some quick hits in before Archer hits a shoulder block. Dustin attempts to get the uppercut but Archer counters. Archer attempts a clothesline but Dustin pulls the ropes to send Archer out of the ring. Archer hits a big shoulder tackle before beating on Dustin outside the ring. Lance archer hits Dustin with a steel chair shot to the head busting Dustin open.
Dustin hits a boot on Archer but Lance hits a clothesline to knock Dustin down before taking it back to the outside of the ring. The two men brawl on the outside Archer keeps hitting the head of Dustin with boots and using the ring post to his advantage. The match moves back into the ring and Lance hits Dustin with suplexes and kicks to the gut. Dustin gets a few shots and manages to hit shattered dreams on Lance. Archer shrugs it off and goes back to hitting big punches on Dustin's head. Dustin gets some shots on Archer to escape an arm hold Dustin hits a code red but is unable to capitalize on it. The two men exchange punches in the ring Dustin ducks tow shots and hit a clothesline.
Dustin hits a power slam before hitting more punches on Archer in the corner in this TNT Championship Semi-Finals match.
Archer tries to hit a powerbomb but Dustin escapes and hits a crossroads for a two count. Dusti tries an ax handle from the top rope but Lance counters into a chokeslam. Lance hits Dustin with a moonsault from the top rope. Dustin backs into the corner Archer tries to hit the blackbird but Dustin escapes. Lance hits a chokeslam but his pinfall attempt is rolled up for a very close two count. Archer removes the turnbuckle pad before slamming Dustin face-first into the exposed steel. Cody comes out to check on his brother Lance Archer slams Dustin's head into the matt before pinning him for the three count. Archer advances past the semi-finals of the TNT Championship tournament.
Winner Lance Archer
Lance Archer and Cody will meet in the final of the TNT Championship tournament at Double or Nothing on May 23rd.