It's training season in Tokyo Joshi Pro Wrestling. After a milestone event at last month's Grand Princess followed by a sold-out show in Los Angeles for their American debut, it's good to take a breather from the mania and go back to basics with TJPW Stand Alone 23. In Japan, April is the start of the school year: when the cherry blossoms bloom and new life can spring forth.
However, the current class of rookies is going to have to continue their education without a headmaster for the time being. The longtime Ace Miyu Yamashita is away on excursion, impressing every corner of North America every weekend as the TJPW flagbearer. Without their company cornerstone for the first time ever, the veteran teachers have as much to learn about themselves as the novice students do. Growing pains apply to everyone. 
TJPW Stand Alone 23:
Moka Miyamoto vs Kaya Toribami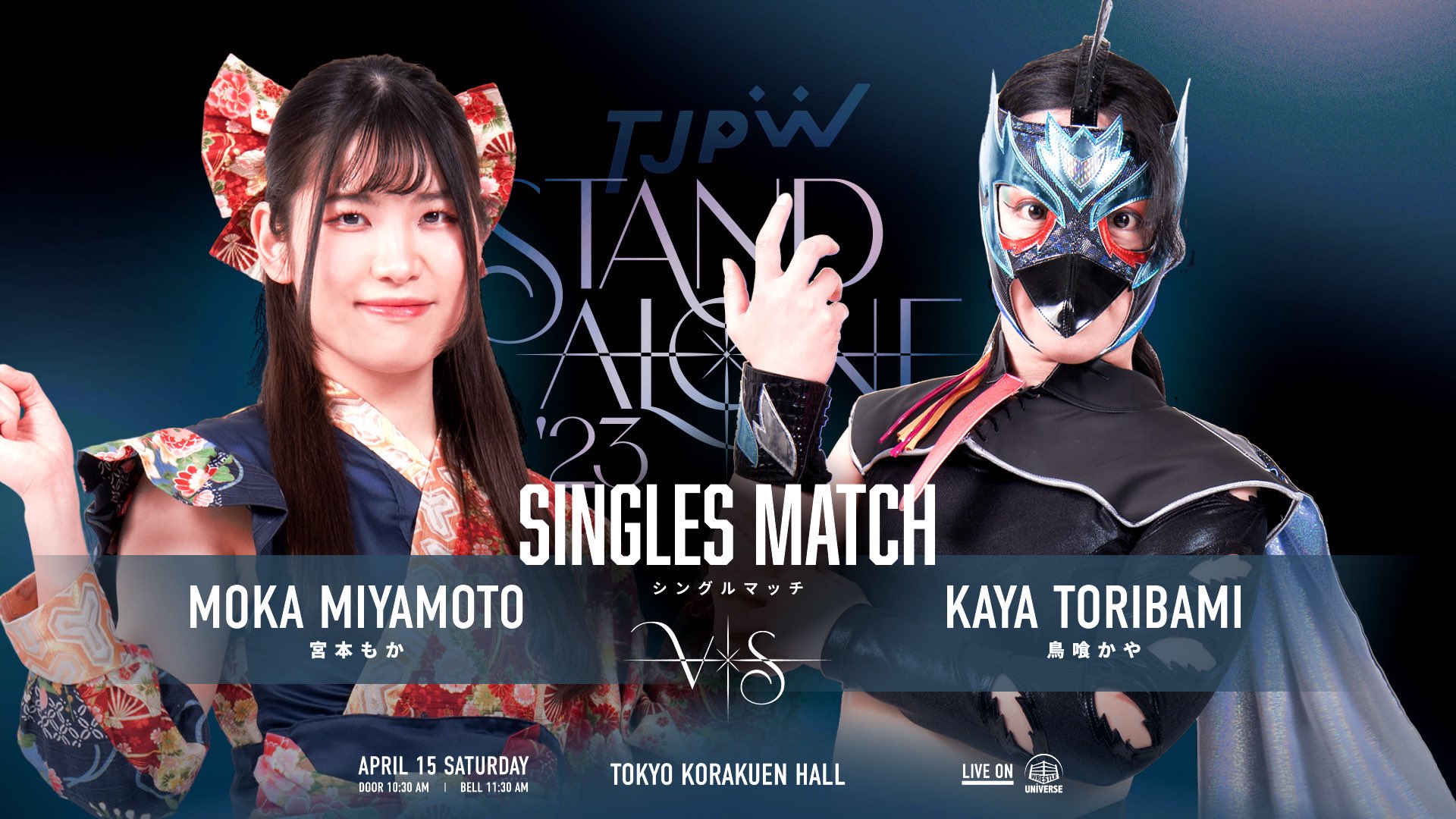 Two young up-and-comers bear the responsibility of an opening singles contest as second-year Kaya Toribami takes on third-year Moka Miyamoto. They're running the ropes and grappling back and forth is solid for their experience level. Kaya knows the basics of how to do her flips and kicks, but she could use some flair such as with her roll-up pin out of the corner. It's the music between the notes that makes wrestling's sleight of hand work.
Moka, on the other hand, has the ferocity in her voice even if her move set isn't quite yet refined. Sometimes she's a striker, sometimes she works her submission, she won here via pinfall with a swinging vertical suplex. With Miyamoto approaching the end of her third year, her steady improvement pales in comparison to the other 1998 generation girls like Suzume, Arisu Endo, and Yuki Arai.
TJPW Stand Alone 23:
Yuki Aino, Haruna Neko, and Haru Kazashiro vs Suzume, Arisu Endo, and Runa Okubo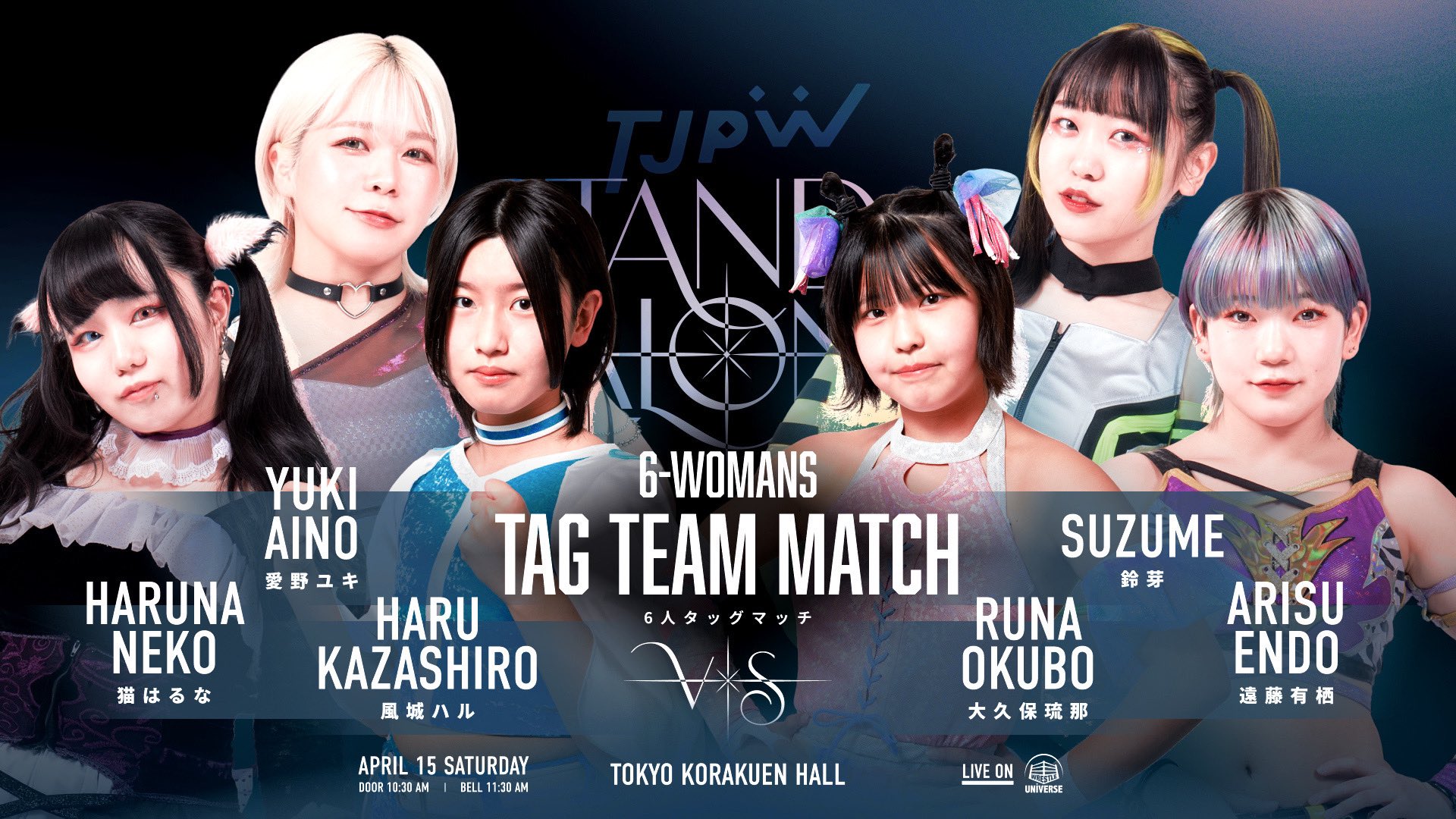 With middle school students Haru Kazashiro and Runa Okubo on each side, their lesson for the day was on how to take a beating. Their debut last month had them looking a little sheepish in the ring, but a few more matches to their names have made them into fine crash-test dummies. Even Endo, who is just beginning her third year, took some corporal punishment, though she avoided some of it with her dazzling agility.
Yuki Aino and Haruna Neko did well enough as the five year veterans keeping it old school. They say that those who can't do, teach. And at the level that they're at now, their roles are to help refine the future stars. It was Suzume, who is nearing the end of her fourth year, who picked up the win for her team over Haru. The busy bee is for sure on the accelerated course to success, which is followed up on later in the show.
TJPW Stand Alone 23:
Maki Itoh, Yuki Kamifuku, Wakana Uehara, and Toga vs Hikari Noa, Miu Watanabe, Raku, and Shino Suzuki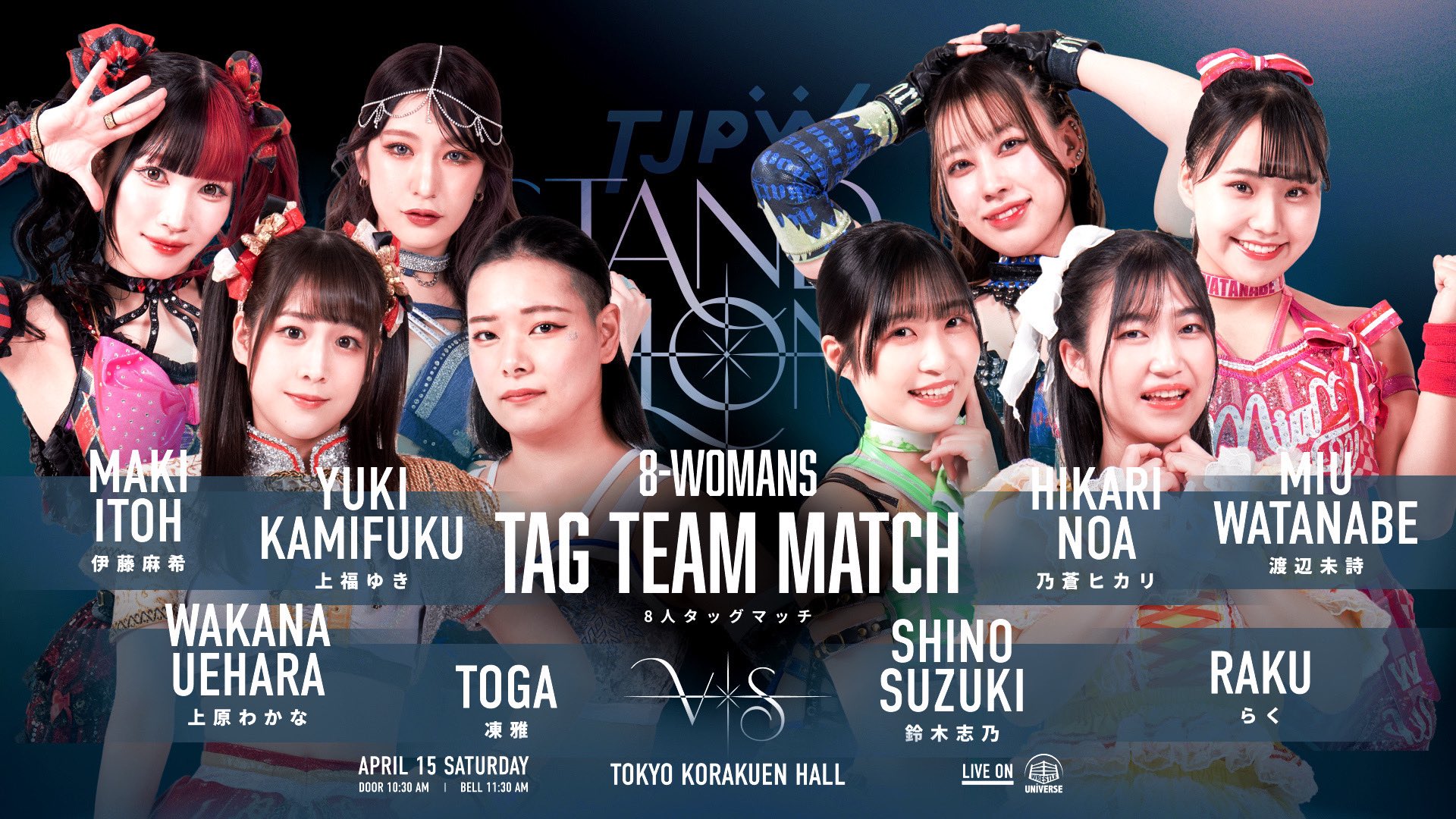 In a rare sighting, the Up Up Girls teamed together to help out their newest member, Shino Suzuki. Meanwhile, the well-traveled duo of Maki Itoh and Kamiyu were in charge of their own rookies, the energetic Wakana Uehara and the stoic Toga. Wakana found herself on the wrong end of a rookie beatdown while her senpais couldn't appear to care less. The Up Up Girls even ran her over with the Oyasumi Express.
When the tide turned in the match, it was Shino's turn to get hazed. Itoh may have lost her voice upon returning from an extended tour of America, or perhaps she just woke up in a bad mood, because she tormented the green-colored rookie. Things broke down into an exciting flurry of offense, as Toga got to show off with her killer elbow smash and Miu hit the front facelock swing on the too-tall Kamiyu. But in the end, Itoh submitted Suzuki with authority. After a dominating win at TJPW Stand Alone, Maki Itoh is at a crossroads between going on her own American excursion or chasing after the top title.
TJPW Stand Alone 23:
Shoko Nakajima and Hyper Misao vs Himawari and Yuki Arai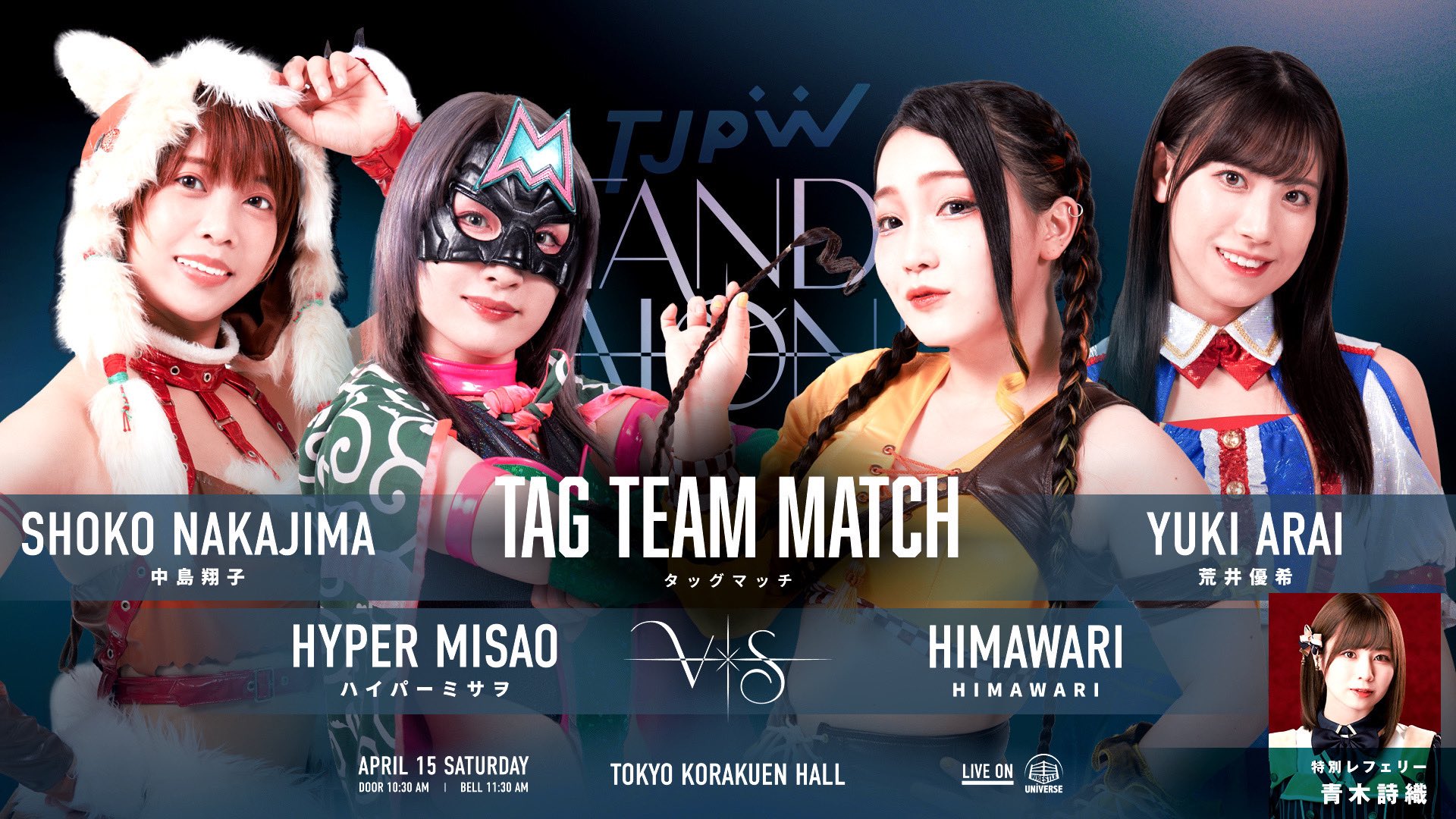 The rookie problems didn't stop with the wrestlers, as Shiori Aoki of idol group SKE48 made her debut as a special guest referee. Misao accused her of bias in presiding over a match with her fellow SKE48 member Yuki Arai. As Aoki made sure to do a thorough body check on her friend, Misao rolled up Himawari for the 1-2-3 in as many seconds. Senior official Daisuke Kiso was quick to point out that Aoki had failed to call for the opening bell.
As hilarious as the different hijinks were with the rookie referee, it's actually quite impressive how talented Shiori Aoki was in her first wrestling role. The zebra shouldn't be the center of attention and is better unnoticed, but they also should know exactly where they should and shouldn't be at all times. She played with the tropes for some funny payoffs as a great comedy match developed around her and Nakajima put Himawari away for the win.
TJPW Stand Alone 23:
Yuki Sakazaki and Mahiro Kiryu vs Pom Harajuku and Max the Impaler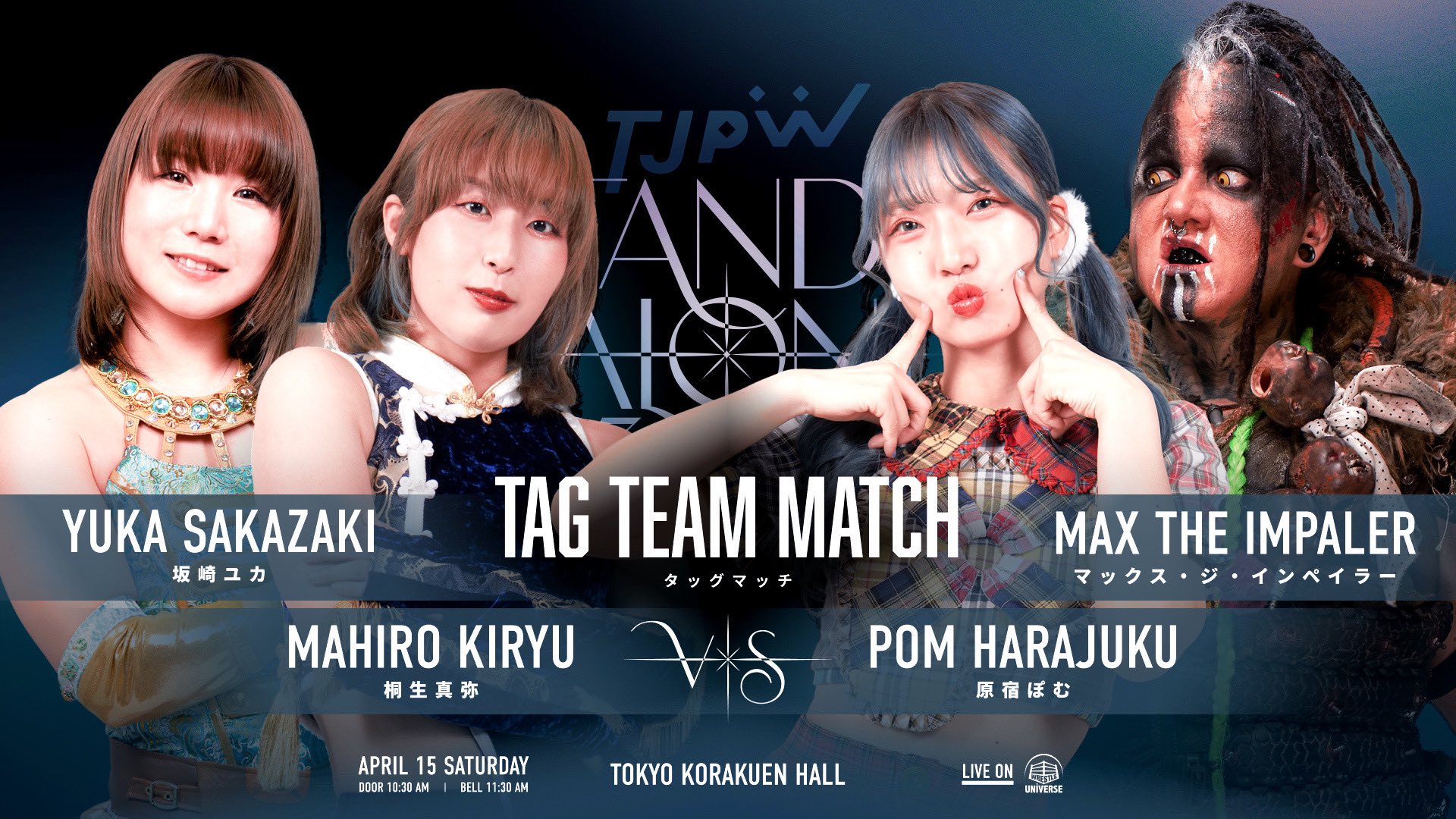 TJPW Stand Alone shifted seamlessly from the funniest sitcom to a dark, tragic comedy as Pom Harajuku and Max the Impaler made their debut as the most unlikely of tag teams. Since last summer, the Non-Binary Nightmare has been terrorizing young Pom, yet somehow the beast has grown protective of its chew toy, with Max demanding Pom be their partner after the LA show. But if anyone can match Max for strength and murderous intent, it's Yuka Sakazaki.
The newly crowned tag team champion beat down Pom to a pulp, including hitting a top splash to the outside that sent Pom crashing face first onto the exposed floor. The Harajuku girl had every reason to go limp and give up. But the P isn't for punching bag. After screaming out all her fear, she chose to cooperate with Max for some double team moves, picking up the win over Kiryu for a rare W. And in one of the more heartwarming moments of the year, Max held the ropes open for Pom as they left side by side. 
TJPW Stand Alone 23:
Rika Tatsumi vs Vertvixen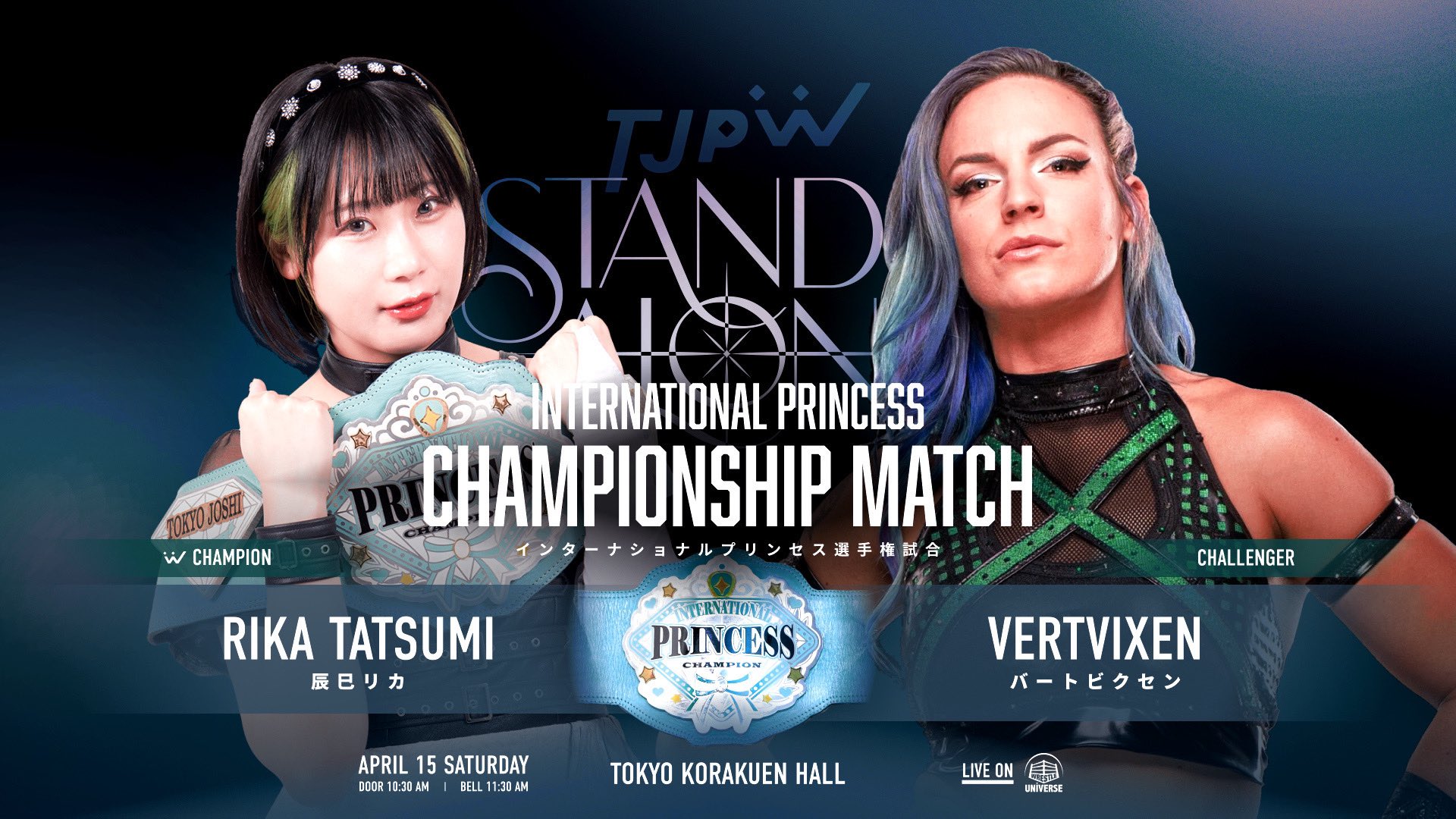 Vertvixen makes her TJPW debut challenging Rika Tatsumi, who aims to make her second defense of the International Princess title two weeks after defending against Billie Starkz at the LA show. The tall Texan is less than 4 years into her career with a little over 100 matches to her name but showed great movement and promise. Rika worked over the knee to chop her down to size and keep her grounded, hooking in the Dragon Sleeper for the victory.
Rika Tatsumi is off to a great start with the workhorse belt, meeting her challengers with the psychotic White Dragon style. After the match, it was Suzume who stepped into the ring to be her next opponent at May's Yes Wonderland show. Last summer Suzume shocked the crowd by pinning Tatsumi in the Tokyo Princess Cup and has been on a roll for the past few months. Whether it's her first championship or another run at the TPC, she's on the verge of something big.
TJPW Stand Alone 23:
Mizuki vs Nao Kakuta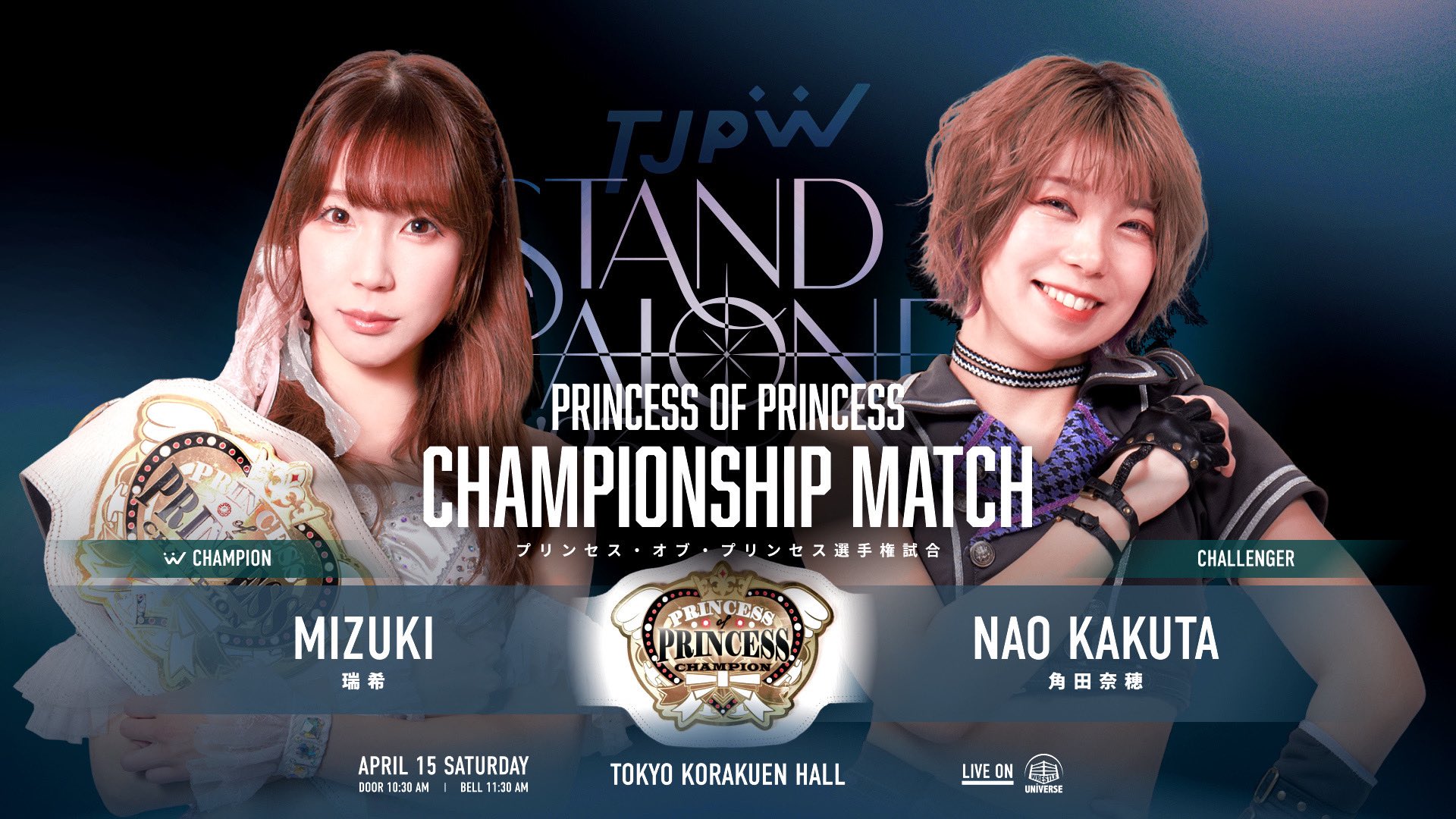 The new era of TJPW continues as both champion and challenger find themselves in different places for the Princess of Princess title match. Mizuki is making her first defense, having waited years to become the top champion. Nao Kakuta is making her first challenge for the PoP, having been overlooked for much of her tenure. She had been a catgirl known as the Ratchaser coming up through Actwres Girl'z, but the gimmick was dropped when Kakuta transferred over. In 2021, Kamiyu even called her a normal girl. 
Mizuki and Kakuta tried to kill each other in this bout. Kicks to the face. Kicks in midair. Hair throws on the outside. Hair throws off the top turnbuckle. Kakuta felt keenly aware that once you're given a chance at the brass ring, you have to grab it and never let go. And she did just that with an incredible showing. Her problem is that Mizuki had the same idea. Mizuki is a new champion and there's never a second chance at a first impression. So she stomped and struck and submitted her opponent to leave no doubt who was the champion.
TJPW Stand Alone 23: Aftermath
With Miyu Yamashita on her everywhere/every promotion/all-at-once tour, everyone had to step their game up. Rookies need to mature, mid-carders need to rise, and the top-level scene needs to make their case to be the Ace. In addition to a fantastic, hard-hitting main event, some of the other standouts were the comedy in the special guest referee match and the storytelling in the Pom and Max drama.
The April monthly event has the possibility of feeling the effects of B-show syndrome, but TJPW Stand Alone rises above with a firm statement of intent. The new era is here and the roster is hungry and vicious. If anyone was intrigued by their Los Angeles appearances and wanted to check out Tokyo Joshi Pro Wrestling, the cast, and crew put a great foot forward.