It was the year of international stars for Tokyo Joshi Pro Wrestling as they held the  TJPW All Rise 22 show on November 27th, their last Korakuen Hall event of 2022. Two marquee matches defined the card: 22-year-old British prodigy Millie McKenzie challenging Miyu Yamashita for the Pro Wrestling Eve championship and 17-year-old American prodigy Billie Starkz challenging Yuka Sakazaki for the Princess of Princess championship.
With a solid lineup around them and the build-up to January 4th on the horizon, All Rise looked to be another reason to be thankful for a healthy pro wrestling world.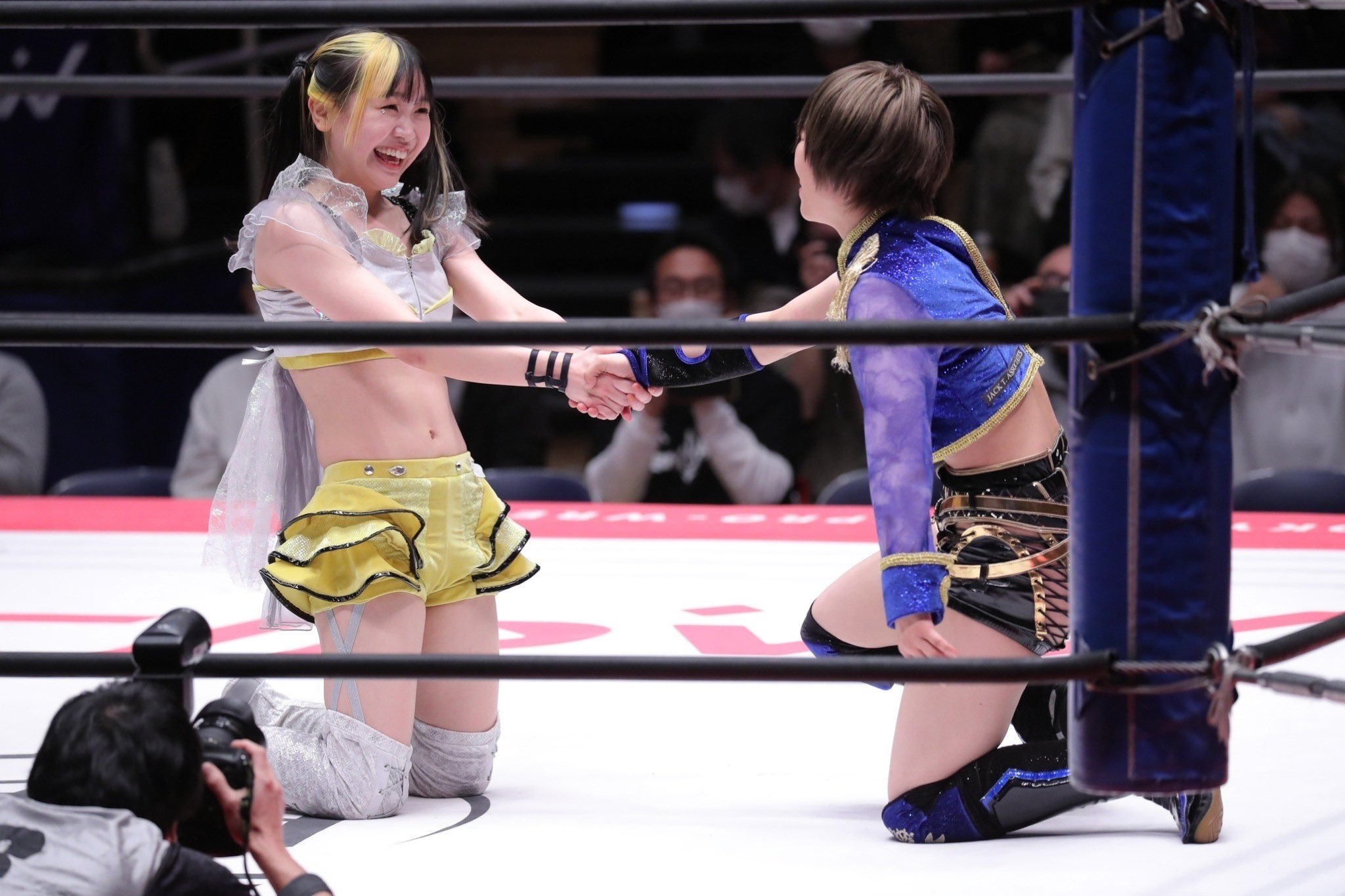 TJPW All Rise 22: Suzume vs. Yoshiko Hasegawa
Suzume has had quite the eventful year for a young wrestler barely in her fourth year. She formed a fast-rising tag team in Daisy Monkey, she made a miraculous run to the semifinals of the Tokyo Princess Cup and has had some incredible matches along the way. Yoshiko Hasegawa is a recurring visitor from Ganbare, a cousin promotion within the Cyberfight family.
Although she is ten years her senior, Hasegawa is just restarting her career after recovering from a neck injury. Being the more experienced wrestler, Suzume took control early, working the knee throughout the match, and got the victory. With a new streak in her hair, TJPW's tenth year should be a good one for the Vivid Honey Mustard.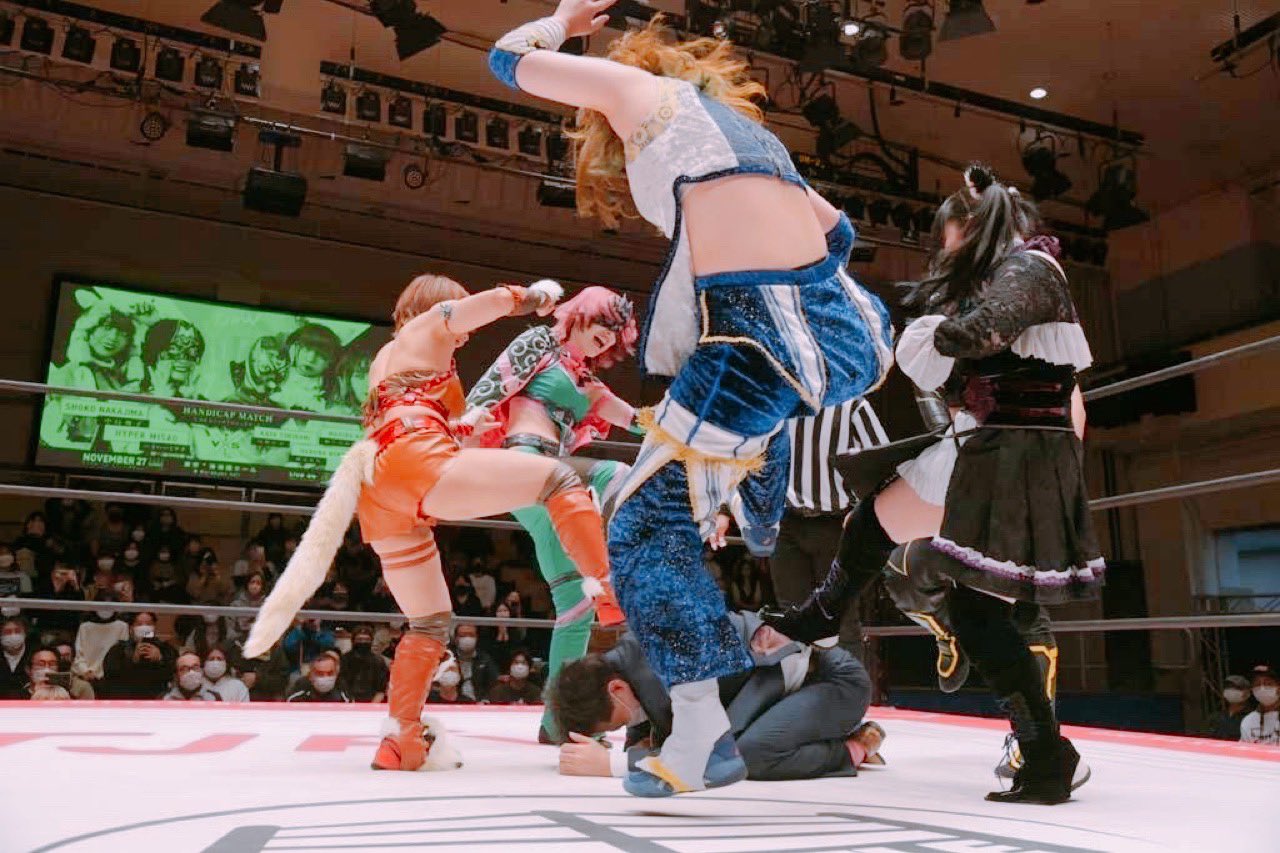 TJPW All Rise 22: Shoko Nakajima and Hyper Misao vs Mahiro Kiryu, Kaya Toribami, and Haruna Neko
Originally a 3 vs. 3 before an illness absence had to rearrange some of the show, the main event tag team of Kyoraku Kyomei (Shoko Nakajima and Hyper Misao) faced off against a trio of oddballs in Kaya Toribami (a bird), Haruna Neko (a cat), and Mahiro Kiryu (normal woman).
Before the bell, Misao tried conscripting general manager Tetsuya Koda into the war, but when he got beat up, Kyoraku Kyomei quickly turned on him. The match was a bit of fun as the three undercard acts did their best against these former champions, but Nakajima got the victory over Neko. Koda lived and limped back to the timekeeper's table.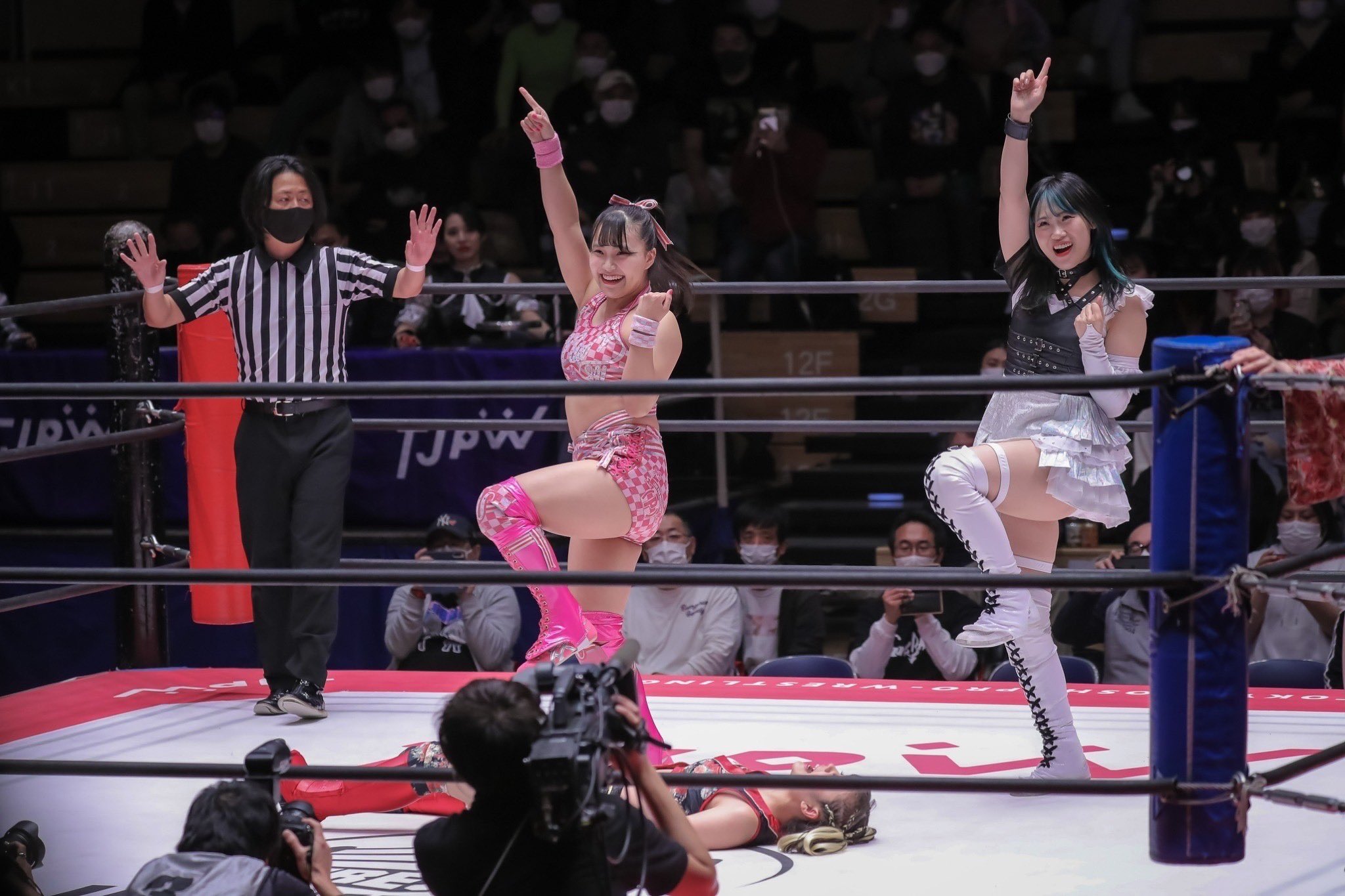 TJPW All Rise 22: Rika Tatsumi and Miu Watanabe vs Moka Miyamoto and Juria Nagano
On the eve of the Max Heart tournament in January, two tag teams held a preview of what might be to come. Daydream (Miu Watanabe and Rika Tatsumi) are former tag champions and last year's winners of the tournament. Watanabe has been the breakout singles star of the year, having Match of the Year contenders and winning the International Princess title, for which she announced her next defense against Trish Adora on January 4th. It's always nice to reconnect with old friends around this time.
Moka Miyamoto and Juria Nagano are two of the least experienced wrestlers on the roster, with a crop of trainees behind them prepping for their debuts. While not an established tag unit with an official name, they have paired in recent months due to their common practice in karate.
Each brought their hardest strikes and best moves to rattle the core of the company, but in the end, Tatsumi made Nagano submit with the Dragon Sleeper.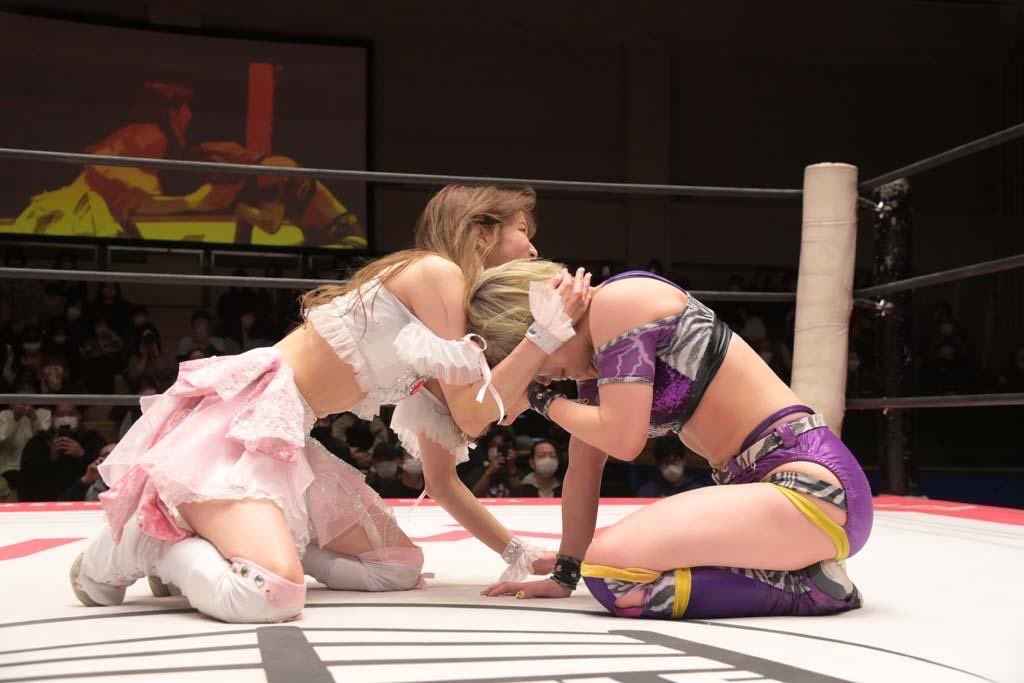 TJPW All Rise 22: Mizuki vs Arisu Endo
This bout is a match that many TJPW fans have the highest of hopes for. Mizuki, the uncrowned Ace of the promotion, against Arisu Endo, whom many believe could be the future Ace. They brought the high-speed action right from the start, showing just how exciting wrestling can be.
Endo is such a breath of fresh air, reexamining wrestling like so many Joshi before her: innovating ways on how to hit new moves or variations on your standard dropkick or knee drop.
Mizuki has been doing just that for almost 10 years, marking her anniversary next month. She is one of the most spectacular wrestlers in the world but has yet to win the top prize of the Princess of Princess championship. Endo has yet to win a singles match.
They fought a fierce battle, desperate to prove their worth. However, it was the Popping Sugar Rabbit who claimed the pinfall, leaving Endo to once more search for that elusive victory.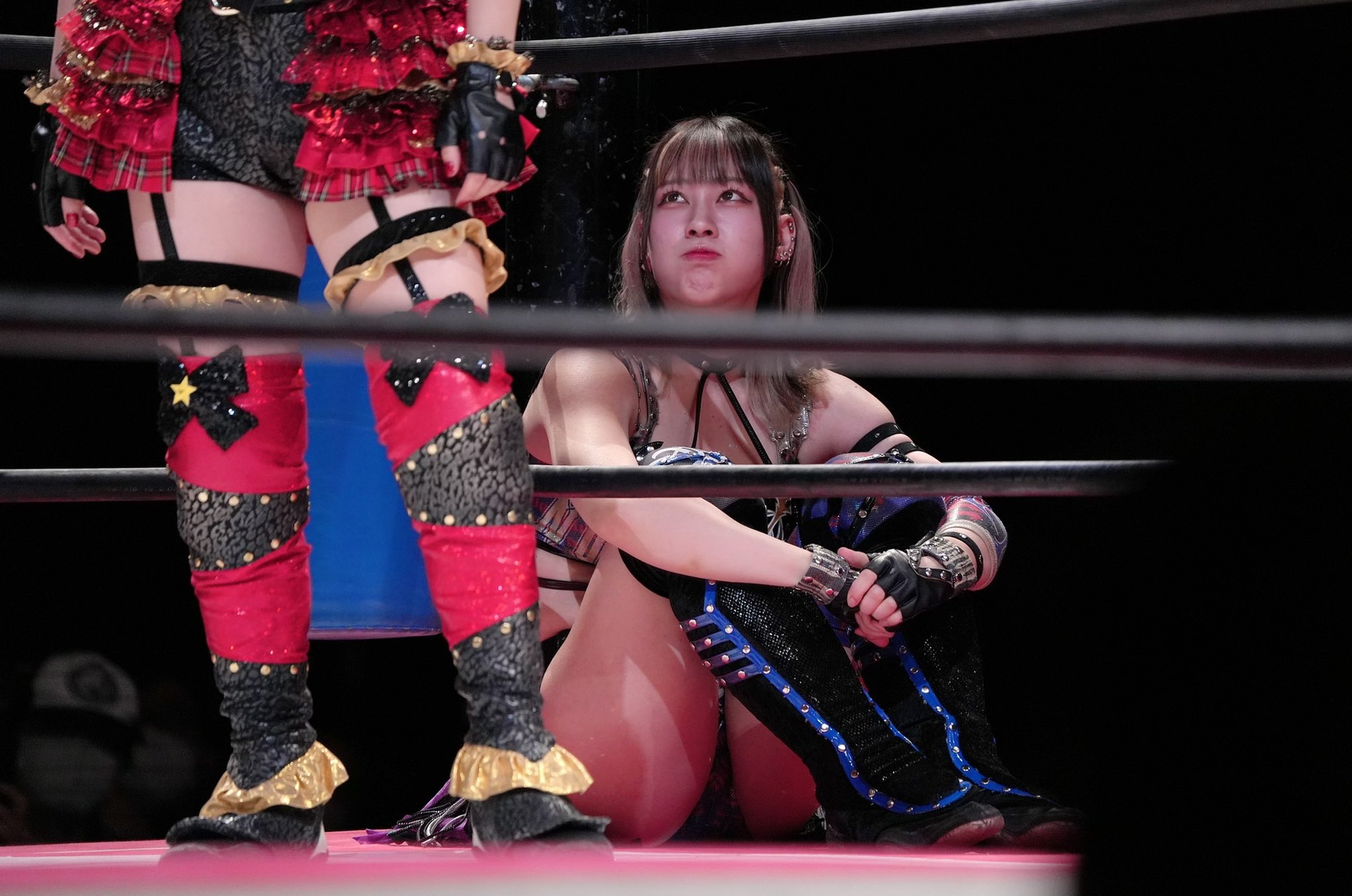 TJPW All Rise 22: Maki Itoh and Hikari Noa vs Yuki Kamifuku and Nao Kakuta
On the subject of the upcoming tag tournament, two teams seemed to swap partners as Free Wifi was divided for the day, with Hikari Noa teaming with her rival Maki Itoh to face Nao Kakuta and her frenemy Kamiyu. Itoh and Kamiyu at first didn't want to fight each other, but friendship was thrown out the window.
Makiyukihappy imploded, and Free Wifi beat on one another. As Itoh and Noa were caught up in miscommunication, Kamiyu secured the victory over Noa as a lesson to everyone about trusting your partner.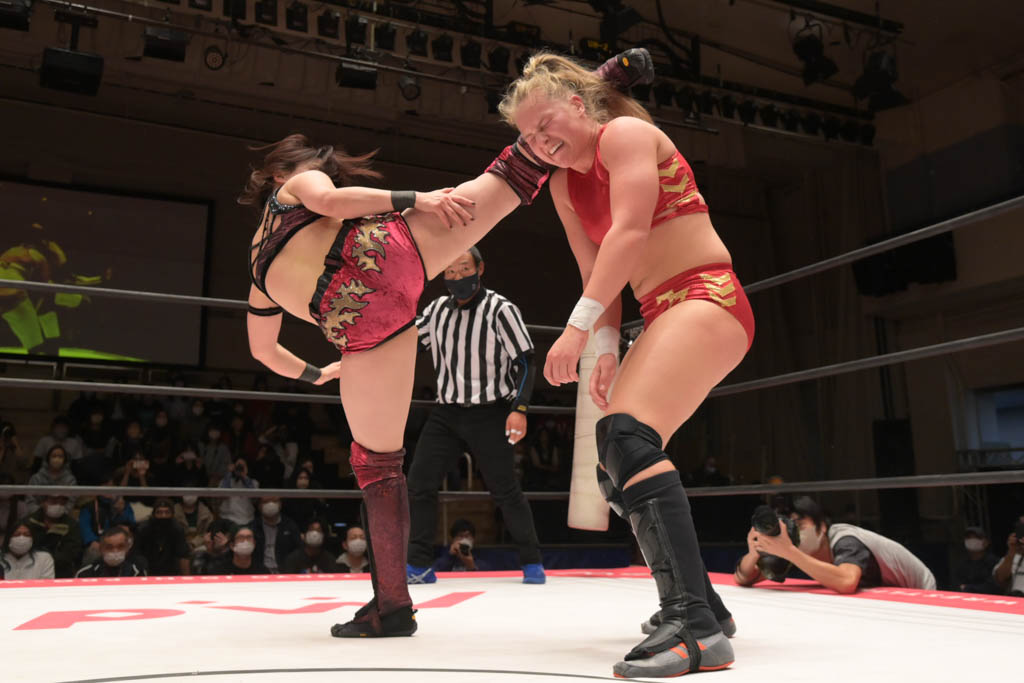 TJPW All Rise 22: Millie McKenzie vs. Miyu Yamashita
With their series even at 1-1, Millie McKenzie entered the match desperate to bring the Pro Wrestling Eve title back to England and beat the new champion, Miyu Yamashita. The championship has a proud lineage of the UK's best, including those who would go on to become AEW's Saraya, WWE's Nikki Cross, and NXT's Alba Fyre.
Conducted under Spirit of EVE rules, there was no countout, a 30-minute time limit, and the referee has the power to stop the match if one competitor could not put up a fight. McKenzie tried using this to her advantage, hitting a German suplex on the mats outside and a suicide dive to bash Yamashita's head against the wooden floor.
The match was hard-hitting, with both wrestlers throwing haymakers for the championship. McKenzie is a true talent at only 22 years old, having been scooped up by WWE a few years ago before she was then released. But Yamashita is the god of TJPW for a reason. After a barrage of knees and kicks to the head, the champion pinned the challenger to defend her title in a close and entertaining match.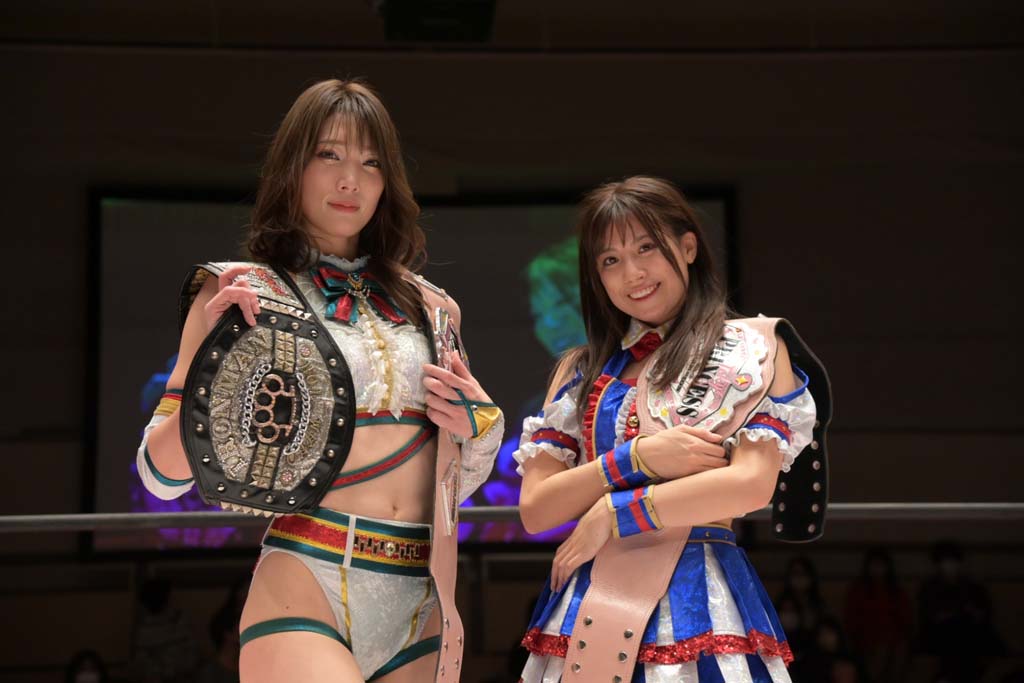 TJPW All Rise 22: Pom Harajuku and Yuki Aino vs Yuki Arai and Saki Arai
With Raku being absent due to Covid, Pom Harajuku was chosen to fill in as the third member of their odd love triangle. Pom is a young wrestler making her first attempt at gold, while Yuki Aino is a former tag team champion with her since-retired-now-farmer sister and looking to get back in the division.
But a replacement team for a nascent team doesn't stand much of a chance against Reiwa AA Cannon. They put up a good fight, but the champs retained their belts for their 3rd defense.
Saki Akai has been teaching Yuki Arai how to go from cute to scary in the ring and she's going to need it. After the match, a video played as Heidi Howitzer and Max the Impaler made their challenge for the pink belts on January 4th.
Max has been impressive in TJPW as of late, and Howitzer will be making her debut when the Wasteland War Party comes to Korakuen Hall. Akai and Arai expressed their concern and are up for the most difficult defense of their reign.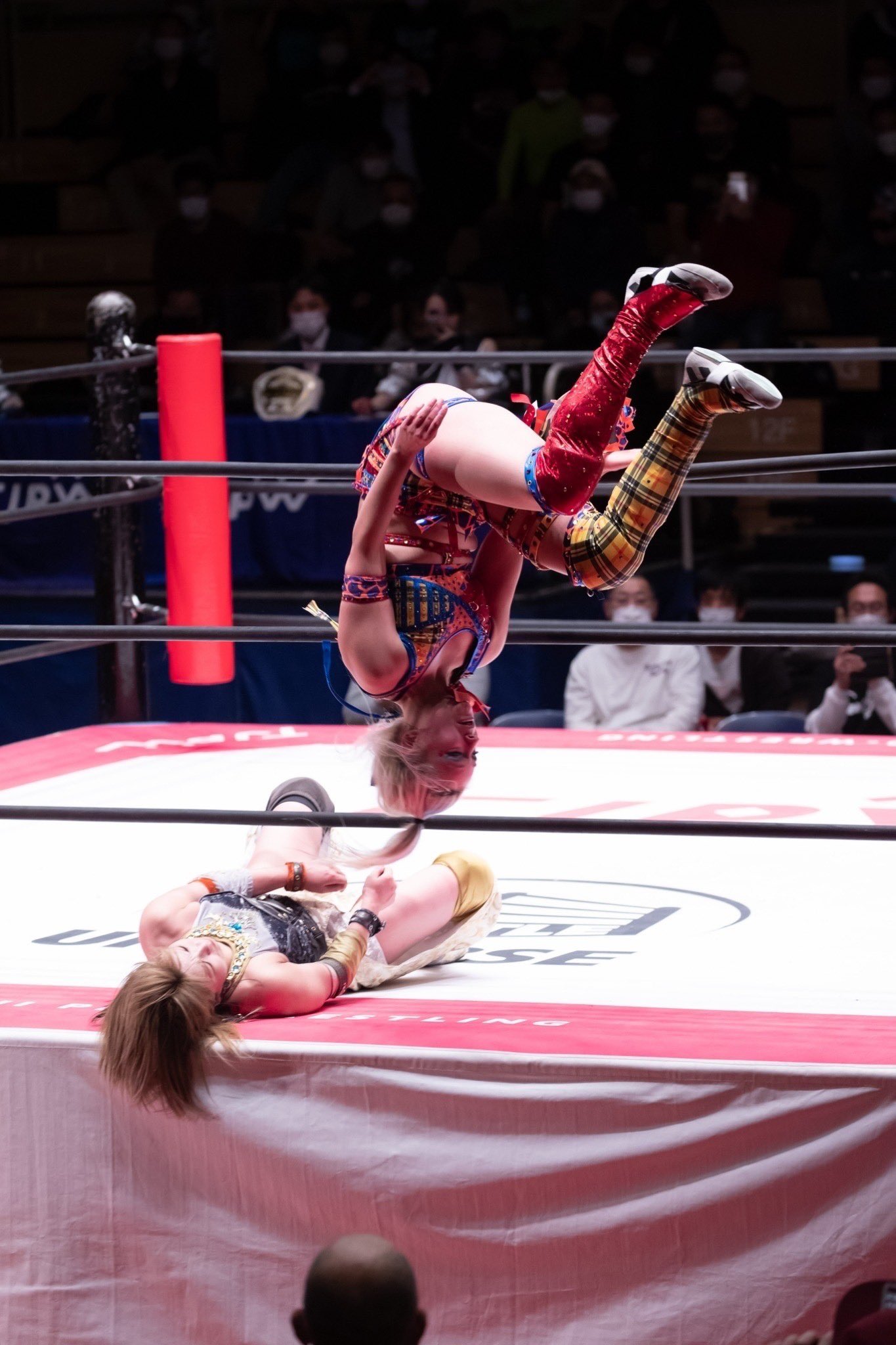 TJPW All Rise 22: Billie Starkz vs Yuka Sakazaki
The new Princess of Princess champion Yuka Sakazaki attempted to make her first defense against 17-year-old indie sensation Billie Starkz, making her debut in Japan. Yuka had her murder face on as soon as Space Jesus missed a dive, not willing to let up on the young high school student.
However, Billie was more than poised for this main event position, keeping up with Yuka's hard-hitting style, even crushing her on the apron for an insane-looking Sugoi Driver. The champion retained her title with the Magical Merry-Go-Round and showed her appreciation for the kid after the match.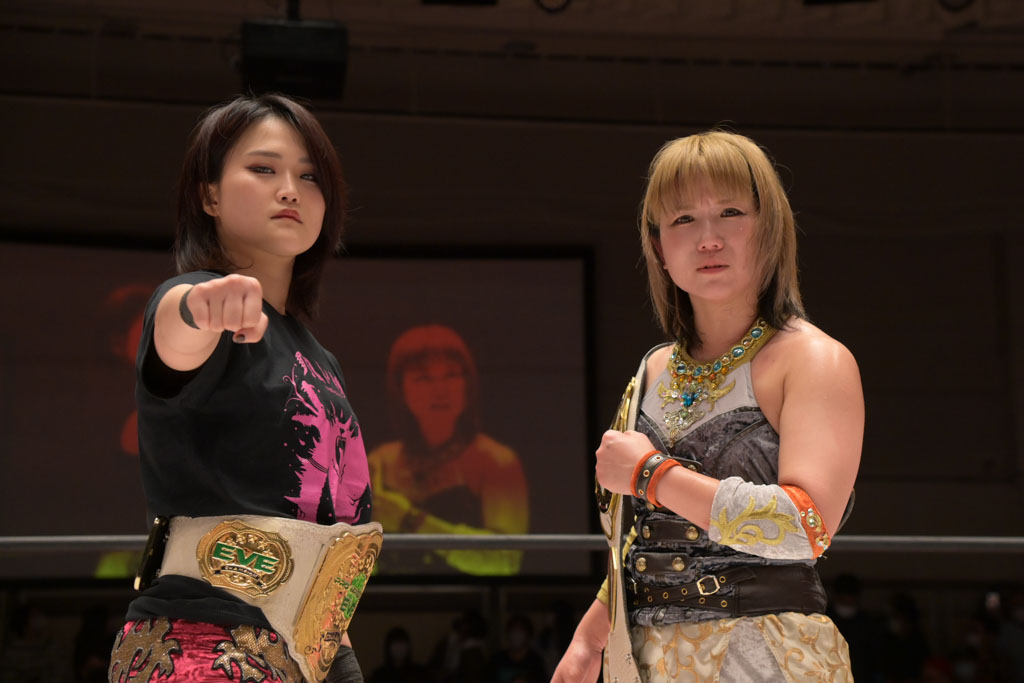 TJPW All Rise 22: Aftermath
When Miyu Yamashita came out after the main event and made the challenge for January 4th, Yuka Sakazaki said no. Many TJPW fans probably agreed. It has become a tale as old as Cena vs. Orton or Okada vs. Naito.
But as the company marks its tenth year in 2023, the matchup calls back to the days of early 2013 when Miyu and Yuka wrestled in front of dozens of people without a ring. After a lengthy negotiation involving sweets, Yuka agreed to face the unbeatable Ace.
Perhaps there is still the chance that on Mizuki's anniversary show in December, she can pin Yuka when they face off in their tag match, and Mizuki can earn her rightful place in the main event scene. Other than the usual booking questions, All Rise was a solid show.
The four singles matches were good to very good and served as examples of what Tokyo Joshi Pro Wrestling can do: exceptional homegrown talents working with some of the best wrestlers that the world has to offer.