With a sixteen-year career behind him, 'toothless' Timothy Thatcher has earned a reputation behind him. Thatcher is considered by many as one of the best technical wrestlers in the world.
His career began in 2005, competing for promotions such as Championship Wrestling from Hollywood, Pro Wrestling Guerilla, All Pro Wrestling, Pro Wrestling Bushido, and Supreme Pro Wrestling. A wrestler's growth is attributed to their ability to move to different promotions and face talent all over the world.
During this time, Thatcher would move around from promotion to promotion. Not only in the United States but also in Europe. His time competing in Europe also saw him capture several championships. During his time with Supreme Pro Wrestling, Thatcher became a triple-crown champion. Capturing the SPW Heavyweight, co-holder of the tag team, and Extreme Championship.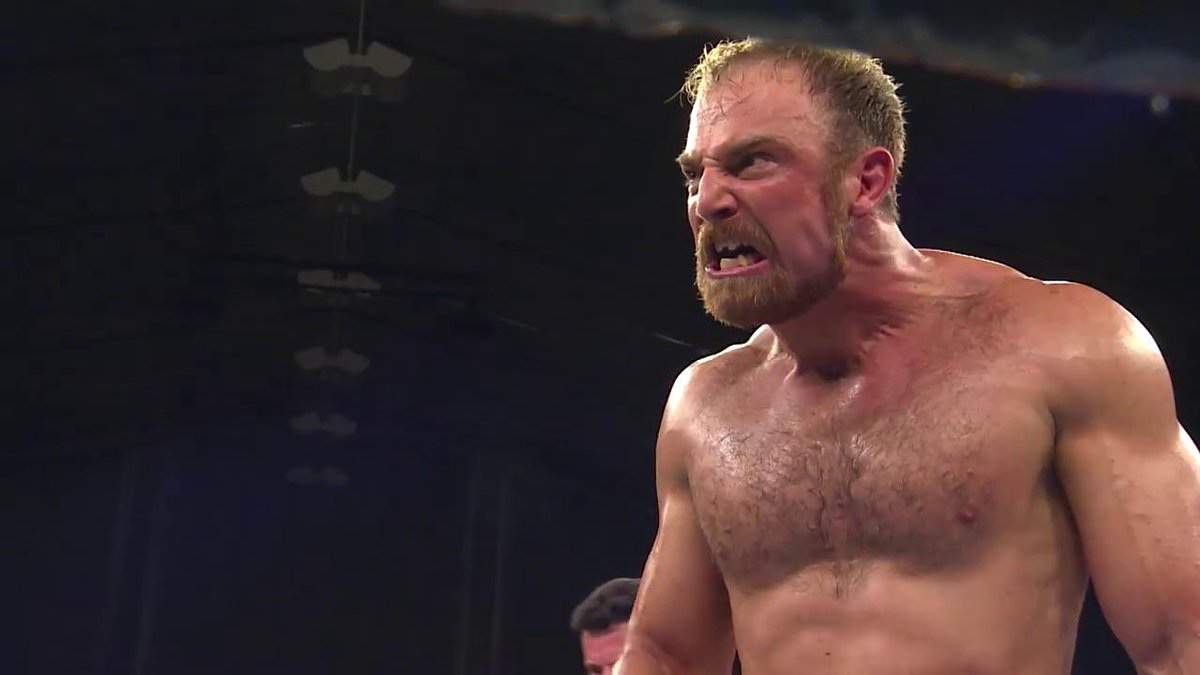 Timothy Thatcher – Birth of Ringkampf
By the time Thatcher would compete in Germany, he debuted for Westside Xtreme Wrestling (wXw) as part of their Ambition 4 tournament. Despite not coming out on the winning side, Thatcher would compete the following night. Unfortunately, his match the following night would also see Thatcher come out on the losing end.
Regardless of how his time began in wXw, it was what happened during his time in the promotion that is of interest. It was while Thatcher was there that he would be a part of the faction Ringkampf. Ringkampf consisted of former NXT UK talent WALTER and Marcel Bartel. Together with WALTER, the duo would capture the wXw World Tag Team Championships.
For Thatcher, for all he achieved on his own, it was equally as significant how much he did alongside his Ringkampf teammates. Thatcher's time in Germany also lent itself an opportunity for him to grow and evolve as a performer. During his time there, he became a decorated athlete and was valued for his technical prowess.
Word of his skills appeared to travel with him. That popularity only helped his stock. As he continued to earn a name for himself, competing there, others became more and more inclined to want to face him. There is a term often used in professional hockey. A term to describe a player that is willing to battle and sacrifice themselves. Battling on parts of the ice that is rarely battled in – sandpaper.
Thatcher's grinding, gritty, truculent nature lend's itself to that of sandpaper. Yet, it is that same grittiness that has seen him face some of the best wrestlers in the world and respected because of it.
Champion
While championships may not be as valued to some in the case of Timothy Thatcher's he has had some of the most remarkable reigns of any title outside of any major promotion. For example, he held the EVOLVE Championship for nearly a remarkable 600 days. Thatcher would defeat the man who would later become the WWE Champion, Drew Galloway (McIntyre).
He would lose the title 596 days later to Zack Sabre Jr. Although his reign may have had mixed reviews by some critics, there is no denying the trust promoters bestowed upon him as their champion. Another longstanding reign of Thatcher's would be his time when he held the Supreme Pro Wrestling's Heavyweight Championship. He held it for over a year at 518 days. Yet anyone that see's Thatcher in the ring, holding a title, it is never the initial thought that comes to mind but one of wrestler.
In 2019, Thatcher would briefly compete for Major League Wrestling. It was while he was there that he faced the likes of Low Ki, Tom Lawlor, and Davey Boy Smith Jr. In fact, it was the Hart family donated Opera Cup, where Thatcher would advance to the tournament semi-finals before losing to Brian Pillman Jr.
It became clear that Thatcher's value would continue to rise from his time in Court Bauer's promotion. A new opportunity and promotion would present itself to the then 36-year-old the following year.
The Pit Fighter
At 38-years of age, Timothy Thatcher has been all over the world, but in 2020, at the time 15-year veteran joined the WWE's NXT brand. Upon arriving on the brand, it became clear that his long-standing history of technical wrestling prowess would be pushed to the forefront. At this time, the Pit Fight battle with Matt Riddle showed just how dangerous he was. But it was from there that his early rivalry with someone who would later become his partner, Tommaso Ciampa, ensued.
Their battles with one another went from bitter adversary to respected rival and eventually tag team partner. Ciampa recalls a time when the two faced each other initially on the independent circuit prior to their time in NXT. There was something special about their match that Ciampa immediately felt.
"We had wrestled one time on the independents. We had chemistry, and I knew that we have a very common respect for each other. When he came to NXT, we just didn't quite cross paths, and then we had those two matches – WarGames and the Fight Pit.
I knew we had chemistry as opponents because we're like-minded and had a similar style. We pull out an aggression with one another and a grit that makes it stand out. The tag thing I had no clue because it's a different dynamic than with Johnny,"
Ciampa makes the connection between his team with Johnny Gargano and his with Timothy Thatcher. The two are more alike than they are different. Their gritty tough-as-nails characters in the ring doesn't allow one to be leaned on for a more relaxed style than the other. For both men, this opportunity has lent itself a chance to bring to two tremendous singles individuals and put them together.
"With Johnny, I always knew, you know, he's a hot tag guy, and he adds an element that I don't. He's got some flashiness to him, and he's different than me, so I knew we had a yin and yang type of thing.
With Timmy, it's like we're very similar, and I didn't know if that was going to work or not, and then we had that first match with Undisputed Era – Roderick Strong and Adam Cole – and the bell rang, and I just remember looking back at him afterward and being like 'Hey, we got something.'
When we came back through the curtain, Shawn Michaels was the first person I saw, and that was actually my quote to him. I was like, 'I guess we have chemistry.'"
Tomasso Ciampa talking about his partnership with Timothy Thatcher
Thatcher's wrestling story has yet to be completed. But, whatever the future holds for Timothy Thatcher, he will remain a winner. Wins that aren't measured in simply title reigns or match victories but how it leaves fans afterward. Some may like his style, and others may not. However, if they leave his match believing that it was a brutal and violent battle, then he has won.
His ability to battle any and all challengers all over the world proves his willingness to fight. It doesn't need to be in a cage or a pit; it just needs to be against a threat. His threats have come from challengers of all shapes and sizes. It shows that whether it is against the fastest rising stars today in WALTER or Tommaso Ciampa, Thatcher will fight. For some, it becomes a stretch to believe that they are legitimately tough, but for Timothy Thatcher, his carries with it some clout.