To say that The Young Bucks are well-traveled would be an understatement. From their humble roots in California to perform at the grand stage of the Tokyo Dome, Matt and Nick Jackson are no strangers to the journey that wrestling entails. Several tag team title victories and superkick parties later, the Jackson brothers find themselves as co-EVPs of All Elite Wrestling. When one looks back on the history of the Bucks, up until this point, it rings true that hard work pays off.
In 2001, not unlike many teenage wrestling fans, The Young Bucks took part in backyard wrestling. With little professional training, not to mention next to no budget, the Jackson brothers would eventually seek tutelage from others. This led them to the Revolution Pro Wrestling School.
Though this time didn't reward them with the wealth and fame they would enjoy several years later; it provided them with the groundwork needed to eventually become a tag team commodity.
In 2004, in what was his first taste of entrepreneurship in the pro wrestling world, Matt opened High-Risk Wrestling, his independent promotion based out of Victorville, California. Along with Nick and their younger brother, Malachi, the Bucks would run HRW, utilizing it as both an avenue to run shows and a training ground.
This promotion picked up notable momentum, as talents like Joey Ryan and future Bullet Club member Karl Anderson would make their way through it. It was in HRW that Matt and Nick would be dubbed "The Young Bucks" as well. The promotion became defunct in 2009, but its influence can't be overlooked.
The Young Bucks
As one of the most well-traveled tag teams in the world, The Young Bucks became synonymous with different promotions. The first place they left their mark was Pro Wrestling Guerrilla, where they debuted in 2007. While their debut match at Roger Dorn Night ended with a loss, they would go on to compete in that year's Battle of Los Angeles tournament, where they had a good showing before falling short once again.
It wasn't until 2008 when the Bucks won gold, becoming PWG World Tag Team Champions at the All-Star Weekend 7, Night Two event. Despite their heart, even going so far as defending their titles three times in one event, the Bucks wouldn't remain babyfaces for long. In 2009, on the second night of the Battle of Los Angeles event, The Young Bucks turned heel, aligning themselves with Brian Kendrick.
The time that The Young Bucks spent in PWG was noteworthy in other respects, too. During their collective time in the promotion, they would win the PWG World Tag Team Championship a total of 4 times, the most of any team in said promotion.
Furthermore, they are known for having the longest reign, with the championship at 631 days. The Young Bucks attribute much of their success in PWG to Super Dragon, one of the promotion's founders, who discovered and helped them become booked on various shows.
Generation Me
The year 2009 was significant in other ways for The Young Bucks, as they caught the attention of Total Nonstop Action Wrestling. Following a dark match with The Motor City Machine Guns, Chris Sabin and Alex Shelley, which impressed TNA higherups, they would officially sign with the company.
However, they would abandon their existing tag team name instead of wrestling as Generation Me, with Matt and Nick Jackson renamed Max and Jeremy Buck. In TNA, they feuded with The Motor City Machine Guns, turning heel in the process. The following year, they exhibited dissension, even wrestling against one another in singles matches.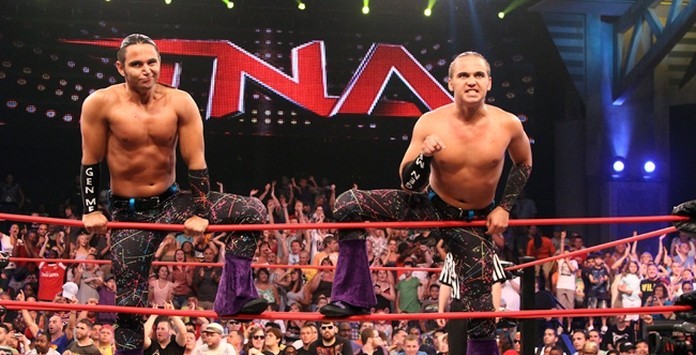 Their run in TNA wouldn't last, though, as they left the company shortly after Destination X in 2011. According to The Young Bucks, along with compensation issues, the decision to leave TNA was largely due to creative differences. From the standstill angle with Tara to the company's lack of focus toward the X-Division, they deemed it best to develop themselves in other areas, becoming bigger stars and making more money in the process.
Their time in TNA wasn't entirely negative, though, as they became friends with a young Japanese talent that would help open more doors for them. Wrestling fans will know this talent as Kazuchika Okada.
The Young Bucks –
Ring of Honor and New Japan Pro Wrestling
The Young Bucks are arguably best known for their time in Ring of Honor and New Japan Pro Wrestling, given the companies' working relationship dating back to 2014. The Young Bucks debuted in ROH, competing against such talents as The Briscoe Brothers, El Generico, and Kevin Steen.
They would leave the promotion in early 2010, per their commitments to TNA, but would return later that July under their Generation Me moniker. They would continue to work with ROH in 2011, even winning an opportunity to compete for the World Tag Team Championship, but were successful.
Their luck in ROH changed in 2014, though, as they became ROH World Tag Team Champions for the first time after defeating Kyle O'Reilly and Bobby Fish, reDRagon. They would win the championship a second time at All-Star Extravaganza VIII in a three-way Ladder War.
In NJPW, where they first debuted in the 2013 Super Jr. Tag Tournament, The Young Bucks would become an integral part of the junior heavyweight division. Perhaps more notable, they would align themselves with Bullet Club, a stable comprised largely of "gaijin," otherwise known as foreigners.
Bullet Club, which included other "gaijin" like Karl Anderson, Doc Gallows, and AJ Styles, would become one of the most popular acts in NJPW and pro wrestling itself. The Young Bucks would make an immediate impact in NJPW, winning the aforementioned Super Jr. Tag Tournament. This earned them a shot at the IWGP Junior Heavyweight Tag Team Championship, which they won at Power Struggle by defeating Taka Michinoku and Taichi of Suzuki-gun.
****
The Young Bucks continued their run in NJPW in 2014, successfully defending the IWGP Junior Heavyweight Tag Team Championship at Wrestle Kingdom 8 in a four-way match that included Suzuki-gun, Forever Hooligans, and Time Splitters.
They continued to successfully defend the championship until Dominion 6.21, in June, where they lost to Time Splitters. Meanwhile, in ROH, The Young Bucks would become a prominent fixture in the promotion's tag team division, winning the World Tag Team Championship from reDRagon.
In 2015, at Wrestle Kingdom 9, The Young Bucks challenged for the IWGP Junior Heavyweight Tag Team Championship in a four-way match but came up short. They would make up for this loss next month, though, as they defeated reDRagon and Time Splitters to become two-time IWGP Junior Heavyweight Tag Team Champions.
They would remain entrenched in the junior heavyweight tag team division; by the end of Wrestle Kingdom 10, in 2016, they would become four-time champions.
The Elite
In 2016, The Young Bucks formed a smaller group, along with Kenny Omega, within Bullet Club known as The Elite. As The Elite, the trio would win the NEVER Openweight 6-Man Tag Team Championship. Outside of The Elite, The Young Bucks remained involved in the tag team competition, winning the IWGP Junior Heavyweight Tag Team Championship a total of seven times by Wrestle Kingdom 12 in 2018.
In ROH, during this stretch of time, The Young Bucks would regain the World Tag Team Championship and a feud with "Broken" Matt Hardy and Brother Nero in a feud that had the time wrestling world talking. With the buzz revolving around the "Broken Universe" and the popularity of the Bucks, this was arguably the hottest program in ROH at the time. Following a loss to SCU and The Briscoe Brothers at Final Battle in 2017, The Young Bucks left ROH.
In NJPW, spending years working with junior heavyweights and having lost their championship to Roppongi 3K roughly one month after Wrestle Kingdom 12 in 2018, The Young Bucks set their sights on the heavyweight tag team division.
The Young Bucks achieved their next big accolade later that year, at Dominion 6.9, defeating EVIL and SANADA of Los Ingobernables de Japon to win the IWGP Tag Team Championship for the first time.
NJPW Tag Team Champions
Not only did this mark the first time an NJPW tag team won all three of the promotion's tag team championships, but only the second time a team won both the junior and heavyweight tag team championships, the first being No Limit, comprised of Yujiro Takahashi and Tetsuya Naito, who accomplished this feat at Wrestle Kingdom IV in 2010.
The Young Bucks' first heavyweight tag team title reign would end at Fighting Spirit Unleashed later that September, where they lost to Guerrillas of Destiny, Tama Tonga, and Tanga Loa.
On January 1, 2019, the official announcement of All Elite Wrestling was made. Not only would AEW have its inaugural event in May, dubbed Double or Nothing, but The Young Bucks served dual roles as talents and two of the three promotion's executive vice presidents, with the other formerly being Cody.
At the All Elite Wrestling Rally, The Young Bucks spoke briefly about their involvement in AEW and how it may impact their "Being the Elite" YouTube series, which debuted in 2016. While they stressed that the show wouldn't go away, it may undergo a format change, as they wouldn't be traveling as often. The fact that the show will remain, in some form or another, should ease the minds of avid viewers.
The Young Bucks are All-Elite
At the aforementioned rally, The Young Bucks briefly discussed AEW in relation to touring and show dates. The plan is for the promotion is to have several big shows. Furthermore, there are plans for AEW to be a touring brand, meaning that they could come to your area in the future.
This should come as no surprise to longtime fans, as The Young Bucks have been successful largely due to their traveling. They have gone from performing backyard wrestling for their own amusement to establishing their own franchise. Their level of hustle has shown up-and-comers in the industry that, as cliché, as it sounds, anything is possible.
As tag team specialists and entrepreneurs alike, The Young Bucks will strive to make All Elite Wrestling the best it can be.