The Sinister Minister, Purveyor of Oddities, Father James…whatever name James Mitchell goes by, you can bet he is the Devil in disguise. James Mitchell has been in the corner of several legendary pro wrestling monsters and oddities. He was highly instrumental in the career of Abyss.
Without the presence of Father James, Abyss would not have been as multidimensional as he was. From the beginning, James Mitchell was influenced by classic characters. He made his debut as Darryl Van Horne in Smoky Mountain Wrestling.
Horne's first client was a Mummy named Prince Kharis. After a few months, the mummy became unwrapped as the fans rejected the gimmick. The Sinister Minister is the latest in our Seven Nights of Frights.
Vandenburg's Oddities before The Sinister Minister

In 1997 James Mitchell joined World Championship Wrestling. He changed his name to James Vandenburg, Purveyor of Oddities. Reminiscent of a sideshow barker, Vandenburg claimed he had control of oddities from all over the world. He was said to have been the curator of The Museum of Medical Oddities.
He said that he would bring in his oddities and cause WCW to be destroyed one by one. At the time, the video game Mortal Kombat was a huge success. WCW thought it would be interesting to make their own Mortal Kombat-like division called Blood Runs Cold. Vandenburg managed Mortis and Wrath against Glacier and Ernest The Cat Miller.
He called them his rare oddities. He also hosted a commentary segment on WCW Saturday Night Called Vandenburg's Oddities. There he would delve into the psychology behind the matches. He would give his predictions of future winners. Most of the time, he'd end his segments with the catchphrase;
"I could be wrong ….but I doubt it."
ECW's The Sinister Minister
In 2000 James Mitchell went to the world of extreme. ECW had some of the most violent, unforgiving pro wrestlers on the planet. Paul Heyman once described ECW as the 'land of misfits". Obviously, this is a place where Mitchell would gravitate to. The original plan was to manage Mike Awesome, but Awesome departed for WCW.
He started an angle with Raven, but that was also cut short due to Raven leaving for WWE. After Raven left, James Mitchell officially took on the Sinister Minister character. He said he decided to let his eyebrows grow up to give him that look. He took the combo of the devil and television evangelists to bring the minister to life.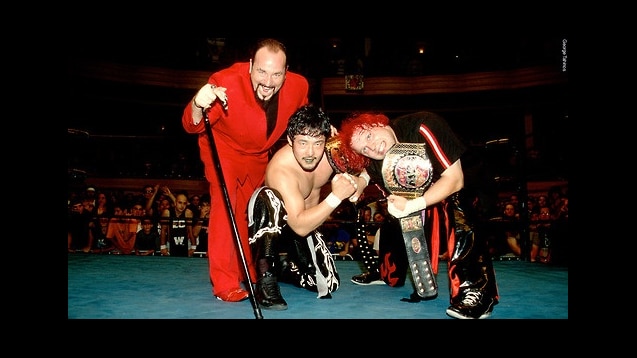 Mitchell then began to manage Tajiri and
Mikey Whipwreck
. The team was called the Unholy Alliance. On November 5, 2000, Mitchell was injured by a fireball thrower in a ring confrontation. It was literally a freak accident. He lost the tips of two fingers during it. In response to the incident, the Sinister Minister says,
"I'm a lucky devil."
Father James Mitchell
On June 19, 2002, Father James Mitchell made his TNA Debut. Arguably this is his most extraordinary run. A minister goes nowhere without his disciples. Mitchell did not come to TNA alone. He brought his team of Brian Lee and Slash to corrupt the tag team division.
Known as the disciples of the new church Lee and Slash punished anyone who questioned Mitchell. One of those who was a non-believer was Raven. Raven had his own group of followers called the Gathering. Mitchell's teachings soon got him in trouble as he was booked in a Last Man Standing Match with Raven.
Dr. Frankenstein and His Monster

In 2005 Father James Mitchell met his most famous monster, Abyss. Mitchell unleashed Abyss on TNA. Nothing would stop the 300 lb psychopath. Several rumors about where Mitchell found Abyss began to circulate. The mystique around the monster began to grow.
Week after week, it seemed as if Mitchell had something over Abyss. Finally, the path of destruction lead to Sting and the TNA/NWA World Heavyweight Championship. At the 2006 Genesis pay-per-view event,l The Monster defeated Sting and won the Championship.  Sting could sense that Mitchell was abusing Abyss.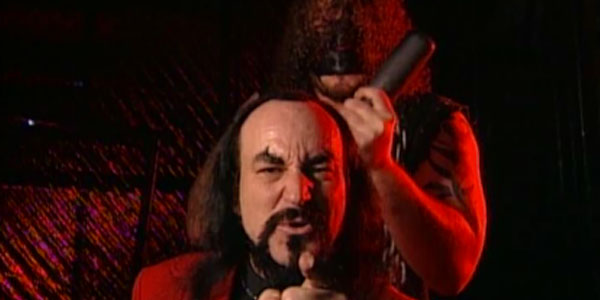 Abyss was a good person, but the Devil was in his ear. Being a born-again Christian, Sting decided to help. It seemed as though Sting had gotten through to Abyss, but Mitchell put a stop to that. The Sinister Minister took Abyss back to his prison. The story was that James Mitchell freed Abyss from prison.
He used that fact to threaten the monster anytime Abyss got out of line. Mitchell abused Abyss mentally and physically. Abyss lost the title to Christian Cage at Final Resolution in a triple-threat elimination match that included Sting.
Shortly after that, Sting tried to help Abyss. He kidnapped Mitchell and told him to stay away from Abyss. The next week Mitchell launched a fireball into Sting's face. He also ordered Abyss to destroy Sting. Sting kidnapped Mitchell a third time and, this time imprisoned him in a shark cage.
Abyss came to rescue Mitchell because if he didn't, he knew what would happen. Abyss ended up losing the TNA /NWA World Title to Sting in a prison yard match. With Frankenstein now incapacitated, Sting went after Dr. Frankenstein. He made Mitchell pay for his abuse leaving him a bloody mess.
Abyss gets the Devil off his Back.
James Mitchell returned to TNA on March 22, 2003. This time he returned with Abyss' mother. Mitchell knew the Devil was in the details. He was pulling out all the stops to lure Abyss. It was revealed that Abyss' mother shot his father.
To protect his mother, Abyss took the blame and went to prison. Mitchell threatened to report Abyss' mom to the authorities if he didn't return the Sinister Minister. Reluctantly Abyss had no choice.
After months of mental abuse, Abyss finally kicked the Devil off his back, and black hole slammed Mitchell to hell. A few weeks later, Father James Mitchell returned. He said he'd found a new monster. Judas Messias made his debut by cutting through the canvas, grabbing Abyss, and pulling him down to the depths of hell.
Judas Messias was bigger, meaner, and stronger than Abyss. Mitchell also let out the secret he was holding for years. He was Abyss' real father. He was also Judas Messias's father.
MLW and an ECW Reunion
Mitchell appeared in Major League Wrestling in 2003. There he was in the corner of Mikey Whipwreck, Jerry Lynn, and the Fallen Angel Christopher Daniels. James Mitchell's devious disposition influenced Jerry Lynn to become more vicious than he ever was. Mitchell once again grew a fondness for throwing fireballs in MLW.
Surprisingly James Mitchell did make a WWE appearance. At ECW One Night Stand, he accompanied Tajiri and Mikey Whipwreck in an Unholy Alliance reunion. He was supposed to be a weekly part of ECW on the Sci-Fi Network; however, he never signed a contract.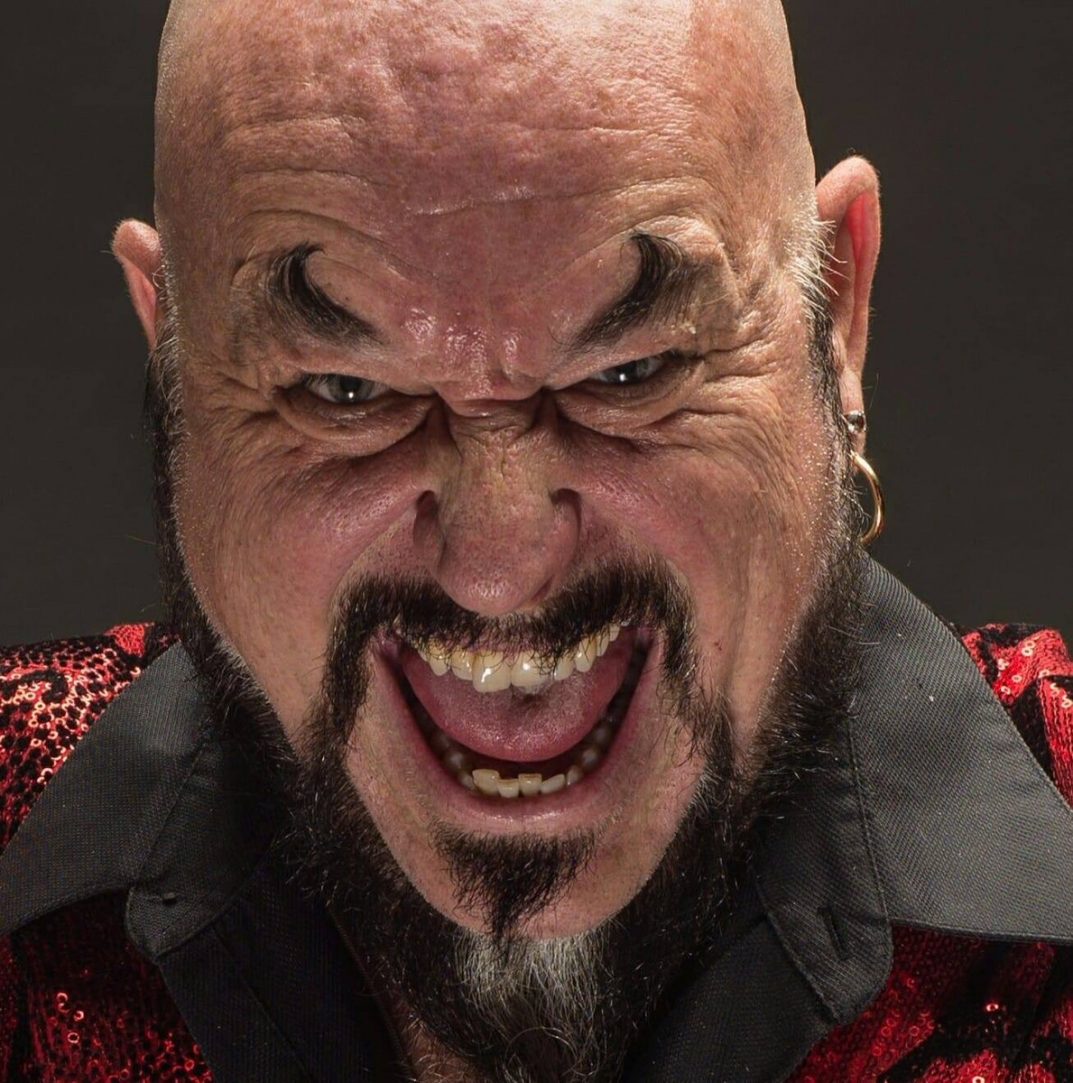 The Devil You Know.
In 2017 Father James Mitchell returned to TNA. Abyss alter ego Chris Parks was fighting a losing battle until Mitchell gave him his abyss mask. That night abyss went out and won his match. Mitchell would show up randomly in TNA. He was designated as the keeper of Rosemary's soul during her rivalry with Su Yong and Allie.
Mitchell would also show up in their corner from time to time. He also managed the undead bride. The Sinister Minister was doing his dirty work in the TNA women's division. James Mitchell has since retired from pro wrestling. However, there is no rest for the wicked. When you least expect it, he could pop up and tempt any superstar to sin.