RIPTLadies and gentlemen, boys and girls, fans of professional wrestling, I introduce to you, in conjunction with Powerslam.TV the first in a weekly series where I look back at Riptide Wrestling's shows. I have written a Brief History of Riptide here and given a live account of their most recent show, Black Water, to get you all up to speed. Now that you're all caught up, kick back and read about The Storm.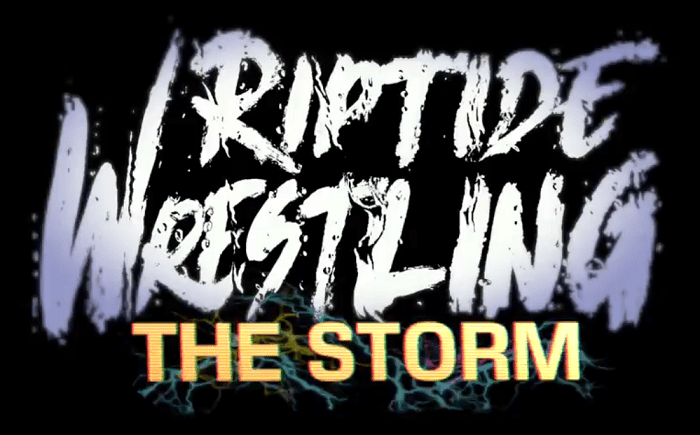 The Storm
Candyfloss V Cara Noir V Session Moth Martina V "The Anarchist" James Castle V Lion Kid
As opening matches go, this was quite something. Non-stop action all the way from all five involved throughout the contest spots galore and comedic action.
The match started with James Castle jumping the gun and wiping out Martina to the floor with a shotgun dropkick. What followed was complete and utter madness which is pretty much Martina's stock in trade (and I frickin adore her for it too).
From moments including Cara Noir getting his tights ripped to show he was wearing a G-string. This allowed Martina to chase him around the ring to literally "slap that ass". But instead gives him her patented "Flap Trap" – I'll let your imagination run wild there folks – to seeing Cara Noir creepily crawl to a prone Candyfloss sat in the corner, with evil licking intentions in mind. Only for Martina again (can you guess who the star of the match was?) to push her out the way and egg Cara Noir on to do it to her instead!
The finish came about when Cara Noir hit a package piledriver onto Candyfloss which allowed Martina to hit her Seshbreaker (a diving top rope Codebreaker) onto Cara Noir for the victory!
All five were outstanding here, all playing a major part in a seriously great opening match! Fantastic stuff.
Winner – Session Moth Martina
The Storm
Spike Trivet V Darrell Allen
Spike Trivet is going to have an amazing 2019, folks, you heard it here first from me. The guy can talk, he's solid in the ring and getting better with each passing match, and just has that ability to want to slap the crap outta him…He's going to break out.
Anyway, he comes out first and cuts a nice heated promo to get the crowd against him which isn't hard if you know of Spike!
Allen comes out to a great reception from the live crowd. If you didn't know, Darrell has had a hand in the training of many of the new crop of British stars coming through right now at the Knucklelocks Gym in London.
The match immediately goes to the outside, and they brawl amongst the crowd. One of my fave spots is used here where Spike goes to chop Darrell but instead chops the ring post! Love it!
Eventually, they make it back into the ring, and the match begins……and is quickly called off as a no-contest when the fire alarm at the Brighthelm Centre begins to ring and the venue is forced to evacuate. Shame as both men were more than up for showcasing each other's talents.
Winner – No Contest
Once the crowd was back in the venue the show carried on with this beauty of a match. But before the match could begin Chris Brookes began the ShitWolf Invitational Replacement Replica Mask 2017 Challenge – basically Kid Lykos was injured and Brookes was looking in the crowd for someone that was wearing a Lykos mask to audition for his replacement for the match.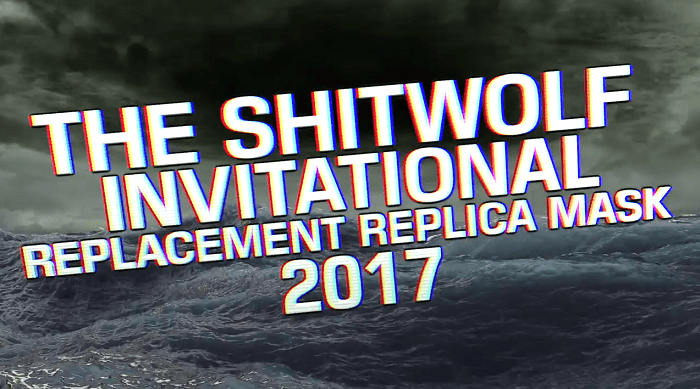 Eventually, four were found (one suspiciously like Pete Dunne) and whittled down to a guy that did a great Lykos pose….only for him to be thrown out the ring by Pete Dunne who really wanted the gig! So the Bruiser-Wolf (??) joins Brookes for this match.
The Storm
Aussie Open v CCK
Aussie Open jump the gun but once again the match spills to the outside (a common theme in this show) and all hell breaks loose. Dunne even gets an audience member to help snap the fingers of Kyle Fletcher!! Gotta love some audience participation!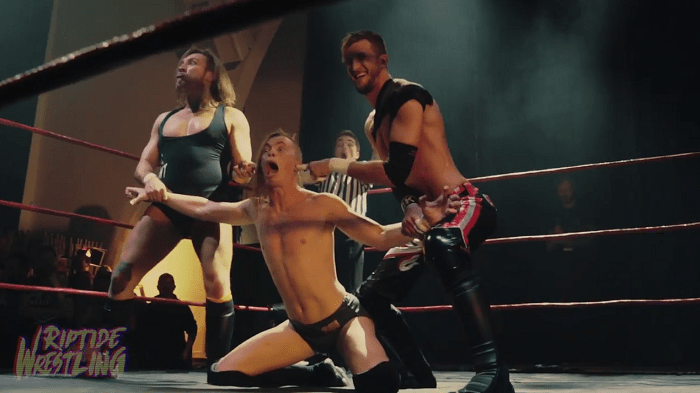 Once that match gets back in the confines of the ring, the action was hard and fast. Forearms, knees, and chops were on the menu here and BAH GAWD they were hard. Double-teaming was used a lot here too, and seeing poor old Kyle Fletcher getting a double wet willie (look it up non-UK folks, it's a colloquial term and see above image!) from Brookes and Dunne was both amazing and gross in the same respect.
Another match full of amazing spots, too many to write about here, but one that stood out was Mark Davis hitting a one-armed powerbomb to Brookes and then doing the exact same thing to Dunne onto the prone Brookes! Amazing to see!
The match is frenetic, and the only way to finish a match like that is a…..DEATH BY ROLL UP pin!
Brookes and Dunne roll up Fletcher and Davis as the ref counts a double three for the win. Great match once again.
Winners – Chris Brookes & Pete Dunne
The Storm
Bea Priestley V El Phantasmo V Omari
Bea was in the mood for no prisoners here as she immediately goes on the offense and lays into both men. A nasty spill to the outside from Bea worried the crowd and me but luckily she's fine to carry on, it really was bad folks.
You can see Will Ospreay's influence on Bea here as she is really attacking those ropes hard and the pace she has set is super quick, easily keeping up with ELP and Omari.
Omari reverses an ELP Canadian Destroyer into one of his own only to find out that the move doesn't affect Canadians, so ELP hits two of his own to Omari for a very close spot. A fantastic spot in a night of great spots.
Bea picks up the win with the Code Red off the middle rope onto ELP in a very well-thought-out finish.
Winner – Bea Priestley
The Storm
Chris Ridgeway V Jack Sexsmith
If you know of anything of Sexsmith, then you'll know that Brighton is the spiritual home of Jack, and this RIPTIDE crowd was firmly behind him from the get-go. That's not to say that Ridgeway didn't have any support as he really did, just not to the volume of Jack's.
Ridgeway wanted a proper wrestling match, a test of strength and skill. Sexsmith, on the other hand, wanted a "Joey Ryan" kinda match. And as you can tell those styles don't mesh at all.
That was the story to this match, and again, BAH GAWD did Jack take a RIPTIDE kicking here! Ridgeway (as I've documented quite a few times) is hard as fcuk and took apart Jack piece by piece, body part by body part, with his vicious striking and technical wrestling skills.
Sexsmith had flurries of offense but time and again he was shot down by Chris and his hard way. Then…..the unthinkable happened…..
Jack combined a few sequences together and out of nowhere he picks up the BIG victory after hitting his Big Double Stompy Move and the Brighthelm Centre erupts!
Winner – Jack Sexsmith
After the match, Spike Trivet beats down a victorious Jack. But is saved by Ridgeway who then offers a challenge to Spike. Sexsmith and Ridgeway versus Trivet and a partner of his choosing.
And that's the big finish of my first Powerslam.TV powered RIPTIDE Wrestling reviews with The Storm. I hope you've enjoyed reading as much as I enjoyed watching and writing about it.
I'll be back next Saturday right here at PWP with the next Riptide Wrestling event, the first-ever Black Water.
So until then folks….
Adios!
To watch more of RIPTIDE Wrestling along with several other promotions visit Powerslam TV. Readers can visit the site by either clicking here or the icon below.