Welcome back to the PROGRESS Prerogative! If you've been reading along for the last 6 months you'll know that this is the weekly column that looks at each PROGRESS Chapter in turn. We'll talk about what was great and not so great and see how the current crop of worldwide wrestling stars began their careers. This week, we have a new PROGRESS champion in The Villain Marty Scurll, and he defends opposite Mark Haskins. Also, Chapter 26 is back in the Manchester following the debut in the venue for Chapter 24 – let's see what went down at the Valentine's Day spectacular!
PROGRESS Wrestling Chapter 26: Unknown Pleasures. 14th February, 2016. O2 Ritz Academy, Manchester, UK.
Sweet Jesus vs Damo O'Connor & Joe Coffey vs The Dazzler Team vs Dave Mastiff & Zack Gibson
A four way tag match kicks things off as Chuck Mambo and William Eaver face Damo and Joe Coffey, Darrel Allen and Earl Black Jr, and The Origin. The pace of the contest isn't quite the usual that you see in the multi-team format. All eight men wrestle as though it's a regular tag team match and slow the pace right down with rest holds and leisurely transitions.
It's nice to see Joe Coffey making his PROGRESS debut and he gets to show off some great power-based spots on his smaller opponents. But The Origin manage to eke out the win as Zack Gibson rolls up Chuck Mambo for the sneaky pinfall. This fatal four way wasn't the best opening match I've ever seen, but not bad by any means. Following the decision, Coffey and Damo turn heel on Sweet Jesus by dropping Mambo on their way out of the ring.
Jack Sexsmith vs Bubblegum
And now for something completely different. If you find the thought of two wrestlers scrapping with their arses exposed as funny as I do, then this is your match. Does the thought of both men trying to outdo one another with arse-based spots fill you with glee? If so, this is your match. Is an Alan Johnson joke slightly too close to the bone for you, yet you can't help but like it? Boom! Jack Sexsmith and Bubblegum is the match for you. An excellent little comedy diversion, both men work the crowd superbly and leave a lasting impression. Bubblegum takes the pin from the Ice Cream Headache (Pedigree).
Flash Morgan Webster & Pollyanna vs TK Cooper & Dahlia Black
The first ever mixed tag team match in PROGRESS is up next as the South Pacific Power Couple face Flash Morgan Webster and Pollyanna. There's an interesting dynamic during this match. The usual (WWE-style) rule of men can only face men and women can only face women is not in effect. Indeed TK Cooper nails Pollyanna with several stiff moves and closed right hands during the match. Flash Morgan Webster, as the male babyface, does not come into contact with Dahlia Black at any point though. Interesting. Pollyanna does deck TK quite a few times though, in what proves to be fast-paced, entertaining match. Flash takes the win for his team after a 450 splash to Cooper.
Jack Gallagher vs Timothy Thatcher
A grappling contest, in the strictest meaning of the phrase, is up next as Jack Gallagher faces off against then-Evolve champion, Timothy Thatcher. It's such a shame to see someone as talented as Gallagher wasted on a show that no one watches in 205 Live. He's an extremely talented wrestler, and someone who deserves a far bigger spotlight than the one he has been afforded of late. Anyway, the two essentially work over different body parts throughout the course of their match here. Thatcher tries to soften up the arm; Jack softens up the knee. It's Gallagher's strategy that pays off as he takes the win via tapout with the King Crab. I really enjoyed this one – a real change of pace from what has gone before it.
Rampage Brown vs Mikey Whiplash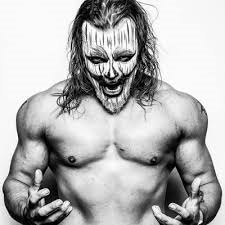 Just as the previous match was a departure, so is Rampage Brown's contest with a returning Mikey Whiplash. When last we saw Whiplash he was going under the name Michael Gilbert and he had a no-gimmick needed character. What a difference a year makes as he is under the guise of the Deity of Deviance now. Whiplash takes the fight to Rampage at the start as they have a spirited brawl through the crowd and the former PROGRESS champ takes a proper pasting. The two trade stiff blows and power moves back and forth, but it's Rampage who picks up his first win in some time with the dreaded piledriver. That was an excellent match as a spectacle as the crowd was super into both men and the wrestlers laid their hits nicely.
James Davis vs Tommy End
The London Riots/Sumerian Death Squad feud rages on as James Davis and Tommy End face off next. If you'll recall, Rob Lynch defeated Michael Dante to pick the first stipulation for the tag match at Chapter 27. Lynch decided on TLC. This is well and truly a match of two halves as Tommy dominates the first half with stiff kicks and knees. Davis then dominates the second half with his punch-kick, brawling style. It's pretty rugged, intense stuff from both wrestlers but it never felt like the big occasion that perhaps it should have. Perhaps that's just me though. Tommy End took the win with a beautiful crucifix stretch for the verbal submission. Following the decision, End stated his choice of stipulation for the match at the next Chapter. The losers will not be allowed to team together in PROGRESS again.
Mark Haskins vs Marty Scurll (c) – PROGRESS Title Match
Marty Scurll makes his first PROGRESS Title defense against Mark Haskins in the main event. These are a good match for one another as they can both wrestle for days and each has somewhat of a hybrid style. It's interesting to see just how over Haskins has become since his Screw Indy Wrestling days. Marty, on the other hand, has become positively reviled by the Ultras, and seems to take great pleasure in pissing them off. There appears to be a lot of track laid for the year ahead on commentary as Glen Robinson constantly refers to Haskins as a family or the nearly man of PROGRESS.
The finish is delightfully nasty as Marty retains the title. The Villain gives Haskins a stiff boot to the plums while the referee's back is turned. That only earns him a two count from the pinfall attempt. Scurll then smashes into Haskins' temple with the point of his elbow before stomping on his face a la Daniel Bryan. Marty raises the challenger up and swiftly locks the chicken wing in for the win via stoppage as he is unable to defend himself. That gets Scurll's reign off to a very strong start, but he's not finished yet…
Post-match he taunts Vicky Haskins, who has been watching from the crowd. He stomps her husband's arm inside a steel chair. Once again, commentary puts over that Haskins wrestles to provide for his family, making clear that this is not the end of the issue between the two.
And that was all for Chapter 26; a pretty good show all in all. A lot of variety on the card which usually makes for the best viewing experience. Hopefully you enjoyed this little reminisce. We shall return to see what happens next in the developing Haskins – Scurll story next week. So long everybody!