The Golden Era has officially begun in Impact Pro Wrestling. During IPW's "Slamdown in Slamtown," Bryce Jordyn won a triple threat match for the IPW Vault Championship.  Winning the vacant Vault Championship was no easy task for "The Golden Boy". He defeated two of IPW's toughest up and comers in The Shank and Damien Saint. For those that don't know about the IPW Vault Championship, it's comparable to the WWE's Intercontinental Title. Workhorses within the IPW locker room are expected to carry this championship. Delivering the excitement every time they step into the ring.
________________
New IPW Vault Champion Crowned
Before getting into the match details, we need to go back to why Vault Championship was vacant. In the fall of 2020, former tag team partners James Jeffries and Sparrow were embroiled in a bitter feud. A feud that saw the two do battle numerous times; each match ramped up the intensity. Their hatred hit its boiling point during an IPW Facebook live show last November when Sparrow threw a fireball into Jeffries face. Sparrow, the Vault Champion at the time, was immediately stripped of the championship. Looking to crown a new champion, IPW held a series of qualifying matches to determine what three competitors would meet for the title. These three emerged from the qualifiers in December, but covid interfered. After multiple postponements, the time had finally come to crown a new IPW Vault Champion.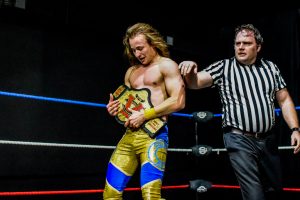 Bryce Jordyn Wins IPW Vault Title
The Shank and Saint formed an uneasy alliance early on. The two worked together in an effort to wear down the energetic Jordyn. Not one to be held down, Jordyn fought off their attack with a double dropkick, and both men were sent scrambling. 
Each man's unique skills were on display during this match. Saint, with his wide array of vicious kicks and strikes, showed no mercy when in control. The Shank, the bruising powerhouse, had no qualms throwing his smaller opponents around the ring. Jordyn, with his frenetic pace and high flying offense, kept the villainous duo at bay. At one point, Jordyn hit a beautiful double clothesline from the top rope onto his opponents. 
The Golden Era Begins
As with any triple threat match, there were plenty of moments where all three men were involved. There was a point where Saint tried suplexing Jordyn from the top turnbuckle but suffered only a brutal powerbomb from The Shank instead. Another prime example was The Shank's double suplex on Jordyn and Saint. The finish came soon after The Shank's impressive display of strength. Closing in on the championship, The Shank took Saint out of the match with his power slam cutter combination. But, before he could cover Saint for the three count, Jordyn, ever the opportunist, connected with his "Destino" tilt-a-whirl cutter. After the three count, Jordyn was joined by numerous IPW wrestlers for an in-ring celebration.