Recently a darkness has permeated its way into the locker rooms of Impact Pro Wrestling and Magnum Pro. That darkness, in the form of Damien Saint, has put both rosters on notice. With a unique look and vicious repertoire of maneuvers, Saint has stood out. In a pro wrestling world full of bright colors, Saint prefers the darkness as he lurks in the shadows. The man that is Damien Saint, or Dylan Wright when he's not wrestling, is a torn and divided soul. Two sides of the same coin.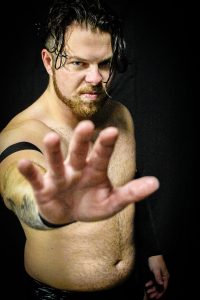 Dark Soul
Outside the ring, Dylan Wright is a humble rookie looking to make a name within the independent wrestling scene. Like many aspiring wrestlers, he has ambitions to one day reach the mountain top. But when he steps in the ring, Damien Saint takes over. The Mr. Hyde to Dylan's Dr. Jekyll, Damien Saint, brings an intensity to the ring that comes from a dark place deep inside Dylan Wright.
"When I step into the ring, it's like a flick of a switch," Wright said. "Damien Saint is a dark piece of me that has been built up over the past few years from a lot of the things I've gone through. I've always enjoyed dark things, and this was a way for me to express myself."
Damien Saint
Trained at the Impact Pro Wrestling Vault under the tutelage of IPW veterans like James Jeffries and Justin Decent, Damien Saint just recently began his wrestling career. Debuting earlier this year during an IPW live from the Vault show, Saint immediately found a rival in Ricky Bronson. Opposites in every way, the two IPW Vault graduates put on an exciting contest in their professional debuts.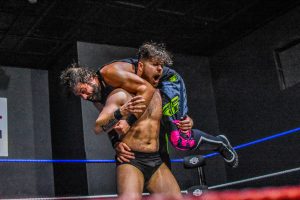 Their match laid the foundation for a rivalry that could become a focal point of IPW for years to come.
"Ricky and I have known each other for a long time, and he continues to stand in my way," Saint said. "He is an outgoing person, and I just want to be left alone. Ricky Bronson is that annoying fly that just won't go away."
Expanding Horizons
With a few IPW Vault shows under his belt, Damien Saint recently began a working relationship with Magnum Pro out of Omaha, Nebraska. Being booked on a handful of Magnum Pro shows on Patreon has allowed Saint to work with an even wider variety of wrestlers. Included in that list is Jaysin Strife, someone Dillon Wright holds in high regard.
"It was an honor stepping in the ring with Jason. It was an experience I'll never forget, and I can't thank him enough for taking a chance with me," Wright said.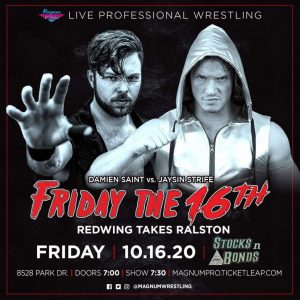 Wrestling for multiple promotions in such a short period of time has garnered interest in Saint throughout the Midwest. One such wrestler Saint caught the eye of is, The One Called Manders. The current SCWPro Champion, Manders, is an Iowa legend. A graduate of the Black and Brave Academy, Manders has made a name for himself, not only in the Midwest but the entire country for his no-nonsense approach to the ring.
These two competitors, who hold nothing back once they step between the ropes, faced off during IPW's most recent live Vault show. The show's hardest-hitting match ended in a disqualification after JJ Garrett interfered. Stepping in the ring with one of Iowa's best is a badge of honor Dylan Wright wears with pride.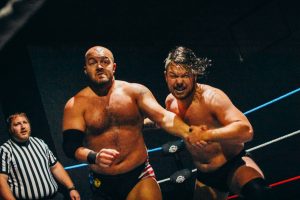 Having no clear-cut winner is something that Damien Saint wants, no needs to rectify.
"Me and that cowboy, I hate cowboys, by the way, Manders, have unfinished business that needs to get settled." Saint said. 
With such early success in his wrestling career, Damien Saint knows only more opportunities will come his way.  Opportunities that could take him to even more promotions where he'll be ready to emerge from the shadows and make an impact.