"Woe, destruction, ruin, and decay; the worst is death and death will have his day."
― William Shakespeare, Richard II
On January 26th, 2016, the trio known as the Decay was born. Often frightening in their appearance, The Decay has frightened its opposition regardless of whom stood across from them. Led by IMPACT! mainstay, Abyss, Crazzy Steve, along with Rosemary, would come together to create a most frightening trio.
Eight days earlier, Abyss and Crazzy Steve would first appear together as they beat down then IMPACT World Tag Team Champions, The Wolves. When Rosemary would join them the following week, the foundation had been laid for this most haunting trio.
..Crazzy Steve, I've known for several years. He is such a young untapped talent. He has a lot of passion. The same can be said for Rosemary. Courtney Rush? Who I didn't really know before coming to TNA.
Seeing her work ethic and how positive an influence she has been on our group. I think we are all going to do some pretty neat stuff together. I think there are some good plans for it."
– Abyss on working with Crazzy Steve and Rosemary
The Decay – They Only Come Out At Night
The Wolves would face Crazzy Steve and Abyss, but in doing so the match ended in a disqualification. They would take the tag team titles after the match. A couple of weeks after their formation, Steve and Abyss would team alongside Eric Young and Bram in an eight-man tag team match against The Wolves and Beer Money.
As the weeks continued to pass, the presence of Decay would continue to grow. They faced off against Beer Money but were disqualified. Not long after, they were pitted against The Wolves in a Monster's Ball match for the World Tag Team. But lost once more. It was less about wins with this group as it was about creating as much havoc as they possibly could.
Even the attempts of a past supposed relationship between Rosemary and Jimmy Havoc didn't end well…for Havoc. Abyss would batter and beat Havoc in a No Disqualification match leading to a win.
A few months into their time as a unit, the fearsome threesome had another World Tag Team Championship opportunity. Despite losing once again, it was as part of a multi-team tag team match, and their chance would be best suited in a team-against-team challenge.
After capturing Gail Kim, Decay would lure Beer Money into a title match at Sacrifice 2016. They would then defeat Beer Money in a Valley of Shadow match to win the TNA World Tag Team Championship.
Their growth and impact in the company would take very different twists and turns. Rosemary began a relationship with Bram with the intention of having him join Decay. It would ultimately result in Rosemary's betrayal of Bram, while Crazzy Steve, and Abyss would be there to pick up the battered pieces.
"Decay as a unit, Decay as a whole is organic, and we're family," Rosemary hissed. "We found each other and came together naturally, and then turned our attention outwards into the rest of the world."
– Rosemary on the union of The Decay
The Great War – Delete or Decay
But their greatest rivalry during their earliest time together would be against 'Broken' Matt Hardy and Brother Nero. The Decay had declared to take King Maxel, the son of Matt Hardy, from them.
This would lead to an invitation by the Broken Hardy's to face them at the Hardy Compound. The invitation would lead to the 'now famous Delete or Decay' battle. The Decay would eventually lose their titles at Bound for Glory. – WHO TOO? WHAT YEAR?
Their battle was so heralded by their peers that it not only helped to elevate the Broken Hardy's, but pushed the boundaries of The Decay as a faction. It showed the lengths the group would go to in order to succeed. From terrorizing King Maxel to battling in a cinematic match on the Hardy Compound, The Decay would sacrifice all for the sake of presentation.
The group's relevance was as evident now as it ever was in the promotion. They would face off against the likes of the Death Crew Council, The Helms Dynasty, The BroMans. And have battles against Reno Scum, and the Latin American Exchange. They were a key part of the promotion's tag team division. But a final loss to LAX would result in the faction's 'funeral' and the group would ultimately come to an end.
Or would it?
The one that ended way too soon that had a lot of legs under it was Decay, no doubt about it. I thought Decay was incredible—Crazzy Steve and Rosemary—it was a great mix.
Two young, great, unbelievably awesome talents, and the old, grizzled veteran in me coming into the mix with them. Again, it gave me a bit of longevity, at the same time I think it really launched those two. It launched Rosemary and it launched Steve.
We did about a year and a half, and we still get requests. We just did Boardwalk Beatdown in Atlantic City; Steve and I were just on a show together; we still get a ton of requests together, and we were only together for about a year and a half.
The angle with The Hardys was amazing; the Hardy compound, the stuff we did with them [which included Delete Or Decay], I thought that was groundbreaking.
Unfortunately, we broke the team up, and there were different reasons why that occurred, but I thought that Decay had a lot of legs under it and I think we could have gotten a lot more out of it than we did.
–Abyss discusses The Decay and what could have been.
In 2021, the Decay reunited without Abyss, who had left the company. This new formation had familiar names. But with those familiar names came new additions that would only aid the intrigue and dark nature of this faction. To begin the new year, Crazzy Steve would return and interfere in his former ally, Rosemary's match against Kaleb with a K.
This led to a win by Rosemary and would lead to a mixed tag match – Kaleb with a K and Tenille Dashwood against Rosemary and Crazzy Steve. Within weeks of their reuniting, they would be joined by lucha legend Black Taurus. The man would appear to be both half bull and half human.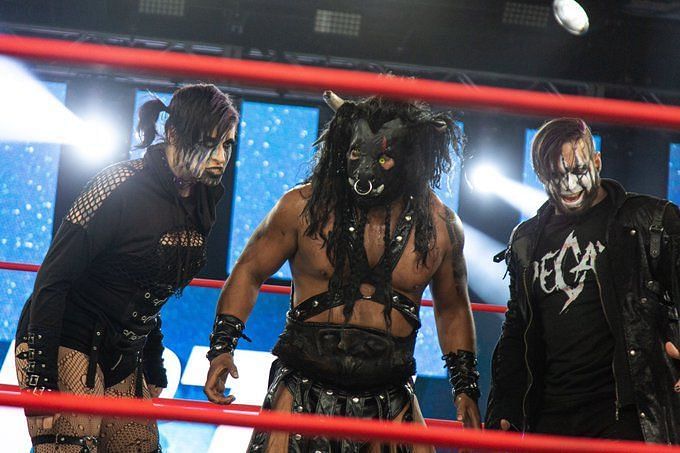 But it was what he did in the ring that made him the most haunting. A fierce and stiff competitor, Taurus would only add to the reckless nature of
Rosemary
and Crazzy Steve's new Decay.
The growth of The Decay came in the way of additional female members being added. They were fierce of mind along with that of body. But a face that had ties to Abyss' past would be the one to usher in Havok's entry into the group – James Mitchell. As part of the group, Havok would team with Rosemary to capture the Knockouts Tag Team Titles.
The Decay has changed during their time as a faction. Whether it's been the members or their place on the roster, Decay has left a notable mark in IMPACT Wrestling and among wrestling's seven nights of frights.