The first-ever Super J Cup is one of the greatest nights of pro wrestling in history. Not only was it packed to the brim with great matches. However, it had historical importance as well. Super J Cup 1994 created stars.
This match made stars out of smaller wrestlers and forever changed the course of wrestling history. After this match, junior heavyweight wrestlers would no longer be relegated to being less important. In comparison to their heavyweight counterparts.
___________________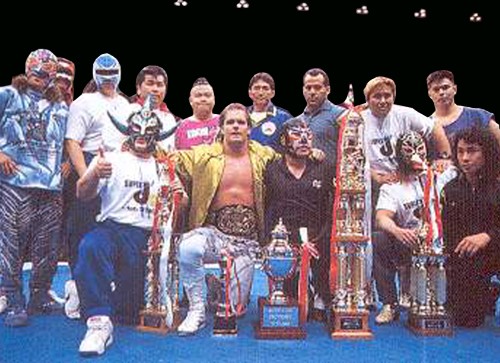 Instead, those smaller, more technically skilled grapplers would go on to become pioneers, revolutionaries, and otherwise critical figures in pro wrestling history.
Super J Cup 1994: The Concept
The Super J Cup concept was conceived by NJPW legend Jushin 'Thunder' Liger. He came up with the idea to host a one-night, single-elimination tournament featuring only junior heavyweights. This was a major breakthrough at the time. It was because most wrestling companies, even in Japan, cared more about bigger heavyweight stars than their smaller counterparts. Although there had been a history smaller wrestlers having successful careers in Japan.
This went as far back as Tiger Mask and Dynamite Kid. There was still a symbolic ceiling for them. Even if wrestlers like Tiger Mask, Dynamite, Liger, Owen Hart, and others stole the show with their performances. They weren't seen by their promoters or by fans as capable of drawing their own shows. They were seen as a special division that was lesser than the heavyweight stars.
That mentality still exists in some respects to this day, especially in New Japan Pro-Wrestling. Many wrestlers spend their younger years wrestling in the junior heavyweight division. Then, when it's time to 'move up' to the heavyweight division, those wrestlers 'graduate' from the junior division.
This exact terminology has been used to describe the transition from junior heavyweight to heavyweight for many wrestlers, notably Kenny Omega, Kazuchika Okada, The Young Bucks and Will Ospreay. But Liger wanted to change that perception, even if it were in a small way.
He wanted to show the world that junior heavyweights were capable of selling out their own shows.
A Tournament to Showcase Junior Heavyweight Wrestlers
So what he did was he created a tournament composed of junior heavyweight wrestlers. But these weren't just his fellow NJPW wrestlers taking part; Liger extended the invitation to wrestlers from other companies as well. This was critical to Liger's vision for the Super J Cup. Not only did he want the junior heavyweight style to be showcased, but he wanted to use the attention the show would get to showcase up-and-coming stars from around the world.
So Liger scoured the world until he found the best collection of junior heavyweight wrestlers he could find. They were as follows:
From New Japan: Liger, Dean Malenko, El Samurai, Black Tiger II (a.k.a. Eddy Guerrero), Shinjiro Otani, and Wild Pegasus (a.k.a. Chris Benoit)
From Wrestle Association R (WAR): Gedo (yes, that same Gedo that has since gone on to become NJPW's booker and indeed the creative mastermind behind their recent success)
Frontier Martial-Arts Wrestling: Ricky Fuji and Hayabusa
Social Progress Wrestling Federation: Masayoshi Motegi
From Michinoku Pro Wrestling: Super Delfin, TAKA Michinoku and The Great Sasuke
From Consejo Mundial de Licha Libre: Negro Casas
When the night finally came, the Super J Cup 1994 hosted a sold-out crowd of 11,500 people. Even by 1994 NJPW standards, that was a major success. The opening five matches were all short affairs, with none of them going over ten minutes. But each match was filled with high-octane action. The wrestlers involved knew they had little time, so each one of them packed as much action into their given timeframes as possible.
The First Round
The opening match saw WAR's Gedo take on NJPW's Dean Malenko. It was a fun little back-and-forth contests that saw both men hit Tombstone Piledrivers on each other at one point. The match ended when Gedo pinned Malenko following a Powerslam.
The second match saw MPW's Super Delfin challenge NJPW's Shinjiro Otani. Most of the match saw Otani used his superior technical know-how to try and rip one of Delfin's legs apart. But Delfin managed to overcome Otani's psychology and won following a big Tornado DDT and his signature Delfin Clutch submission hold.
After that, the third match had NJPW's Black Tiger II (Eddy Guerrero) take on MPW's TAKA Michinoku. This was the best match on the show thus far. It was amazing how Eddy and TAKA managed to throw in so much offense in such a short match without it feeling overwhelming. They had excellent pacing and put on an incredible contest. The match ends when TAKA sells a Tornado DDT as if he's been knocked out, giving Eddy the win in just under seven minutes.
The Battles Throughout
Then, the fourth match saw NJPW's El Samurai challenge SPWF's Masayoshi Motegi. This was another quick battle with both wrestlers exchanging control throughout. That said, the previous match was far better while still being shorter. It wasn't bad, but easily the least-exciting match of the show thus far. It ended when Samurai demolished Motegi with a brutal over-the-shoulder Powerbomb.
The fifth first-round match pitted CMLL's Negro Cases against FMW's Ricky Fuji. This was a pretty simple affair, with nothing too memorable in it. Both men did your typical scientific wrestling, complete with dropkicks, a few big moves, and a powerbomb variation by Fuji to end the match.
Maybe these two were too unfamiliar with each other to kick the match into high gear, but it was more than decent while it lasted.
Liger & Hayabusa
The final opening match saw NJPW's Jushin Thunder Liger take on FMW's Hayabusa. This is one of the more iconic matches of the show because it marked the first time the Hayabusa character was showcased in Japan. It also featured a fantastic opening moment as Hayabusa dove over the top rope onto Liger with his coat still on.
These two had an excellent back-and-forth contest that surpassed the Eddy-TAKA match in terms of quality. Although Hayabusa was much less experienced than Liger, he held his own quite well. But Hayabusa's high-flying offense was no match for Liger's quick wit, as Liger used more psychology and traditional grappling to out-fox Hayabusa.
But Liger shook Hayabusa's hand as a show of respect when it was over, and just like that the fans watching became very interested in seeing this new FMW star.
The Second Round
Wild Pegasus and The Great Sasuke had gotten byes before the tournament started, so they weren't seen until this second round.
In the first second-round match, Gedo took on Super Delfin. Delfin had to adapt to a new opponent and actually wrestled more like a villain than he did in his first match. That villainy came with come new cockiness, but that proved to be Delfin's downfall as Gedo reversed a Delfin Clutch into a clever roll-up for the victory.
After that, Black Tiger II took on Wild Pegasus. In other words, Eddy vs. Benoit! This was excellent, with the two of them exchanging control many times throughout their nine-minute bout. There were some awesome counter-wrestling and chain-grappling here that served to remind people of how good these two were and the great chemistry they shared with each other.
The next match saw El Samurai take on The Great Sasuke. This was also a spectacular match for the time given. Sasuke showed the world his skills by performing some incredible daredevil aerial acrobatics, including his patented Sasuke Special that has since become a stable of smaller wrestlers everywhere.
Of course, it wasn't all high-flying as both guys hit huge moves on each other such as powerbombs and dangerous-looking suplexes. In the end, Sasuke reversed a hurricanrana and pinned Samurai to advance to the next round.
Liger & Ricky Fuji
The last quarterfinal match saw Liger take on Ricky Fuji. It seemed like both men were trying to 'out-crazy' one another with big moves and displays of toughness. Liger Powerbombed Fuji hard outside the ring…twice, while Fuji hit a desperation crossbody reversal out of a superplex. This match could've been better if it went on longer, but it was more than solid for what it was.
Super J Cup 1994: The Third Round
The first semifinal match was Wild Pegasus' take on Gedo. This was too short to be a true classic, especially since both men only hit a handful of big moves that really felt memorable. Pegasus won following two brutal Powerbombs (was absolutely sickening, complete with a wicked snap to it that made it look and sound so much worse) and a diving head-butt to win.
After that, Jushin Liger took on the Great Sasuke. This was a typical junior heavyweight match featuring Liger, which is longhand for it was outstanding. These two had great chemistry and demolished each other with impressive dives and incredible suplexes while finding clever ways to reverse out of each other's biggest moves. The final moments of this match also highlight why Liger is such a smart wrestler. Sasuke attempted a springboard move but slipped and fell.
An ordinary wrestler would've tried to cover it up and pretend it never happened. But not Liger, instead, he applauded sarcastically to draw attention to that mistake and mocked Sasuke for doing it. That brief moment of cockiness allowed Sasuke to capitalize and pin Liger for the win.
They told a fantastic story of Sasuke having to resort to more desperate moves to win since Liger was better rested. That turned into arrogance from Liger, which Sasuke overcame and won. A fantastic story overall.
Super J Cup 1994: The Finals
The Great Sasuke had little time to rest as he had to take on Wild Pegasus in the finals. He fought as much as he could against the Canadian grappler, but it was no use. Pegasus was better rested and more technically sound, while Sasuke was more than willing to sacrifice his own well-being to win.
His dives and aerial maneuvers were incredible. But in the end, it was Pegasus that won the match and the tournament.
Super J Cup 1994: The Impact
This tournament changed wrestling history. Most of the participants would go on to achieve incredible things in the wrestling business. Eddy, Benoit and Malenko would all become famous around the world (and especially in North America) for being incredible in-ring performers that constantly got overlooked by various booking authorities. Fans saw them perform in this tournament and began to follow them a lot more, seeing them for what they were: incredibly underrated wrestlers.
Eventually, all three of them would leave WCW and jump to WWE, in which both Eddy and Benoit achieve considerable success. Although it ended tragically for both of them, they achieved their dreams at WrestleMania XX when they celebrated in the ring together. Both of them were World Champions at that moment, ending a struggle that some say began with their performance ten years earlier on this night at the Super J Cup.
Hayabusa, who made a huge impact on the audience despite wrestling only one match, became the ace of FMW and one of the most iconic high-flyers of all time. His unique look and wrestling style brought that company quite a bit of success, and soon he began wrestling all over the world. He wrestled for both ECW in the US and AJPW, gaining incredible exposure as a star.
Sadly, he too suffered a tragedy when he got paralyzed in 2001 following a botched moonsault.
He passed away in March 2016, and many wrestlers paid tribute to him, including Seth Rollins, Chris Jericho, and Neville/PAC. All of these men were influenced by him in some way, and his incredible dive on this show remains one of its most iconic moments.
TAKA Michinoku and The Great Sasuke became junior heavyweight legends, achieving great success in their home country and in the United States. TAKA wrestled for WWE for a time and also found some success as part of NJPW's Suzuki-gun stable. Sasuke also became the first-ever J-Crown winner, holding eight different junior heavyweight championships at the same time. He continued to wrestle at a high level until well into the new millennium and still wrestles to this day.
Many of the other wrestlers in this tournament achieved other successes as well. El Samurai and Shinjiro Otani continued to dazzle audiences with their skills, putting on one clinic after another as performers. Dean Malenko became a road agent in WWE and helped active wrestlers put their matches together for many years. After wrestling for many years, Gedo eventually became NJPW's main booker in around 2010, sometimes by himself and sometimes alongside former tag partner Jado.
The Impact of Gedo
Gedo has been arguably the most successful booker of the past twenty years, if not longer, as his creative direction has been central to NJPW's surge in success.
He was the mastermind behind many successful angles, storylines, gimmicks, and rivalries, most notably serving as the creator of and mouthpiece for, Rainmaker Kazuchika Okada, who has since become arguably the best wrestler on the entire planet.
And what of Jushin Liger, the tournament's creator? Well, he was already wrestling at a god-like level before the tournament was conceived. And he continued to do so…all around the world…for another twenty-six years.
Jushin Liger lived up to his ring name as the Beast God and became the most celebrated and venerated junior heavyweight wrestler of all time. He won countless singles and tag team championship around the world, wrestled in promotions big and small (including one match for WWE in 2015) and had an entire show dedicated to his retirement.
Super J Cup 1994: In closing
The 1994 Super J Cup is an historic show for two reasons. First, it doesn't feature a single overtly-bad match. Almost any big PPV show has at least one completely forgettable contest, but this one didn't. Even the least-interesting ones like Fuji/Casas or Samurai/Motegi were strong for the amount of time given. Each match told its own story, and they got better as the show progressed.
Secondly, this show proceeded to showcase the talent of wrestlers that would've been forgotten otherwise. Many wrestling promoters were convinced that junior heavyweights were nowhere as near as important as (regular) heavyweight stars. This show proved those people wrong. It served as the critical launching pad for some of the most iconic wrestlers of the last thirty years: Liger, Eddy, Benoit, Sasuke, Hayabusa, Samurai, Otani, among others.
Without this tournament taking place, it's likely those wrestlers wouldn't've ever gotten such a high degree of exposure. This show proved that smaller, more technically-adept grapplers were just as good draws as their bigger, heavier counterparts.
And besides, this show was so good that, despite being initially conceived as a one-time thing, NJPW decided to do it again the next year, and many times more since then.
Small wonder, then, that Dave Meltzer called Super J Cup 1994
'the most incredible single night of wrestling ever".