Born Francisco Islas, this famed ECW talent Super Crazy began competing at the age of 14. By today's standards that is common practice but in the late 1980's it wasn't common practice.
He was trained by his older brother and it was at this time he assumed the ring name 'Super Crazy". His career initially began as an "enmascarado" (a masked wrestler) but lost it just a month after his debut in the Lucha de Apuestas match in which he lost a bet to El Semionarista.
Over the course of the next seven years, Super Crazy worked extensively in his native home of Mexico, competing for the UWA. He even won the UWA World Welterweight Championship before the promotion closed its doors at the end of 1995.
What is interesting to note is that despite the UWA no longer in operation, Super Crazy would still 'defend' the title on independent shows that he competed on. However, this would cease to continue when he would sign with Triple-A the following year as the title wouldn't even be mentioned.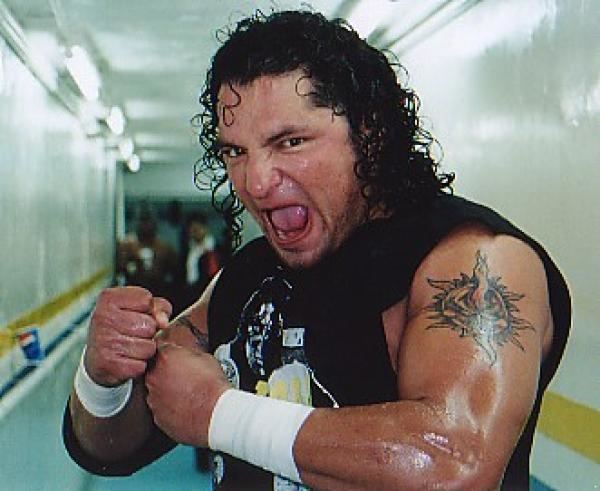 Histeria and Rudos de La Galaxia
Upon joining AAA, he would once again assume the mask and become a rudo (heel) and compete under the name "Histeria' or "Hysteria".
Together with Maniaco, Mosco de la Merced, Mach-1, and Abismo Negro they faction would be called Rudos de la Galaxia translated to be "The Bad Guys of the Universe" or Galaxy. There appeared to be a real focus on intergalactic battles as the group would feud with technicos "Los Cadetos del Espacio" the 'Space Cadets'.
In the Spring of 1997, Super Crazy's 'Histeria' character would appear for the WWF as part of a working agreement between the World Wrestling Federation and Triple-A. They capitalized on the Rudos de la Galaxia's chemistry with Los Cadetos on American television as he would appear on the WWF's Raw program or now defunct Shotgun Saturday Night. By the Fall of 1997, Super Crazy would leave Triple-A and return the Histeria character back to the promotion.
Super Crazy – The Insane Luchador
Upon his departure from Triple-A would see the former Histeria assume the Super Crazy name when he joined Promo Azteca. It was at this time when he would feud with a longtime rival, Venum, who he had worked with in Triple-A. Their feud would reach its climax and come to an end in a hair vs. mask match.
Once again, at a Luchas de Apuesta like he has in the past. This time however, the result would be different. When he previously had a Lucha de Apuesta match, he lost a mask. This time however, he would defeat Venum unmasking him in the process.
His departure from Triple A, would lead to Super Crazy using his now-defunct UWA World Welterweight championship but would lose it in 1997 to Kid Guzmàn. He recaptured the title the following year and would defend it on occasion until 2000.
Unlike his time as Histeria in the WWF and Triple A relationship, Super Crazy would compete once again in the World Wrestling Federation only now as 'Super Loco" (which was essentially another spin on the Super Crazy name) and even competed in the WWF's Light Heavyweight Championship tournament.
But after nearly ten years of honing his craft in his home of Mexico, it was time for the Insane Luchador to come to the United States. What would follow would be the start of his part in the Extreme Revolution. With one ongoing feud in ECW, Super Crazy's in-ring performance would stand alone and beloved by the South Philadelphia faithful.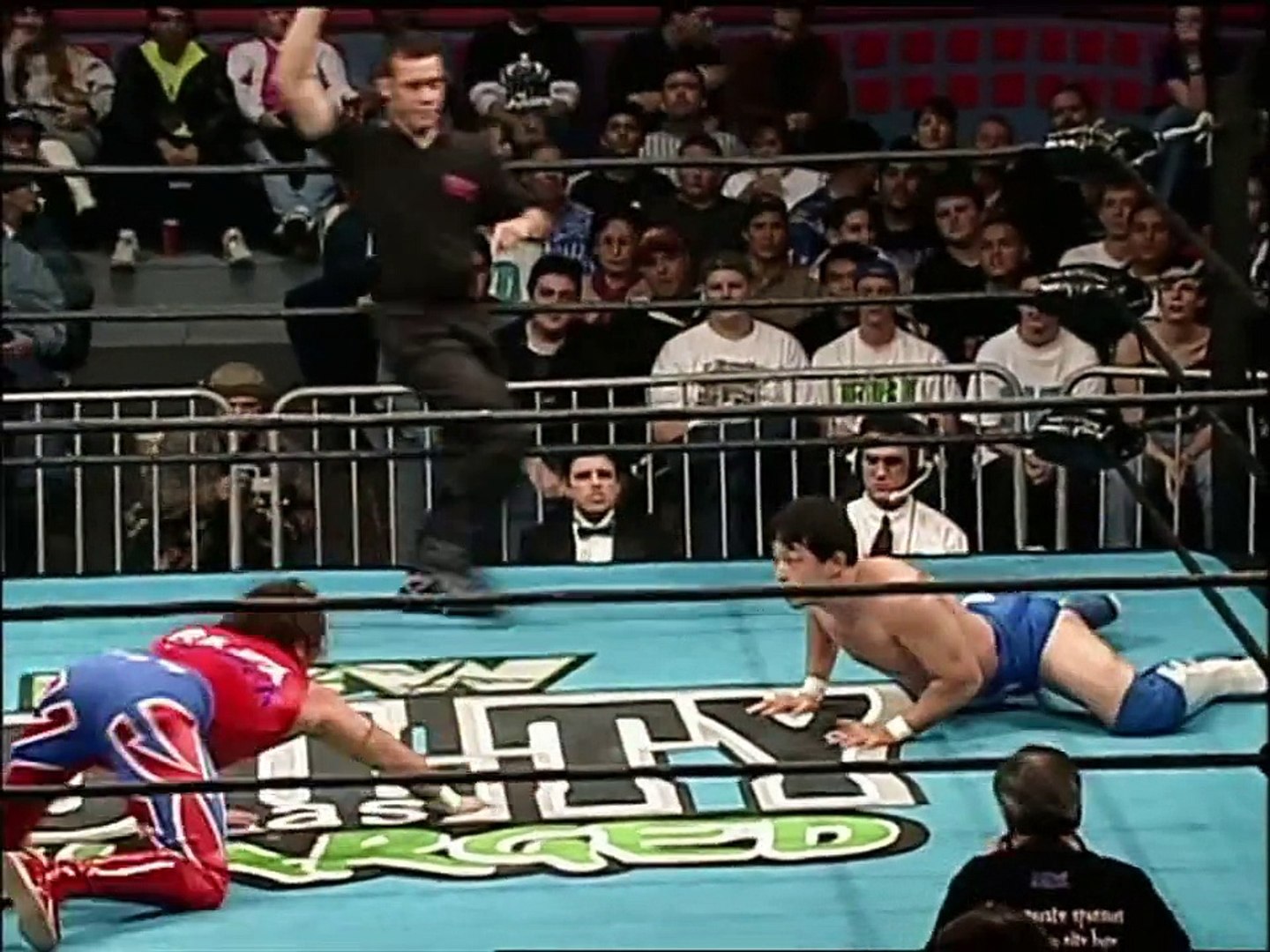 Super Crazy and his longstanding rivalry with The Japanese Buzzsaw and Little Guido
The Japanese Buzzsaw and the Full Blooded Italian were book ends on the ongoing three way dance between each and Super Crazy. In fact, the term dance couldn't fit any better as these three could either lead or follow their opposition's presentation in the ring.
At this point in Super Crazy's career, he and Tajiri have been in the ring with one another 100 times. That is, either as opponents or teammates, they are no strangers to one another.
For Super Crazy and Little Guido, they've stood either with or against one another a little more than half the previous amount. Regardless of the amount of time they have battled each other, these three men have had a chemistry that is synonymous with ECW as any other prominent feud in ECW history.
While he came in with the moniker of being the Insane Luchador, unlike other Mexican wrestlers competing in Mexico, Crazy didn't compete under a mask. We are aware of his losing his mask a month after his debut, but he could have still come to the ring in ECW under a mask, and no one would have necessarily been any wiser. But Super Crazy's rationale for not wearing a mask is different.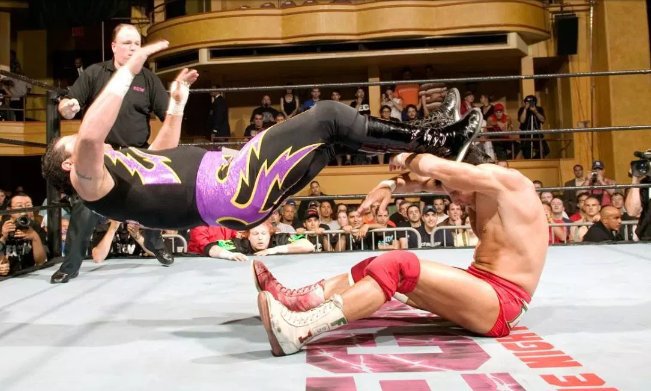 No, I don't wear a mask, because when I went to the U.S. I saw that nobody wore masks and I wanted to take mine off, too. I'm handsome, too.
(Laughs) The truth is, I don't like the masks. They fall off when I'm going off the ropes or when I hit the corner. They just get in my way.
It is just that simple for Super Crazy. Rather than running the risk of having the mask remain a symbol of his lucha roots, he would rather commit himself to the ring without the fear of having to be concerned about his identity and simply show the world why for more than thirty years, he remains the insane luchador.
On top of his rivalry with Yoshohiro Tajiri and Little Guido, it was another three-way battle with Jerry Lynn and Tajiri that also turned heads at the time as well. He would also challenge for the ECW World Television championship as well but would ultimately come up short.
Despite not walking away the winner, it never seemed to matter with Super Crazy's presentation. Regardless of the result, fans embraced him for what he did in the ring rather than what he had around his waist.
Like any risk taker, injuries are equally a part of the sport as soaring in the ring. But Super Crazy's worst injury wasn't suffered during his time in ECW. In fact, for all the flaming tables and dives to the crowd that ECW talent were synonymous were it was his time in Japan that led to Super Crazy's most devasting injury.
I broke a hand in Tokyo in 2004. I threw myself onto a Japanese wrestler, but by mistake, I fell with my hand on my head, and I broke the hand. As a good Mexican, I couldn't quit. I had to keep fighting.
All of us fighters have something with our knees, our elbows or our shoulders, and a lot of people think it's fake, but they don't know what's happening inside. In this career over the years, if you don't pay for it … well, really, you have to pay for it. I've seen it.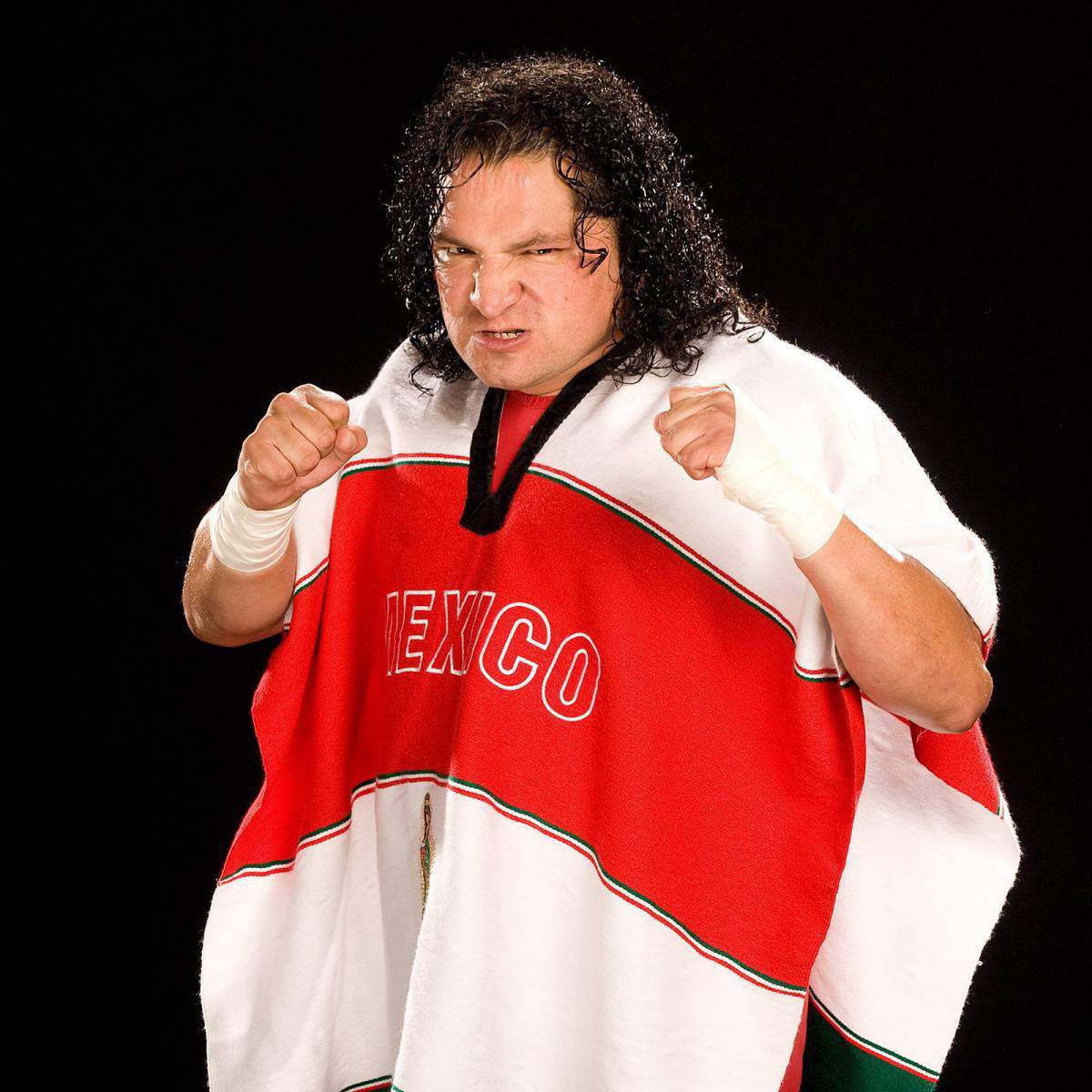 After ECW closed its doors in 2001, Super Crazy would compete on the independent circuit competing for such promotions at the time as XPW, ROH, NJPW and in Puerto Rico for the IWA. Whether it was as the Extreme Luchador or the Insane Luchador, Super Crazy was in demand.
Super Crazy's return to television would happen four years later and it would be for the ECW One Night Stand event. The match was remembered for a miraculous moment that saw Super Crazy hit a moonsault from the second balcony at the Hammerstein Ballroom. This moment turned into Crazy appearing on WWE television but as part of a faction.
Along with Psicosis and Juventud Guerrera, the trio became the group that tapped into all the stereotypes tied to Mexican people as part of the Mexicools.
Despite the stereotype around the faction, they were still gaining traction as a group and fans had shown their appreciation for the group and any variation of the three of them. While titles didn't come their way, their persona, along with their death-defying series of moves, has made the over for the WWE audience.
After some time, Guerrara was released but the duo of Super Crazy and Psicosis would team for some time afterwards. For the next year or so, Super Crazy would regularly compete as a singles competitor. But as he would be eventually with his role in the company, Super Crazy had requested and was granted his release from the company.
Since 2008, Super Crazy has competed on the independent circuit competing in the United States, Canada, and Mexico. He has continued to call the shots on how he wants to be presented and where he wants to be presented.
Super Crazy has proven to be a performer that has taken Lucha Libre wrestling and made it a part of the culture of cruiserweight wrestling, not unlike many of his contemporaries. He may very well be the most underrated Luchador of the 1990s whose impact is still felt by men and women in the industry today.
To think that he was only 25 years old when fans in the United States and Canada would see Super Crazy compete in ECW. Now as he has over three decades of ring experience behind him, Francisco Islas continues to thrill audiences the only way he knows how, the way Insane and Extreme Luchador way.