On Sunday, April 30th, Smash Wrestling presents Put Up or Shut Up from the London Music Hall in London, Ontario. With eight matches slated to take place as part of back-to-back series of shows, Smash is ready to reload and push forward in 2023. With internationally trained talent, Smash Wrestling Championship title, a tag team, four corners, and homegrown talent competing, this show looks to be one to remember.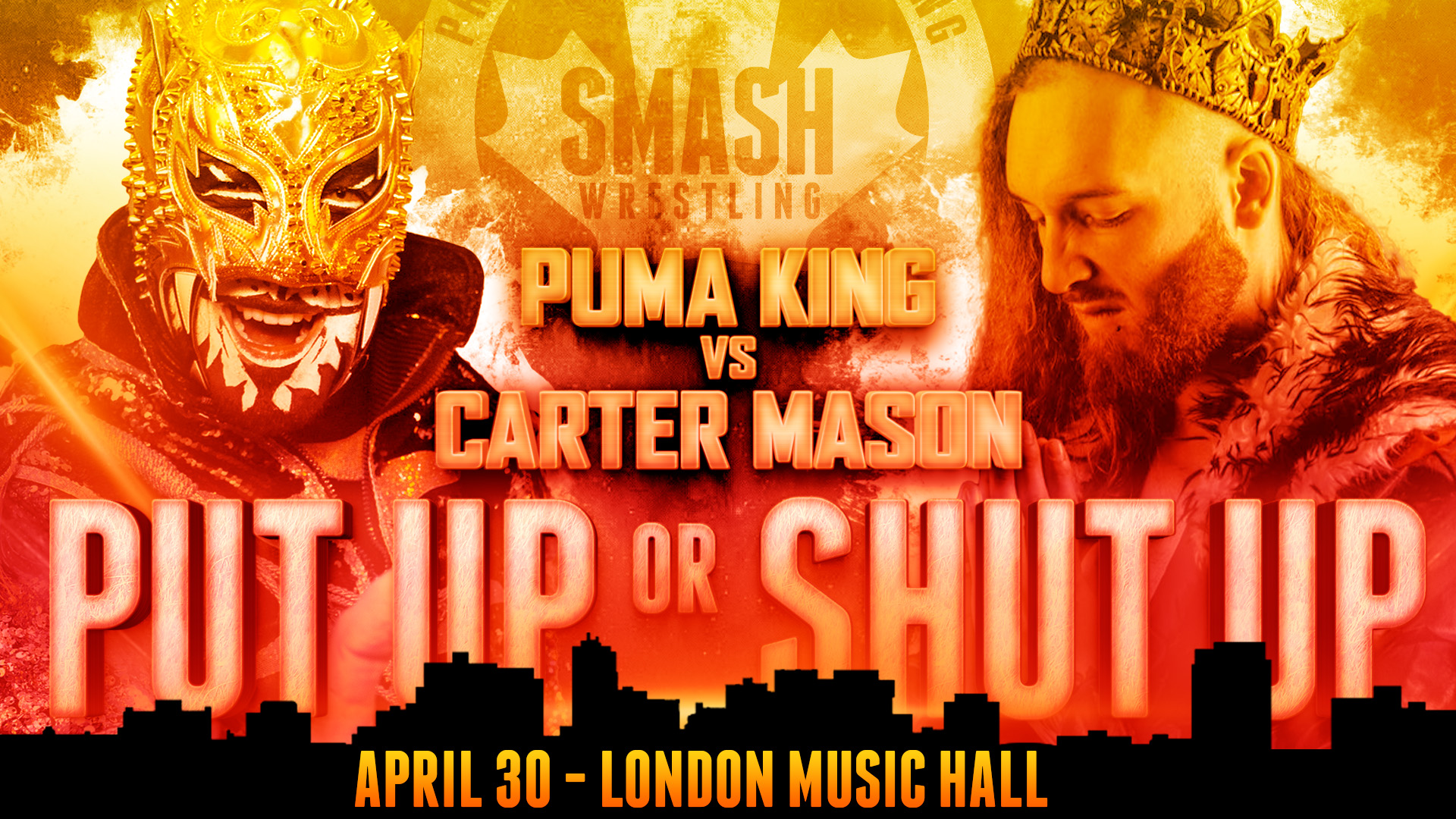 Smash Wrestling Presents Put Up or Shut Up
Puma King vs. Carter Mason
In a battle between an international talent and a homegrown one, Puma King battles the King of the North, Carter Mason. For those unfamiliar with Mason, he's a veteran of more than a decade competing on the Ontario independent circuit. Trained by Johnny Devine and even mentored by Tyson Dux, Mason brings his established wrestling pedigree to the table as he faces Puma King.
With only a year of age between them, King is the younger of the two competing in this bout. King has 900 matches and counting under his belt and will take his talents to Smash to showcase high-flying skills against Mason. Who has the edge here? International experience or having a home crowd behind you?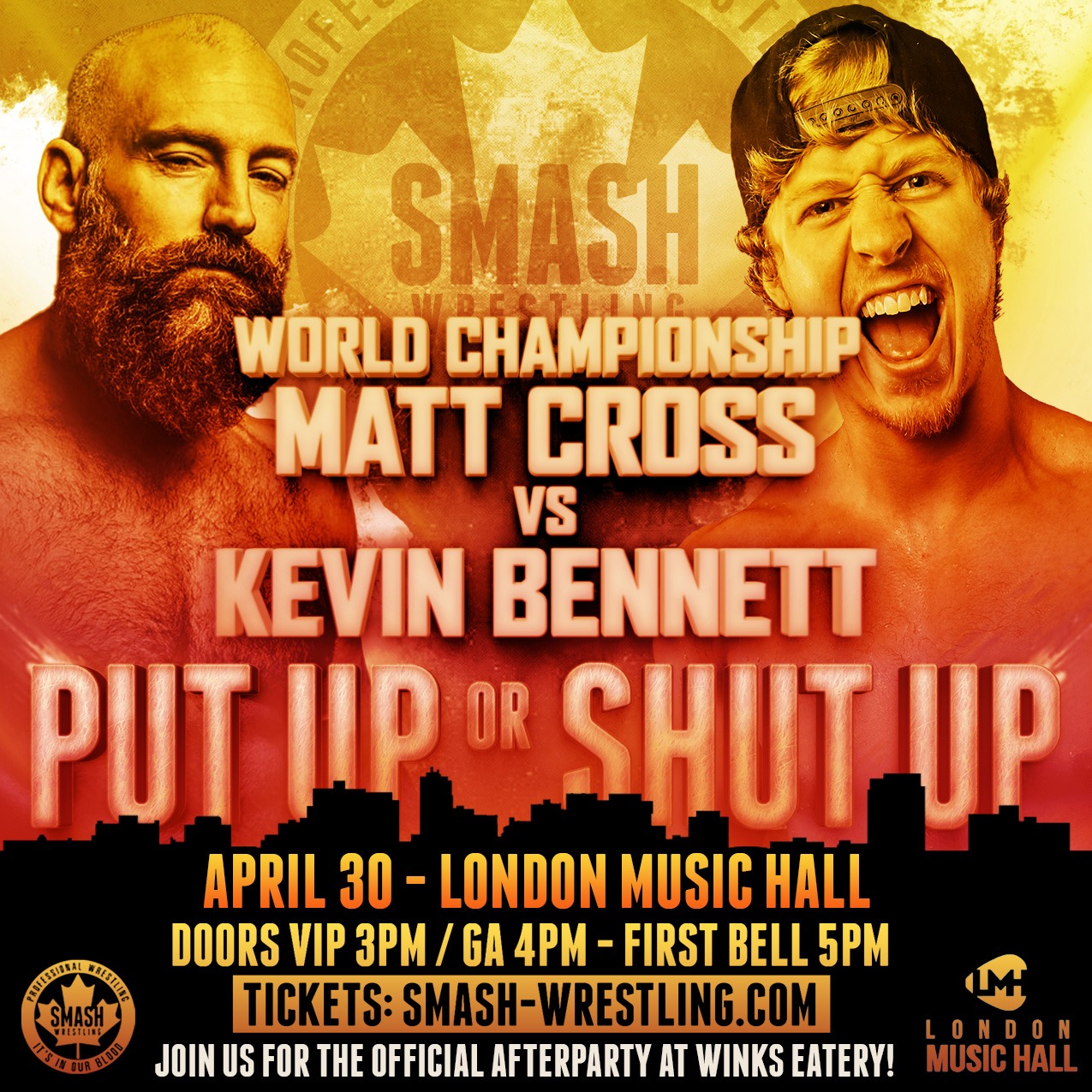 Smash Wrestling Presents Put Up or Shut Up
Smash Wrestling Championship
Matt Cross vs. Kevin Bennett (c)
What happens when the past meets the present? The answer is fireworks. Matt Cross has competed all over the world and could easily be seen as Smash OG with his time, matches, and commitment to the promotion.
That said, he stands across the ring against a man that, while born and bred in Buffalo, New York, is as much at home with Smash as anyone else in the promotion. Both men possess speed, tenacity, and technique. The difference here is Cross willing to…cross the line in order to capture the Smash Wrestling championship?
Fans are well aware that Kevin Bennett will do just that and stop at nothing to maintain his success. Will Cross prove to be too much for him this time?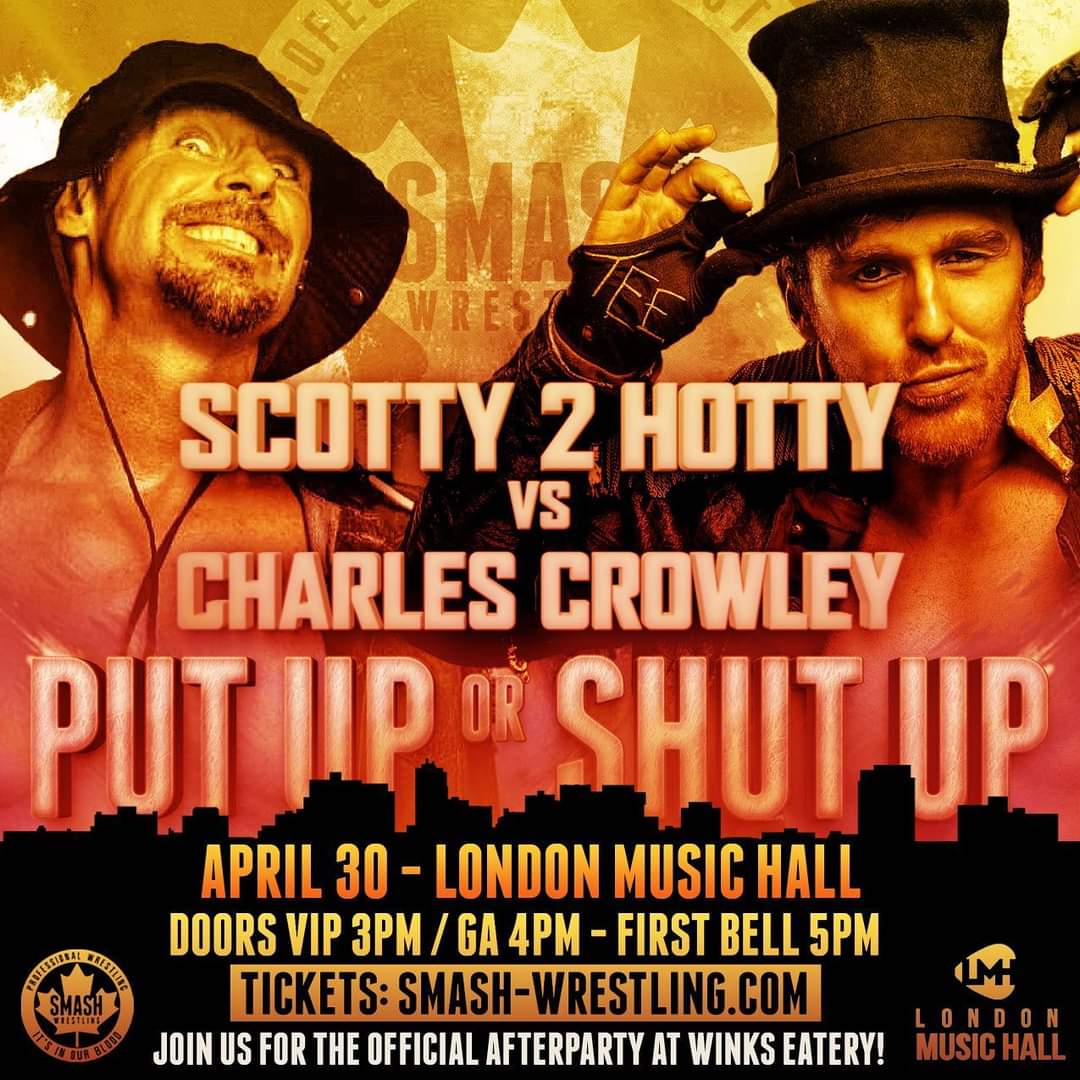 Smash Wrestling Presents Put Up or Shut Up
Scotty 2 Hotty vs. Charles Crowley
A new regular talent in Smash Wrestling is Englishman Charles Crowley. For those that are unaware of Crowley, you certainly should be. He is primed with the ability to lure in audiences with both a comedic slant and more focused and serious ones as well. He is considered a good worker by some and if anything can generate a reaction.
That said, he stands across the ring from a man that has made a career of wrestling and mentoring. Scotty 2 Hotty is a veteran of the ring of over three decades. He has been part of a successful tag team and was key in helping to develop young and up-and-coming talent.
This match has all the makings of something incredibly fun and entertaining for all in attendance. Who walks out the winner in this one? The fans!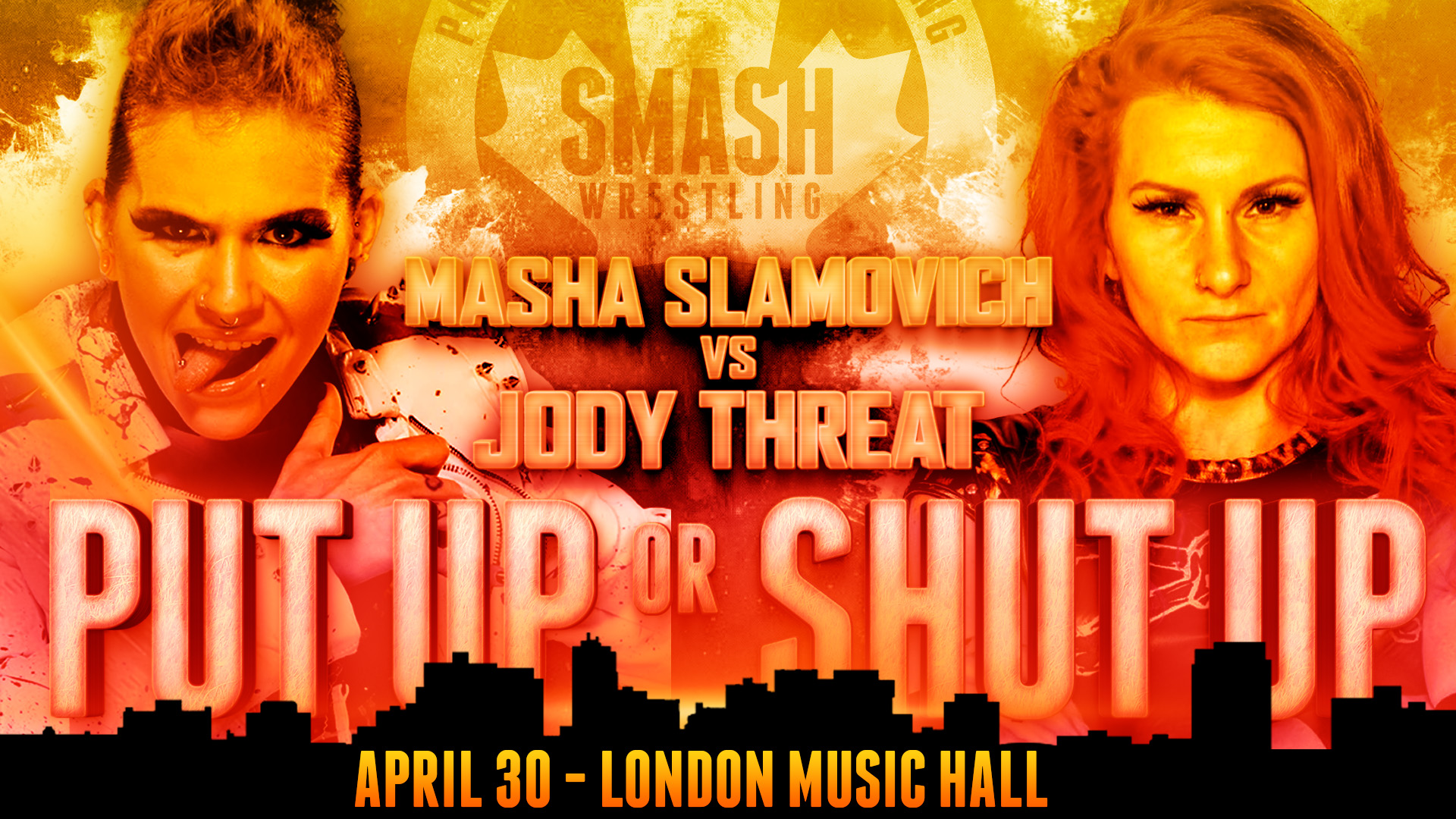 Smash Wrestling Presents Put Up or Shut Up
Jody Threat vs. Masha Slamovich
If anyone was to have said that this match a month ago would be between two IMPACT Knockouts, they have thought you were lying. But here we are, days away from Put Up or Shut Up, and we are seeing two women squaring up against one another. Slamovich has challenged for the IMPACT Knockouts Championship on more than one occasion. Jody Threat has been a longstanding face of Smash's women's division.
This is a match where something has to give. But in saying that, Slamovich has competed in matches that have to push the limits of most of their contemporaries and come out on top. Will the Wild Child be able to overcome the challenge standing in front of her in Slamovich?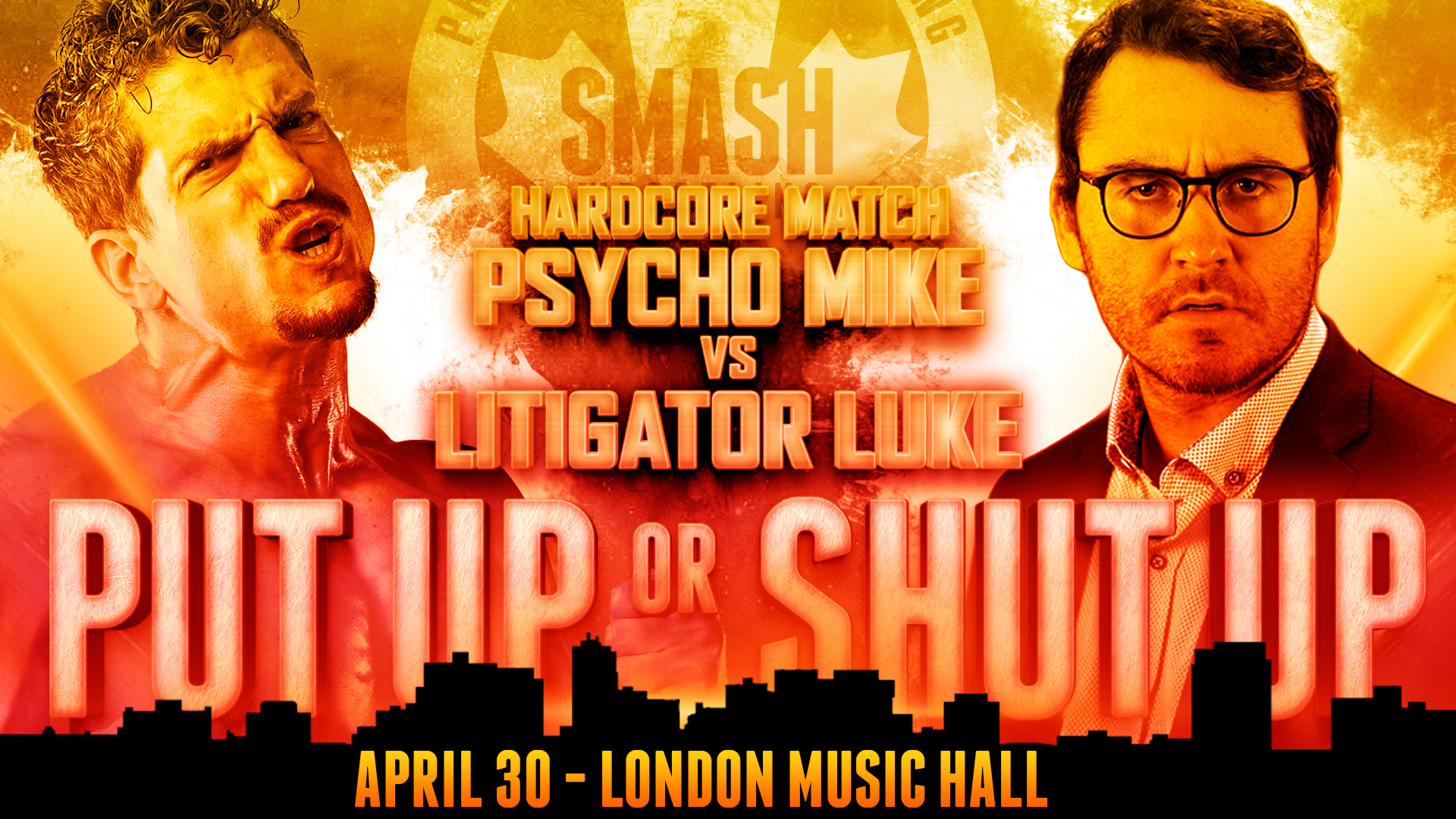 Smash Wrestling Presents Put Up or Shut Up
Psycho Mike vs. Litigator Luke
(Hardcore match)
In the events of Luke's last win, this match came about. That should be corrected, actually. A challenge made by Psycho Mike prior to Litigator Luke's match was made. With the help of those that stood by Luke's side we saw him victorious. While being helped to his feet, Luke stated that he would take on anyone.
Anyone would soon be followed by Luke stating that he accepted Psycho Mike's challenge. By the power of closed circuit TV, we then see Psycho Mike having his hotel room door knocked on and being told that Luke had accepted his challenge. The problem for Luke was that Mike would announce that the match would be a hardcore match!
What would a Hardcore Match proposed by Psycho Mike look like? Could we see tables, chairs, and ladders? Not likely. But its sure to be an interesting take on a 'hardcore' match between the two.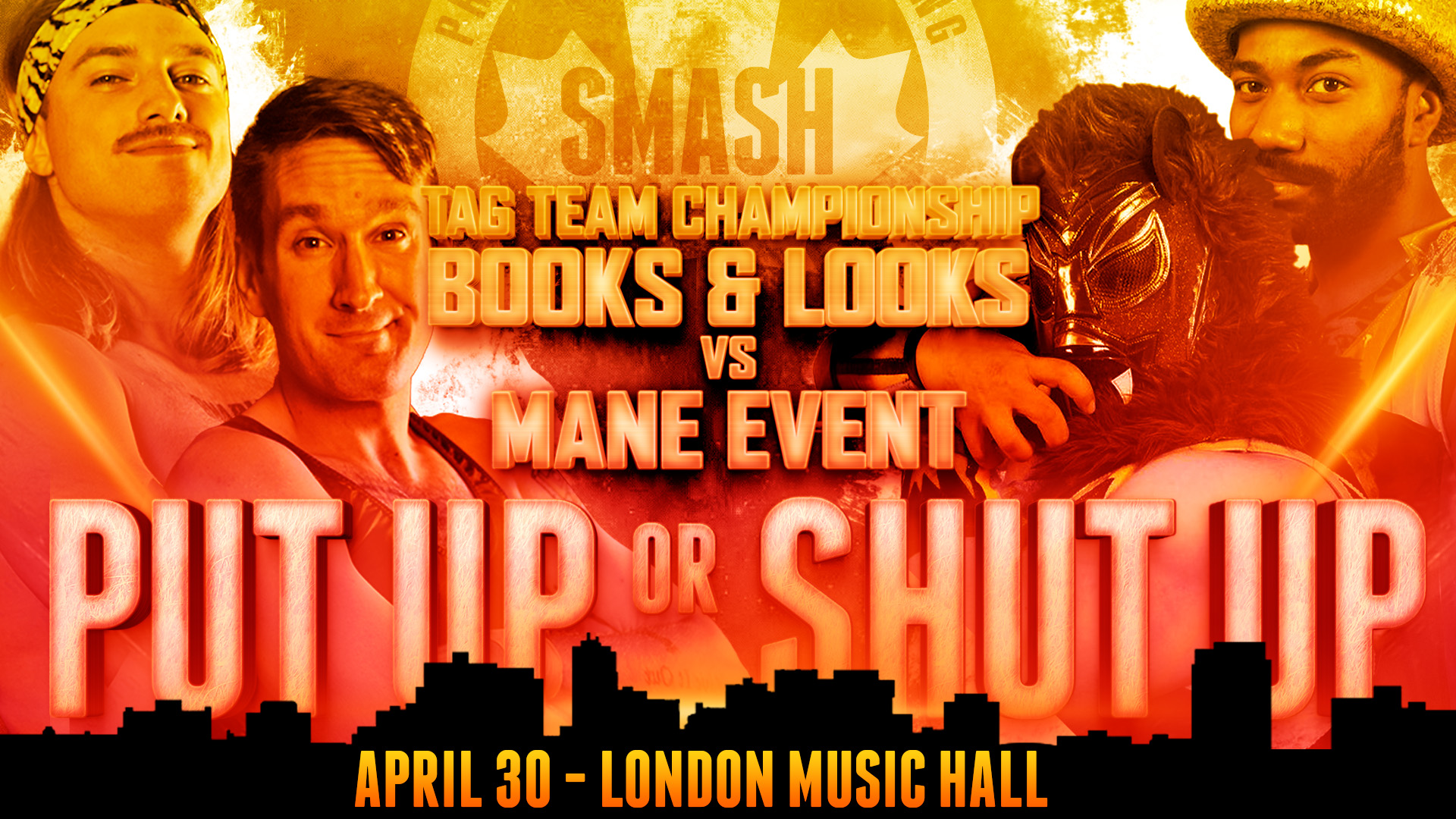 Smash Wrestling Presents Put Up or Shut Up
Books & Looks (c) vs. Mane Event
Tag team action will be hot and heavy as Mane Event locks up with Books and Looks. The Mane Event has five years and counting together as a tag team. That already gives them an advantage when we consider how much team synchronicity speaks to a team's overall effectiveness. But with COVID, their bookings took a hit, and thus, their time together did also get hit.
In comparison, Rodney Matthews and Michael Greyson have been working to make themselves seen throughout Canada. A tandem with two years behind them as a tag team, Matthews and Greyson will look to upset their visitors from the South.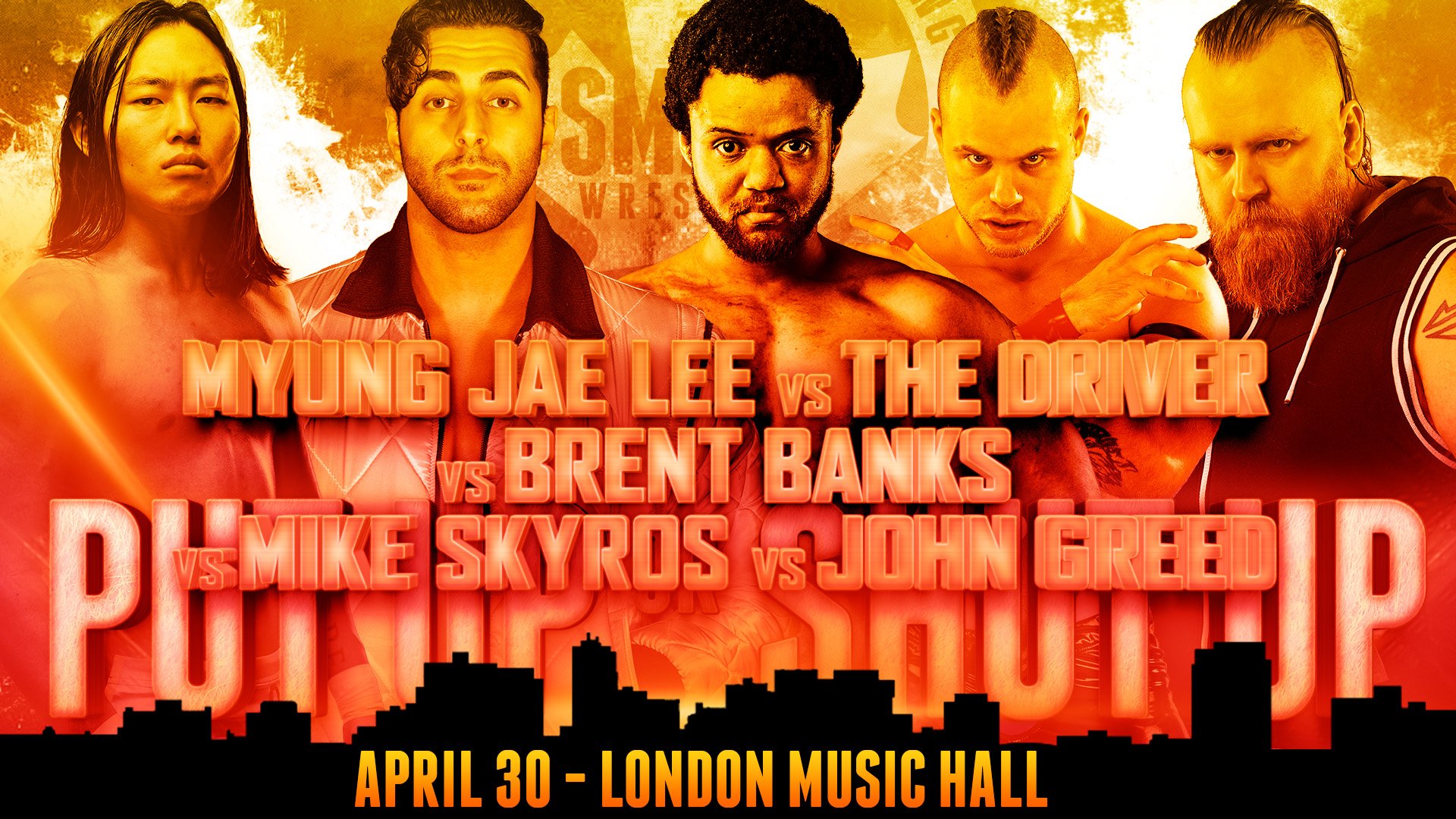 Smash Wrestling Presents Put Up or Shut Up
Myung Jae Lee vs. John Greed vs. Brent Banks vs. The Driver vs. Mike Skyros
A five-way battle with some of Smash Wrestling's stalwarts and some rising talents on the Ontario independent wrestling scene. John Greed and Brent Banks' history in Smash Wrestling dates back nearly since the promotion's inception. Myung Jae Lee has been actively seen on the Ontario Indies and is earning a name for himself.
Syracuse, New York native Skyros has nine years of experience behind him as he comes to Smash. 'The Driver' Joe Demaro, has five years of experience under his belt and began to craft a career for himself. Despite being a native of Detroit, Michigan, Demaro began his career competing in promotions in the Texas area.
With five different options of someone to succeed, its any guess who walks out on top!