On Saturday, April 29th, Smash Wrestling presents Live Laugh Lariat from the Franklin Horner Community Center in Toronto, Ontario, Canada. On the first of two back-to-back shows, Smash Wrestling once again proves to be why it's one of the hottest promotions on the Canadian independent wrestling scene.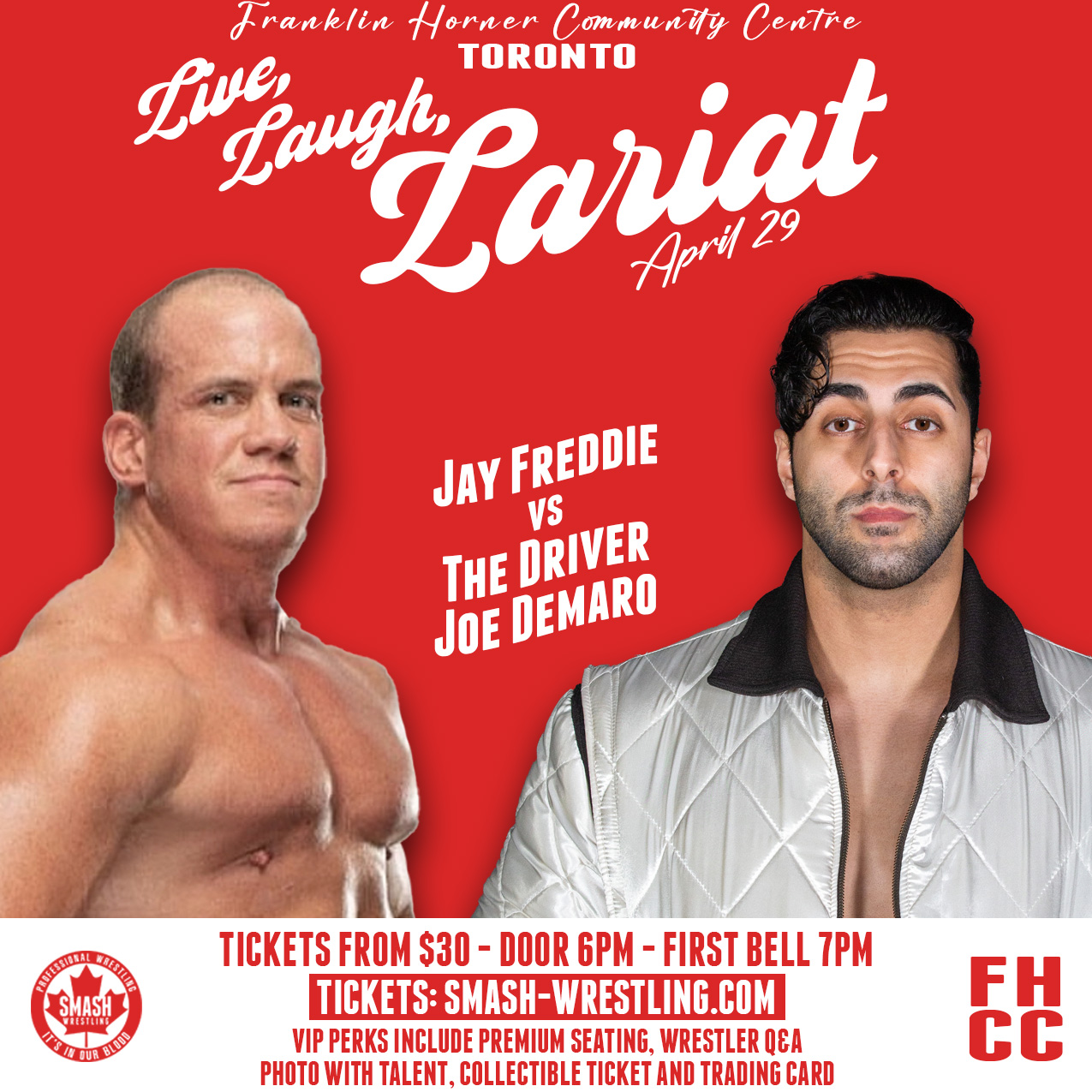 Smash Wrestling Presents Live Laugh Lariat
Jay Freddie vs. 'The Driver" Joe DeMaro
These two will battle on the first of two nights of action as Smash Wrestling present back to back shows in Toronto and the following night in London. Freddie, who resides in Watertown, New York is a 15-year veteran of the ring that has been a regular in Smash for the past few years. Experience and opportunity breeds success and Freddie has made the most of both.
Freddie's opposition DeMaro is from the Motor City and The Detroit Import despite not having nearly the experience of Freddie plans to bring all the confidence in the world to this contest. Will experience prove to be what pushes Freddie forward or with The Detroit Import stun the wiley veteran? We will see this Saturday.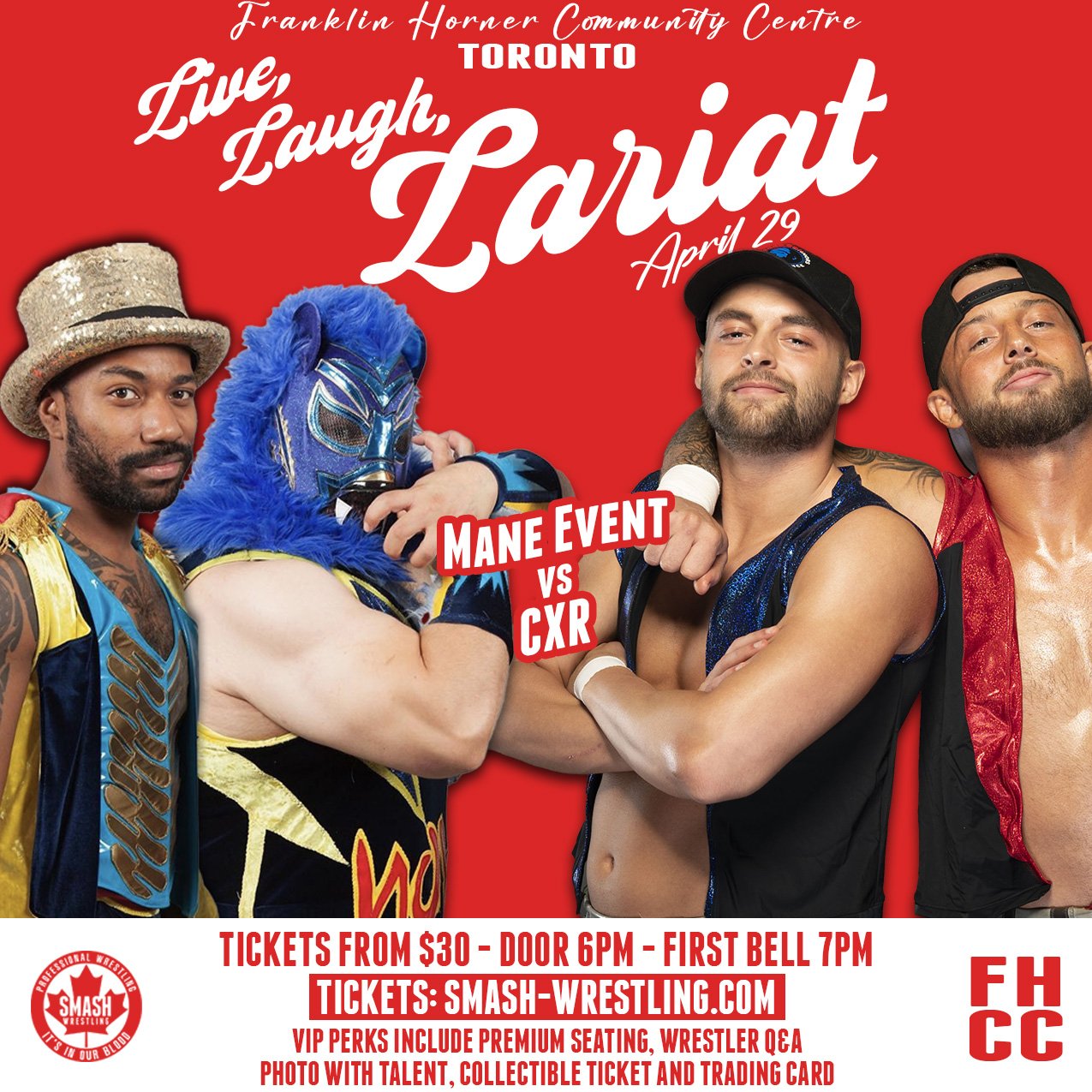 Smash Wrestling Presents Live Laugh Lariat
Mane Event vs. CXR
The tandem affectionately known as Critical X Revolution are new to the wrestling scene, but don't let that in-experience fool you. Promoting themselves as the Best Up and Coming, Show Stealing, High Flying Tag Team on the Indies. Trained by HC Loc, the duo of TJ Epixx and Chael Connors come to Smash Wrestling prepared to make a statement.
Across the ring from them stand Duke Davis and Ganon Jones Jr, Mane Event. With all the pomp and circumstance that the carnival has to offer, this have been carving a niche for themselves for parts of over nearly five years now. Will Loc's trainees be able to make the most of this opportunity or will they fall to the Mane Event?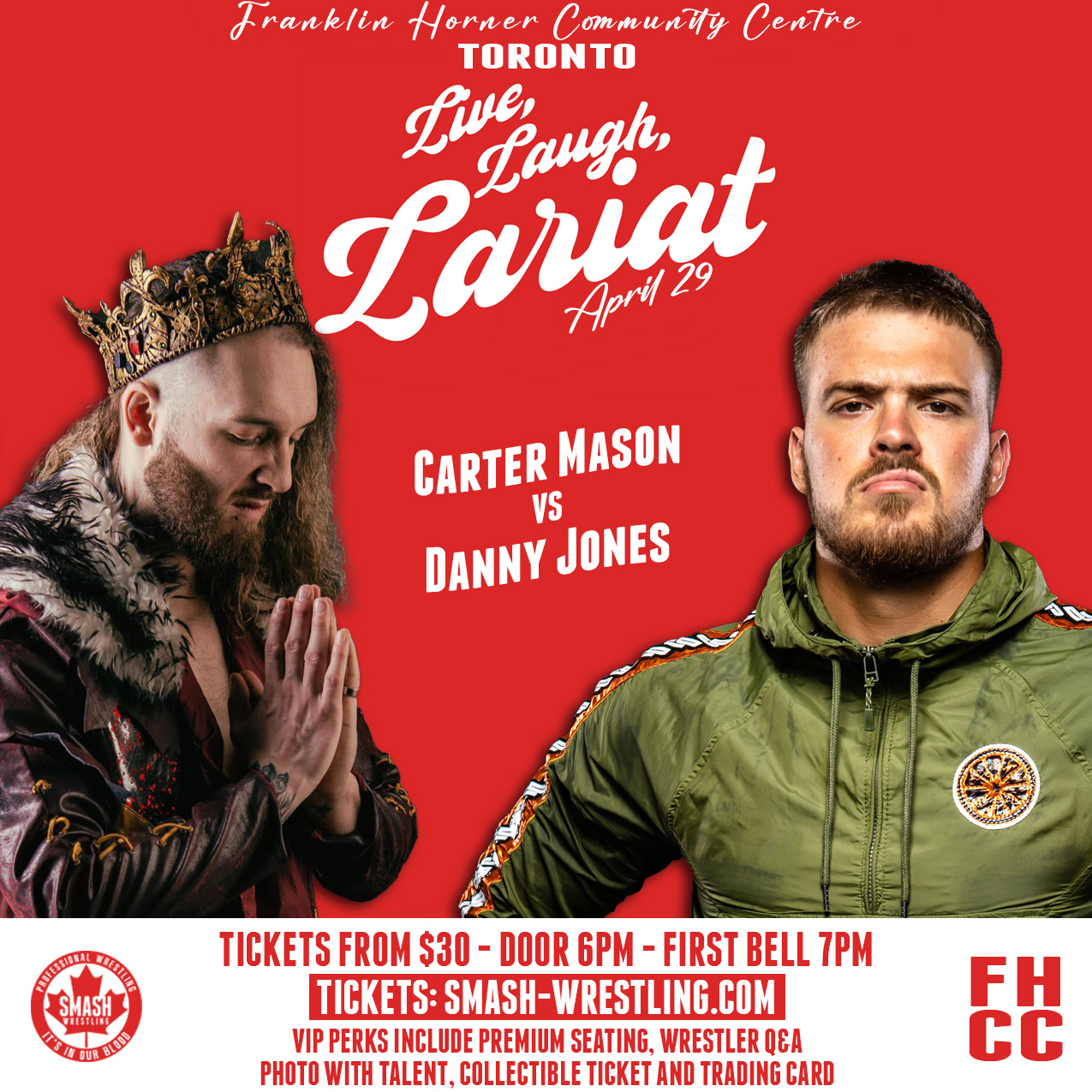 Smash Wrestling Presents Live Laugh Lariat
Carter Mason vs. Danny Jones
If a match on paper could steal the show it is this one. In a battle of the commonwealth, Mason brings his time, energy, and experience in Smash against one-half of the United Kingdom's Greedy Souls, Danny Jones. While Jones may be new to social media he isn't to the industry with more than a decade of experience behind him.
Jones has competed in his home in the UK, Ireland, and Germany just to name a few and now add Canada to the list of places to which he has competed. For Carter Mason, the former Johnny Devine trainee also has more than a decade of experience behind him but hopes to be the inhospitable host to his opposition on Saturday. Does Mason cement his place in Smash or does he have to step back because of Jones?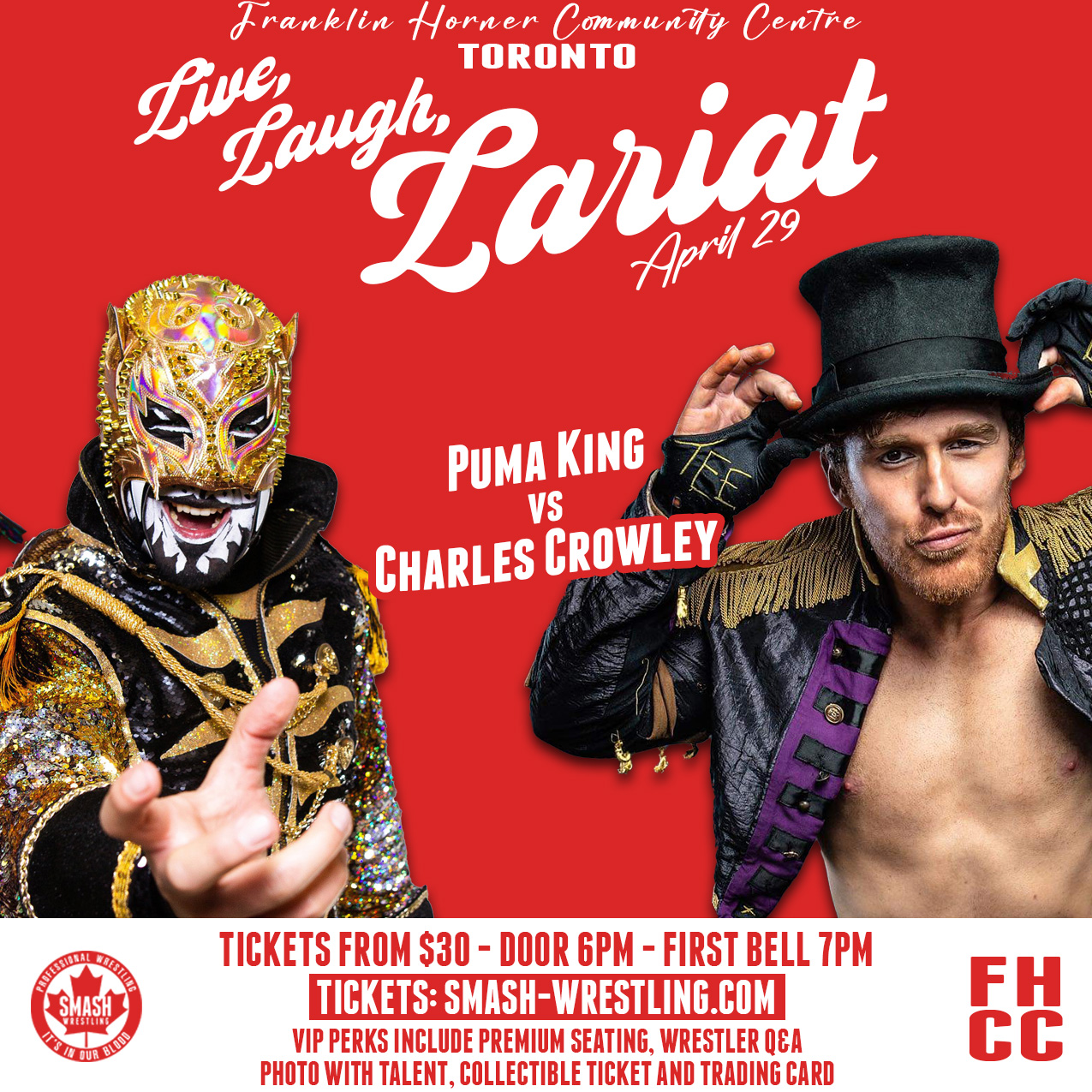 Smash Wrestling Presents Live Laugh Lariat
Puma King vs. Charles Crowley
Two international talents come to Smash to do just that..smash each other. Although they may not do it in the same way as some may, Crowley and King will certainly do it with a bow and a nod and put on a show in the process. Much like a magician doesn't reveal their secrets, neither will luchador Puma King share how he is able to defy gravity.
The showmanship of Crowley will certainly be on display also as he battles King on Saturday, April 29th. Between these two, will Crowley grate the nerves of those in attendance, or will he attempt to warm up to the crowd only to betray them later on? It will certainly be a sight to see on April 29th!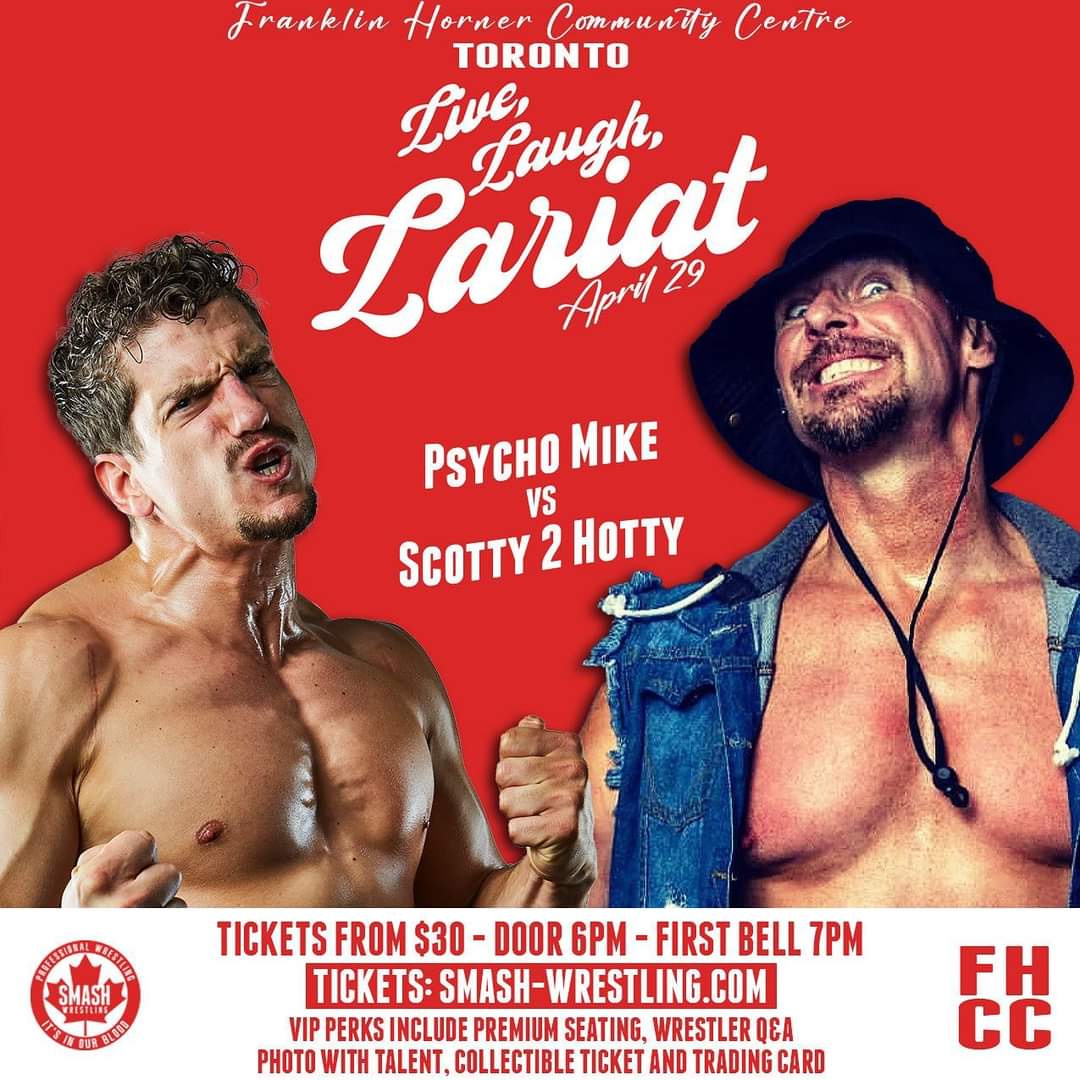 Smash Wrestling Presents Live Laugh Lariat
Psycho Mike vs. Scotty 2 Hotty
What do you get when the master of the worm means a man that once battled himself in a match? The answer is a match fans won't soon forget! In the first of back-to-back nights of matches for both Mike and Scotty, this battle will present fans with a fun and entertaining bout that they will be talking about long after it's over.
Since returning to active competition, Scotty 2 Hotty has been in demand all over the United States and now in Canada. This match with Psycho Mike could present anything from a dance-off to something that likely could be a homage to Rikishi!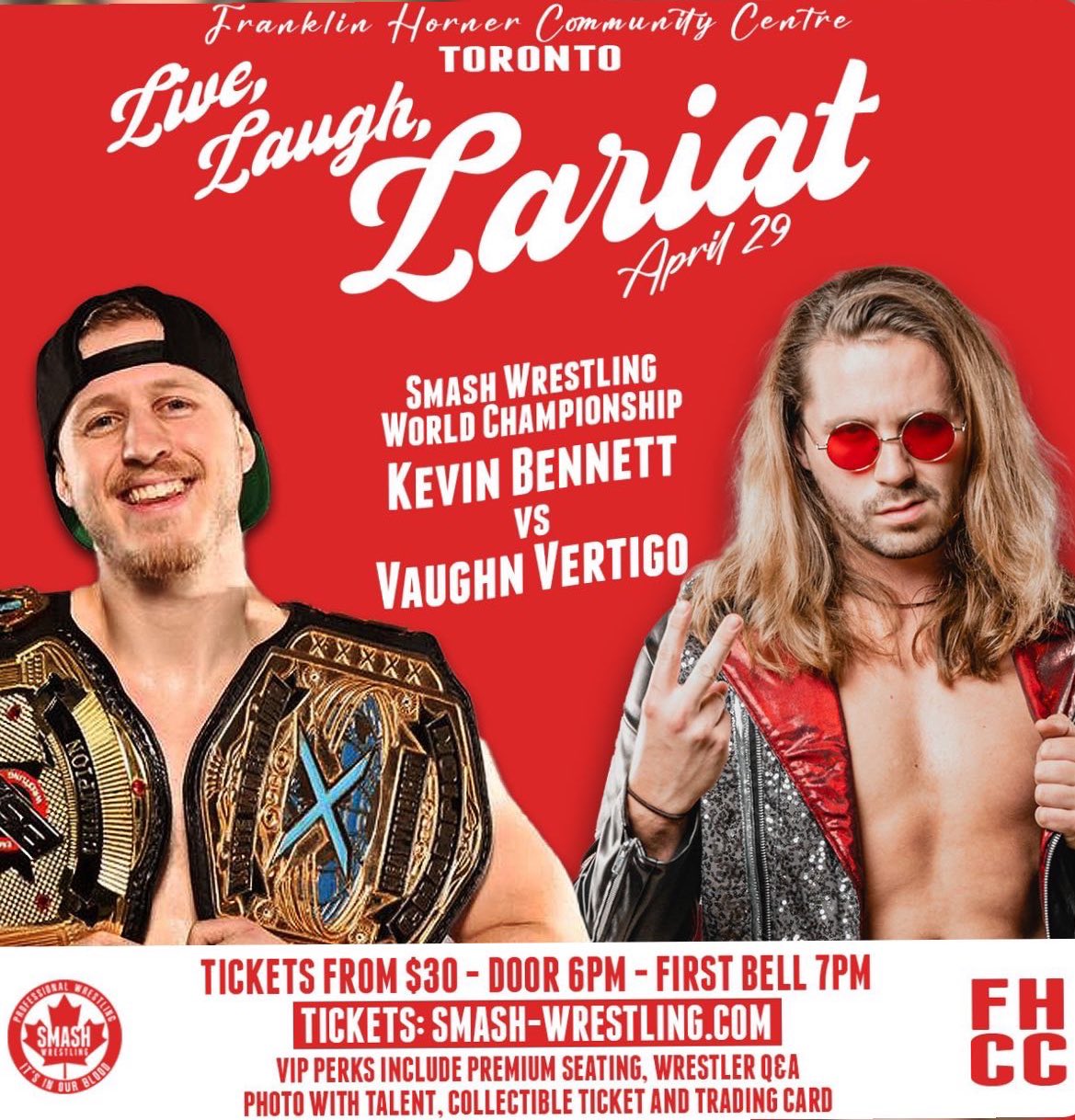 Smash Wrestling Presents Live Laugh Lariat
Smash Wrestling Championship
Kevin Bennett (c) vs. Vaughn Vertigo
This is the one match that actually leaves this previewer speechless. From the showmanship of the remix to the high-flying skill of Vertigo. These two are all set to set the Franklin Horner Community Center on fire with their championship match-up. Anyone that has followed Buffalo's own Kevin Bennett would know just how far he has come in Smash.
In the case of Vaughn Vertigo, he's competed in Canada, Ireland, Scotland, and the United Kingdom, facing the best the world has to offer. Could Port Hope Ontario's Vaughn Vertigo be the one to ride the Smash Wrestling Championship of the Remix Kevin Bennett? All that can be answered this coming Saturday.