On November 15th, Dragon Gate held their annual Kobe Pro Wrestling Festival a little later than expected but would still give us a stacked show. The match's main event was R.E.D leader, Eita defending his Open the Dream Gate Championship against the returning Shun Skywalker.

The last time Shun Skywalker was seen in Dragon Gate was on December 4th, 2019, where he lost to the current champion at that time, Ben-K. After that match happened, he would take a hiatus from Dragon Gate to travel to Mexico to tone his craft. He would work for various promotions in Mexico, such as Toryumon Mexico, IWRG, DTU, WR, and Lucha Libra Real. On November 3rd, after Eita retained the championship against Kzy, Shun would make his return to Dragon Gate, and he wastes no time as he challenged Eita for the Championship at the big upcoming show.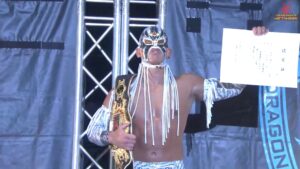 Shun Skywalker wins Open the Dream Gate Championship
As the night progressed, things were looking up for R.E.D as they retained the Open the Triangle Gate Championships and won the Open the Twin Gate Championships with R.E.D members, BxB Hulk and KAI winning the championships. The main event would finally happen, and after twenty minutes, Shun Skywalker would shock Dragon Gate as he defeated Eita to win the Open the Dream Gate Championship. This came off as a surprise to a lot of fans since they expected a longer reign from Eita after winning King of Gate and taking the belt off of Naruki Doi, but despite only retaining the belt once, it seems as though Dragon Gate has something new planned with Shun.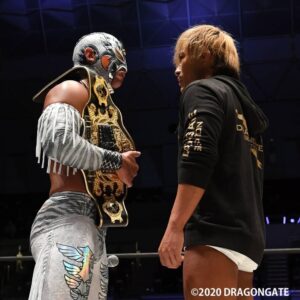 After the match, Shun would call his first challenger, and that is Ben-K. His former tag partner and his last opponent before coming back, the story would write itself here. Shun's first title defense against Ben will take place at their Final Gate show on December 20th, where Ben lost the championship last year. Would this be a redemption story for Ben a year later, or does Shun get his payback by getting the win? The show will be on their streaming service along with Shun's match with Eita available on there right now. Congratulations to Shun for not only winning the championship, but he's now known as the youngest Open the Dream Gate Champion to win it at twenty-four years-old.
*****
e sure to stay tuned to the Pro Wrestling Post for this and additional stories from the wrestling world. Readers can rely on Pro Wrestling Post to be their daily source for all things inside the squared circle. As a result, readers can expect daily news, history, and so much more. Please visit the Dragon Gate Pro Wrestling website here for upcoming news and notes.