Dubbed the Queen of Spades, Shayna Baszler has become known within WWE as one of the toughest women in professional wrestling. Baszler started her career within sports as a mixed martial artist trained by former UFC fighter Josh Barnett. Her own experience within MMA and her relationship with fellow MMA fighter and former WWE wrestler Ronda Rousey helped shaped Baszler into the dominative figure we see today.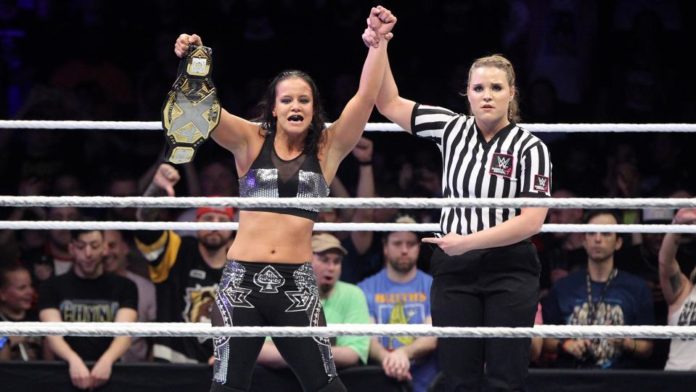 Shayna Baszler –
Making A Name Within MMA
Baszler has never been shy about her MMA roots within WWE. While she joined NXT in 2017, her career within the world of fighting started 11 years earlier. Baszler's debut within the world of Mixed Martial Arts was in 2006 when she faced Amanda Buckner within the cage at MFC. Though Baszler lost this fight, she returned to the cage a year later to face Samantha Anderson at NFF, where she won her first MMA fight.
In the same year, Baszler debuted for Elite XC, though her run within Elite XC was short only lasting a year due to the company's closure. Baszler had impressed many and was starting to make a name for herself. Strikeforce was the next stop for Baszler as she spent the next 2 years within the company.
In 2010 people started to take real note of Baszler after she faced Megumi Yabushita and made her submit using a unique submission, the second time, Baszler had done this within an MMA cage.
Over the next few years, Baszler focused on the independent MMA circuit until, in 2012, she faced Sara McMann in the main event of Invicta Fighting Championships FC 2. The match caused controversy within the MMA community as after an even competition Baszler lost. While within Invicta Fighting Championships, Baszler was awarded two different fights of the night. At this point in her career, it was becoming increasingly difficult to ignore Baszler, and this came to a head within 2013.
The Submission Magician

"The "submission magician" isn't just an invented name. Mauro called me that when he was calling one of my MMA fights…Never feeling lost or stressed out is the biggest advantage I have coming from Mixed Martial Arts." – Supersport.com
Becoming The MMA Four Horsewomen
"The hottest thing in women's MMA these days is 'The Four Horsewomen." – Bleacher Report.
The MMA Four Horsewomen was a fan-given name for the team of Ronda Rousey, Marina Shafir, Jessamyn Duke, and Shayna Baszler, who were known for being heel characters within the cage. Baszler was known as the competent grappler of the group, with an incredible striking ability.
The four became a support system for each other while in the UFC, they would train and use their unique skills to help each other improve. Ronda Rousey was, of course, the leader of the group, and Baszler has credited Ronda for developing her career not only within MMA but also within professional wrestling.
"Ronda set the four of us up in a way that we could concentrate on being exactly what we are… You don't make a lot of money in MMA, especially at first… She set us up so that we could just concentrate on showing up at the gym… We were free to concentrate on being whatever it is we wanted to be and that is what really set the tone for where I am at today." – Supersport.com
Turning To Professional Wrestling
Shayna Baszler had her UFC debut on the 30th of August 2014 against Bethe Correia. Though just under a year later, Baszler was released from UFC after losing to Amanda Nunes on the 21st of March 2015. After being released, Baszler decided not to return to the world of MMA; instead, she turned to professional wrestling.
On September 26th, 2015, she made her in-ring debut for QPW or Quintessential Pro Wrestling. A few months later she appeared for two events for World Wonder Ring Stardom in Japan. Two years later, Baszler would return to World Wonder Ring Stardom in 2017. During her time in Japan, she worked with wrestlers such as Deonna Purrazzo, Christi Jaynes, Io Shirai, and Sumie Sakai.
In 2017 on the 13th of July Shayna Baszler debuted for the WWE in the Mae Young Classic. She defeated Zeda, Mia Yim, Candice LeRae, and Mercedes Martinez going into the finals against Candice. It was in the finals of the Mae Young Classic that we found out Shayna Baszler would be a heel within the WWE. She refused to release the submission hold on Candice and then kicked her while she was being treated by doctors.
Shayna Baszler –
Creating A Second Dynasty
We didn't have to wait long for Baszler to become a full-time member of the NXT roster.  She debuted on the 10th of August 2017. Though she had competed in multiple matches WWE did not announce her signing until October 2017. Baszler was undefeated within NXT until her first title shot on January 27th, 2018, against NXT Women's Champion Ember Moon.
On the 1st of February, a rematch took place, which Baszler won due to Ember Moon's disqualification. But Baszler did not take the title. Their feud continued until April 7th, 2018.  There Shayna Baszler finally beat Ember Moon and became the NXT Women's Champion at NXT TakeOver: Philadelphia.
From winning the belt off of Ember Moon in 2018 Shayna Baszler continued to have an immense reign within NXT. While in NXT, Baszler made a second legacy for herself. One as a powerhouse in the world of MMA and now as a powerhouse in WWE. Shayna Baszler is now competing on WWE's Monday Night Raw, where she continues to expand her professional wrestling career.
All images and videos courtesy of MMA Chicas, Melanogaster01, Bazooka W, Women's Wrestling Japan, Fox News, and WWE
________________
Before the journey began for several WWE talent, their skills were being honed in gymnasiums, auditoriums, and in front of crowds of a few hundred people. They never wavered in the pursuit of their goals, and those roads they traveled helped them achieve the success they have today.
"Before the E". 'The E' is inspired by a common nickname for WWE. To understand where talent is today, it is important to know how they came to be part of the Entertainment side of World Wrestling Entertainment. This week we present Shayna Baszler.