Following over fifteen years in professional wrestling, Shawn Spears has been gone by nicknames as "The Perfect 10" and "The Chairman." Perhaps the nickname that has given him the biggest chip on his shoulder was "a good hand."
While being considered "a good hand" invokes thoughts of reliability and long-term value, for Spears, it was the ultimate insult. It was this comment that led to Spears taking a steel chair to the head of his former friend, Cody Rhodes.
Shawn Spears – From Good Hand To Perfect 10
As Spears himself may attest, the path to AEW was far from a straight line. Following training at the Hart Wrestling School in Ontario, Canada, Shawn Spears began his wrestling career in 2002. He worked with numerous promotions, including New School Wrestling in Ontario and World Xtreme Wrestling in Pennsylvania.
Shawn Spears made his first appearance for World Wrestling Entertainment in February of 2005, where he teamed with Mikael Yamaha in a losing effort against The Hurricane and Rosey on Sunday Night Heat.
Later in the year, he debuted for another Canadian promotion, Pure Wrestling Association. In November, he unsuccessfully challenged PWA Pure Wrestling Champion Reggie Marley. In January of 2006, at Holiday Hangover, Spears unseated Marley for the title, winning his first singles championship in the process.
However, he dropped it back to Marley the week after. It was also during this month that he signed a developmental contract with WWE. Though he initially gained fame as "Stan," the backstage worker who Shawn Michaels kicked backstage at November's Cyber Sunday, Spears' early work in developmental can't be ignored.
Shawn Spears made his Ohio Valley Wrestling TV debut in May of 2006, defeating Simon Dean in singles action. From there, he worked with talents including Elijah Burke, Aaron Stevens, and former WWE Champion The Miz. Spears would go on to form a tag team with Cody Runnels, who's better known today as Cody Rhodes.
Together, they faced such teams as Deuce & Domino. After multiple title matches, Spears and Runnels defeated Deuce & Domino in October to win the OVW Southern Tag Team Championship. They held the championship until December, when they dropped it back to Deuce & Domino but won it for a second time the following week.
After successfully defending the OVV Southern Tag Team Championship for the first few months of 2007, Spears and Runnels fell to Ox and Hammer in April. The month prior, however, Spears bested Boris Alexiev, the future Santino Marella, for the OVW Television Championship.
Not long after, Spears developed a more obsessed mindset, even attacking former partner Runnels during his own championship pursuits. They exchanged championship victories and losses in July.
In September, Spears once again lost the OVW Television Championship, this time to Ted McNaler, before regaining it in October. By the end of the month, Spears lost the title to Colt Cabana. This feud led to them teaming in a tournament for the vacant OVW Southern Tag Team Championship. In the final ladder match, where the winner won the titles and could choose a partner, not only did Cabana seize the victory but dropped Spears in favor of Charles Evans.
Early 2008, OVW and WWE parted ways, leading to the latter creating a new developmental territory, Florida Championship Wrestling. In FCW, Spears teamed with multiple partners before ultimately joining forces with the future Dolph Ziggler, Nic Nemeth.
In August, Spears and Nemeth bested Eric Perez and Eddie Colon for the FCW Florida Tag Team Championship. During this time, Spears made his debut for WWE's ECW brand, taking up the name "Gavin Spears" as a member of Theodore Long's New Superstar Initiative.
In FCW, Spears and Nemeth held the promotion's tag team championship until September, when they dropped it in a three-way match. In December, Spears lost his final ECW match to Finlay.
Following a loss to FCW Florida Heavyweight Championship in January of 2009, Spears was released from WWE. Though he was unable to wrestle for roughly 3 months following a hand injury, Spears returned to the independent scene, working for the likes of Great Canadian Wrestling and American Combat Wrestling.
He even wrestled a dark match for Total Nonstop Action Wrestling against Burke in May. The month after, he wrestled a Ring of Honor match, scoring a victory over Alex Payne. Spears scored different accolades on the independents, including an ACW Heavyweight Championship victory in August and teaming with Stevens to win the World Wrestling Council's Tag Team Championship that same month.
Spears' independent work continued into 2010, making appearances for such promotions as ACW and GCW. In March, he won a three-way match to be crowned the ACW Combat Champion. He also competed in ACW's King of Florida tournament, making it to the finals. In February of 2011, Spears toured with All Japan Pro Wrestling, where he worked with the likes of Seiya Sanada.
In June, he debuted for Florida Underground Wrestling, where he teamed with Kennedy Kendrick as NVUS. Together, they won the promotion's tag team championship. In February, Shawn Spears made his way to Tri-City Wrestling, where he won the promotion's heavyweight championship; he would drop it the following April.
He also spent time in Classic Championship Wrestling, another Ontario-based promotion. 2012 marked Spears' final year on the independents for several years, as in 2013, he made his way back to WWE.
In the fall of 2013, Spears re-signed with WWE, entering the promotion's new developmental brand, NXT. It was here that he adopted the ring name of Tye Dillinger. In his debut match, he lost to Mojo Rawley. In early 2014, Dillinger teamed with Jason Jordan, scoring a victory over the team of Sawyer Fulton and Baron Corbin.
They would even compete in the WWE NXT Tag Team Championship tournament in August, losing to Enzo Amore and Colin Cassady in the first round. Though Dillinger and Jordan continued to tag on and off, their team wasn't meant to last.
Before Shawn Spears – Tye Dillinger 'The Perfect 10'
Following Dillinger and Jordan's disbandment in February of 2015, the former struggled to find singles success. He suffered losses to the likes of Corbin and Finn Balor, effectively becoming an enhancement talent. In August, however, Dillinger started to pick up traction due in large part to the introduction of his "Perfect 10" character.
As this new persona, he scored a victory over Solomon Crowe before going on to NXT TakeOver: Brooklyn the same month, facing the debuting Apollo Crews. It was in 2016 that the "Perfect 10" started to gain favor with the NXT Universe. At NXT TakeOver: The End, in June, Dillinger was the heel to babyface Andrade "Cien" Almas.
Though eventual winner Almas played the babyface, the Full Sail crowd was firmly behind Dillinger, planting the seeds for an eventual turn.
In September, Dillinger formed a tag team with Bobby Roode, heading into the 2016 Dusty Rhodes Tag Team Classic tournament. During their tournament match with Sanity, Roode walked out on Dillinger, which led to a singles match between the latter two at NXT TakeOver: Toronto in November.
Despite a valiant effort, Dillinger fell to Roode. In January of 2017, Dillinger made a surprise appearance in the Royal Rumble match, appropriately entering as number 10. He lasted nearly 5 minutes and 30 seconds before being eliminated by Braun Strowman.
Dillinger's feud with Sanity continued throughout the remainder of his time in NXT, including an 8-person tag team match at NXT TakeOver: Orlando in April. It was also during this month that he wrapped up his time in NXT, defeating Eric Young in a steel cage match, before making his way to the main roster.
In April of 2017, Dillinger made his main roster debut on SmackDown, feuding with Aiden English. Later in the summer, Dillinger entered a feud with Baron Corbin, in addition to challenging WWE United States Champion AJ Styles. The three met at Hell in a Cell, in October, in a triple-threat match, which Corbin won.
2018 proved to be less eventful for the Perfect 10. He teamed with Breezango at Fastlane in March to win the preshow six-man tag team match. He also feuded with the likes of Samoa Joe and Shinsuke Nakamura, though little came of these programs.
His final TV appearance was during a September episode of SmackDown, which saw him attached by Randy Orton while attempting to challenge United States, Champion Nakamura. The following month, Dillinger suffered a hand injury; by February of 2019, he requested his release from WWE.
"I got along great with a lot of NXT management. It was just… It was a tough situation, but I knew… And I don't know how, I don't know how I knew, but I just felt, I guess that's probably the better way to say it, that if I didn't leave and take a shot on myself and see what I was at least capable of, in 30-40 years down the road, I was going to say I should have.
I knew that that's what I was going to do. I was going to look back on this time and go, 'Damn it, I should have took a shot on myself.' And I'm a big believer in – the worst feeling in the world is probably regret. And there's nothing… At a time when you can't do anything about it.
-Shawn Spears on leaving the WWE
Prior to AEW Double or Nothing, it was announced that the rechristened Shawn Spears would take part in the "Buy-In's" Casino Battle Royale. Company EVP Cody praised Spears' involvement with the company, stating that he could instruct younger talent and be "a good hand."
Following his loss at Double or Nothing, Shawn Spears made his feeling toward Cody known at June's Fyter Fest event. Spears interfered in Cody's match with Darby Allin, nailing his long-time friend with a controversial unprotected chair shot to the head. Shawn Spears also recruited Tully Blanchard as his "Exclusive Advisor."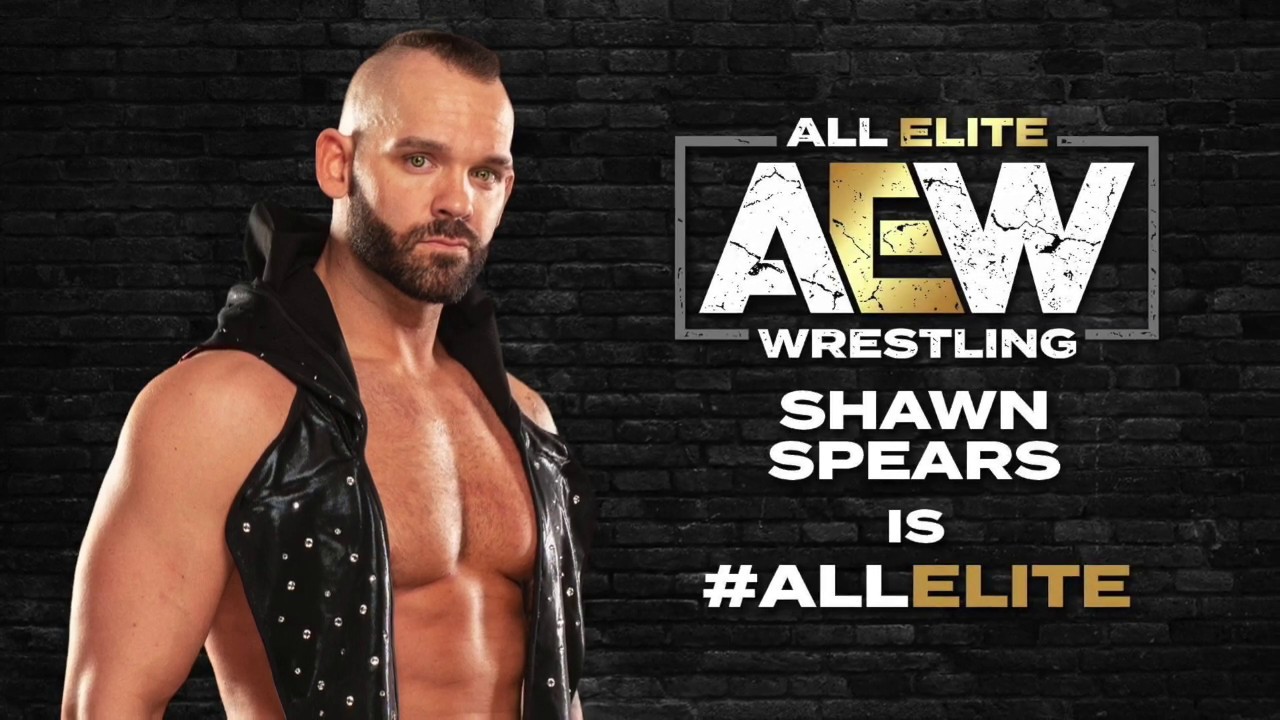 Fight for the Fallen, in July, saw Spears team with Sammy Guevara and Maxwell Jacob Friedman in a winning six-man tag effort. Spears' rivalry with Cody came to a head in All Out, in August, which saw Cody win a sixteen-minute-plus encounter.
As a member of AEW with numerous years under his roster, Shawn Spears undoubtedly has many goals he would like to accomplish in the promotion. Among these is showing that he is more than just "a good hand." For many wrestlers, this is considered the death knell. Given Spears' strong showings in AEW, as well as his time spent across various independent promotions since his departure from WWE, it's safe to say that "The Chairman" has a different destiny in mind.