I'd known Shad Gaspard, who we lost last week, from taking pictures of him ringside for the magazines I've always worked for soon after his WWE debut to current. Got to know him, obviously not on the level of JTG, Cena, or Ezequiel Jackson. But I had dinner with him soon before the pandemic hit. He talked with pride about his family and how his acting career was going. And the many future projects he was jazzed about. Shad Gaspard was heroic without ever trying to be one.
He was getting better at body surfing along the California coast. He laughed, saying he hoped to be this generation's, Nick Gabaldon. Santa Monica. CA native Gabaldon remains the most recognizable African-American surfer in history. Having destroyed many barriers and helping train other Black wave riders. Such as Mikey February and more in the Black Surfers Collective who formed global Nick G Day in 2013. Shad was aware of all that. Similar to the high degree he was also a student of the history of wrestling and his idols in it. From Bobo Brazil, Bearcat Wright, Ernie Ladd. To Jim Mitchell, Shag Thomas, Tiger Conway Sr & Jr and other legends.
I'd always bring up Bearcat Wright, Sweet Daddy Siki, Dory Dixon, Earl Maynard. He'd counter with Rocky Johnson, TBolt Patterson, Arman Hussein (who was both a face and heel in the mid 60's Los Angeles territory I called my home base shooting for the program). If it was someone a bit lesser known like a Norville Austin or Porkchop Bobby Cash/Al Nelson, he'd diligently study them. And would bring up discoveries he'd made on them the next time we met.
Life After The WWE
Post-WWE, Shad was a regular wrestling star. Teaming with JTG in main events for a Northern California promotion I helped start in Oaktown Championship wrestling. Oak for Oakland since most of the shows were in the Oakland/Alameda East Bay area years back. And which more recently was renamed "Stars of Wrestling". Having one of the most diverse locker rooms full of talent with lead promoter Icebox Robert Smith. "Ice" was a longtime African-American powerhouse star roller derby skater for the San Francisco Bay Bombers. After original Derby titan and owner Jerry Selzer closed up his worldwide Roller Derby league in December of 1973. Claiming his family's outfit hadn't made enough money from two big tours of both Hawaii and Japan.
Ice had nagged me to try to get him into wrestling around 1998. I brought him to a Roland Alexander All Pro Wrestling (APW) show. He was trained by one of the best in APW, great Robert Thompson. He took his last name from the perennial Roy Shire African-American wrestling machine Ricky Thompson. Later managed the multi-time APW championship tag team of West Side Playaz (who Shad had viewed along with indie characters in Urban Championship Wrestling's tv show and later would "pull some things from"). Shad helped Icebox's booking team. It included SOW partner Tony "Fury" Hernandez plus Bobby Lashley (during his years with TNA and Impact).
Bound By A Brotherhood
Shad would always call Ice "one of the sharpest minds in the industry," plus Boogie Man and Godfather Charles Wright. There were several big SOW school fundraisers that Cryme Tyme headlined. Shad's old pal Ezekiel (Rycklon Ezekiel Stephens) Jackson drove the long ride from his home beyond Redwood City, CA, just to see them, Zeke said in the dressing room. And he wasn't even booked on Icebox's shows. This was about the time "Zeke" worked his one season of Lucha Underground as "Big Ryck," and Shad, JTG, and I wanted to hear "the latest."
You could tell those guys were close and had done some bodybuilding together as Zeke had won various titles in that field back home in Guyana and said he always loved bench-pressing with Shad and JTG in the back, before their matches. Again, even if he wasn't on a card, making an effort to reconnect with longtime friends like Shad and JTG is heartwarming in this still Covid19 Pandemic time.
KTLA-5 Los Angeles tv channel, had near non-stop coverage since Shad was taken down by that wave and to this day, still has daily updates. That's relevant because, since the late forties, KTLA had long been SoCal's biggest non-network channel. It was also SoCal's first and only pro wrestling channel airing the celebrated weekly syndicated wrestling shows nationally. From promoter Hugh Nichols and Davies Triad Group days, to even bigger shows with the Jules Strongbow/Cal Eaton Hollywood/Los Angeles Wrestling Office promotions. Again from nearly TV's birth until 1970 when it moved to lesser Socal channel KCOP-13.
Heroic Shad Gaspard Recalling Childhood Heroes
The classic 50's and 60's years had Jules doing the "locker room" interviews of Lou Thesz, Baron Leone, Blassie, Mr. Moto, Bobo Brazil, Bearcat Wright, Buddy Rogers, Lord Blears, Sandor Szabo, legends..etc. And Dick Lane calling the action with Jimmy Lennon, Sr. doing the ring intros during those '50s and 60's heydays. Hollywood Championship Wrestling (Shad said he watched it and reportedly went at least once to visit with other friends in their dressing room) has been airing for years on SoCal channel 56-KDOC which films and helps syndicate Dave Marquez' weekly program.
Student of the biz Shad always said he appreciated Icebox's super diversified locker room of talent. It also included Carlito Colon and Spanky Brian Kendrick that Shad knew from SoCal, besides another longtime APW talent like JR Kratos and Jeff Cobb. I was a guest on various radio shows after his passing was confirmed, to talk about what a great person the Shad I'd known had always been for years. Like how he'd been a hero to many long before asking lifeguards to rescue his son first last week in advance of that massive Venice Beach/Marina Del Rey area rip tide curl that tragically and unexpectedly took him down.
***
Shad also was one of the primary stand-up helping guys during the infamous 2007 three day Cow Palace 'Wrestle Fanfest' ripoff fiasco. When Shad heard the husband and wife scam artist promoters fled the scene with the cashboxes meant to pay both the wrestlers and MMA fighters, Shad immediately stepped up and continually asked how he could help. And help he did the following few days organizing rides for many of the talent stranded at the hotel by the promoters, without rides to the hours away airports they were booked out of just to cut costs. We're talking legends like Harley Race, Nick Bockwinkel, Snuka, Nicolai Volkoff, Iron Sheik, and many others.
A Need To Right A Wrong
Shad also watched in horror as we all did, that many older wrestlers (One Man Gang/Akeem, Brutus Beefcake, Greg Valentine, etc.) that Saturday get the runaround on their still-owed money but soldiered on those next two day for the tons of fans who'd prepaid for signings, polaroids, one on ones, etc. All are making the news on tv and other media.
After the promoters grabbed Saturday night's cashboxes and fled in their car across the state line into Reno, Nevada; Police from the three counties the Cow Palace property sat on (South S.F., Daly City, Brisbane, California) reported they'd also canceled everyone's last night hotel rooms at the SFO (San Francisco International Airport) Marriott as well as all again everyone's promised trans to their airports to get home the next morning finally (the promoters regaining that cash too). To save even more money right from the start, which seemed odd, they'd even booked the boys out of hours away, cheaper and lesser-known airports like Sacramento and San Jose.
***
Rather than the more expensive, larger SFO international airport, which was just miles from the Cow Palace. Shad helped further, sticking around late that night giving statements to all the police that arrived that Saturday night once we all learned (and the public as well) the promoters had fled. Shad organized volunteer fans and more, including himself, to drive the older and extremely depressed legends to the airports.
Heroic Shad Gaspard
I'll never forget Shad that morning with JTG saying, "I knew those guys didn't seem right. Something just wasn't right about them, and we've met some real scumbags before". Earlier that Monday morning, as he was amongst the first up, Shad said he'd "never seen a hotel lobby, full of wrestlers sleeping on all the floors, the chairs, and sofas. Filling the place up like that because the promoters had canceled their hotel rooms. It's a tragedy". Around the tons of super-depressed old and young wrestlers during that dark period, Shad stayed upbeat and positive to help get the others through it. Just ask Bill Goldberg. Or Shark Boy.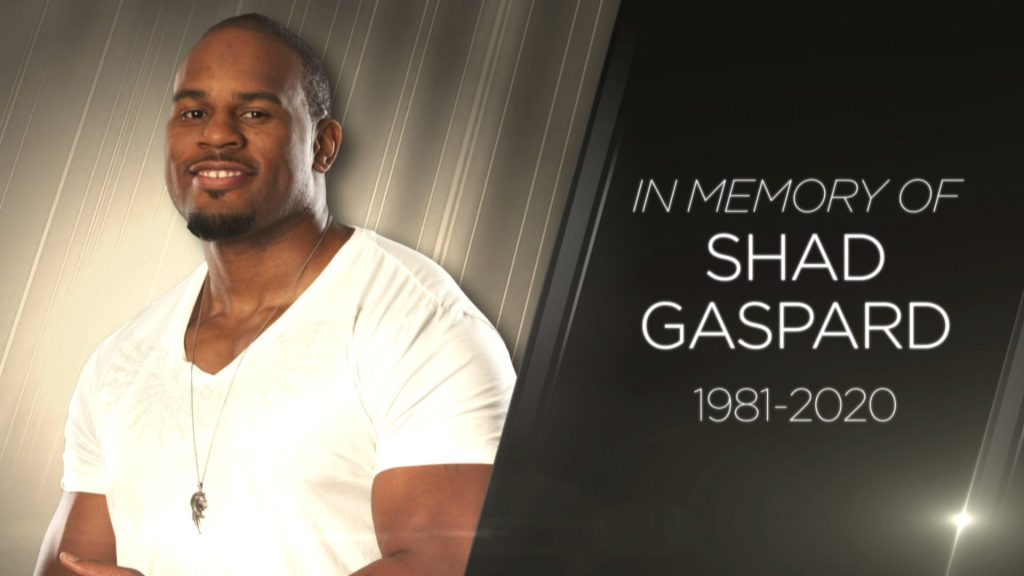 Even more big names beyond the 97 others had been booked for that Sunday afternoon on "Fiasco Day Three" just after everyone was aware police were still trying to locate the promoters in the next state (Nevada) they'd reportedly fled to. Steve Austin, Bill Goldberg, and the late Chyna/Joanie Lauer were only going to do signings and photo ops. Shad and I met with and forewarned all of them separately in the private parking lot area in their limos. At least that trans wasn't canceled because the limos were paid for by a local eye doctor wrestling big money fan who'd promoted similar wrestler signings at his optometry shop on Mission Street in the heart of SF's Hispanic area and next door to a magazine shop that sold Box Y Lucha and AAA's lucha mags.
A Stone Cold Bite
Austin looked at us and said, "Are you guys shitting me? It figures with first-time, mark promoters. And no one had ever heard of them before?" These three big stars showed their own heart, going through with it as well rather than distancing themselves from the Cow Palace mess, so as not to let fans who'd already prepaid, down. "It wasn't the fans fault; they're victims just like everyone else is," Goldberg said. Austin and Joanie echoed that.
Just a few months before the Covid-19 national lockdown, Shad was one of the lead speakers on a wrestler's panel at the LA Comic-Con. He'd emailed me to come to take photos of him at the podium. I said I'd promised GLOW legend and longtime pal Jeannie "Hollywood" Basson I'd take pictures at her GLOW booth. As well as a separate panel group I believe she and fellow GLOW star "Lightning/Little Mo" Cheryl Rusa were going to speak at about the same time. Shad bugged me and said, "I know you'll want to come to see Bill Watts' son who'll be there speaking with me too". So I brought all my Nikons, and I got to Shad's panel. He laughed when I saw it wasn't Cowboy Bill Watts' son Eric there alongside him and some of the others.
Heroic Shad Gaspard Bringing A Smile To Your Face
In fact, it was the far younger, African-American star from Championship Wrestling (now their champ), also named "Eric Watts." He laughed when he introduced him to me. But it was all good. He learned to play gentle ribs from the late Bill "Paul Bearer/Percy Pringle" Moody. Especially if one were a green "young boy. Bill would often come back from "Gorilla"(position) to the empty dressing room with everyone either in the ring for a battle royal or watching from Gorilla. He'd take the wrestler's luggage, put them in giant Hefty bags. Then deposit them in the very back of the shower area and turn on every showerhead!
When said young boys returned, they had to get soaking wet. Turning off all the showers just to retrieve their bags. Since everyone knew that was Paul/Bill's recurring gag, they'd confront him ASAP. And always give them the "why the hell are you accusing me," he'd say with a grin.
The Pain Felt At Losing Shad Gaspard: His heroic Nature
I apologize for "going long" here since this is my first column on this site, but a lot to say. The thing that hurts greatly is hearing Shad (just 39) and his ten-year-old son Aryeh reportedly felt they just wanted to get out in the water. To just get some fresh air. Gavin Newsom finally opened up LA County beaches like Venice Beach and they immediately went there to body surf. At the same time, Shad's wife stayed on the sand. Then this nightmare.
It's a comfort that his heartbroken wife Siliana, father Ben, and other family and friends paid such loving tribute to him at that beautiful beach memorial. And wrestlers like his longtime partner and brother JTG. As well as Mark Henry, John Cena, and many others lend financial aid for service costs. Plus assorted bills as well as the necessary college fund for Aryeh. And the many who thankfully contributed to the GoFundMe. It garnered a massive amount in just two days to help the Gaspards at this tragic time. A Maui-styled flower wreath spelled out his name amidst blazing candles. Plus 15 photos of Shad wedged in the sand, as the sunset at last Friday night's memorial.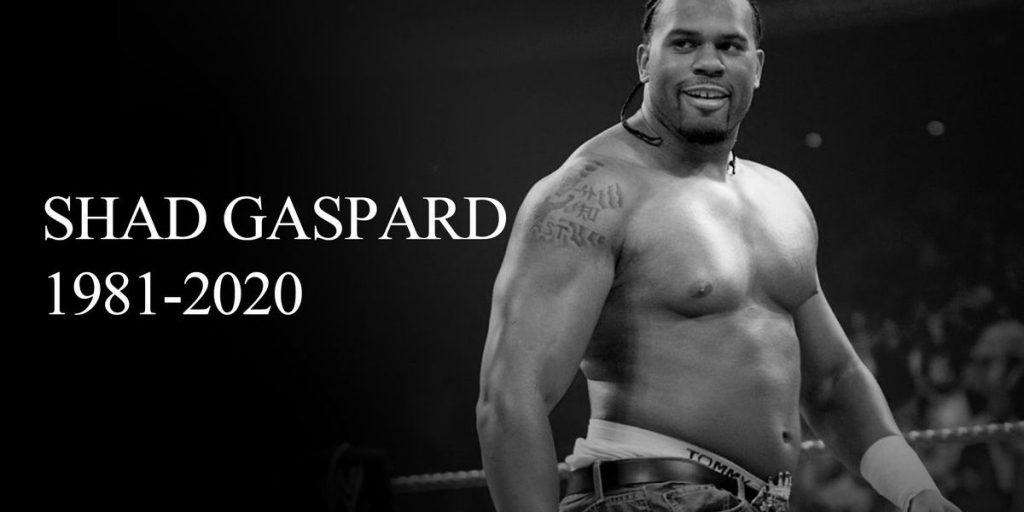 Heroic Shad Gaspard | Fanfare For An Uncommon Man
There was also an incredible painting-like giant photo of Shad kissing his then newborn baby son Arye. Plus another of Shad and his family as well on a lean-to wood frame pitched in the sand. The riptides were dangerous that day. Surfers there later told television station KTLA-CW5, which had non-stop coverage. Few had any knowledge that morning, however. When rescuers first rushed out there hearing the screams, Shad and Aryeh were only 30 yards out from the shoreline. I just learned Shad threw his son to the lead lifeguard, saying, "save my son first."
When lifeguards went back to rescue Shad, the riptide currents had pulled him out an extra 65 yards. Being nearly 100 yards from shore is very scary at any time of year, even with calm tides. The LA Coroner's office said Shad washed up along the Surfline of 2600 Ocean Walk. About one mile north from where the waves took him down that Sunday.
Heroic Shad Gaspard Emblazed with an eternal S on his Chest
If you can help donate to his GoFundMe, please help the Gaspard and Chittick family. My lingering image of the service is of yet another large photograph of Shad with an airbrushed giant S on his chest. And a superman Shad was and will forever be.
It seems like yesterday the last time he talked about plans for more films beyond his roles in Think Like A Man and co-starring alongside Kevin Hart in Get Hard. And Siliana saying aloud to her late husband, "I love you more, my love". And that he "was a bright force of nature, who brought joy to many through his joyous and gracious nature". Heroic Shad Gaspard always remembered.
Written By:

Dr. Mike Lano

, DDS (West Coast equivalent degree to Britt Baker's East Coast DMD) Nationally Syndicated Radio Host and Print Columnist Wrestling /Boxing/MMA Professional Magazine Photojournalism Since Time Began(Globally Shot & Published) Cauliflower Alley Club's Photographer For Decades
****
The critically acclaimed #350Days stars Bret Hart, Superstar Billy Graham, and 3 dozen all-time legends. It's available worldwide on Amazon, iTunes, Google Play, & Xbox and all major cable systems. Click here to view the trailer for 350 Days.