For the better part of a year, Johnny Wisdom has held a firm grasp around the SCWPro Championship as SCWPro presents EPIC Night 2. Winning the championship from One Called Manders, was the crescendo of a 17-year journey as an independent wrestler.
"It was put up or shut up time, "Wisdom said. "That night was a 17-year journey to the top of a company I helped build from the ground up. This is what I have spent 19 years of my life doing. It means everything to me to have "The Lady in Red" around my waist."
His reign, outside a brief stint where he lost the championship to the Shug (which he quickly won it back), has been an impressive one.
Wisdom's successful title defenses came against the likes of The Shug, Mason Beck, Conan Lycan, Dante Leon, Nevin Knoxville, Krotch, and an intense rematch with Manders at SCWPro: Heartbreak.
This impressive list is something his challenger at Epic Night 2 this Saturday, April 23 Deonn Rusman, has taken notice of.
"It took John some time to win that championship," Rusman said. "He has held on to it by any means necessary to say the least. But he is the champion. I came back in the Prestige Rumble in January and that day started his countdown of days left as champion."
Speaking of Deonn Rusman. There hasn't been anyone with as much momentum heading into EPIC Night 2 than "Iceberg".
Returning to SCWPro in January during the Prestige Rumble, Rusman showed he was fully healed from the devastating knee injury that prematurely ended his 2021 inside the squared circle.
The crowd erupted when Rusman last eliminated Solomon Tupu to earn a future championship opportunity.
It's a top contender for SCWPro's biggest moment of the year. With the fans 100 percent behind him, Rusman has returned with an enhanced focus and determination.
"Coming back from my injury has made me more motivated than I have ever been in my life," Rusman said. "I was the hardest worker before and now, I am motivated, focused and working even harder. Having lived with what it was like to have the most important thing in your life ripped away from you… I busted my ass to come back, and this is just the new beginning."
Since beginning the year winning the Prestige Rumble, Rusman has rattled off impressive wins over Solomon Tupu, Dante Leon, and One Called Manders. A hot streak Wisdom refuses to acknowledge.
"Deonn oh Deonn, please don't get me wrong, he is a hell of a wrestler, but he Is not on my level." Wisdom said. "He was gone for months and hasn't really done anything of note since he's been back. On the other hand, I've taken down a handful of former SCWPro champions."
The intensity between these two ratcheted up a level at SCWPro Hawkamania XXIII: Prelude. That night, Wisdom attacked Rusman during his match with Connor Braxton.
The champion left his challenger lying with his "Title Shot" finisher onto the SCWPro Championship. Now, this Saturday, during the main event of SCWPro Epic Night 2, these charging bulls collide.
"It means everything to be in this main event," Wisdom said. "This is what I've been building, while everyone else left and hung them up, I kept building this company. Deonn and myself will go to war. But like every other time, when the bright lights are shining and the lady in red is up for grabs, I'll stand tall in the middle of MY ring… AND STILL SCWPro Champion."
"Winning the SCWPro Championship is my first step in putting my name in the same category as Seth Rollins aka Tyler Black and Marek Brave… names never to be forgotten around here," Rusman said. "Write it down, April 23 Epic Night 2…"Iceberg" Deonn Rusman SCWPro Championship reign DAY 1."
This colossal clash for the SCWPro Heavyweight Championship headlines night two of SCWPro's biggest event of the year. Let's look at the rest of the announced card.
SCWPro Presents EPIC Night 2
Iowa City Street Fight SCWPro Iowa Championship Match
JT Energy © vs "The Fashionista" Marek Brave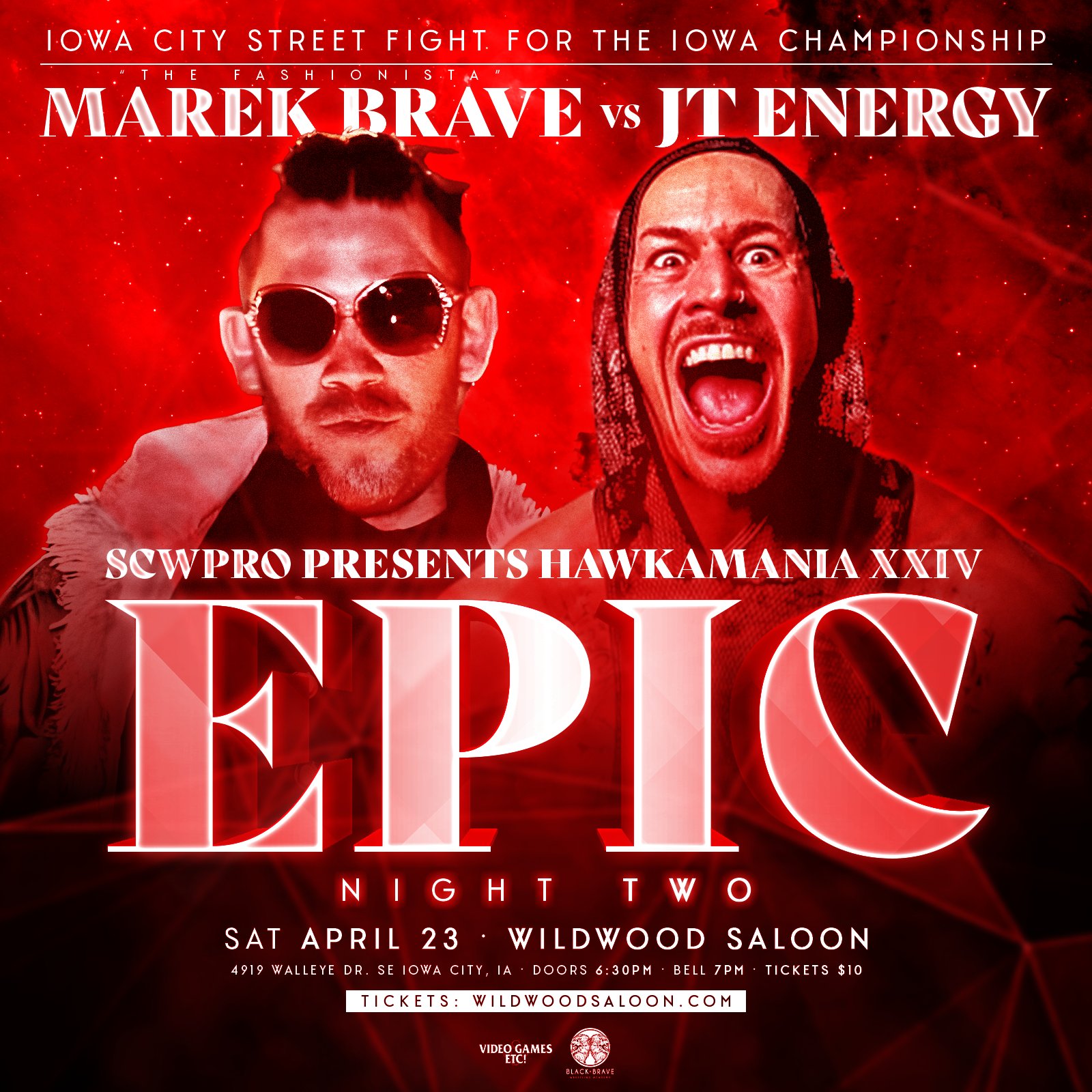 Five years ago, Marek Brave wrestled what he thought would be his final match. A neck injury and subsequent spinal fusion surgery brought a premature end to his in-ring career. But much like Michael Corleone in The Godfather Part 3, when Brave thought he was out, they pulled him back in.
The culprit in this scenario pulling Brave back in is the current SCWPro Iowa Champion, JT Energy.
"Anyone who has stepped foot in a pro wrestling ring knows that it's hard to stay away for too long," Brave said. "I was comfortable with my decision to step away due to injury over five years ago, however, a man can only take so much disrespect before his pride kicks in and he has to defend himself."
The history between these two heading into Saturday's Iowa City Street Fight for the SCWPro Iowa Championship runs deep. Once upon a time, JT Energy was an up-and-coming wrestler looking to make a name for himself in SCWPro.
He, along with the Frontman Jah C, would soon be under the guidance of Marek Brave.
Known as the "Fashionista", Brave helped Energy and Jah C find their confidence and bring out an attitude needed to ascend the ranks of the promotion. The trio, aptly named "Stylin & Defilin," ran roughshod over the SCWPro.
Energy and Jah holding the Tag Team Titles while Brave himself SCWPro Champion.
"Marek gave me the fundamentals to evolve into JT Energy," Energy said. "The day that he took myself and Jah C under his wing was one of the most exciting yet terrifying days of my young pro wrestling career. He gave us enough confidence to drown in, but little did he know we would learn to swim in that confidence to the point of excelling in the world of pro wrestling."
Brave's injury and surgery that followed brought a premature end to the reign of "Stylin & Defilin" but Energy and the Frontman soon proved they were ready to soar on their own. In the past five years, Energy has established his own legacy in SCWPro.
A legacy that includes stints as Tag Champion, QC Cup holder, and his current run as Iowa Champion. As his confidence grew so did his attitude and distaste for the officials of SCWPro. Included in those officials is Marek Brave.
Numerous verbal altercations eventually led to things getting physical during the Prestige Rumble event in January.
After earning a victory in his tag match with partner Augustus Drave, the nefarious duo's post-match attack of SCWPro Hall of Famers Nevin Knoxville and Steven Youngblood was too much for Brave to stand for.
Along with security, Brave physically helped escort Energy and Draven out of the ring. This of course did not sit well with the "Unsolved Mistery". His response came at Hawkamania XXII: I Don't Wanna be in Love.
JT Energy viciously assaulted Brave here, leading the former SCWPro Champion to seek medical assistance.
Watch JT Energy attack Marek Brave below:
The attack might have bitten off more than Energy was expecting when Brave returned to challenge him to a match at Epic Night 2.
If Brave wrestling for the first time in five years wasn't shocking enough, him coming back as the "Fashionista" pushed Energy over the edge.
"I watched the "Fashionista" work against men that were bigger and smaller than him and his style of unleashing pain is like no other person I've ever stepped into the ring with. This is why I'm having to rethink my whole game plan."
Energy said.
It doesn't get any more personal than this as the student looks to surpass the teacher.
The Return of the "Fashionista"
Both men know just how important this is for not only themselves but SCWPro.
"I've held every championship that SCWPro has to offer. I'm a Hall of Famer. They don't bestow that honor on just anyone. There's a reason why I'm considered the greatest performer in SCWPro history by many individuals."
"On April 23rd, I'm going to prove why once again when I show JT Energy how we got down back in the day. He's going to get an ass whooping of EPIC proportions and this SCW Original is going to give him the old school beating of his life. My prediction? I predict that JT Energy is going out of style and that "The Fashionista" is once again going to be adorned with gold by the end of the night!"
– Marek Brave
---
"From day one of graduating the Black X Brave Wrestling Academy I wanted to earn my spot at the top of SCWPro. I knew taking that spot would involve going through my trainers one by one. When Marek Brave was forced to retire, I thought that opportunity was gone forever."
"After going through competitors for years and winning championship after championship, the one thing I don't have is a win over Marek Brave and for that matter "The Fashionista" Marek Brave. When I win this Iowa City Street Fight, I believe I am the instant #1 contender to the SCWPro Championship!"
–  JT Energy
---
SCWPro Presents Epic Night 2
QC Cup Match
Dustan Moseley © vs One Called Manders
Current QC Cup holder Dustan Moseley has been on a tear in 2022. He's defended the QC Cup numerous times, including coming out on top in a brutal last man standing match with Krotch. Moseley even scored the pin in the blockbuster 8-man tag team match at EPIC Night 1.
The person he pinned after delivering a low blow, One Called Manders, who is his opponent Saturday night. Manders comes into this match hell bent on taking the QC Cup from Moseley. Physicality will be high in this one as neither man will be willing to back down.
Their war of words on social media has only raised the intensity heading into Saturday. It will be interesting to see if the "Corn Belt Cowboy" can add another trophy to his collection or if the "Devil Dog" will continue his impressive run. If hard-hitting matches are your cup a tea, you won't want to miss this one.
SCWPro Presents Epic Night 2
SCWPro Tag Team Championship Match
Thunder Corn © vs The Prodigal Sons
Latin Thunder and Corn Boi currently sit atop a competitive SCWPro tag team division. The duo recently fended off the team of Niko Kline and MFG at Epic Night 1. Before that they retained against the nefarious "Mistnight Society" JT Energy and Augusutus Draven.
Now this Saturday they put the titles on the line against the team they won them from, the Prodigal Sons. Eric Eznite and Malik Champion won the SCWPro Tag Team Titles back in November of 2021.
Their victory came at SCWPro Hawkamania XX: Season's Beatings in a triple threat match with Thunder Corn and the team of Gunner and Sabotage. They successfully defended the titles three times, including once against Thunder Corn before dropping the straps at SCWPro: Luck is for Losers.
Saturday is the rubber match to determine who truly is the top team in SCWPro.
SCWPro Presents Epic Night 2
Krotch vs Darin Corbin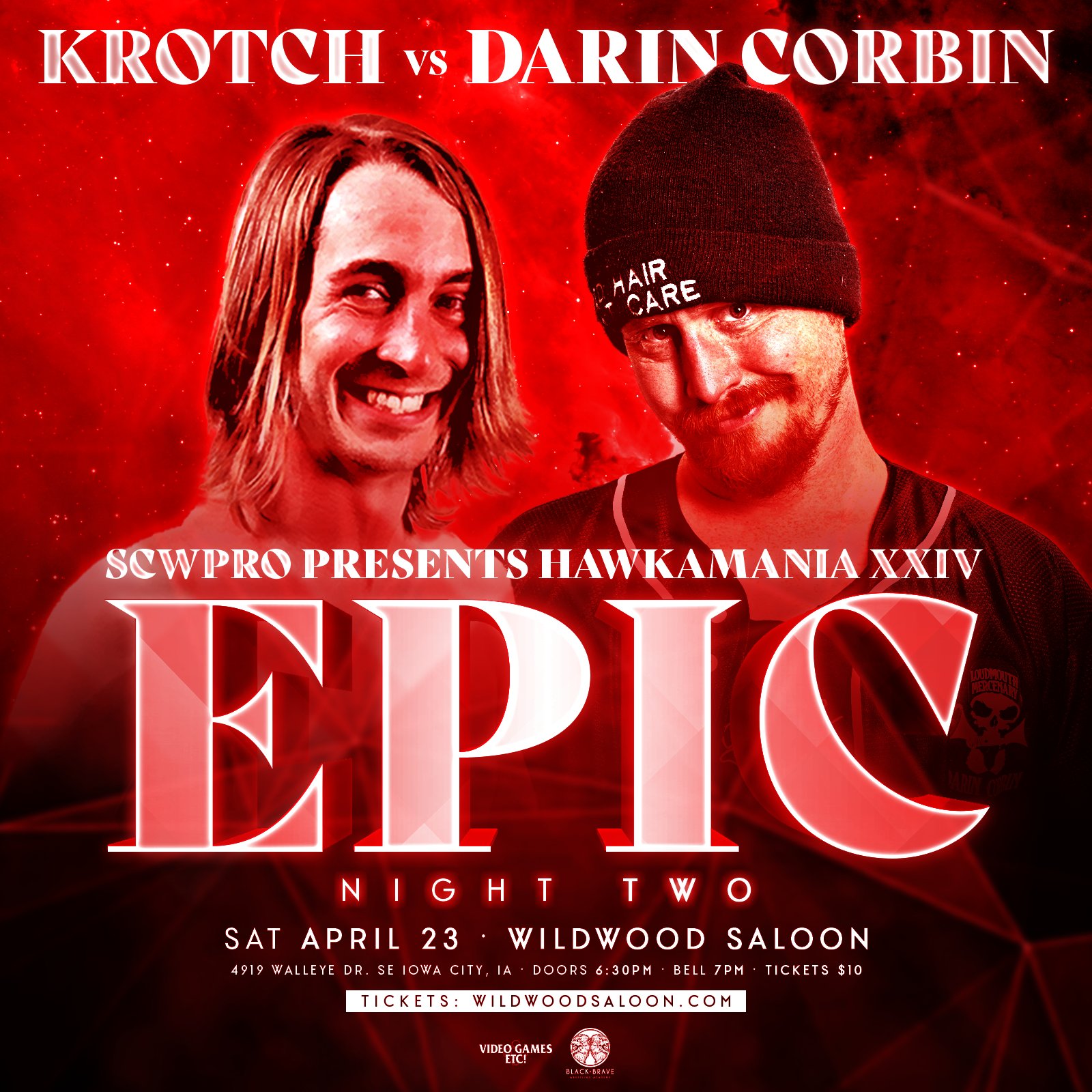 It has been over a decade since Darin Corbin stepped foot in an SCWPro ring. The man known across the independent wrestling scene has traveled the country year after year and this Saturday he returns to Iowa City.
His opponent Saturday night Krotch, is an SCWPro mainstay. A guy always willing and ready to carry the SCWPro banner with pride. These two have crossed paths numerous times in multiple promotions including a tag team match and battle royal the first time Corbin competed for SCWPro.
They know each other all too well and both would love nothing more than to leave Epic Night 2 with a W. Corbin seeks a victory to show the SCWPro fans he's just as good as he was back in 2007.
Darin Cobin discusses his return to SCWPro: 
On April 23rd I make an appearance at @SCWPro for the first time in almost a decade.

I'm facing a familiar opponent in @MKrotchMayday.

Been a while since I've beaten Krotch in front of a live crowd. pic.twitter.com/RxIpCJAIyh

— Darin Corbin (@DarinCorbin) April 13, 2022
Krotch could use this huge victory as a springboard back into championship contention. Two ring veterans ready to try and steal the show on SCWPro's biggest night.
SCWPro Presents Epic Night 2
Mason Beck vs Solomon Tupu
This is SCWPro's version of the "irresistible force meeting the immovable object." Two of SCWPro's most intimidating wrestlers going one on one in a monstrous match. Back in January, in the Prestige Rumble, Solomon Tupu was one elimination away from earning a Heavyweight Championship opportunity.
Since falling just short he has been destroying anyone who crossed his path. Mason Beck has been just as dominant in 2022. Recent opponents have quickly found out just dangerous Beck is.
Neither man will show any fear in this one, as this has the potential to be one for the record books when it comes to physicality. Adding even more intrigue is the possibility of a victory in this match having major championship implications.
---
The stage is set, this Saturday SCWPro peers into its future with a card full of huge matches. With championships on the line and grudges to be settled, SCWPro Epic Night 2 has all the makings of an all-time classic.