Ricky Steamboat. In the early 1990s, Ricky "The Dragon" Steamboat was in a tough spot. Having returned to the WWF after a storied run with the NWA, Steamboat seemed to be just another face. The Dragon was racking up wins over jobbers every week, but nothing ever seemed to come his way.
Making matters worse, WWE top brass lumbered Steamboat with a more cartoonish version of his "Dragon" persona, sporting a draconic-inspired headdress and breathing fire on his way to the ring. And on top of all that, commentators barely referenced his iconic Intercontinental Championship win over Randy Savage at Wrestlemania III. Faced with becoming another victim of The Undertaker's path to WWF Champion Hulk Hogan, Steamboat considered the unthinkable: Turning heel.
In the history of professional wrestling, only a handful of people never turned to the dark side. Even beloved babyfaces like Dusty Rhodes, Sting, and Rey Mysterio have brief heel runs to their name. And while it's certainly true that Kelly Kelly, Tito Santana, and The Ultimate Warrior never turned heel, none of them ever reached as high as The Dragon. In fact, the only comparable career babyface would be Bruno Sammartino.
So how did Steamboat come to be one of the greatest pure heroes in the industry? And what prevented him from turning to the dark side in 1991?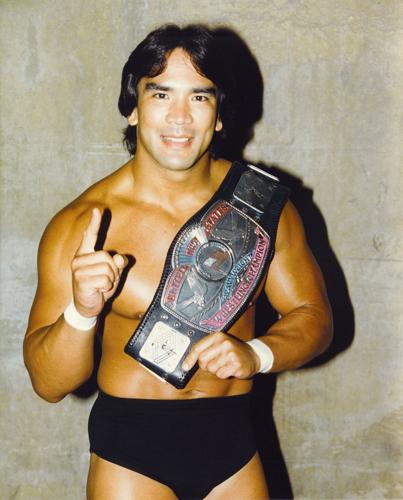 Early Years
The man we call The Dragon was born Richard Blood on February 28th, 1953, in West Point, New York. Richard and his younger brother Victor (born in 1960) became enamored with professional wrestling on TV, watching whenever they could. This love of pro wrestling lead him to join his high school's wrestling team, qualifying for the New York State championships twice and winning the Florida State Championship once.
It was this passion for professional wrestling that led him to sign up for Verne Gagne's training camp in Minnesota in 1976. He would debut for Gagne's American Wrestling Association later that year under his real name. After wrestling a handful of matches for the AWA, Richard moved back to Florida, joining Eddie Graham's Championship Wrestling from Florida. It was in CWF that Richard Blood gained the name under which he would become most famous.
"When I came down to Florida, I walked in the office, and Eddie Graham says 'Rick Blood's a great wrestling name,' but he said that's [a name] for heels.'
Steamboat told Gerald Brisco and JBL on their podcast. "He said,
'I'd like to call you Ricky Steamboat, we had a guy here in the late 60s and through the early 70s that campaigned here.
His name was Sammy Steamboat. He was from Hawaii, and I'm going to start listing you as [his] nephew." The first day he wrestled under the name, he knew Graham had picked a winner. "I'm the first match; I'm in the ring, I'm in the corner […] The announcer's in the middle of the ring with the mic, and he announces, 'Ladies and gentlemen, we have a substitute this evening.
Taking the place of Rick Blood, give it up for the nephew of the great Sammy Steamboat, Ricky Steamboat!' and the crowd jumped out of the seats."
Ricky Steamboat Meets His Match
While Ricky Steamboat had a fairly successful run for a rookie in CWF, it didn't last much longer than his stay in the AWA. In October of 1976, the burgeoning star made his way to Jim Crockett Promotions on the recommendation of one Edward "Wahoo" McDaniel. That same year, Steamboat would become McDaniel's on-screen protégé.
In interviews with the two, Steamboat would come across as very soft-spoken, barely speaking above a whisper. Despite his quietness, the Mid-Atlantic Championship Wrestling crowd slowly became enamored of this Hawaiian hero.
In June of 1977, the quiet babyface would become the target of an up-and-coming heel by the name of Ric Flair. McDaniel and Flair had some bad blood from their Mid-Atlantic Heavyweight Championship feud the year before. However, Flair decided McDaniel was below him and picked a fight with Steamboat.
During an interview with Steamboat and McDaniel, Flair appeared to goad Steamboat into challenging for the Mid-Atlantic Television Championship. Steamboat responded with a backhand chop, kicking off one of the most storied rivalries in pro wrestling history. The duo met in the ring for the first time in a house show tag-team match, pitting Flair and Greg Valentine against Steamboat and McDaniel.
The next night, June 15th, 1977, Ricky Steamboat defeated Ric Flair to win his very first pro wrestling championship. As the months went on, Steamboat and Flair would accrue (and feud over) more titles, including the NWA United States Heavyweight Championship and the NWA World Tag Team Championship (Steamboat teaming with Paul Jones).
While Ricky Steamboat's early career was dominated by his feud with Ric Flair, he engaged in a multitude of high-profile feuds. In the early 1980s, Steamboat teamed up with Jay Youngblood to capture the NWA Tag Team Championship from Don Kernodle & Sgt Slaughter. The duo then entered into a lengthy and storied rivalry with The Briscoe Brothers, lasting from May to December of 1983.
In 1984, Steamboat became a pawn in mentor Wahoo McDaniel's plan to challenge Ric Flair for the World Heavyweight Championship. This shock betrayal kicked off a feud lasting from May of 1984 into February of 1985. However, before Steamboat could defeat McDaniel and recapture the United States Heavyweight Championship, Crockett Promotions had a change of management. Steamboat had creative clashes with new booker Dusty Rhodes and decided to seek employment elsewhere.
The Rise of The Dragon
In 1985, Dusty Rhodes became the booker of Jim Crockett Promotions, irking the rising Steamboat. Creative differences between the two lead to Ricky Steamboat seeking employment elsewhere. In retrospect, Steamboat couldn't have picked a better time to change companies. While JCP was a major stepping stone in Steamboat's rise to prominence, it was very much a regional promotion.
At this time, the WWF was ramping up plans to go national, beginning with the inaugural WrestleMania. A major part of the younger Vince McMahon's plan to become the dominant promotion was snapping up the superstars of the territories. Steamboat was an obvious choice, but he'd need a change in gimmick. The soft-spoken, easygoing Hawaiian gimmick made him a big drawdown South, but the WWF demanded something larger than life.
Drawing on his Japanese ancestry, Steamboat took on the stylings of a martial arts master. He dropped the jacket-and-trunks look of his prior 9 years in-ring, replacing it with long tights and a judo training coat. This would shape his look and attitude for the rest of his career.
The Dragon made his WWF debut on March 2nd, 1985, facing Tony Russo in a match airing on TBS. 28 days later; he would defeat Matt Borne (the future Doink the Clown) in the third match at the inaugural WrestleMania. Steamboat's first feud in the WWF was against the villainous Mr. Fuji and his protégé, The Magnificent Muraco. In tag team action with his foes, The Dragon would team with various other babyfaces, such as Junkyard Dog, Tito Santana, and Andre The Giant.
The following year, Steamboat would open the Los Angeles portion of Wrestlemania 2 by defeating Hercules Hernandez. However, his push to the Intercontinental Championship began when he entered a feud with Jake "The Snake" Roberts. On May 3rd, 1987, at Saturday Night's Main Event VI. Though scheduled to have a match, Roberts attacked Steamboat before the match.
That was the first time Jake The Snake had delivered a DDT on the concrete floor, knocking Steamboat unconscious for real. Steamboat put Roberts away for good at the following SNME. Following the bout, Roberts went for his snake Damien, but Steamboat had a surprise of his own, scaring Roberts away from the ring with a live crocodile.
Most Influential Match
In November of 1985, Ricky "The Dragon" Steamboat and "Macho Man" Randy Savage met in the ring for the first time. It was the quarterfinals of The Wrestling Classic tournament, and the match was supposed to feature Savage facing Davey Boy Smith. However, The British Bulldog injured his groin in his first-round match, forfeiting the win to Steamboat.
The first Savage/Steamboat match went four minutes, ending when Miss Elizabeth distracted the referee long enough for Savage to clock Steamboat with a hidden pair of brass knuckles. Backstage, Savage felt that he and Steamboat had a great chemistry, and began planning their second encounter.
On the November 22nd, 1986 episode of Superstars, The Dragon and The Macho Man met in-ring again, only this time for the Intercontinental Championship. Steamboat lost that match by count-out; however, Savage continued to assault him, giving Steamboat a kayfabe crushed larynx after an attack with the ring bell.
Two months later, at Saturday Night's Main Event IX, Savage defended the Intercontinental Title against George "The Animal" Steele. Following the bout, Savage seemed like he was going to deliver a similar assault on Steele. That's when The Dragon ran out to make the save, fighting off the Macho Man and setting up their eventual showdown at WrestleMania III.
According to legend, once Steamboat and Savage knew they were going to face off at The Showcase of Immortals, they started planning out their match. According to legend, the WrestleMania III match was planned out in numbered points over multiple sheets of legal paper. They would quiz each other on which numbers corresponded to which sequences. House shows were opportunities to try out new sequences.
"We didn't know we were going to change things,'
Steamboat told the WrestlingINC podcast.
"It was about him trying to hold onto it, and me trying to beat him for it, and we ended up with, like, 20 false finishes in a match that went less than 17 minutes…We took the fans on a wild ride. The guys moving forward tell me today, 'Ricky, you know, that changed everything about how to structure a match.'"
The Intercontinental Champion and The Little Dragon
During Steamboat's IC title run, his wife Bonnie gave birth to their son Richard Jr. Excited about fatherhood; The Dragon requested a paternity leave to spend time with the new family. This angered WWF top brass, who had planned a lengthy championship reign, and so on the June 13th, 1987 episode of Superstars, The Honky Tonk Man pinned Ricky Steamboat to capture the Intercontinental Championship.
Then, Honky Tonk Man went on the legendary 454-day reign as champion, originally earmarked for Steamboat. The Dragon would return at the inaugural Survivor Series, joining Randy Savage's team to win the opening 5-on-5 match.
Following the inaugural Survivor Series, Steamboat became something of an afterthought to WWF management, entering no feuds and receiving no push. At the inaugural Royal Rumble in 1988, The Dragon defeated Rick Rude by disqualification after Rude used referee Dave Hebner as a human shield to deflect Steamboat's diving crossbody. This led to a house show program between the two, usually ending by time-limit draw or double count-out.
Later in 1988, Steamboat entered the WWF Championship Tournament at WrestleMania IV. The Dragon hoped to have a rematch with Randy Savage in the second round; however, Steamboat lost his first-round match against Greg "The Hammer" Valentine. Steamboat would not wrestle for the WWF for the rest of 1988.
Return to WCW
Ricky "The Dragon" Steamboat returned to Georgia Championship Wrestling (now called NWA-World Championship Wrestling) in 1989. He first re-appeared on the January 21st episode of World Championship Wrestling as the surprise tag team partner of Eddie Gilbert in a match against World Heavyweight Champion "Nature Boy" Ric Flair and Barry Windham.
In that match, Steamboat pinned the world champion, earning himself a title match at the upcoming Chi-Town Rumble. Steamboat pinned Flair for the World Heavyweight Championship that night, kicking off a series of matches that would rival Steamboat's WrestleMania III match with Randy Savage.
In April at Clash of The Champions VI, Steamboat would defeat Flair in a 2-out-of-3 falls match, going 55 minutes straight. The Dragon and The Nature Boy would have the final match in their trilogy at WrestleWar 1989, where Flair would recapture the NWA World Heavyweight Championship, becoming something of a babyface in the process. All of these matches were rated by Dave Meltzer at 5 or more stars, a feat not repeated until Kenny Omega and Kazuchika Okada began their feud.
Remaining the number one contender after losing the NWA World Heavyweight Championship, Steamboat would enter a feud with the United States Champion Lex Luger. On June 14th at Clash of The Champions VII, Steamboat defended his contendership against Terry Funk. That night, Terry Funk would lose by DQ after hitting Steamboat with a microphone, but continued his assault after the bell had rang.
That's when the still-babyface Lex Luger ran out to make the save, only to turn on Steamboat, administering an assault of his own. The Dragon would demand a no-disqualification match against Lex Luger at The Great American Bash, though the stipulation was dropped prior to bell time at Luger's demand. Steamboat would lose by DQ after Luger's attempt to introduce a steel chair backfired, with The Dragon utilizing the weapon instead. Shortly thereafter, Steamboat would come into conflict with WCW over his contract, and eventually leave altogether.
WWF Identity Crisis
After leaving WCW, Ricky Steamboat would have some time to get surgery on an injured foot and let the rest of his injuries heal. However, Steamboat also made appearances for the North American Wrestling Association/South Atlantic Pro Wrestling and NJPW. In NAWA, Steamboat would wrestle Robert Fuller for the newly created NAWA Heavyweight Championship.
In NJPW, Steamboat would team with the likes of Riki Choshu, Owen Hart, and Pegasus Kid. However, in 1991, Steamboat returned to the WWF, this time billed simply as The Dragon. Steamboat would have few matches of consequence, outside of his 1991 SummerSlam match, teaming with The Texas Tornado and The British Bulldog to defeat The Warlord, Paul Roma, and Hercules. In these dire circumstances, Steamboat considered what had, to that point, been unthinkable to him: a heel turn.
For the first decade and a half of his career, Steamboat had been a consummate babyface. But in the dying days of the Rock and Wrestling era, his character needed something new. His concept for a new heel persona involved wrestling under a mask for months, only to be unmasked in the shocking climax of his heel turn.
He pitched this concept to then-producer Pat Patterson, who talked about it with Vince McMahon. Patterson returned to Steamboat sometime later, informing him that he was too much of a natural babyface to turn heel. Fans just want to like Ricky Steamboat, and nobody in their right mind would boo him. Steamboat would issue his notice to WWF management ahead of Survivor Series, and left after his October 20th house show loss to Skinner.
Third WCW Run
Ricky Steamboat returned to WCW in much the same way he had two years prior, as a surprise tag team partner. Dustin Rhodes and Barry Windham were scheduled to face WCW Tag Team Champions Arn Anderson and Larry Zbysko at Clash of the Champions XVII. However, Barry Windham was struck by injury, and Steamboat subbed in, capturing the tag team championships for the first time under the WCW banner.
Steamboat and Rhodes would carry the titles until January 16th, 1992, when they were defeated by Arn Anderson and Bobby Eaton, bringing Steamboat and Rhodes into a feud with The Dangerous Alliance. Steamboat and Rhodes would join Nikita Koloff, Barry Windham, and Sting to take on The Dangerous Alliance in the WarGames match at WrestleWar '92.
During this time, Steamboat would become a proponent of an up-and-coming worker by the name of "Stunning" Steve Austin. At Clash of The Champions XX, Steamboat would capture the WCW Television Championship from Austin, only to lose it to Scott Steiner 27 days later on an episode of WCW Worldwide.
At Clash of the Champions XXI, The Dragon would recapture the Tag Team Titles along with a young Shane Douglas, defeating Barry Windham and Dustin Rhodes. Steamboat and Douglas would hold onto the titles for 104 days before losing them to Steve Austin and Brian Pillman. On August 18th, Steamboat defeated Paul Orndorff for his final TV Championship, losing the title to Lord Steven Regal at Fall Brawl.
In 1994, Ricky Steamboat would take one last shot at perennial rival Ric Flair and his WCW World Heavyweight Championship. On April 17th, at Spring Stampede, Steamboat and Flair wrestled to a double pin scenario, leading WCW to hold up the title. On the May 14th WCW Saturday Night, Flair would defeat Steamboat to recapture the title. Flair and Steamboat's final televised singles match took place on July 24th, 1994, ending in a DQ after Steve Austin's interference.
The final televised match between Flair and Steamboat saw The Dragon team with Sting to take on Flair and Austin. Steamboat transitioned into a feud with Steve Austin over the WCW United States Heavyweight Championship, defeating him at Clash of The Champions XXVIII for the title. However, injuries forced Steamboat to forfeit the title back to Austin at Fall Brawl.
The end of Ricky "The Dragon" Steamboat's in-ring career came in late 1994, when WCW President Eric Bischoff fired him via FedEx package, ending The Dragon's near 20-year relationship with the company.
Retirement Activity
While The Dragon's in-ring career had ended, Steamboat continued to be a presence in professional wrestling. In 2002, Ricky Steamboat was special guest referee for the inaugural TNA Gauntlet For The Gold and for the first-ever X-Division Championship match. The Dragon had a stronger presence in ROH, where he refereed the first defense of the ROH Pure Championship and had several confrontations with CM Punk.
Later that year, Ricky Steamboat would enter a meta-feud with Mick Foley over whether pure wrestling or hardcore wrestling was superior. Steamboat and Foley would manage wrestlers and assemble teams to prove their point, however they made peace at Final Battle 2004.
In 2005, Steamboat returned to the now-WWE as a producer under a Legends contract. In the years that followed, he saw his status as an influential Intercontinental Champion restored and refereed several championship matches at house shows. On the February 23rd, 2009, episode of Raw, Steamboat was announced as an inductee for the WWE Hall of Fame class of 2009.
That night, Chris Jericho attacked Ricky Steamboat, setting up his feud with the WWE Hall of Famers going into WrestleMania 25. That night, Steamboat returned to the ring alongside Jimmy Snuka and Roddy Piper to face Jericho. Although Jericho won the 3-on-1 elimination match, critics agreed Steamboat put on a far better showing than anybody expected.
Following on from this, Steamboat faced off with Jericho one more time in singles action at the 2009 Backlash, submitting to The Walls of Jericho in 13 minutes.
Also in 2009, Richard Henry Blood, Jr would debut in developmental territory Florida Championship Wrestling under the name Richie Steamboat. Richie would team up with his father on one occasion, facing Trent Baretta and Caylen Croft at FCW Father's Day Salute in 2010. In 2012, Richie Steamboat would capture the FCW Heavyweight Championship, but his reign was short-lived as FCW rebranded into NXT.
Ricky Steamboat would work for the new NXT as a trainer and in talent relations until 2013, when Richie was released from the company. Since then, Ricky "The Dragon" Steamboat has enjoyed a living as an ambassador for the WWE.
What are your favorite Ricky Steamboat moments? Let us know in the comments.