Welcome to the NWA Powerrr Files on the Pro Wrestling Post! Last week was the debut episode of the NWA's new studio wrestling show, Powerrr. We saw what may have been Tim Storm's last stand for the NWA World's Heavyweight Championship, a brawl between Jocephus and James Storm, and Outlawz Inc. rile up the Wild Cards. Check out episode one here if you haven't already.
We start the second episode of NWA Powerrr by of course recapping last week which took the wrestling world by storm. It's time to go into the fire again though, as we gear up for action from GBP Studios in Atlanta, GA. Joe Galli and Jim Cornette welcome us and run down what we will see tonight. The NWA World Women's Champion Allysin Kay will be in action, as will Ken Anderson and the NWA World Tag Team Champions, The Wild Cards. We saw the seeds sown for this last week when Eddie Kingston and Homicide confronted them post-match. David Marquez is also standing by and he welcomes Aron Stevens to the show.
A message from Aron Stevens… NO EYE CONTACT!#NWAPowerrrhttps://t.co/lIKNpZevpP pic.twitter.com/d11bSc9NDL

— NWA (@nwa) October 15, 2019
Stevens has spent the better part of two years away, pursuing other entertainment ventures. It was the lure of the new and revitalized NWA that has brought him back to wrestling. He does have some ground rules about his return: no eye contact, no laughing, and that there are both stars and supporting cast. Stevens in his eyes is a star, and when he's ready to share the spotlight he shall. We now go onto our first match of the evening between the grizzled, Harley Race trained Trevor Murdoch and the new kid, Ricky Starks.
The NWA Powerrr Files Episode 2
OUCH!#NWAPowerrr pic.twitter.com/pwrRxcpPZX

— NWA (@nwa) October 15, 2019
Murdoch easily overpowers the smaller Starks, bludgeoning and tossing him around to his heart's content. Starks won't quit though, showing great heart and athleticism. He surprises the veteran by rolling him up in a crucifix pin for the victory! Starks and Murdoch join Marquez in the interview area. Murdoch is most certainly a pro, he shakes Starks' hand and says good job. Starks cuts a very charismatic albeit backhanded and self-serving promo. Ricky Starks is a star on the rise in the NWA and one to keep your eye on.
Joe Galli joins us with some breaking news regarding the confrontation Galli and Nick Aldis had during their interview last week. Galli insists he is just searching for the truth for the fans of the NWA. He had the opportunity to sit down with Aldis and Kamille regarding those questions, which we will see later in this episode of Powerrr. Back at ringside, Galli welcomes Colt Cabana before his upcoming match. When pressed about the National Championship loss to James Storm, Cabana cedes that Storm did beat him but when he was injured. Now that he's 100%, he's ready and he's looking for any championships, tag team championships included.
#NWAPowerrr UPDATE

Colt Cabana's partner is…

Watch full show now – https://t.co/lIKNpZevpP@ColtCabana @MrKenAnderson pic.twitter.com/PrJcqwtich

— NWA (@nwa) October 15, 2019
Colt's partner for this match is brought out, and it is none other than Mr. Anderson. They will be taking on the team of Sal Rinauro and Jordan Kingsley. Cornette is, of course, no fan of Colt Cabana, whom he takes to task for his comedic style and fun-loving ways. However, Cabana shows that he is more than just funny business. He and Mr. Anderson make quite the well-oiled team, keeping in control for the entire match. The closing moments saw a pair of Green Bay Plunges, a Flying Apple from Cabana and a Mic Check from Anderson for the win.
We see footage of the NWA World's Heavyweight Champion Nick Aldis after leaving from the taped interview with Joe Galli. Aldis is displeased with the questions he and Kamille had to field from Galli. He also states that he doesn't feel the interview should even air and he may have said things he didn't mean. The World's Champion likens Galli's "quest for the truth" to sensationalist reporting, not part of pro wrestling. We'll have to see what the champ's beef is when that interview airs later on NWA Powerrrr. Up next we have the NWA World Women's Champion in action, Allysin Kay.
See the debut of Ashley Vox (@ashley__vox) as she faces The NWA Women's World Champion Allysin Kay (@Sienna)

Watch now #NWAPowerrrhttps://t.co/lIKNpZevpP pic.twitter.com/AmjdX8wqgo

— NWA (@nwa) October 15, 2019
Sporting the brand new Mildred Burke-inspired title the AK47 will be taking on Ashley Vox. The much smaller Vox was able to keep the World's Women's Champion off balance in the opening moments. However, when Allysin Kay began to exert her power is when Vox took a beating and the loss. Next, we hear from the current NWA National Heavyweight Champion James Storm. While Storm agrees that he is the champion, it's just a stepping stone for him towards the Ten Pounds of Gold. Eli Drake then confronts James Storm, who attempts to plant a seed in Storm's head to give Drake a shot down the line.
It's time for the main event here on NWA Powerrr! Outlaw, Inc., Eddie Kingston and Homicide, will be challenging The Wild Cards for the NWA World Tag Team Championships. The match starts quickly and there isn't a lot of fancy moves going on, it's mostly brawling and fighting. The match was thrown out when The Dawsons hit the ring and assaulted both teams.
Why did the Dawsons ruin our #NWAPowerrr main event?

Are they out for gold or did someone put them up to it?

Watch now – https://t.co/lIKNpZevpP pic.twitter.com/qpCYONrtfj

— NWA (@nwa) October 15, 2019
We finally get to see the footage of the interview conducted by Joe Galli with Nick Aldis and Kamille. First Galli asks for Nick's thoughts after the match with Tim Storm before launching into his questions regarding Kamille. He asks why Kamille, why have an insurance policy? Aldis discusses that he first brought her in to neutralize Brandi Rhodes at NWA 70. Following the success there, the partnership continued but she has not interfered in any match to assist Aldis. When she attempted to against Marty Scurll, Aldis refused her help. Galli attempts to press Kamille into speaking but she shows no interest in doing so. The champion and his insurance policy then take off, leaving Joe Galli without his questions answered.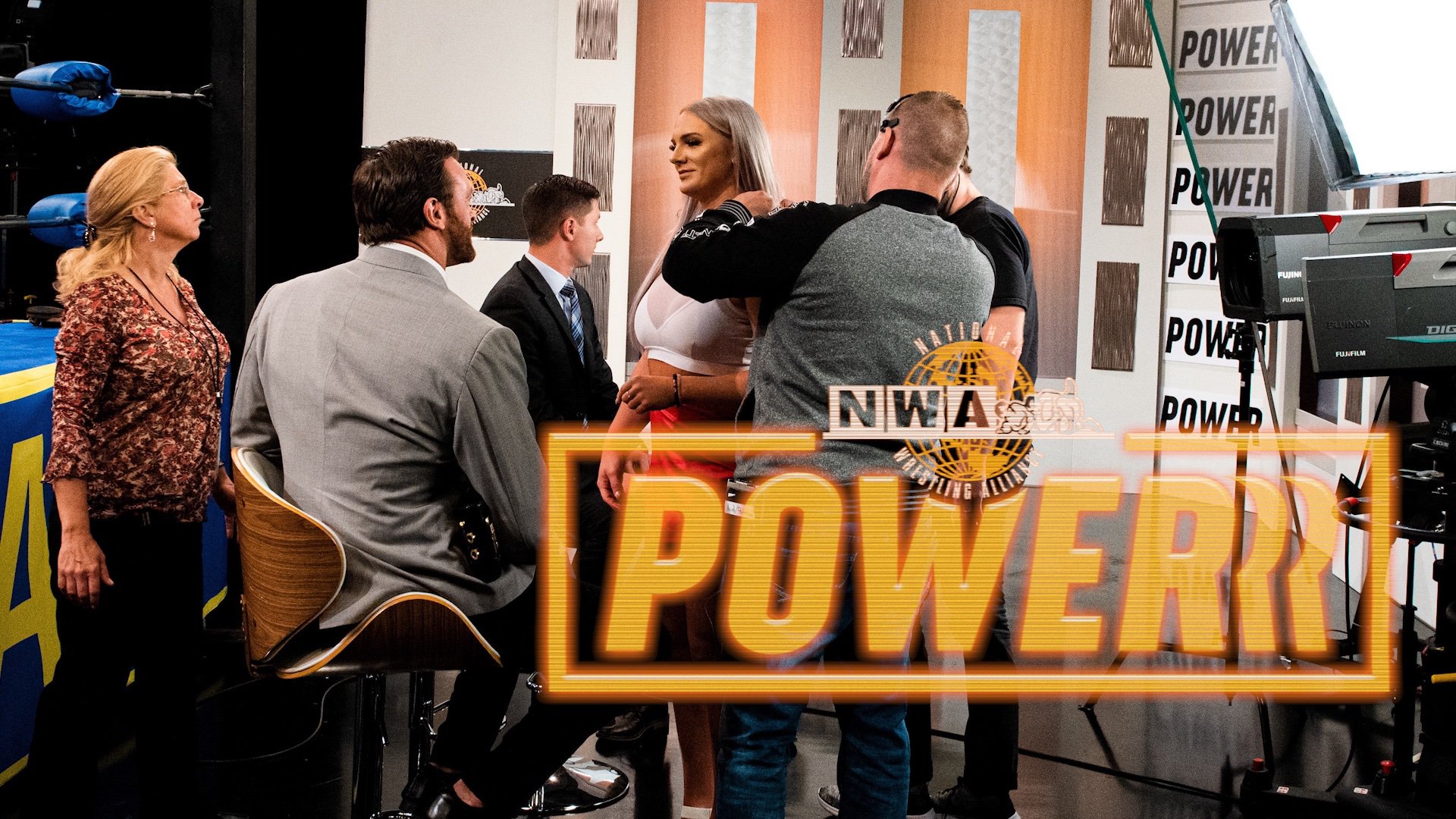 We'll see you back here next week for more NWA Powerrr!