This isn't a misprint. This isn't Brandi Wagner reviewing this past week's show but I, Marc Madison filling in for her looking at MLW Episode #87 as Contra Unit faces the Hart Foundation. The show kicks off with highlights of last week's show as Ross Von Erich faced Jacob Fatu. Ross appeared as though he was going to have the aid of 'Filthy' Tom Lawlor to thwart off the involvement of Jacob Samuel by Fatu's side. What we got was Lawlor swing his chair at the head of Ross Von Erck instead. It resulted in a win by Fatu as Lawlor could be seen saying 'F**k Von Erich.
We are set to hear from Tom Lawlor and why he did what he did the previous week. It is also announced that a Taipei Deathmatch between Jimmy Havoc and Mance Warner is also set to take place. The rules dip your hands in glue and then in glass. It seems like it will be a bloody big mess.
TONIGHT on an all new episode of #Fusion…@FilthyTomLawlor finally speaks on his betrayal of @RAMVonErich! Filthy wants to give you his candid feelings on the Von Erichs. #Fusion airs TONIGHT 9pm ET/6pm PT on @beINSPORTSUSA pic.twitter.com/d7JVomSrqv

— Major League Wrestling (@MLW) December 7, 2019
Battle Royal
The ring is filled with the likes of Douglas James, Jordan Oliver, Timothy Thatcher, Myron Reed. Alex Hammerstone is on commentary and he shares about Morgan the man in red being his gift to this tournament and the one to eventually stand tall. Richard Holliday doesn't have the support of the likes of other Dynasty members. Savio Vega is also a part of the battle royal as well. Injustice is united in this matchup taking on everyone but having each others back in the process.
Eventually, each member of Injustice is eliminated by a massive man in Grogan. Holiday is eventually eliminated. The final four believed in this match are Thatcher, James, Gorgon and Gringo Loco. Loco is eliminated leaving Grogan, James, and Thatcher. James is eliminated next. Thatcher and Grogan are going at one another tooth and nail. Thatcher is eliminated leaving Grogan as the winner of the battle royal. After the match, Grogan looks over at Hammerstone at the commentary table.
Grogan hits Timothy Thatcher with a big boot!#MLWFusion on @beINSPORTSUSA pic.twitter.com/3KbczmV1fw

— Major League Wrestling (@MLW) December 8, 2019
Why Tom Why, Tonight?
Lawlor said that the friendship only benefited the Von Erich's. He was then asked if he is loyal to Contra and he denied with them. Lawlor said that his loyalty is only looking out for himself. He doesn't feel he needs to explain what his plans are for the future. As the interview draws to a close he wants others to know how much pain he wants others to feel?
We then are shown the history of the Opera Cup as it was retired after Stu Hart won it. Davey Boy Smith Jr donated the cup and after a 71-year hiatus, the cup is making a return.
Earlier in the week, Savio Vega faced Outlaw Leo Brien in a swamp match. The battle was taking place in the swamps of Florida with only the lights of the camera to guide them. They are hitting each other with tree branches, a cowbell, a bull rope. The feud between them apparently was has been happening for months outside MLW but is now in the company. Vega attempted to hang Brien with the bull rope.
After being clobbered with the cowbell Bryant attempts to make the pin but to no avail. The men are being tossed into a fence as they continue to beat down on one another. Vega hits a spinning heel kick and makes a pin for the three count and the win.
.@SavioVega with a Spinning heel kick to Leo Brien after he swings and misses with the cowbell.#MLWFusion on @beINSPORTSUSA pic.twitter.com/fRGt7ultyD

— Major League Wrestling (@MLW) December 8, 2019
Winner: Savio Vega
After the match, he continues to choke Brien.
Ross and Marshall Von Erich are speaking about how disappointed and hurt by how Lawlor they are. Marshall warns Tom Lawlor that he better not see him in the ring.
We are then shown highlights of ACH returning soon to MLW. Except that isn't the case now.
Video is shown footage of Ross Von Erich's match against Jacob Fatu. A ticker shows that the Taipei Death Match will not happen as Havoc is injured and unable to compete. Fatu and Von Erich continue their fight with one another. We see a hip-check that hit Von Erich and took out the referee. Lawlor is checking in on the referee. Fatu then takes out the referee intentionally. Fatu hits a springboard moonsault but then attempts to pin Ross Von Erich but can't without a referee. Samuel attempts to come in and use a chair but is taken out by Ross Von Erich. We then see Lawlor pick up the chair and then deck Ross Von Erich with the chair.
Contra Unit vs Hart Foundation
Ikuro Kwon and Simon Gotch are teaming up for Contra Unit as they face Davey Boy Smith Jr and Brian Pillman Jr of the Hart Foundation. Kwon and Pillman Jr are going to start off the match for both Contra Unit and Hart Foundation. A collar and elbow tie-up leads up to a rear chinlock by the second generation wrestler. Pillman uses a variety of moves to lead to regaining the advantage. Gotch is then tagged in and a quick tag is made to Kwon once again. They have cut off the ring from Smith Jr.
Pillman Jr attempts to fight back but to no avail as Gotch hits a brainbuster and then an arm breaker. Eventually, Pillman Jr is able to fight off Gotch or so we think. A side suplex on Pillman and a tag to Kwon leads to the advantage by Contra Unit over the Hart Foundation. Pillman Jr begins to fight back and makes his way back to Davey Boy Smith Jr. Smith Jr ues his strength to gain the advantage over Kwon. He drives Kwon's head into the extended boot of Pillman Jr. Kwon is in trouble as both Smith Jr and Pillman Jr continue to wear out the Contra Unit member.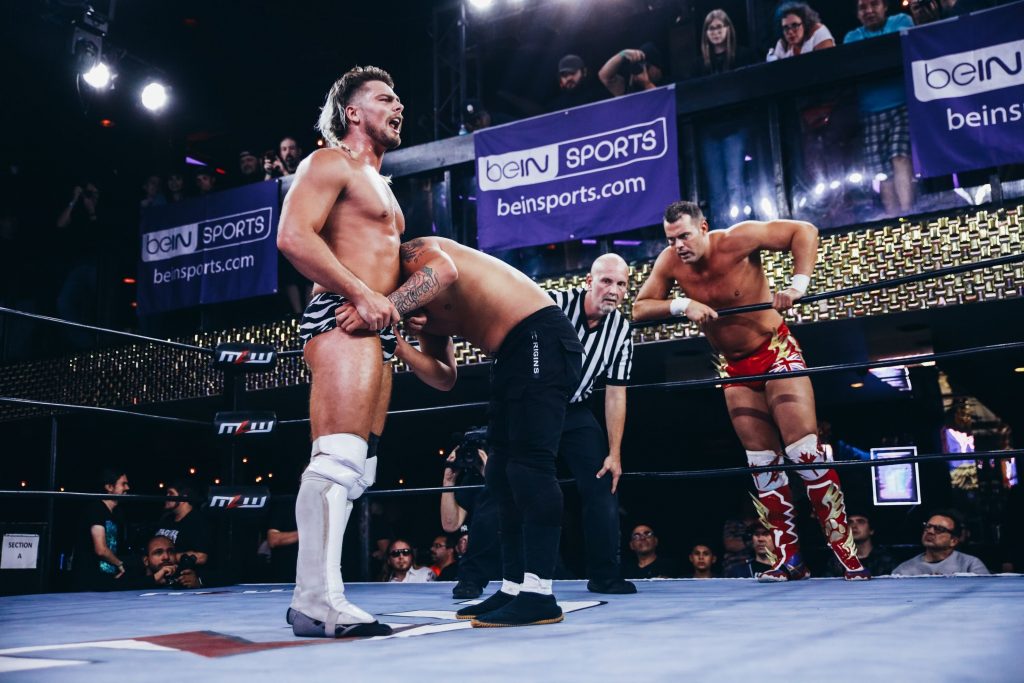 Smith Jr tags in Pillman Jr once again who continues to lay in fists on the Contra Unit member. A momentary mistake by Pillman leads to quick tag to Simon Gotch by Ikuro Kwon. Pillman eventually makes the hot tag to Smith Jr who comes in and takes out both members of Contra Unit.  A superkick by Pillman Jr leads to a springboard clothesline from the apron to a prone Simon Gotch.
The Hart Foundation (@DBSmithjr @FlyinBrianJr) take Gotch on a stroll to Electric Avenue!!#MLWFusion on @beINSPORTSUSA pic.twitter.com/alT7itX616

— Major League Wrestling (@MLW) December 8, 2019
A pinning attempt by Smith Jr followed by a three count.
Winners: Hart Foundation