The late/great comic genius/actor/director Carl Reiner was an admitted pro-wrestling fan "since the fifties. I loved Gorgeous George but also guys like Buddy Rogers, Argentina Rocca, Sammartino, Argentina Apollo, the Kangaroos. Carl Reiner became a star on tv's earliest hit show in America, called Your Show Of Shows. It launched the career as entertainment gods Carl, his best friend Mel Brooks, star Sid Caesar, Imogene Coca, Neil Simon, Nanette Fabray, and tons of others in 1950, narrowly beating nationally syndicated tv wrestling each week.
A decade later, Carl had his friend Fred Blassie on the show Carl created(after his own life as a comedy tv writer), wrote, produced, and often directed in The Dyke Van Dyke show casting Van Dyke as himself. On an early 1960's episode, Carl wanted Blassie to help poke fun at the new dance craze taking over the world in The Twist. It featured Fred dancing as only Fred could on an episode called 'The Twizzle'. Plus it had then airplane spin show star Van Dyke at the end amidst a crowd of kids. And Carl's contributions helped legitimize pro wrestling to the masses who often looked down on it as an art and entertainment form. That weird hybrid with sports.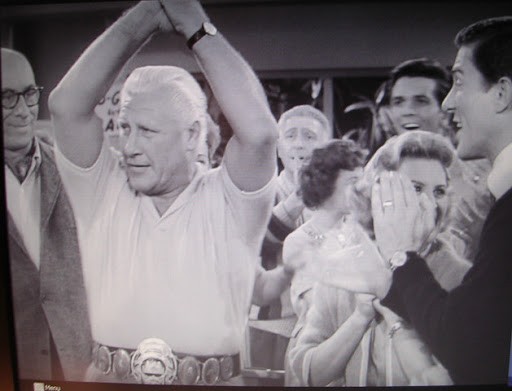 "There were a lot of very entertaining people in that (wrestling) business as well as some very funny folks," Carl Reiner also told me on my radio show in 2000. He penned several wrestling skits on tv's earliest hit "Your Show Of Shows," too, which would not be his last of many tv shows he directed or produced along with directing Steve Martin in his first four earliest film hits like The Jerk.
Carl Reiner
His directing/acting fellow legendary son Rob (All In The Family) Reiner, was seen at various New York wrestling cards. This was while alongside his best friend, Billy Crystal. It was not because they had comps either as they were real fans too. And Reiner lifelong friends like Steve Allen, Dennis James, Dick Lane, Bill Welsh, and others all were pro wrestling tv announcers. Even MLB and Today Show star Joe Garagiola working for Sam Muchnick's Wrestling At The Chase weekly show in St Louis.
Many global comics, film, and tv stars from the 20th Century on have been admitted or "closeted" watchers and fans of pro wrestling. From Gorgeous George's days appearing on the tv shows of, as well as paling around with names like Bob Hope, Jack Benny, Bing Crosby, Rosemary Clooney, Abbott and Costello, Curley/Jerome and brother Shemp Howard of The Three Stooges. The obvious in Andy Kaufman, Blondie's Debbie Harry, on up to Kim Kardashian and husband Kanye West, who've admitted to ordering WWF/E pay-per-views.
And so many entertainers including Hugh Jackman, Anna Kendrick, Betty White, Danny Devito, Billy Crystal and better before 1984's WWF Rock And Wrestling Connection (Mr. T, Cyndi Lauper to begin with) captivated many others besides those at Madison Square Garden for the MTV special The War To Settle The Score wrestling card highlighted by Hogan versus Cauliflower Alley twice-honored Roddy Piper. We just wrote about former President Jimmy Carter and his famous mom, Miss Lillian, who is a longtime fan of Johnny "Mr. Wrestling II" Walker and the photo of the Prez head locking "II" making worldwide press.
Team Paul Boesch
Then the first President Bush made it clear he was "team Paul Boesch" and a decades-long fan of classic Houston wrestling, even inviting and having Houston stars at his inauguration like Tiger Conway Sr and Jose Lothario. The former Cauliflower Alley Club President and in-ring legend "Texas" Red Bastien was also invited. I am not sure if he attended since he and wife Carol were every weekend travelers with their lifetime Airline passcard holders. And you're all aware of Gov. Arnold Schwarzenegger and President Trump's years of involvement in wrestling.
In the '90s and beyond admitted wrestling long-timers included Melissa Joan Hart, Billy Corgan(who now deftly owns and operates his revitalized NWA promotion and weekly show), Chaka Khan, the late, Matthew McConaughey, Jon Stewart, Jon Oliver, rock's Lars Fredriksen(who's attended many APW NorCalif shows as has Husker Du's Bob Mould, actor Freddie Prinze Jr (who went on to work in WWE Creative for years), Sofia Vergara and acting husband Joe who've attended Pro Wrestling Guerrilla(PWG) and tons more.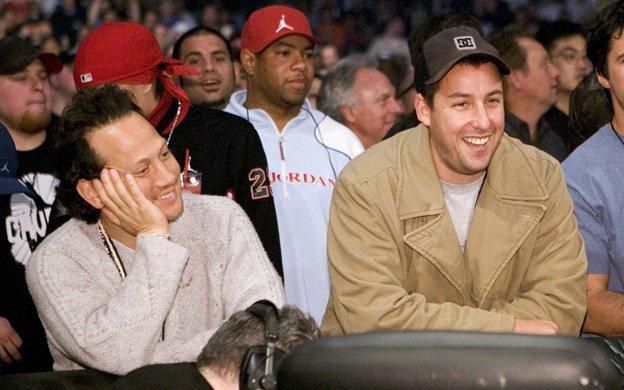 On my radio show in 2011, Mike Tyson discussed growing up watching "my total hero growing up was Bruno. I loved Chief Strongbow, Gorilla (Monsoon), Superstar Graham, Killer Kowalski, Spyros Arion, all of them." Wrestling even had future Seinfeld show legends Larry David (co-creator) and Kramer star Michael Richards for two years on ABC's old SNL knockoff "Fridays" playing Chick Donovan-inspired wrestling brothers "The Golden Boys" in a recurring skit about two bleached-blonde cheating heel wrestlers.
Carl Reiner & Main Stream Entertainment & Wrestling
Most of Fox's MadTV cast including Will Sasso (world's best Steve Austin impersonator)were all admitted WCW & WWF fans attending live shows. Every week on RAW for months, WWE had a different celebrity wrestling fan on.  And that's on up to Kim Kardashian and husband Kanye West open about having ordered WWE PPVs and WWE Network in the past. Kim's sister Kylie Jenner has worn her nWo Wolfpac shirt at various events. Just last year, even more, Saturday Night Live starred such as Colin Jost and participated on both RAW and at a massive PPV egging on current Universal Champ Braun Strowman.
Former "WCW World Champ" and actor/director David Arquette put himself finally through actual pro wrestling training school (Santino Brothers Dojo Center, etc.) and has worked indie shows in his spare time covered on wrestling fan Ellen Degeneres' tv show, The Daily Show, The Tonight Show and more. 
****
The critically acclaimed #350Days stars Bret Hart, Superstar Billy Graham, and 3 dozen all-time legends. It's available worldwide on Amazon, iTunes, Google Play, & Xbox and all major cable systems. Click here to view the trailer for 350 Days.