News! News! Get your news! Read all about it right here! Welcome one and all to your weekly irrelevant round-up of the week's hottest stories in pro wrestling. Pro Wrestling Post Week In Review 9/8/19. As always, I, "Smart" Mark Blake, have scoured the internet to find the biggest and most interesting stories. Enough of me lets get into this week's Week In Review! –
Impact/AXS Talks Resume?
I wrote a few months back (click here to refresh your memory) that Impact Wrestling and AXS had given up on talk with each other. But according to the Wrestling Observer Newsletter, talks might be back on.
The deal a few months ago was for AXS to actually but Impact from its parent company Anthem. The deal now is for AXS to air Impact.
Apparently, the two have been conversing since December last year, and as you can imagine, the talks are progressing at a much slower rate than expected.
The Observer also reported that pretty much everyone in Impact is under non-disclosure agreements, so don't expect much information to be leaked.
-UPDATE- NXT/USA Network News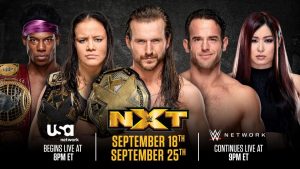 Photo/USA NetworkAs many of you will know by now, NXT will debut on the USA Network on Wednesday, September 18. But what you might not know is that for the first two weeks of it's airing, the show will be split between USA and the WWE Network.
That's right. Hour one (8PM-9PM ET) will be shown on the USA Network, while hour two (9PM-10PM ET) will be shown on the WWE Network.
But the third week, which coincides with AEW debut on TNT, the show will air all two hours on the USA Network. How very very sneaky from Uncle Vince and co!
For those that have no access to the USA Network, never fear. NXT will still air on the WWE Network. It will air on Thursdays, the day after the USA airing.
Also announced over the past few days, are the first two matches of the USA Network era.
A number one contenders match for Shayna Baszler's NXT Women's Championship. But not any old match. This will be a triple threat of Io Shirai versus Bianca Belair vs Mia Yim.
Secondly Roderick Strong will get a one-on-one match against current NXT North American Champion Velveteen Dream for the title. This match came about after Strong burnt the Dream's beautiful couch on the NXT stage last week.
Two top drawer matches there showing that Triple H isn't messing around with this move to the USA Network!
Scarlett Bordeaux WWE Tryout?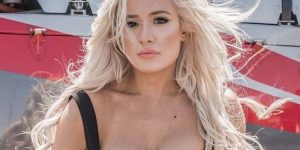 Pro Wrestling Sheet and Squared Circle Sirens reported last Wednesday that former Impact Wrestling Knockout Scarlett Bordeaux attended a private tryout at the WWE Performance Centre.
Scarlett left Impact Wrestling in June and rumors have been rife as to where she could be going next.
It seems like (as long as she did well) she could be ruffling the feathers in the Women's Division in the WWE…
Marty Scurll In AEW/ROH Tug Of War?
Word came out this week that Ring Of Honor's Marty Scurll's contract expires at the end of November. Queue the rumors of where he'll land in December!
Marty, during his time in NJPW and RoH, was a long-time member of "The Elite" (Cody Rhodes, The Young Bucks, Kenny Omega). But when they left NJPW and RoH to create All Elite Wrestling, Marty was seemingly left behind in Ring Of Honor after signing a contract extension in August 2018.
Over the past few weeks and months, Scurll's stock has risen in RoH. He's been involved in main events, has his own faction. And if the rumors are to be believed, he could be the next Ring Of Honor World Champion.
Matt Taven, the current RoH World Champion, has his own contract expiring at the end of this month. If you listen to the fans, his run as champion has been less than stellar. What better time to appease the fans and keep one of your major names than by putting the belt on Scurll?
Could this come to pass or could Marty forgo the overtures of RoH officials and jump ship to join his Elite brethren at AEW? We'll find out in a few months.
Ricochet On Those Kacy Catanzaro Rumors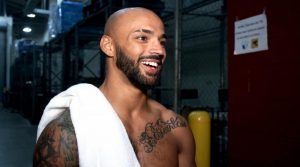 Rumors have been running wild (brother) that NXT's Kacy Catanzaro had quit WWE last week.
But as of yesterday, she was indeed still under contract with the WWE, but those same rumors were backstage at NXT and WWE according to Wrestling Observer Newsletter.
One of the rumors doing the rounds was that Kacy had suffered a back injury and couldn't compete at a high level anymore.
Her boyfriend, WWE Superstar, and former United States Champion Ricochet spoke to Justin Barrasso of Sports Illustrated about a number of subjects. The Kacy situation was brought up and Ricochet addressed the situation –
Barrasso: There was a report earlier in the week that Kacy Catanzaro handed in her notice to WWE. You and Kacy are best friends and dating. Can you share an update on whether Kacy is still with WWE?
Ricochet: She's still with the company. She's not retired at all and she's not injured. It's a tough sport and we're all hurting, but there is nothing wrong with her.
Barrasso: Will she wrestle again?
Ricochet: I don't know. She's very family-oriented and she wants kids, so she doesn't know if being on the road so much is for her. For me, I'm already too deep—I'm on the road all the time. She loves wrestling and she loves it here, and she's so good at it, so it's a very tough decision for her.
---
That's it for today's Pro Wrestling Post Week In Review for 9/8/19. Some great little nuggets of news if I do say so myself. As always I thank you all for reading not only my work but all the work here at PWP each and every week. It doesn't go unnoticed. We'll see you back next week for another edition of Week in Review!
If you have any comments, queries, or just want to chat then feel free to hit me or Pro Wrestling Post in the comments below or on our social media. Click the links below to do so –
Mark Blake Facebook – MarkBlakeSmart
Mark Blake Twitter – @Smart_Mark_B
Pro Wrestling Post Facebook – ProWrestlingPST
Pro Wrestling Post Twitter – @ProWrestlingPST