News! News! Get your news! Read all about it right here! Welcome one and all to your weekly irrelevant round-up of the week's hottest stories in pro wrestling. Pro Wrestling Post Week In Review 9/29/19. As always, I, "Smart" Mark Blake, have scoured the internet to find the biggest and most interesting stories. Enough of me lets get into this week's Week In Review! –
Jerry Lawler On RAW A Temporary Thing?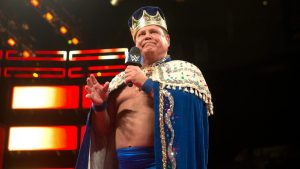 News leaked at the end of last week that Jerry "The King" Lawler will return to the RAW commentary desk along with Dio Maddin and Vic Joseph.
Jerry spoke with Commercial Appeal where he spoke about the news and how long he would be with the RAW brand –
"It was Paul Heyman's (Raw's executive director) idea to put Vic and Dio on Raw. Apparently, what I was told, Vince McMahon said, 'You can't throw these two new, young guys on our flagship show. Call King.' That's how it happened.
I got a call about it Tuesday morning from Kevin Dunn (WWE's executive vice president of television production). He said, 'I've got a proposition for you. It may be good news, and it may be bad news.' He knows I don't like to travel a whole lot anymore, so that was the bad part. I said, 'What's the good part?' He said, 'We want you back on Raw.'
He told me it's for however long I want to do it so that sealed the deal".
It makes sense for a veteran like Lawler added to the team. Someone who's been there and done it all in the terms of RAW commentary. I just hope he let's the younger guys like Joseph and Maddin have air time to get their personality over. I also hope Uncle Vince gives them all time to gel. Fingers crossed folks!
AEW Helps Save British Indy Promotion's Farewell Show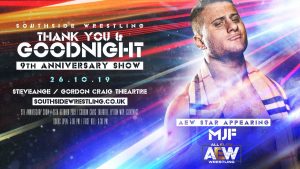 Southside Wrestling Entertainment was saying goodbye to their fans with a blockbuster show on October 26. Southside had reached an agreement that WWE that for one night only, they would have NXT UK's (and former SWE talent) El Ligero, Joseph Conners, and Kay Lee Ray perform on the show. But it wasn't meant to be.
On Thursday of last week, WWE contacted SWE and told them that they were pulling all WWE contracted talent from the farewell show. In response, Southside posted the following tweet –
We are truly broken hearted 🙁 pic.twitter.com/Em7UMoYmhS

— Southside Wrestling (@SouthsideWE) September 25, 2019
All Elite Wrestling's Executive VP's Cody Rhodes and The Young Bucks saw the tweet and replied by saying they would see what they could do to help. A day later, SWE posted the following tweet –
THANK YOU @AEWrestling@Perfec10n and @The_MJF will be at 9AS , more news coming soon. pic.twitter.com/fXZ6pry7sY

— Southside Wrestling (@SouthsideWE) September 27, 2019
And not long after, Cody himself announced this piece of news –
One more thing @SouthsideWE

…

Brandi & I will be there as well! ???? pic.twitter.com/zcrCQSRkim

— Cody Rhodes (@CodyRhodes) September 27, 2019
This is great. Not only do Southside have a stellar farewell show as they promised, but AEW comes out of this situation smelling of roses. For whatever reason WWE pulled their talent and look like heels. While AEW swoops in and saves the day and become babyfaces at the same time. Great bit of PR there from Cody, The Bucks, and AEW.
Goldberg/Ziggler Update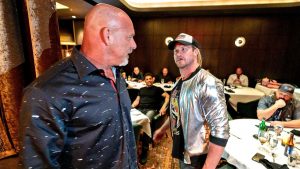 A few weeks back, Goldberg and Dolph Ziggler had an "altercation" at an event in Las Vegas. You can see what happened below –
dipshit took a break from ruining wrestling to ruin my night off. I'm not interested. get a hobby or go fishing or something. Maybe you can do that without getting hurt. no other warning or comments on this, from me. Thanks

— Nic Nemeth (@HEELZiggler) September 21, 2019
According to PWInsider, many believed that what happened would lead to an angle on SmackDown next week. For those not up to date, SmackDown makes its debut on FOX next Friday. FOX officials wanted a blockbuster debut on the network and booked Goldberg for the show and many WWE officials believed that what happened in Las Vegas would transfer over to the SmackDown debut.
But as is the mantra for many bachelor/stag parties in Las Vegas…."What happens in Vegas, stays in Vegas"…..
The "altercation" in Vegas was planned in advance. Ziggler and Goldberg were at a private birthday party and shot the angle themselves. But WWE have no plans to use the angle at all on their programming, and many inside the company think that both men shot the angle for their own publicity.
Sometimes you gotta bet on yourself and make your own moves. Look at Bray Wyatt and his re-invention to see what I mean. In Ziggler's and Goldberg's case, it looks like it's back to the drawing board.
Is Cody Able To Use His Surname On TV Once More?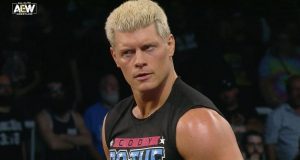 Many of you will know (via myself) that Cody Rhodes hasn't been able to come out on TV as "Cody Rhodes". WWE possesses the rights to the "Rhodes" name. Cody has got around the fact by being introduced at events as "Cody" or when he's accompanied by his wife Brandi, the announcers can say "Cody and Brandi Rhodes".
Cody spoke with Sports Illustrated back in 2017 about the subject –
"I'll tell you this, and I've not told anyone this, but I don't mind that WWE took away my last name. Deep down, in my bones, I definitely want it back – and I have plans to get it back – but there is something to being Cody. The longer I don't have a last name, the more I'm OK with it. That's not to say WWE is holding it ransom. It's literally an intellectual property law that easily can be remedied, but there is something about being Cody that I don't mind.
"There is something to not always reminding people of a show they've already seen, but instead embracing the one right in front of him. I am Cody, and I can promise you that the future is going to be even better than the past."
But with AEW: Dynamite just a few short days away, there could be a breakthrough. See the below Instagram post –
Did you see it? Not only were the words "AEW on TNT" and his nickname "Nightmare" emblazoned on his new weight belt, but there was also a very interesting word too…. Rhodes.
As of right now, Cody hasn't mentioned it, but could it be an indication that he has the right's back to his surname? I hope so. I'm getting a bit bored of typing Cody (Don't call him Rhodes) 😉
---
That's it for today's Pro Wrestling Post Week In Review for 9/29/19. Some great little nuggets of news if I do say so myself. As always I thank you all for reading not only my work but all the work here at PWP each and every week. It doesn't go unnoticed. We'll see you back next week for another edition of Week in Review!
If you have any comments, queries, or just want to chat then feel free to hit me or Pro Wrestling Post in the comments below or on our social media. Click the links below to do so –
Mark Blake Facebook – MarkBlakeSmart
Mark Blake Twitter – @Smart_Mark_B
Pro Wrestling Post Facebook – ProWrestlingPST
Pro Wrestling Post Twitter – @ProWrestlingPST