News! News! Get your news! Read all about it right here! Welcome one and all to your weekly irrelevant round-up of the week's hottest stories in pro wrestling. Pro Wrestling Post Week In Review 9/1/19. As always, I, "Smart" Mark Blake, have scoured the internet to find the biggest and most interesting stories. Enough of me lets get into this week's Week In Review! –
AEW's All Out Fallout
All Elite Wrestling's biggest show of the year so far All Out, took place last night. A brand new AEW World Heavyweight champion was crowned (read here for more details), and feuds/storylines evolved in readiness for their TV show in October.
After the event, a post-event press conference was held and a video highlights package was released. Here's the fallout from All Out –
"Hangman" Adam Page was interrupted by PAC while talking to reporters. PAC said that the two have "unfinished business", and the real reason he came to AEW was for revenge.
The inaugural AEW World Heavyweight Champion Chris Jericho was officially presented with the title backstage. As he was about to speak, Alex Marvez began speaking over the champ and drowned him out. Much to Jericho's annoyance.
AEW President Tony Khan spoke with Sean Ross Sapp from Fightful.com, where he announced that Kylie Rae had asked for her release and it was granted. Both parties said that the release was amicable.
I asked Tony Khan about Kylie Rae's status. He told me she asked for her AEW release and they granted it. It was amicable, per Tony

— Sean Ross Sapp Of Fightful.com @ All Out (@SeanRossSapp) September 1, 2019
It's worth noting that Kylie has deleted her Twitter account, and back in July Dave Meltzer reported that Kylie was suffering from an unknown medical issue. It's not known at this time if the release was asked because of the injury.
Triple H – Enzo And Cass To NXT Rumors Not True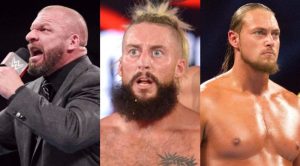 Yesterday Triple H spoke to Alex McCarthy from talkSPORT in the UK to promote the NXT UK Takeover: Cardiff event happening later that day. One of the questions asked was if the Enzo and Big Cass to NXT rumors had any legs to it.
Triple H strenuously denied that there was any truth at all in the rumors, and suggested that Enzo had started the rumor to "drum up business" for himself. Here's Triple H's quote in full –
"I immediately had our PR go like, "yeah, no." Zero interest.
I have 104 or 110 talent depending on the moment at the Performance Center in the US, another 45-50 in the UK, plus some development stuff around the world. I'm not worried.
The interesting thing about today's world is if you call up someone willing to believe anything, you can tell them anything you want in order to try and drum up business for yourself.
Congratulations to Enzo. I'm sure spreading rumors has worked well for him. I just don't want to be a part of it".
TRIPLE H TALKING ENZO AMORE AND BIG CASS VIDEO#NXTUKTakeOver pic.twitter.com/5HfhqtBEI5

— Alex McCarthy (@AlexM_talkSPORT) August 31, 2019
Next Year's NJPW G1 Climax Moving To Later In The Year
Kota Ibushi was this year's G1 Climax victor, overcoming Bullet Club's Jay White in the final on August 12. But next year will be a bit different for G1 Climax entrants.
That's because of a certain small event called the 2020 Tokyo Summer Olympics happening around the same time (July 24-Aug 9). New Japan officials won't be able to use some of the more prominent and bigger arenas around that time due to the Olympics and have decided to move the tournament to later in the year, probably around the Fall.
With NJPW liking to book long term angles, it doesn't leave a lot of time to book the winner of the G1 against the current IWGP Heavyweight Champion, only three to four months rather than the usual six that has happened recently.
Daniel Bryan – Missing The Indies, New Lucha Talent In WWE
Former WWE Champion Daniel Bryan, sat down with the Super Luchas website and discussed a whole multitude of subjects. Some of the more highlighted subjects were if he missed the indies, and what, if any, Mexican talent he would like to see in the WWE. Here's a brief rundown of what was discussed –
Which Mexican talent he would like to see in WWE:
"It's tough to pick because my favorites are now too old to go to WWE. I could say, 'Wait a moment, I want Negro Casas in WWE' or something like that. I love Blue Panther, I love Negro Casas. The first time I saw him wrestle was like back in 1987 but he is incredible. In 2019, it still looks impressive. I have a ton of respect for them but thinking about guys that could potentially make the jump now to WWE, I would say someone like Rush. I think someone like Bandido would make it big as well as Dragon Lee.
There's a lot of guys, but hey, we got Andrade. Andrade is fantastic! I hate to say it, but even if I say we need to bring this guy to WWE, you can make the argument that we already have several guys who are spectacular like Gran Metalik, which is one reason I see 205 Live. Gran Metalik is fantastic!"
Do you miss wrestling on the indies?:
"Yes … I really miss all that. And one of the things I miss is fighting with different people. Being independent you can fight with people you've never faced before, and that's something I like. For example, on SmackDown I struggled with Buddy Murphy, and I was very excited because I had never fought him.
As an independent fighter, my mind was always working. 'I don't know who this boy is, I don't know what he does, I've never been in this arena.' I like those experiences.
And it is also interesting because, in spite of how great it is to fight at WrestleMania or fight tonight in Bogotá before ten thousand excited fans, I miss the feeling in independent events, even if there were only a few thousand or a few hundred. It is simply a different sensation."
---
That's it for today's Pro Wrestling Post Week In Review for 9/1/19. Some great little nuggets of news if I do say so myself. As always I thank you all for reading not only my work but all the work here at PWP each and every week. It doesn't go unnoticed. We'll see you back next week for another edition of Week in Review!
If you have any comments, queries, or just want to chat then feel free to hit me or Pro Wrestling Post in the comments below or on our social media. Click the links below to do so –
Mark Blake Facebook – MarkBlakeSmart
Mark Blake Twitter – @Smart_Mark_B
Pro Wrestling Post Facebook – ProWrestlingPST
Pro Wrestling Post Twitter – @ProWrestlingPST