Welcome back to this second part of the Pro Wrestling Post Awards 2020 (aka The Posties 2020!) In this part, our reviewers will give you their winners for the Male Performer of the Year and Moment of the Year. No fear if you didn't read the first part, as if you click the link right here, you can go back and read it before continuing. Now without further ado, here is part two of the world-famous 2020 Posties!
RAW Male Performer of the Year
Randy Orton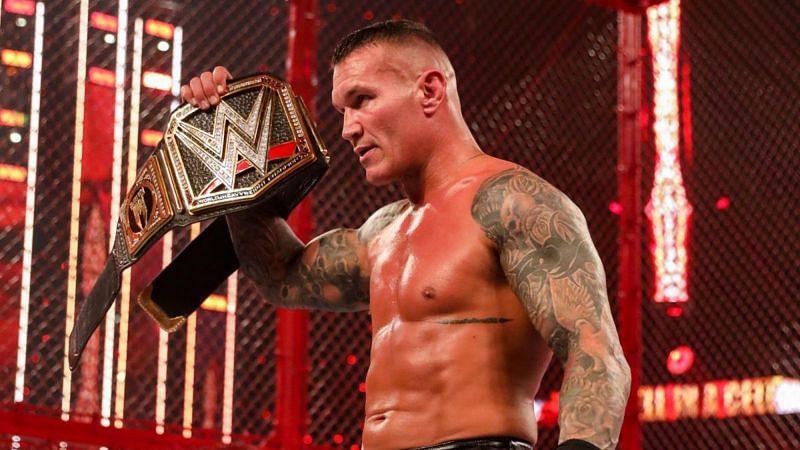 Mark Blake – In what has been one of, if not the worst years ever, one man stands head and shoulders above the rest on Raw for me this year. That man? Randy Orton. This year he has excelled at everything that has been thrown at him. From his feud with the returning Edge at the beginning of the year to finishing the year off with a brutal feud with Bray Wyatt. Randy has, excuse the pun, been on fire.
He has reminded the world just how great and important he is. Now before you all start giving me grief on Twitter, I am not Randy's greatest fan. I've appreciated his work over the years. From his coming out party against Mick Foley at Backlash 04 to his series of matches against Captain Charisma himself Christian. Orton has been THE MAN this year (sorry Becky!). He has carried Raw and sometimes the company on his shoulders with his in-ring work and amazing promos. Yup, 2020 was the Year Of Orton in my book. So stand up Randy and take your plaudits. You deserve them dude!
Pro Wrestling Post Awards 2020 | Part II
IMPACT Wrestling Male Performer Of The Year
Moose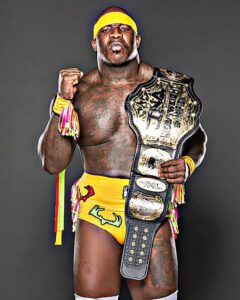 Pete Moon – Slammiversary XVIII was really a watershed moment for IMPACT Wrestling this year. The COVID-19 pandemic followed by a series of sexual assault allegations left the roster in a state of disrepair. There were still standouts like Trey Miguel, The Rascalz, and Jordynne Grace. But it was clear the company was doing their best with a bad hand. Then, IMPACT Wrestling went on a talent acquisition spree over the summer. They came back stronger than ever. So why, in a year that featured the arrival of Deonna Purrazzo, the return of The Motor City Machine Guns, and the rise of Rich Swann, am I giving this award to Moose?
On April 23rd, 2020, Moose entered a triple threat match against Hernandez and Michael Elgin holding the TNA World Heavyweight Championship belt. The original plan was for Tessa Blanchard to defend the IMPACT World Championship. But the pandemic got in the way. With no championship on the line, Moose declared himself TNA World Heavyweight Champion. Since then, Moose has only lost two singles matches. One by disqualification. He's only lost five matches all year in IMPACT, two of which were by DQ. No other wrestler in IMPACT Wrestling comes close. His TNA World Heavyweight Championship storyline hasn't really lost steam since it started back in April. Even given all the changes that happened around it. That's why Moose is, in my opinion, the best wrestler in IMPACT Wrestling.
Pro Wrestling Post Awards 2020 | Part II
NXT Male Performer Of The Year
Finn Balor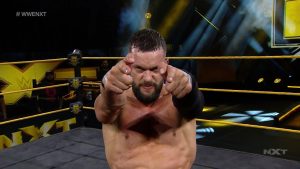 John Caul – No one on the entire NXT roster had a bigger year than NXT Champion Finn Balor.
From inaugural Universal Champion to abysmal storylines across both RAW and Smackdown. Balor became a footnote of what he used to be in 2019
. Then came 2020 and the return to NXT. The career renaissance began.
With the return of his Prince Devitt-like character, the cocky but confident champion took on all comers on route to winning the NXT Championship
.
Standout clashes with Matt Riddle, Adam Cole, and Johnny Gargano proved why he belonged back on the black and gold brand
. 
But it was more than those matches that give Balor this honor.
It's the career push match with Damian Priest that not only showed Balor can bang with bigger opponents but also elevate the people around him. Which i
n my opinion
,
directly
landed Priest in North American Championship contention
.
The same can go for his epic Takeover XXX showdown with Kyle
O'Reilly. N
ot only did it deliver a 5-star worthy match but also gave
O'Reilly
a look as a future world champion
.
It's also all the proof you need to why Balor deserves the first-ever Best Male Wrestler award for the 2020 Pro Wrestling Post Awards
. 
All Elite Wrestling Male Performer Of The Year
Kenny Omega
Brandon Lasher – It has been a unique year for the world and AEW as well. AEW has spent more time at Daily's Place Arena than it did in crowded stadiums throughout the United States. It takes a unique talent that would be able to prosper in the empty arenas for most of 2020.
My choice for Male Superstar of the Year is Kenny Omega. He begun the year by winning the AEW Tag Team Championship with Hangman Adam Page in January of this year. They defended it in
arguably
the best match of the year against the Young Bucks at AEW Revolution. After he lost the Tag Team titles, he switched his focus to singles wrestling and his career once again took off in 2020.
Kenny Omega became the cocky "Cleaner" yet again. It seemed to improve his character work in the latter half of 2020. He was even a rare AEW wrestler winning squash matches. After an excellent match at Full Gear, he gained a World Title match against Jon Moxley at AEW Winter is Coming.
It was his action to win the AEW World Championship and starting an AEW/Impact feud that pushes him to the top of the AEW male roster
. As he has appeared on AEW, Impact, and AAA wrestling in recent weeks, he seems ready for a great 2021 as well.
Pro Wrestling Post Awards 2020 | Part II
SmackDown Male Performer of the Year
Roman Reigns
Ian Abugov – The Tribal Chief made the most of the pandemic hiatus by totally reinventing himself upon his Summerslam return. Roman came back with a ruthless attitude as well as the best "special counsel" going today in the person of Paul Heyman. The days of "suffering succotash" seem long forgotten.
Ironically, the first part of 2020 saw Reigns accomplish or dazzle very little. His feud with King Corbin was more protracted than your grade eight geometry set. His pre WM promos with Goldberg set the table for his forthcoming character change. Referring to the Hall of Famer as a "Bulldog Bitch" capitalizing on their College's rivalry was refreshing and memorable.
Pro Wrestling Post Awards 2020 | Part II
Five days after SummerSlam he appeared on SmackDown with Paul Heyman and never looked back. He brought his game to a new level and walked away with the Universal title.  He then began a spectacular feud with his cousin Jey. Which made for an ongoing series of Shakesperean promos that brought out the best in Reigns' Tribal Chief persona. Their matches at Clash of Champions and Hell in a Cell featured excellent in-ring banter. Which more than made up for the lack of a live crowd and piped in cheering. Letting acting talent emerge and become a part of a match as opposed to a mere tool for promos adds a dimension to storytelling and heightens our involvement in the show.
Lastly, Reigns offered us the best of all worlds. He came off as ruthless and invincible yet teased the paper-cowardly champion convention with debatably inadvertent low blows. As serious and all business as he came off as being, his comedic side was in the spotlight as well. Think of that classic ref bump at Hell in a Cell. Reigns star is rising exponentially and 2021 will solidify his status on the WWE scene.
RAW Moment Of The Year
Retribution
Mark Blake – Now hear me out on this one folks, I'm going left field with my choice here. I'm going for a moment that polarized a whole community. Yup… Retribution has won the big one! And obviously not for the right reasons…well maybe a little bit.
By now you should all know me. That I try to be optimistic in the face of adversity. And BAH GAWD has this year been that and more! But the debut of Retribution made headlines across the world. So much was expected from this upstart group (along with RAW Underground but that's a story for another time). Their debut where they stormed the Performance Centre with attitude and chainsaws went down a storm with us fans. We waited with bated breath as to how their story would unfold…and we waited…and we waited some more. You know the rest.
So I give this award to T-Bar, Mace, Slapjack, Reckoning, and Mustafa Ali. For trying so hard, but ultimately failing. Cheers folks!
Pro Wrestling Post Awards 2020 | Part II
All Elite Wrestling Moment Of The Year
Kenny Omega Capturing The AEW World Championship
Brandon Lasher – It wasn't the year that AEW expected for sure. It was going to be the first full year of AEW as a full-time touring wrestling company. They were off to a good start with an AEW show on the Jericho cruise in January. Followed by an incredible AEW Revolution in February in front of a loud Chicago crowd. They were building to some memorable debuts and matches in 2020. Then the Pandemic changed everything.
A majority of the AEW year had occurred in one arena in Jacksonville, Florida. AEW has done a wonderful job of providing memorable moments in 2020 at Daily's Place.
It is
really
a credit to a hard-working company that they have stayed pretty healthy and even increased their viewership at times under such difficult circumstances
.
The moment that stands out the most and will have the biggest impact going forward was Kenny Omega winning the AEW World Championship at AEW Winter is Coming
. It was also how he did so and its shocking aftermath.
Don Callis, the co-executive vice president of IMPACT Wrestling, helped Kenny Omega win the AEW World title
. Then the two of them left to go to Impact Wrestling. Since that time, the crossover battles with AEW and Impact Wrestling have
truly
begun.
It was a shocking moment that stood out in 2020 and will set both companies up for great storyline possibilities in 2021
.
IMPACT Wrestling Moment Of The Year

Slammiversary 2020
Pete Moon – The early part of 2020 was a very difficult time for IMPACT Wrestling. The one-two punch of the global pandemic and allegations against talent left the roster in tatters. The fact that IMPACT Wrestling is doing as well as they are right now is a minor miracle. Slammiversary XVIII was the make-or-break moment for IMPACT Wrestling this year. At that show, we saw the return of The Motor City Machine Guns and the debut of The Good Brothers. The scheduled main event for Slammiversary was Trey Miguel vs Ace Austin vs Eddie Edwards vs a mystery opponent for the vacant IMPACT World Championship.
That mystery opponent would become two opponents. Eric Young returned from four years in WWE. While Rich Swann returned from seven months of injury leave. Not only did they put on a banger of a match, but they also set up the storylines that would carry IMPACT Wrestling into 2021. Since Slammiversary, the IMPACT Wrestling product has only gotten better. The uncertainty surrounding the main event resolving into a great match perfectly encapsulates the year 2020 in IMPACT Wrestling.
NXT Moment Of The Year
Keith Lee Becoming Double Champion At Great American Bash
John Caul – There have many moments in NXT during 2020 that stand out. Highlights that will stand the test of time for the brand. But there is nothing that compares to what took place in July for the current RAW superstar Keith Lee. 
While Lee has always stood as a moment maker during his black and gold tenure, it was his match as NXT North American Champion against the NXT Champion Adam Cole that
really
became a moment in time for
multiple
reasons
.
First, Adam Cole was riding an all-time high by holding the NXT Championship for the longest amount of days in the brand's history. But that was ended by Keith Lee
. T
he added caveat of the struggle for Lee to crack the surface in his WWE/NXT career after an impressive 2019 Survivor Series and 2020 Royal Rumble. This was the moment that stood the test of time for the Limitless superstar
. 
While RAW may have not seen what is yet to come from Keith Lee, NXT
truly
embraced the Limitless Era after his win at NXT Great American Bash. And this
truly
holds as the Moment of the Year for the 2020 Pro Wrestling Post Awards
. 
SmackDown Moment Of The Year
Firefly Funhouse WrestleMania Match
Ian Abugov – Robert Burns was the author of the iconic line "The best-laid schemes of mice and men." Wrestlemania 36 squarely fell into this category. The event was planned as a grandiose outdoor spectacular in Tampa Bay's Raymond James Stadium. Then, Covid 19 had picked up a ton of momentum and gave nervous breakdowns to entrepreneurs, artists, writers, technical crews, etc in the wrestling business.
Back in the Spring, we were just coming to grips with the force and gravity of Covid. The authorities were calling a lot of audibles while we watched, waited, and worried. Wrestlemania became a two-night affair to be broadcast from the Performance Center which seems like years ago. The WWE made excellent use of its "the show must go on" mentality by betting heavily on the cinematic match concept. This had worked for IMPACT Wrestling a couple of years earlier with the Hardy compound "DELETE" schtick and created quite the buzz.
Pro Wrestling Post Awards 2020 | Part II
The Bray Wyatt vs John Cena Firefly Funhouse turned out to be a bold and pivotal success. Apart from the notion of time travel and special effects, this match was the psychological portrayal of both characters. The focus was on the self-perception of Cena. He came off in his mind's eye as a trojan horse and self-obsessed. The loyalty in Hustle, Loyalty, and Respect clearly focused upon himself.
Bray Wyatt/Fiend was portrayed as still being haunted by his previous Wrestlemania loss to John Cena. His inability to get the Doctor of Thuganomics into a ruthless warrior mode. While it was shown that no one escapes The Fiend without being transformed, Cena was in fact vanquished. But he showed no signs of morphing into another dimension. It will be fascinating to watch how his character will evolve if and when we see him again.
The cinematic spectacular was more intriguing than The Undertaker vs Styles encounter because the outcome of the latter was entirely predictable. This did not take away from its entertainment value. It just had us watching in a different way. It brought out what I call the comforting ritual aspect of wrestling. Where one sits back comfortably expecting a certain outcome. Wyatt and Cena were predictably unpredictable with more twists than a Chubby Checker sock hop. One would be well served to watch the match at least four or five times to truly appreciate all its nuances and subtleties. This being yet another reason to acclaim this encounter as the moment of the year.
____________________
So what do you think? Do you agree with our reviewers or vehemently disagree? Let us know in the comments below or on our socials. As always, we love to interact with you all.
And that folks is that! All of us here at the Pro Wrestling Post would like to thank each and every one of you readers for your continued support. We hope we have helped entertain you through this hellacious year. And rest assured, we will continue to do so in 2021 and beyond! Happy new year folks!