May 11th, 2019 the true colors of the women and men of wXw Germany will be shown with some incredibly exciting wrestling matches planned out for this incredible night in Dresden.  Hot off the tails of the memorable 16 Carat Gold tournament fans are now already geared up for wXw True Colors.  There is a plethora of talent on deck for True Colors and these matches are certain to be memorable.
Speaking of the 16 Carat Gold tournament the winner of it all was Lucky Kid.  In what was a shocking moment Lucky Kid managed to force WALTER to tap out as he was crowned the 2019 16 Carat Gold winner.  It is proven that winning this tournament has managed to open doors to many of the former winners so the future is looking incredibly bright for Lucky Kid.  Absolute Andy is the former wXw Unified World Wrestling Champion and has dominated the top of the wXw card for quite some time.  This makes for a very exciting encounter as both of these two men really want to go out and prove themselves here.  Lucky Kid wants to continue his incredible run that he is on and prepare himself to be the next one to step up to the wXw Unified World Wrestling Champion.  Absolute Andy will want to get back to his winning ways and assure that nobody forgets exactly why he is one of the best that the company has to offer.  This match is going to be full of excitement and will definitely be one that you are going to want to witness.  These are two of the top rising stars and they are going to give the world reasons to remember their names once True Colors rolls around.
Ilja Dragunov had a very impressive showing at the 16 Carat Gold tournament only losing out to the eventual winner Lucky Kid.  Ilja Dragunov will want to kick start some more momentum his way by securing a win at True Colors.  Marius Al Ani is an impressive physical specimen who will want to put a halt to any potential momentum for Ilja Dragunov.  This match likely might not be pretty but expect it to be a hard-hitting affair between these two gladiators.
Toni Storm current sits at the top of the wXw Women's division as the current wXw Women's Champion.  This means that there is a line up of talented women looking for the opportunity to take that championship away from Toni Storm.  Three women, in particular, are going to put on an amazing display of wrestling action as they look to stand out from the pack and earn a way to a future championship opportunity.  Killer Kelly, Amale Winchester, and Valkyrie will pull out all the stops and most likely will end up with one of the best matches of the entire night.  These three women are incredible talents and put inside that ring they will give the fans a show that they will never forget.
Oliver Carter and Veit Muller will lock up in one on one action.  A great chance for these two men to step up and prove to the wXw fans why they are ready for the best of the best in competition.  A win here would start to get the attention of top names in the company and could eventually lead to big things for whoever is fortunate enough to pick up the victory.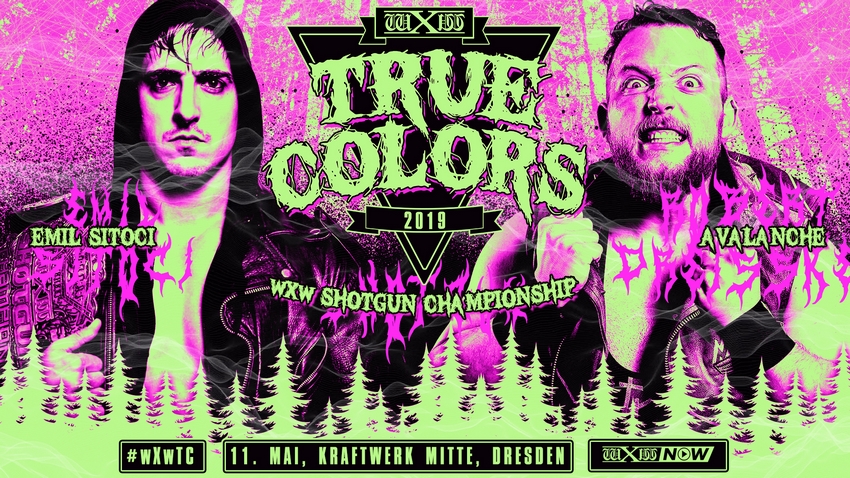 The xWx Shotgun Championship will be on the line at True Colors.  Avalance is eagerly seeking his chance to reign over wXw as the Shotgun Champion.  Emil Sitoci the current wXw Shotgun Champion will be prepared for the task at hand but he is going to have to be focused at a whole new level to keep the championship over his shoulder.  The wXw Shotgun Championship always puts a large target on the back of the one holding it, considered to be one of the most prestigious wrestling championships in all of Europe you can always expect to see a top quality match when it comes to this championship being up for grabs.
wXw True Colors is once again proof of a company that knows how to deliver exactly what fans of wrestling are looking for.  If you are someone that has not yet taken the chance to check out wXw then you should take the time to check them out and get invested in the work that they do.  The build towards True Colors has been incredible and True Colors promises to deliver once again in every single match that is scheduled for this card.
To read our preview preview of wXw's Amerika 1st Wunderbar click here.