16 Carat Gold is not only the biggest event on the calendar each year for wXw Germany, but it is also a very large weekend for the entire wrestling community. The weekend features three nights of wrestling action. It involves the next generation of rising stars in the business today. The highlight of the entire weekend is the 16 Carat Gold 2020 tournament itself.  This tournament has proven to be a massive accolade for the previous winners. Most of these winners have gone on to become very recognizable names in the wrestling industry.
The 16 Carat Gold tournament has previously produced such winning names as Chris Hero, WALTER, Sami Callihan, El Generico, Tommy End, Zack Sabre Jr, and Ilja Dragunov. The previous two years saw the tournament was won by Absolute Andy. Last year Lucky Kid won the tournament.  Both Lucky Kid and Andy have seen continued success since their wins in the tournament.
16 Carat Gold Night 1
16 Carat Gold weekend kicks off with the very first night of the tournament. Sixteen competitors from around the world will all kick things off in first-round competition and look to secure their spot in the next round of the tournament. It was announced that Lio Rush would be part of this year's 16 Carat Gold tournament, however recently WWE had to pull Lio Rush from the 16 Carat Gold tournament.  Lio Rush would be replaced by an equally large name talent in the form of Jeff Cobb.
Jeff Cobb definitely brings a massive level of star power to this years 16 Carat Gold tournament, but it begs the question that is the star power enough to make it through this very unique and prestigious wrestling tournament. Let us have a more in-depth look at the entire line up for this years 16 Carat Gold tournament.
Marius Al-Ani vs Cara Noir
Marius Al-Ani is a wrestler on the rise. The 29-year-old wrestler is a regular on the roster for wXw Germany. Al-Ani has already held gold in wXw as the former Shotgun and Tag Team Champion. Cara Noir the English wrestler is a regular in such promotions as Progress and IPW: UK. Noir as of this writing is the current PROGRESS Unified World Champion and has also held and defended many prestigious championships along with his career.  This is a very exciting first-round match between two very gifted wrestlers. It does make it difficult to know which of these two will be able to secure their place in the next round.
Jeff Cobb vs Alexander James
Alexander James is a very gifted technical wrestler. Hailing from the US Alexander James has found himself as a regular part of the wXw roster. There is a lot of potential that the world has not yet had the chance to truly embrace yet. If Alexander James is able to pull off the victory in this tournament he could finally get the break he needs. James has the opportunity to share his craft with an even larger audience. Jeff Cobb is a very imposing individual, this larger then life former Olympic wrestler has all the makings of a wrestling world champion.
Cobb the former Ring Of Honor Television Champion has recently signed with All Elite Wrestling and has made a very big splash upon the wrestling world in a very short period of time.  Jeff Cobb is a very heavy favorite to run the entire tournament through to the end.
Bandido vs Julian Pace
Bandido is a star on the rise, featured in promotions such as CMLL and Ring Of Honor. He is the current PWG World Champion among some of his other brilliant accomplishments.  Bandido is a true threat in the ring which makes him a very big threat to all of the competition in the tournament this year.  Julian Pace is a graduate of the wXw academy. He has proven that the training through their academy produces some very exciting new talent.  Pace is one of the least experienced in-ring competitors in the tournament. However, his heart and determination could help to get him through the tournament. He could put the entire world on notice that Julian Pace is here.
Daniel Makabe vs Eddie Kingston
Daniel Makabe the Canadian wrestler has been utilizing his technical ability for quite some time now.  He is ready to conquer the 16 Carat Gold Tournament. Makabe has a lot to offer and could be a true wild card option to go through this tournament. Eddie Kingston brings a wealth of experience to this year's 16 Carat Gold Tournament.  Many wrestling fans may have seen Eddie Kingston featured on episodes of NWA Powerrr on YouTube, or even possibly his work in IMPACT Wrestling. No matter where you have seen the work of Eddie Kingston you just know you are witnessing a truly gifted wrestler. Kingston has got to be one of the odds on favorite to go all the way with the tournament. We can see him reaching the finals.
Chris Ridgeway vs Mike Bailey
Chris Ridgeway is another talent on the rise featured in this year's tournament. A young, and exciting wrestler, Ridgeway has managed to become one of the most talked-about talents in wrestling today. The future holds big things for Chris Ridgeway. It could start with being victorious in the 16 Carat Gold Tournament. Mike Bailey is an exciting talent that utilizes martial arts ability combined with great technical skill. Bailey has everything it takes to endure the grueling punishment that faces the competitors of the 16 Carat Gold Tournament. It is very likely that Mike Bailey could be a top pick as well to make it through to the finals.
The Rotation vs Puma King
The Rotation is a regular from the wXw roster who has a flare for the high flying ability inside of the ring. He has a lot of heart and determination and brings a very exciting and explosive set of skills to each and every match. Puma King is another seasoned wrestler who has experienced a lot of success.  Fans who follow Lucha Libre wrestling may very well be familiar with the work of Puma King. Other fans may have seen Puma King's work in MLW.  Puma King has the experience, skills, and know-how to outlast and outsmart his opponents with a view to the finals.
Black Taurus vs Shigehiro Irie
Black Taurus the technical high flyer is another wrestler who brings a lot of experience to the table.  Black Taurus has had some recent success in North American promotions Impact Wrestling and MLW.  Black Taurus brings a lot of excitement and hard-hitting ability to his matches and definitely has what it takes to go all the way in the 16 Carat Gold tournament.  Shigehiro Irie is another extremely gifted and experienced wrestler feature in the tournament.  The Japanese wrestler has been wowing audiences for years and is heading for a legendary first-round match against Black Taurus.   It is extremely difficult to call a winner here, but the true winners are the fans who get to witness this legendary encounter.
Lucky Kid vs Jurn Simmons
Lucky Kid is definitely a bookkeepers odds on favorite to win the 16 Carat Gold tournament.  Lucky Kid last year was able to endure the entire tournament and ended up picking up the victory.  Now Lucky Kid is coming back to try and secure a second win in the 16 Carat Gold tournament.  Jurn Simmons is a wXw regular himself and another name that is on the rise in the wrestling community.  If Jurn Simmons is able to defeat last years 16 Carat Gold tournament Lucky Kid then he certainly will become the name that fans begin to talk about.  A win here for Jurn Simmons would easily make him a favorite to get his way in to the final and give himself a shot at winning the 16 Carat Gold tournament.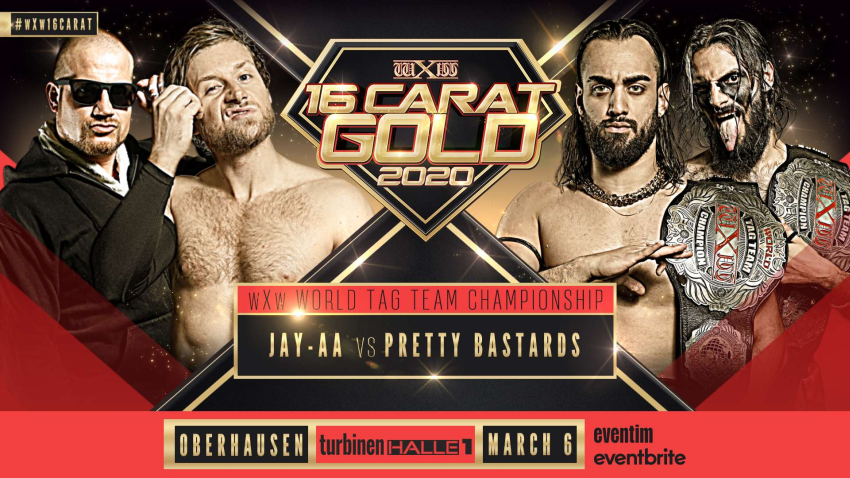 wXw World Tag Team Championship
Jay-AA vs Pretty Bastards
In addition to the tournament first-round matches taking place on night one, fans will also be treated to a tag team championship match.  Absolute Andy and Jay Skillet collectively known as Jay-AA won a number one contenders match at wXw Dead End in order to secure themselves a match against the champions.  Pretty Bastards are a strong team and have been dominating as a team everywhere that they have shown up.  Pretty Bastards will do whatever it takes in order to retain their tag team championships, while the team of Jay-AA want to write their own history and become the new wXw Tag Team Champions.
Ambition 12
On the second day of the 16 Carat Gold tournament weekend, another exciting event is scheduled to take place.  Ambition 12 features some very exciting matches that fans should also invest their time in during this very busy wrestling weekend.
Daisuke Ikeda vs Yuki Ishikawa
This match is being dubbed an Ambition Superfight and why would it not be?  These two Japanese legends of the squared circle are gearing up to give the fans a true wrestling classic.  If you like to experience two wrestlers who have given their all to this industry then here is your chance to do so.  It will be a true treat to experience the talents of two ring generals who are going to give the fans a fight to remember.
Ethan Allen vs Luke Jacobs
The next generation Ambition fight is on deck to feature two up and coming wrestlers who will want to make some memories and let the world know exactly who they are.  Where the legends of the ring will give us a classic wrestling match, these two young men are going to provide fans with a more modern wrestling approach to this one on one competition.
Scotty Davis vs Mike Bailey
Ambition 12 also features its own one-night tournament, so it becomes a really competitive affair among some of the young rising stars of professional wrestling.  Scotty Davis is as young as they come at only 19 years old this young man has got a wealth of talent that he brings to the table.  Mike Bailey will have a very busy weekend ahead of himself pending the results from night one of the tournament.  Mike Bailey is insanely talented but will the toll of the 16 Carat Gold take too much out him and give his opponent a window of hope to secure victory in this match?
Daniel Makabe vs Kevin Lloyd
Daniel Makabe is another wrestler with the potential for an extremely busy weekend.  Also featured in the 16 Carat Gold 2020 tournament Makabe has a lot of work ahead of him this weekend.  Kevin Lloyd really has quite the opportunity here to let everyone know who he is and what he brings to the table.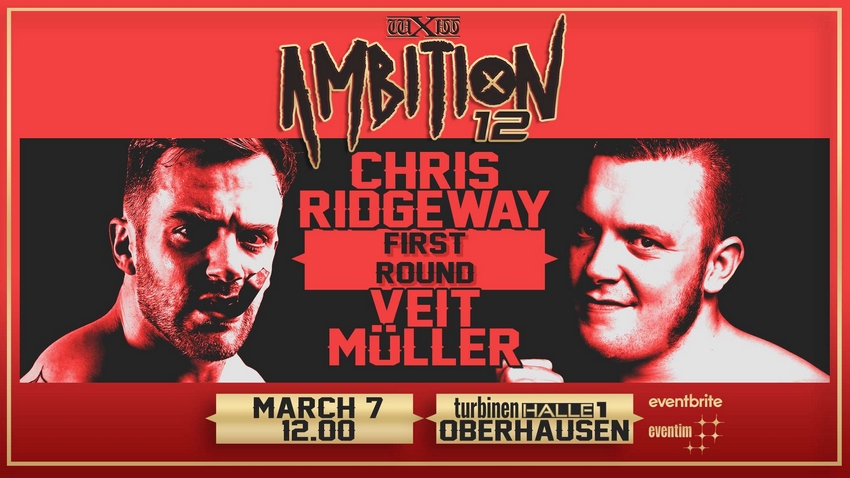 Chris Ridgeway vs Veit Muller
Another first-round match featured at Ambition 12 will be between Chris Ridgeway and Veit Muller.  Two up and coming exciting talents that are going to provide an exciting in-ring battle.  These two young men want to continue to prove themselves through the 16 Carat Gold 2020 weekend and so they will do all it takes to obtain the victory in this first-round match.
16 Carat Gold Night 2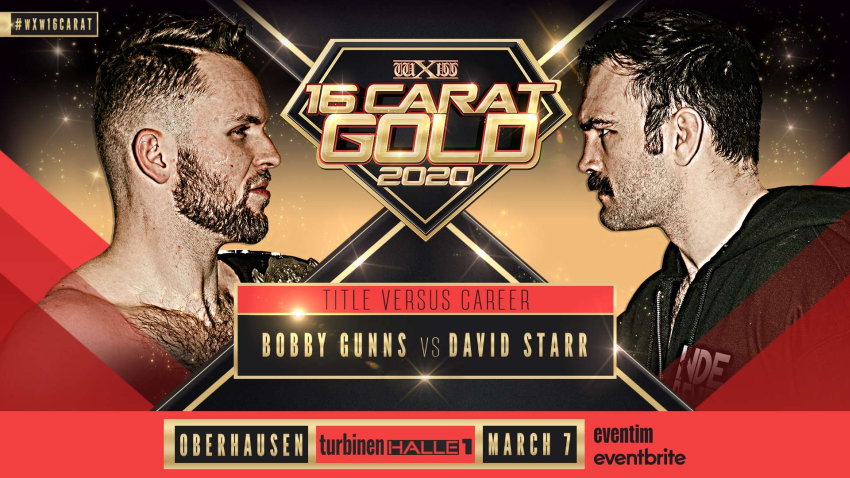 wXw Unified World Wrestling Championship
Title Versus Career – Bobby Gunns vs David Starr
David Starr may be one of the most gifted talents in the independent market at the moment.  A young determined wrestler who has managed to perfect his craft with experience throughout the entire world.  Now in order to get his opportunity to become the wXw Unified World Wrestling Champion, he must risk his career up against Bobby Gunns.  Bobby Gunns is tough and has proven that he is one of the best talents around.  Bobby Gunns has held every championship that wXw has and is on his second run as the companies top champion.
Now it all comes down to an epic battle on night number two of the 16 Carat Gold 2020 Tournament where both of these wrestlers have absolutely everything to lose.  This should make for an extremely nail-biting, edge of your seat encounter.
16 Carat Gold Night 3
Special Attraction Tag Team Match
Ishikawa & Thatcher vs Walter & Ikeda
Night three of the 16 Carat Gold tournament takes the word excitement to a whole new level.  The names and the matches that are featured on the third night of the weekend are always explosive and memorable. In addition to the finals of the tournament, there are many other matches to get behind as well.  In a very special attraction, tag team match some big names are stopping by to perform for the wXw fans.  Ishikawa & Thatcher will be teaming up to take on the imposing force of a team in Walter & Ikeda.
These four wrestlers are going to slug it out for the pure enjoyment of the fans on hand, and you can bet that this match is going to stand out even among all of the other top-quality matches on the card.
wXw Shotgun Championship
Ilja Dragunov vs Avalanche
The wXw Shotgun Championship matches always manage to captivate audiences as this championship truly is a workhorse championship.  The current champion Avalanche is enjoying his second run with the championship and is not about to let go of it easily.  Avalanche is going to make difficult work for his opponent in this match.  Ilja Dragunov is really starting to grow in presence and skill inside the squared circle.  The opportunity to obtain the gold at 16 Carat Gold 2020 tournament is only going to ignite Dragunov and bring out his absolute best.  This match is going to be an exciting encounter that may have the potential to steal the entire show.
Three big nights of incredible wrestling action from wXw Germany. This is what we are all in for with the 16 Carat Gold 2020 Tournament. This weekend is easily one of the biggest highlights of the calendar year not only for wXw but for wrestling fans around the entire world.  The 16 Carat Gold tournament has helped to launch the careers of many different wrestlers who are now really making names for themselves on the world stage.  There is excitement in the air to find out who is going to be able to put their body through the pain, torture, and agony that is required to make it all the way to the end of the 16 Carat Gold tournament.
The addition of the Ambition 12 event and tournament on the second day of the weekend.
It only adds so much more excitement for anybody looking to get more than their fill of top quality wrestling action.
wXw Germany always brings out the best in professional wrestling for the 16 Carat Gold tournament. The line up this year just proves how much of a massive force this company has become. It also proves just how prestigious this entire weekend has become to the entire wrestling community.  Make sure to get your tickets to the events. Or find out through the wXw Germany website on how to sign up to watch all previous shows and the 16 Carat Gold tournament once it hits their streaming service. The prestige, the championships, and the memories are all going to be made when wXw Germany presents 16 Carat Gold 2020.