On Friday, December 27th Wrestling Revolver returns with their latest event the Nightmare After X-Mas. From the Val Air Ballroom in Des Moines, Iowa, the promotion brings to its fans another star-studded lineup. Among the featured matches on the card include; a battle for the Revolver tag-team championship, a grudge match, a battle between alliances and more.
Will new champions be crowned and rivalries settled on this night? Despite any festivities that may be celebrated earlier in the week, it will end on Friday. It will be a case of not only the strong surviving but being able to walk into the New Year unscathed. Here is our preview for Wrestling Revolver's upcoming Nightmare After X-Mas.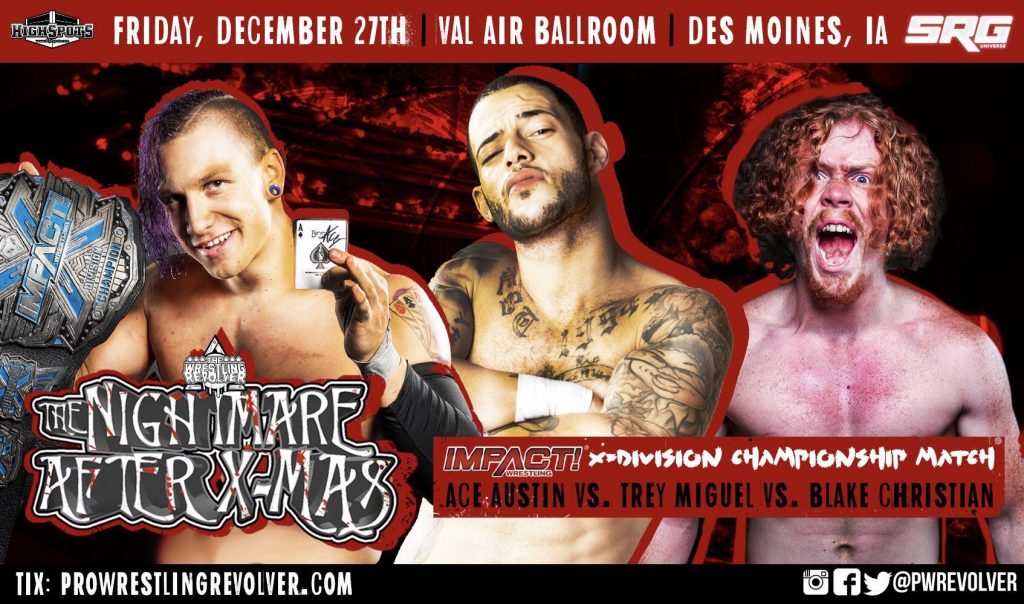 X-Division Championship Match
Ace Austin vs. Trey Miguel vs. Blake Christian
With the increase in crossover matches from IMPACT Wrestling on Wrestling Revolver, this match is sure to be a treat. As the current X-division champion, Austin has a bullseye on his back. On this night he will have to face the challenge of Rascalz member Miguel and Christian. For fans that may have visited Blake Christian's Twitter will see the story of the move Elia. The move is a midair twisting splash onto his opponent. It was a move that emerged while he was first training to wrestle. Very little is known or recorded about Blake Christian making him an unknown commodity in this matchup.
Will Austin or Miguel take Blake Christian lightly? They best not if they are hoping to walk away as the X-division champion on Friday. Christian may come into the match as the darkhorse but could walk out the champion.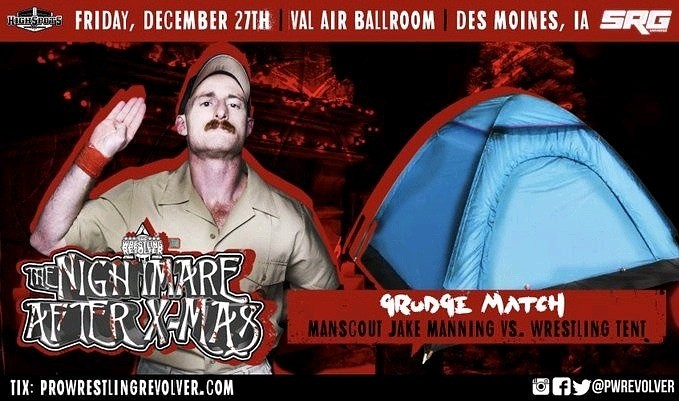 Grudge Match
Manscout Jake Manning vs Wrestling Tent
It was only a matter of time before these two were set to have a blowoff match to settle the score between them. Both have held the Open Invite Scramble Championship. In doing so they have both managed to make the other one look foolish. This matchup comes before the new year and will likely be what ends the year with. The animosity between them can't continue as something has to give.
There has to come a time where the scout has to put his foot down and assert himself. Wrestling Tent may have had enough of the rules and standards put forth by society today. The promotion hasn't put any provisions or warnings for this match. Let's just ensure that it doesn't cross the line as both competitors likely have families to think about.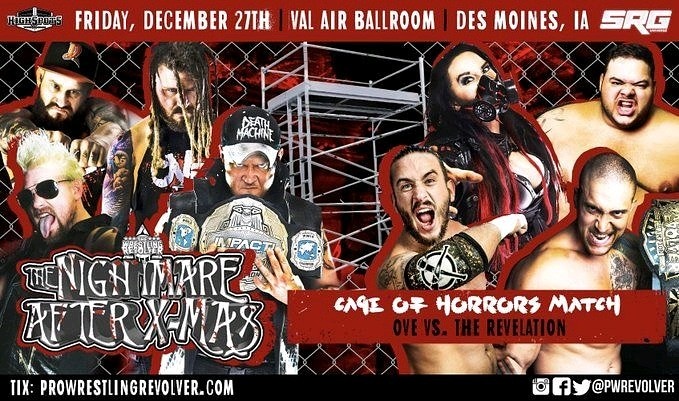 Cage of Horrors Match
oVe vs The Revelation
On paper, this match immediately strikes fans with how violent it is likely to be. Fans of oVe know what this quartet is capable of doing. From their fearless leader, 'The Draw' Sami Callihan to their monster in the Madman Fulton these men know each other like the back of their hands. So when they stand across the ring from the Revolver Champion, a perennial women's champion, a Chaotic Wrestling champion and a man that is likely a future champion, they best be prepared.
Blood, guts, spills, and spots are likely to fill this contest with these eight competitors. While no title is on the line here it isn't to say that the winners may have their sights set on Kross after this match is over. For as much as oVe knows one another, we may likely see someone on The Revelation likely cost their team the win at Nightmare After X-Mas.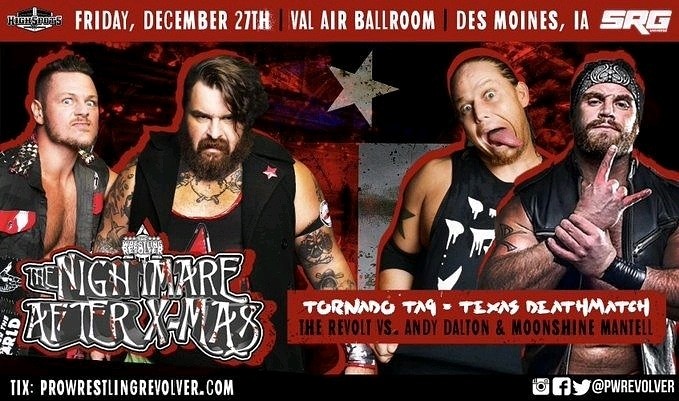 Tornado Tag Texas Deathmatch
The Revolt vs Andy Dalton and Moonshine Mantell
If the battle in the Cage of Horrors match is sure to be violent, imagine what these four will likely do to one another? Zane Riley and Caleb Konley once again come together only this time the challenge is against the duo of Mantell and Dalton. These two teams are no strangers to one another. In fact, this past October at Wrestling Revolver' Tales from the Ring 3, Konley and Riley defeated Dalton and Mantell.
The Revolt has been together over the course of the last few years so they already are familiar with one another. When another team isn't as familiar with one another then the likeliness of missed timing plays a factor. Could another loss for Dalton and Mantell lead to something more for this tandem?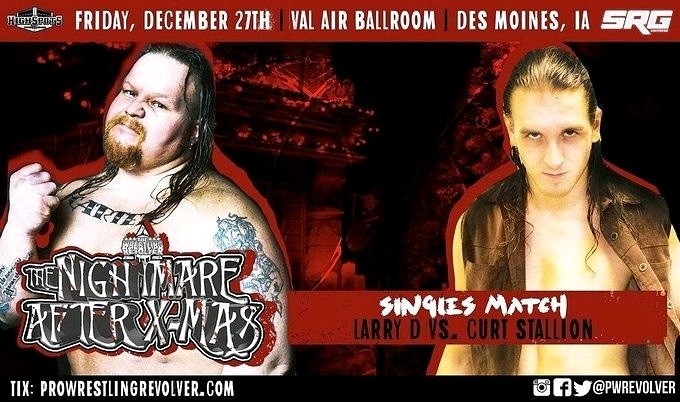 Larry D vs Curt Stallion
The former Revolver Wrestling Champion and newest signee to IMPACT Wrestling steps into the ring with one of EVOLVE Wrestling's premier talent. Larry D and Curt Stallion will step into the ring with one another. Each man is likely to bring tidings of ill will and tons of physical abuse. Stallion and D will bring the fight to one another. For Larry D he has to be in pursuit of the Revolver Championship once again.
The nearly twenty-year veteran has worked too hard for too long to not be on top of Wrestling Revolver. For Curt Stallion, he's looking to make his mark in Wrestling Revolver and what better way to do that than to defeat its former champion.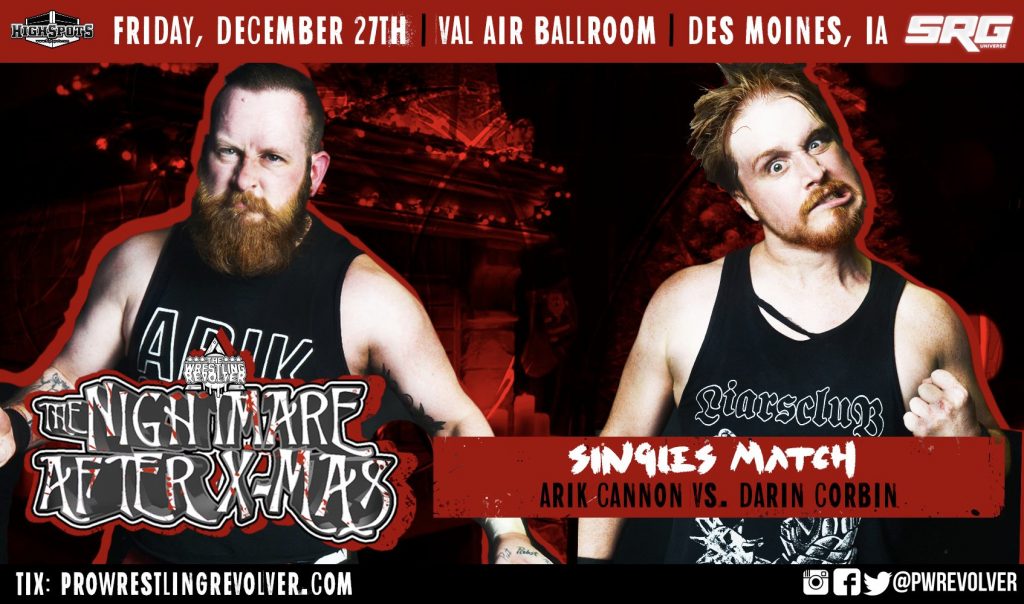 Arik Cannon vs. Darin Corbin
The narrative going into this match could easily be a case of teacher versus student. When Darin Corbin began training and learning the ropes over fifteen years ago he was trained a few different people. Among those that are recognized as his trainers one of them was Arik Cannon. For the Anarchist, Cannon's eighteen-year career has seen him capture several championships.
He is currently the midst of a nearly five-month run as the Heavy on Wrestling Champion and one-half of the Steel Domain Wrestling tag team champions. In the case of Darin Corbin, he would certainly make a name for himself with a win here. To ensure he takes Cannon down Corbin stoop to just about anything to get the win Nightmare After X-Mas.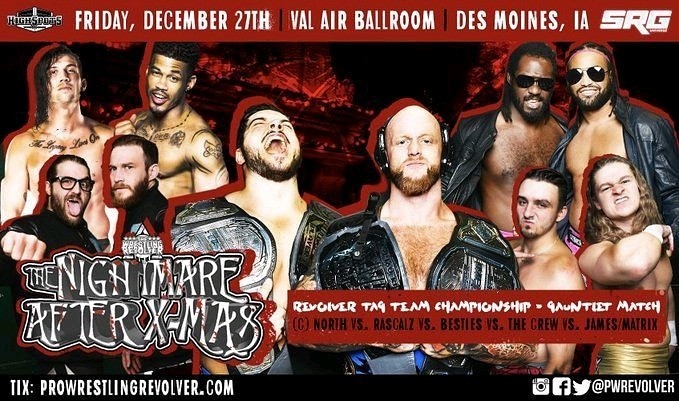 Revolver Tag Team Championship – Gauntlet Match
The North (c) vs. The Rascalz vs. Besties in the World vs. The Crew vs. James and Matrix
As the current Revolver tag team champions, Ethan Page and Josh Alexander have their work cut out for them. Depending on where they start off the match, Page and Alexander could be at an advantage. Of all the teams that provide the biggest threats would be The Rascalz and the Besties in the World. It has been some time since Rich Swann and Jason Cade was actively considered a threat for a championship.
This could be where they come out from under the radar and be threats for the title. If any, one team could prove to be one's to watch in this match it would be the duo of James and Matrix at Nightmare After X-Mas.