It is time for a riot as Riot City Wrestling returns to the Latvian Hall for Reanimated XV.  Reanimated celebrates 15 years as a staple in the calendar year for Riot City Wrestling.  The card for Reanimated XV is massive as well. From top to bottom, the best of the best are lined up for this year's event.  Let us take a look now at what Riot City Wrestling has in store for this year's event.
RCW Championship Match
Rocky Menero vs Mick Moretti
Words do not begin to do justice to just how big a match this one is. This is true for not only Riot City Wrestling but wrestling fans in general.  Rocky Menero is a strong champion who dominated 2019. At the end of 2019, he enlisted assistance from Miss Madeline and Tyler Daniels.  Not only does Menero possess remarkable technical talent, but now he has got the support to back up his run as RCW Champion.  It would take a wrestler of a completely different caliber in order to step up to Menero and really deliver a battle for the championship.
Mick Moretti checks off all of the boxes when it comes to the perfect opponent to lock up with Menero.  Mick Moretti delivers an in-ring style that is perfectly complemented by his outstanding ring psychology.  Moretti is a master at getting in the heads of his opponents and getting them off of their game.  Moretti proved that he is a force the reckon with as he made 2019 a truly memorable one for the fans of Riot City.  This match is going to be full of everything that a big match should have and this will open new eyes to the impact of Riot City Wrestling.
RCW Tag Team Championship Match
Gods & Monsters vs World Class Egos
A show can never rely on just one massive match, which is exactly why Reanimated XV is stacked through the entire card.  The RCW Tag Team Championship match is going to be a true clash of clash of egos.  The tag team champions, Gods & Monsters, are a very dominant team. They consistently picked up victories when it counted, cementing a real legacy as the tag team champions.
Matt Hayter quickly has become the most recognizable mouths in professional wrestling. In fact, it was his talking that got himself and World Class Chris Basso in a championship match at Reanimated XV.  As long as Hayter and Basso remain on the same page, they could pose a massive threat to the championships. One wrong step, however, and this could quickly turn in to a massive crash of egos.  Gods & Monsters have their work cut out for them in this match, but will the experience of Chris Basso and the tenacity of Matt Hayter prove to be too much for the champions?
Nick Armstrong vs Adam Brooks
Nick Armstrong and Adam Brooks have created some of the most memorable championship matches in the history of Riot City Wrestling.  it has been several years since these two amazing talents have collided and now they come back to deliver another jaw-dropping encounter. Armstrong and Brooks have only both improved their games since the last time they locked up.
Nick Armstrong and Adam Brooks both have proudly held the RCW Championship and defended it against the best of the best which includes each other.  This time around, there are no championships hanging in the balance. This will free up the minds of both of these wrestlers, allowing them the freedom to bring forth a match that could easily become the one that steals the show.
#1 Contenders Match
Steve Miller vs Jett Armstrong
Jett Armstrong had a wild and crazy 2019 going to battle with his brother, Nick Armstrong.  While the two brothers were hammering out their differences, another wrestler was climbing the ranks of Riot City Wrestling and making a strong statement in 2019. Steve Miller, with Jimmy C at his side, had some big wins and really turned some heads. Now, these two wrestlers are being rewarded for their strong showing in 2019 with a match where the winner will be the new #1 contender for the RCW Championship. Steve Miller and Jett Armstrong will pull out all the stops in this match in order to grab their opportunity and look to make 2020 a championship year.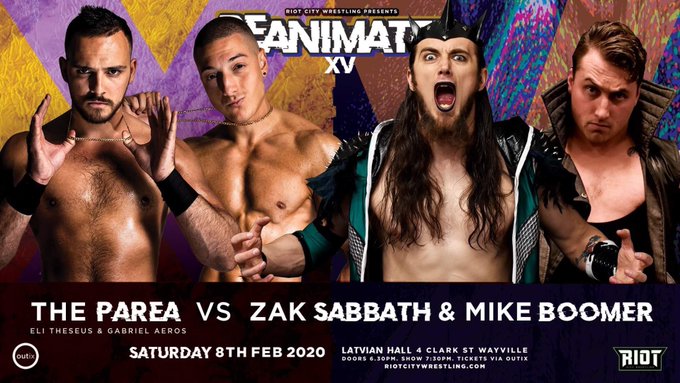 The Parea vs Zak Sabbath & Mike Boomer
The Parea, who returned to RCW in October, have instantly set their sights on Zak Sabbath and Mike Boomer.  Sabbath and Boomer are going to be a massive force to reckon with now that The Parea have got to them.  The Parea are, simply put, one of the standout teams through Australian wrestling at the moment. Soon, they could be opening the eyes of the rest of the world.  Sabbath and Boomer might not have as strong a team connection just yet but they do have a common enemy. With that, The Parea could be set to face their toughest match to date.  This should be a very exciting match with four extremely talented wrestlers giving their heart and soul to do what they love best.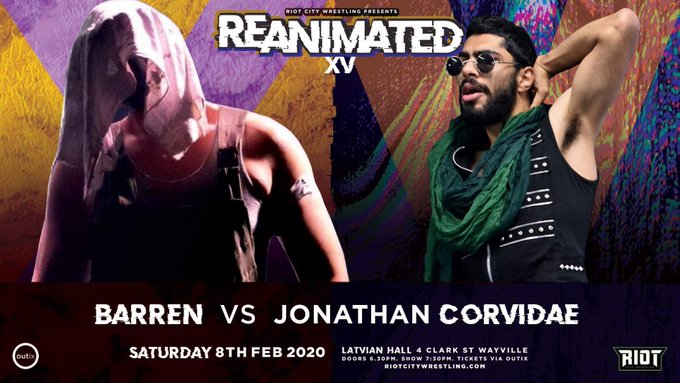 Barren vs Jonathan Corvidae
Jonathan Corvidae must be fearing his upcoming match at Reanimated. If not, it is safe to say that Corvidae is much more out there then we had ever thought.  Barren is a real force inside the squared circle and will look to annihilate Corvidae just like he has done with many other opponents though his career.  Corvidae had better have a real game plan in mind as he is about to collide with a living breathing nightmare of a man.
Riot City Wrestling Reanimated XV is stacked from top to bottom with exciting matches set to take place.  Riot City Wrestling provides content free on their YouTube channel. If you want the chance to witness just how truly amazing this promotion is, go and show them support on their YouTube channel.  The matches, the in-ring talent, the stage, the light, the announcing, and the fans; they create some real magic each and every time that Riot City Wrestling puts on an event. Residents of Riot City, get yourself geared up because it is time to start a riot with Reanimated XV.